Lately I've been committing to upgrading the basics around our house with more quality products. My most recent focus has been our bedding. Up until a few weeks ago, we still had the bedding I purchased in college. Talk about time for an upgrade! Luckily I was able to partner with Joss and Main for a cozy bed refresh, and now our bedding is luxurious and perfect!
This post is sponsored by Joss and Main. All content is my own.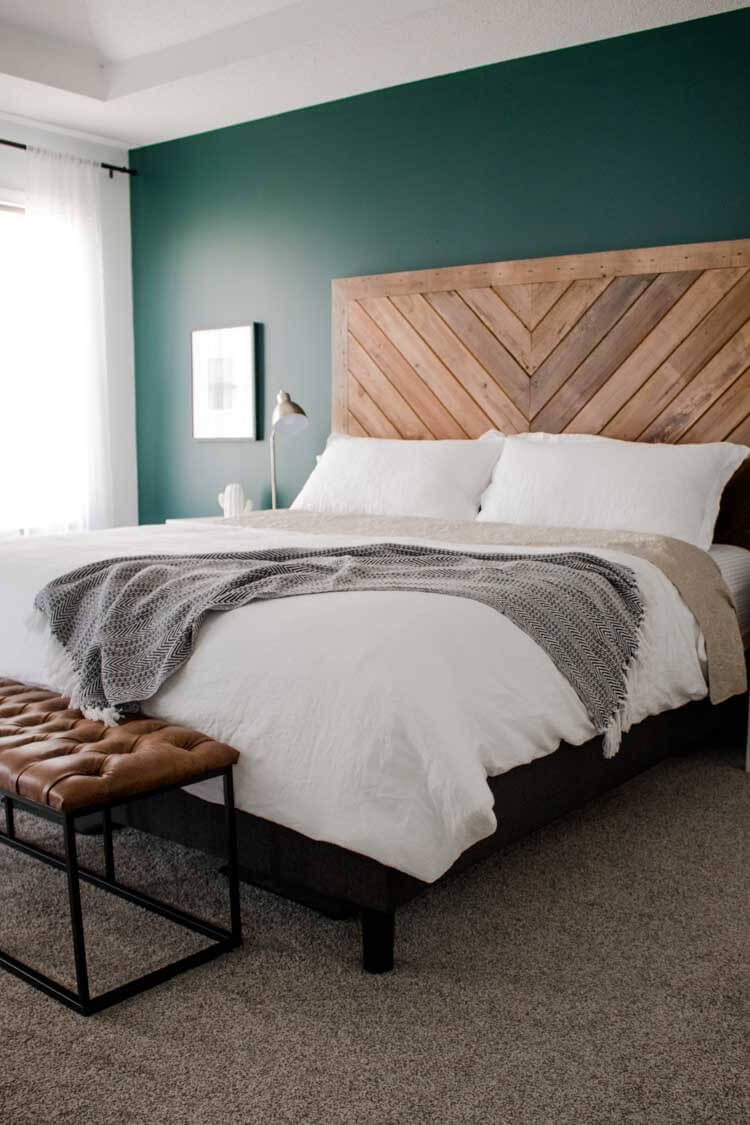 I've had a thing for white cloud-like bedding since college. I'd also been using the original duvet from that dream for nearly 10 years. Over the years it had gotten really lumpy and at some point I had ditched the duvet cover that was white with gray flowers. So while over all my new bedding is similar, the new textures look amazing and the quality of the bedding is such an upgrade from what we had.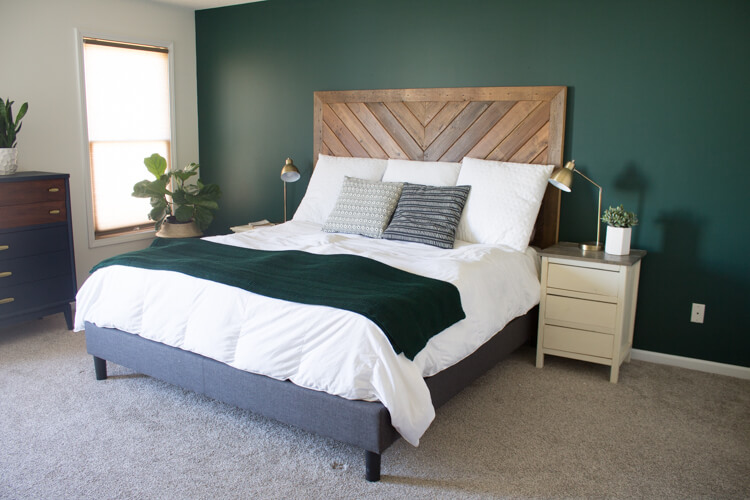 I knew I wanted a mix of textures and patterns, so I went with a plain white linen duvet cover, a tan quilt and a black and white throw blanket. All the different textures and materials keep things cozy. I also took the opportunity to replace our sham pillows with down feather pillows and get a faux leather bench for the end of our bed since Will has a habit of putting his socks on on the edge of the bed at 4:30 in the morning.
All of these products are sold out now, but here are some similar options: 
I seriously cannot get over this combination. It's organic and the perfect cozy minimalist bed. The quilt is the softest quilt I've ever felt. Typically quilts seem kind of stiff until they get worn in a bit and I was ok with that because the color is just so perfect. But to my surprise it already feels amazing! I'm sure it will only get better with time.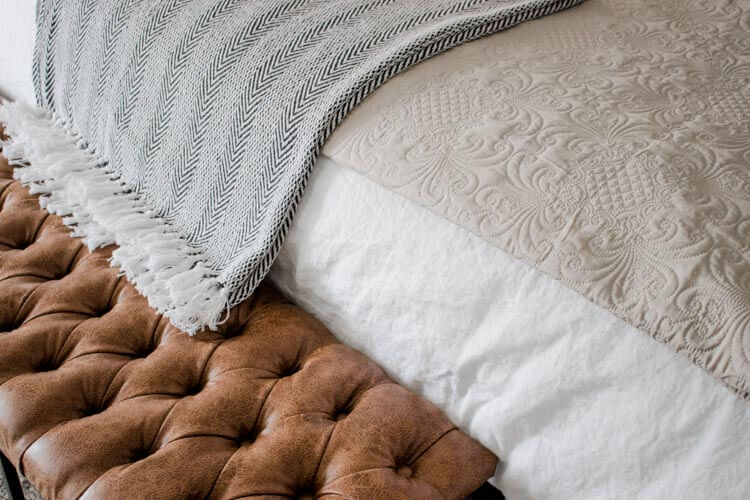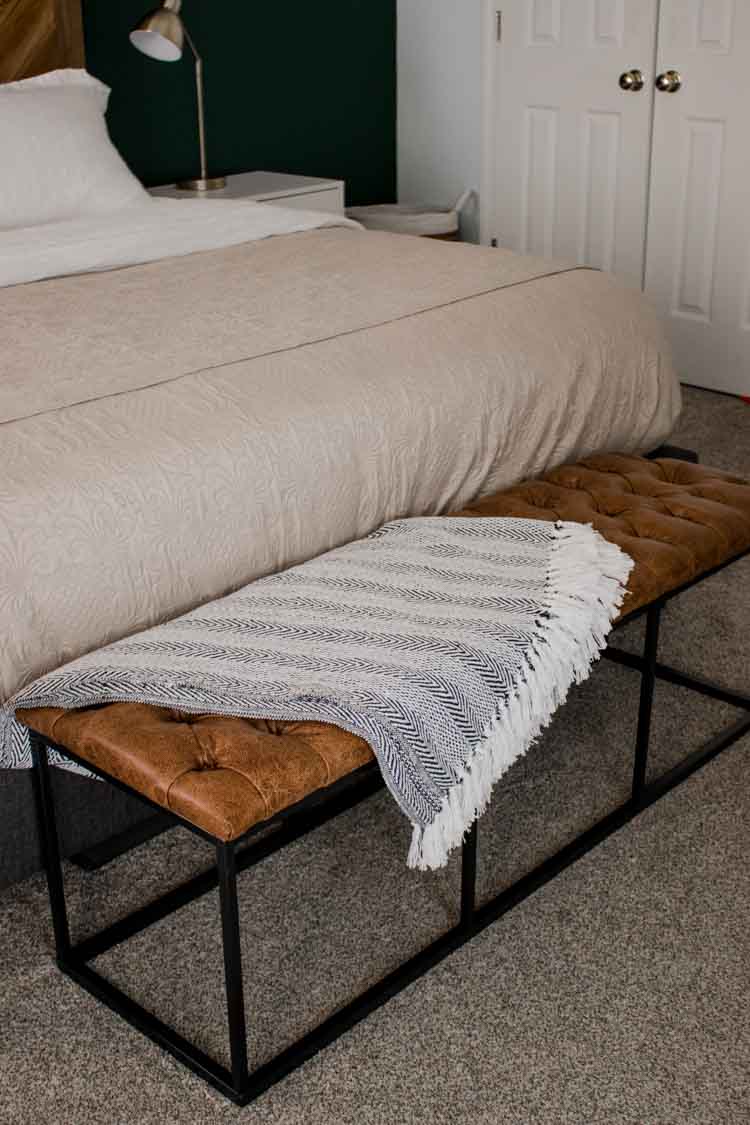 A few months ago I made a controversial decision and gave up throw pillows on our bed. I love the look of them, but they were becoming more of a point of stress than anything. I try to make my bed every morning, but every time my toddler would start a game of keep away. He loved running away with pillows and was constantly throwing them around the room. I'd also end up tripping over them in the middle of the night when I have to tend to babies. Getting rid of them altogether has been the best!
We do still have the sham pillows and the pillows we sleep on, but none of these are as fun to throw around and the two decorative ones stack well at night. Overall it's just a much better setup. And our new bedding looks more fluffy and inviting even without the extra pillows.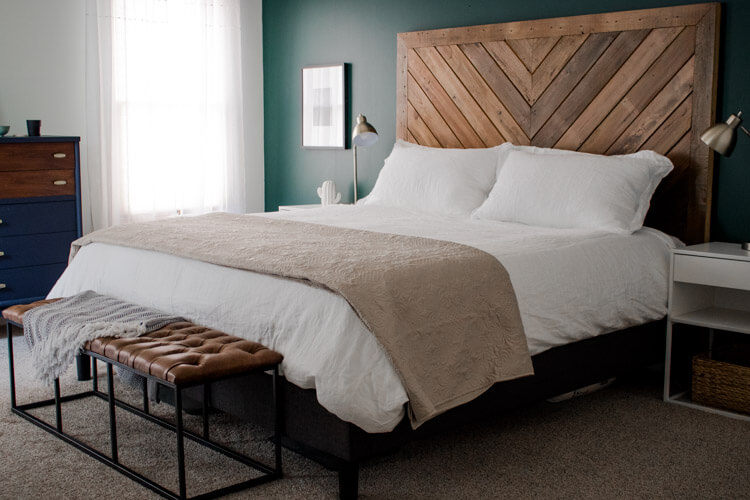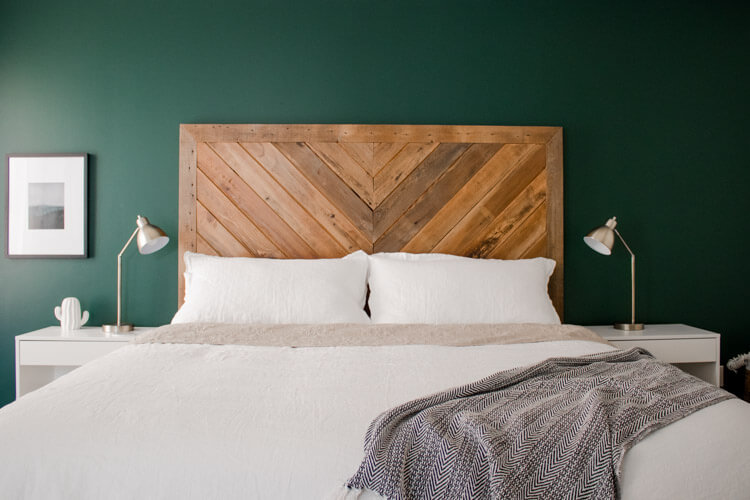 If you're looking to upgrade your own bedding, I definitely recommend simplifying things and investing in cozy bedding. A quilt, duvet and throw blanket make the perfect cozy bedding combination. And you'd be surprised how many ways you can make a cozy minimalist bed with just this simple bedding!
Update to answer some common questions:
The green paint is Valspar Peacock House. A family member made the headboard out of barnwood from my parents' farm. It's inspired by this one from West Elm but we don't have any build plans for it. Here's a similar more affordable option. The actual frame itself is from amazon.
Another update: We moved! Check out my new bedroom using the same great green paint color. 
Are you trying to create the perfect bedroom? These posts might help!