We recently turned our guest room into a nursery for our second baby. We didn't find out the gender (she's a girl!), so I created a gender neutral nursery with earthy tones that would be great either way. I'm so happy with how it turned out. I knew I wanted to color block the wall from the beginning, but choosing a color was a tough decision. Then a friend suggested a terra cotta color and I knew I could totally get behind a terra cotta baby room. I'm so excited to share it with you!
This post contains affiliate links.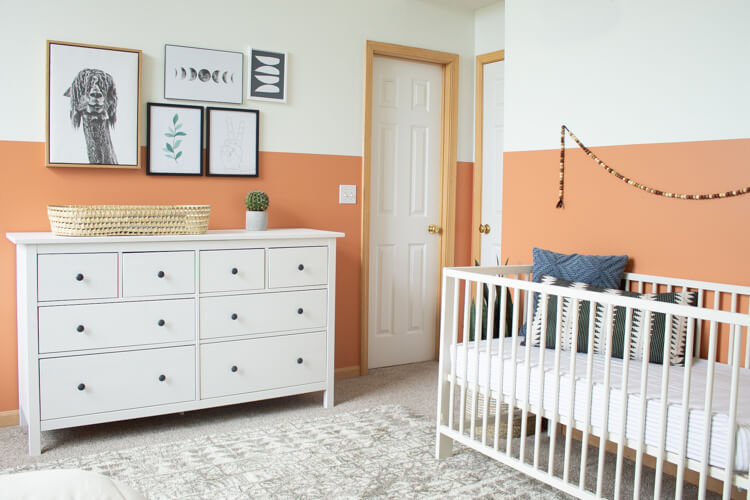 *There's a complete shopping list for everything at the bottom of the post*
This is such a transformation for this room because it used to have built ins all along the wall where the bed is now and it has never been fully decorated before. My sister lived with us for a couple years and had it looking about as good as it could with the built ins, but it has made all the difference taking them out.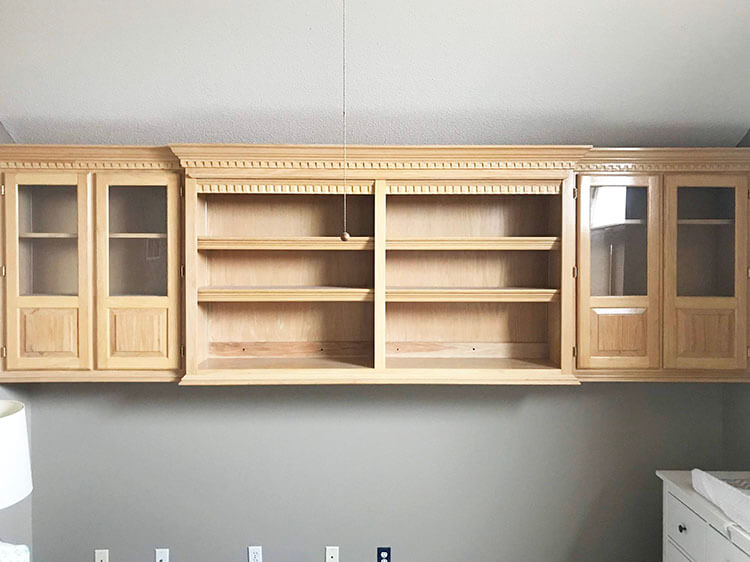 Some people couldn't believe we'd remove built ins – but the fact was they were dated and they took up the entire largest wall of the room, which really limited where we could put furniture. I think it was meant to be an office room, since there were like 4 outlets, two ethernet cable plug ins and a cable connection point all under the built ins. I'm not sure who wants to use the second biggest room with a walk in closet as an office, but whatever. Problem solved.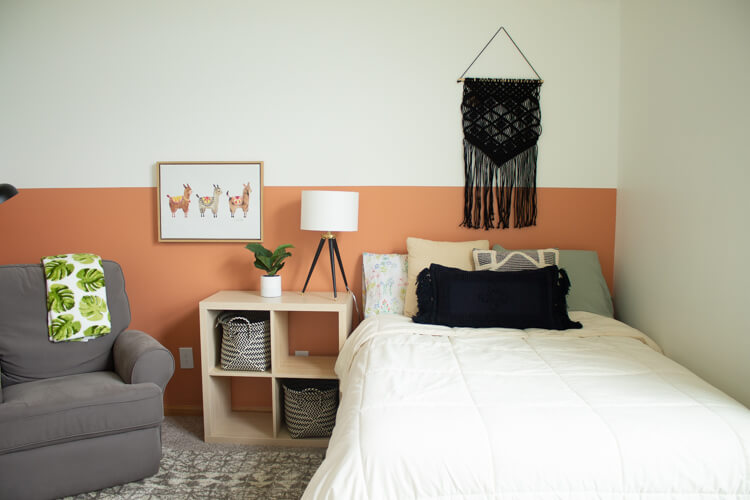 Color Block Baby Room
Let's talk about the color block wall first. The color is Behr Terra Cotta Clay. My insta friend Veronica (@thelibralion – seriously, go follow her if you love modern home decor, she crushes it!) suggested an orangey color and I thought she was crazy until she clarified she was thinking along the lines of a terra cotta planter. Then I decided she was a genius. It's a great earthy color that is perfect for a gender neutral nursery.
Surprisingly, painting a color block wall is quite easy. Waiting for paint to dry was the biggest pain.
I left one wall completely white because there's a huge inset window on that wall and I thought it would help it serve as a head board for the guest bed.
Speaking of, a major part of this room design was keeping the guest bed. I wanted it all to flow, but also want a space that guests can stay comfortably if they need to. If we got rid of this bed, the only real bed in our house would be the one in our master bedroom. I think it worked out perfectly. And I can see a bed in a nursery coming in handy for rough nights with a baby anyway.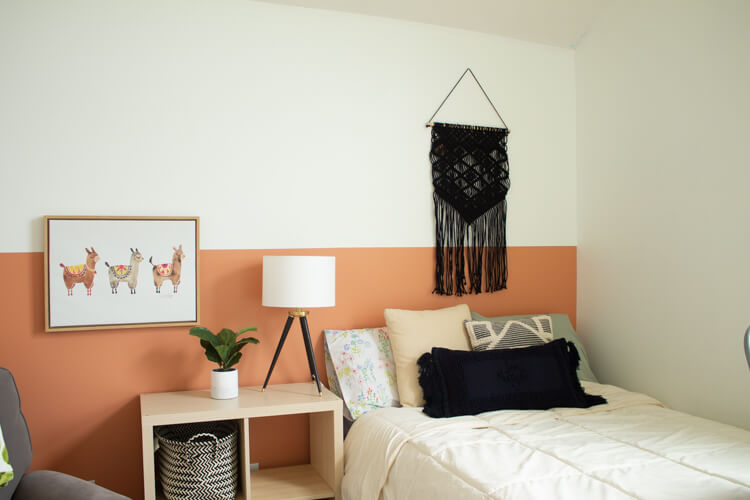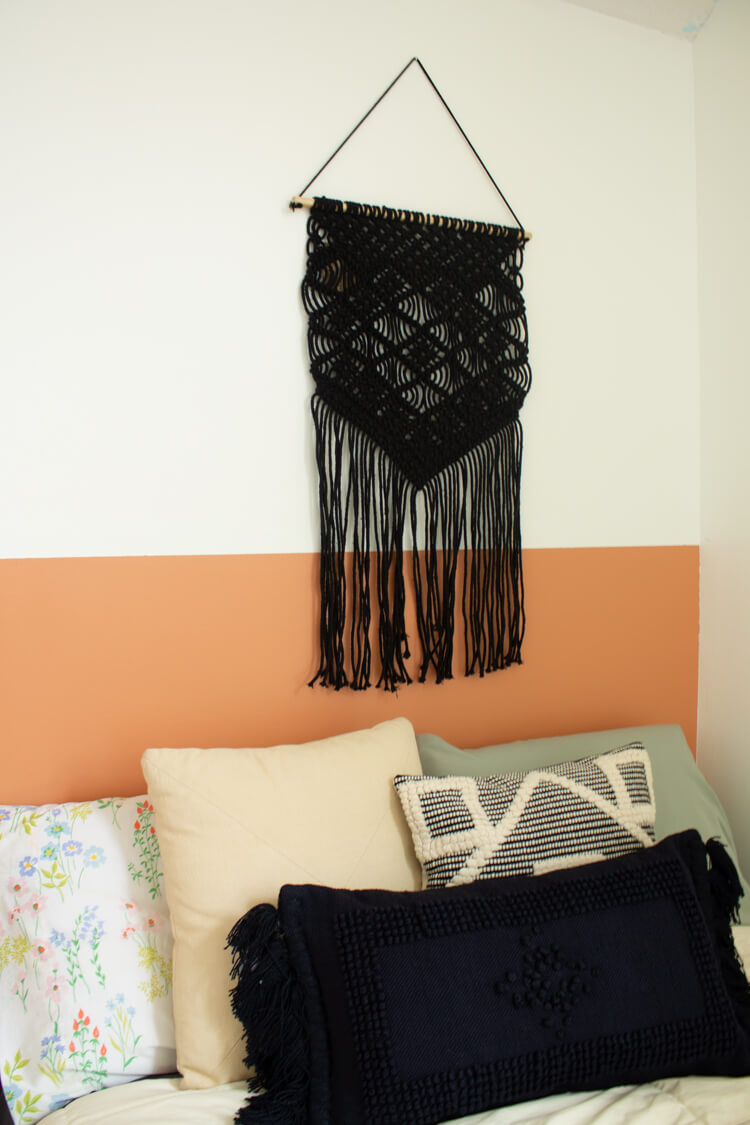 Decorating a Modern Gender Neutral Nursery
I really wanted to do something simple and minimalistic, but with enough texture and personality to give it life. I think we finally found the right balance. But I'll be honest, pulling off minimalism doesn't always feel so minimal. The key is to have enough texture to make it feel cozy, and having big enough stuff (like plants, wall art, etc) so that it doesn't feel too empty.
I added texture through the wall hangings, baskets, the rug and the pillows more than anything.
Another thing I wanted to be conscious of was making it look like a room a kid would want to live in. I, like every other blogger in the world, am over themed baby rooms. But I also think it's kind of strange to make a room look so grown up that the only way you can tell it's a kid's room is by the crib.
Even though we know a newborn doesn't care one way or another, a good mix of kid friendly decor and modern decor is what I was aiming for!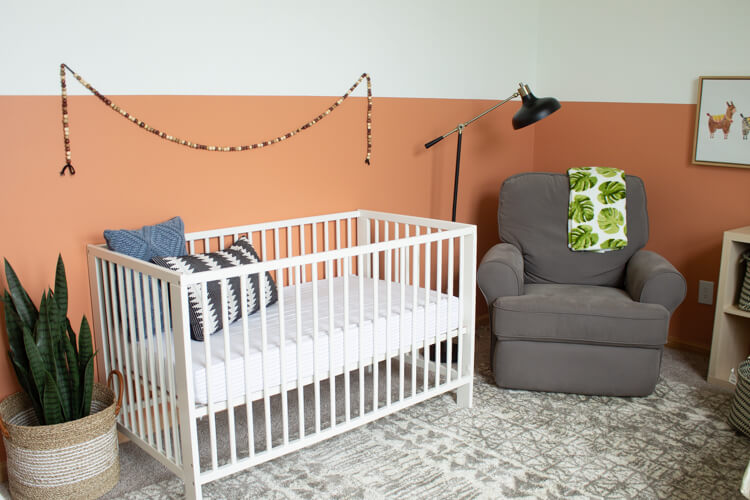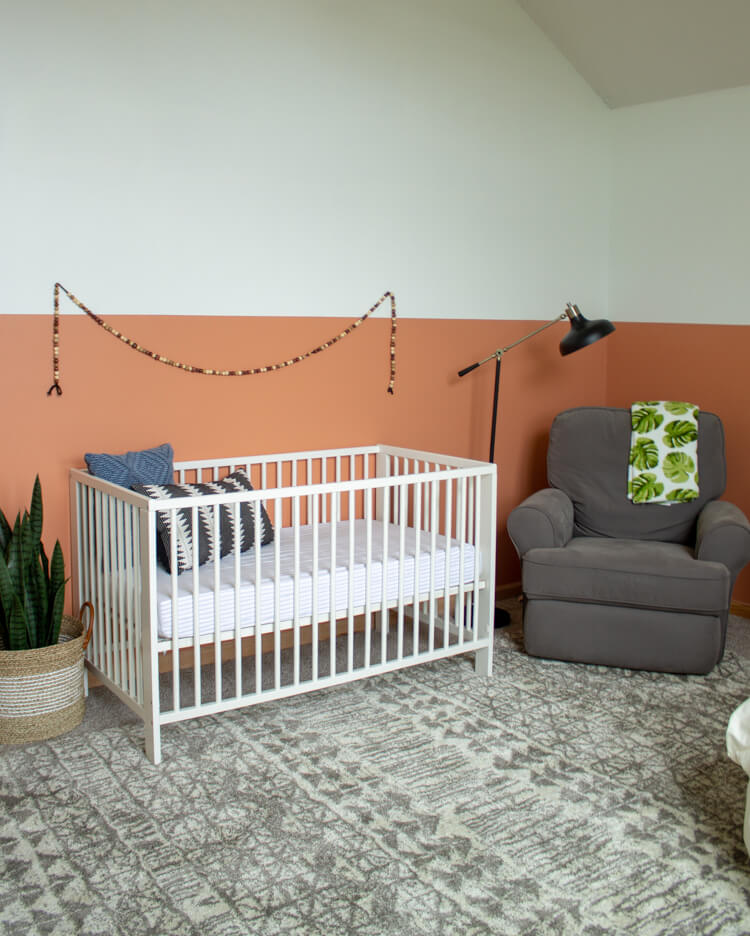 I struggled with what to put above the crib for a while. I knew I wanted a gallery wall over the dresser (more on that later), so I didn't want a second gallery wall over the crib. Then I remembered I'd bought a bunch of beads to make garland with months ago and forgotten about them.
Out they came, and Graham actually helped string them together which is a sweet touch. I love how simple the crib space is!
That snake plant is definitely 100% fake. It's from amazon and I'm pretty happy with how it looks. Aint nobody got time for a real plant in a baby's room.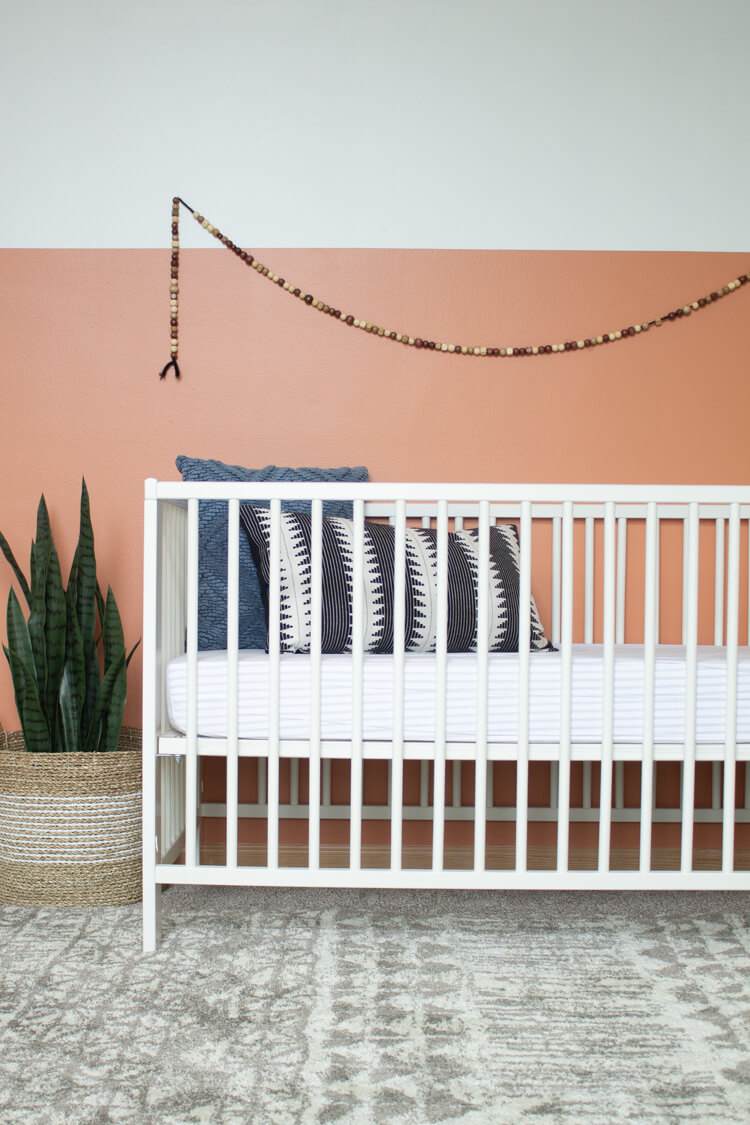 The rug is a Mohawk rug, they sent it to us to try out. You guys, it is so freaking soft and we love it. Graham loves to go in there and lay on the rug and play with trains and other toys on it because it's just so soft. Nearly everyone who's come in to see has commented on it, and I'm so glad we went with this one.
I wrote another post about how to choose the perfect rug, and rounded up 11 of my favorite Mohawk rugs.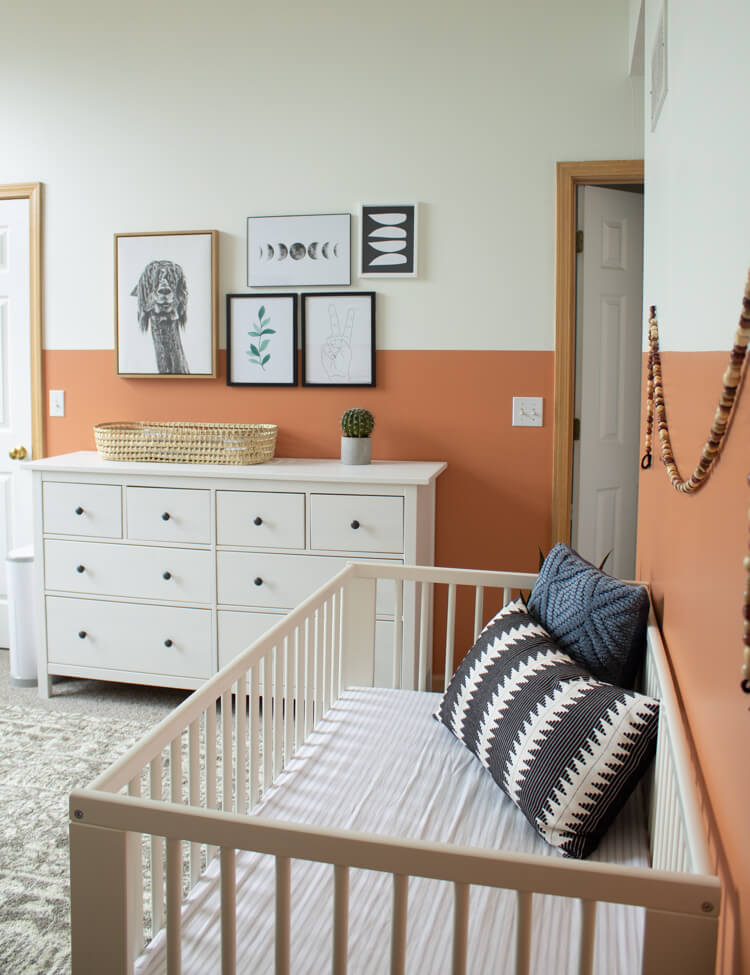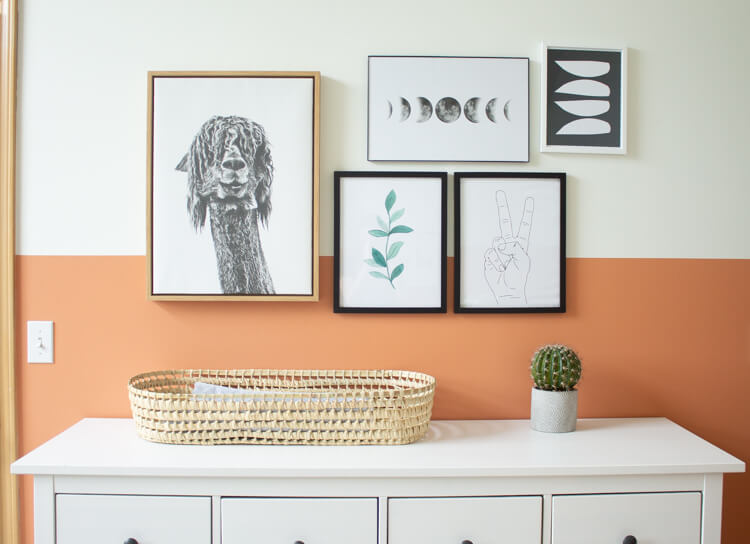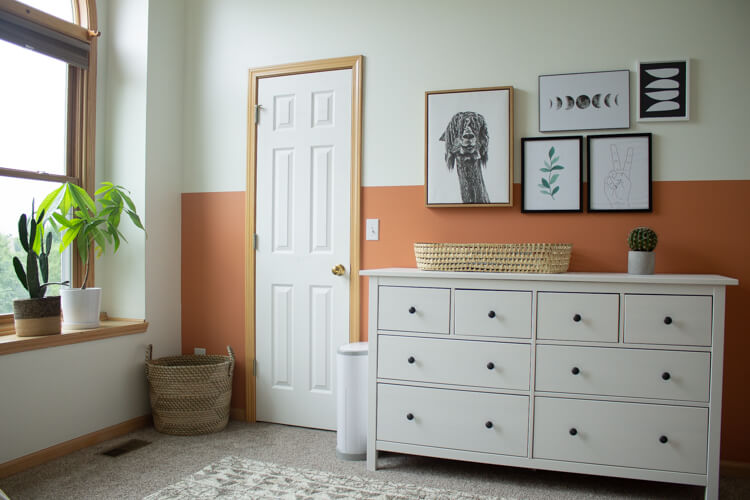 The gallery wall above the dresser was definitely the hardest thing to pull off. Not for any particular reason, I'm just always caught off guard by how much work goes into finding prints, printing them, deciding on sizes and finding the right frames. Then hanging everything.
This was my first gallery wall. (I'm calling it that even though there's only 5 prints. It counts, right?) The most frames I've hung together before this has been 3. But even those were a process, always is!
Ultimately, it was worth the work and I love how it turned out! I put together tips for creating the perfect gallery wall if you struggle with it too!
The alpacas in this room set the tone for everything. I definitely wouldn't call it an alpaca/llama themed nursery by any means, but they add some major personality to the room!
And in case you're wondering, the changing basket is just this moses basket that I cut in half with scissors. It adds a nice bit of texture to the space. I'll be interested to see how practical it is to use. I have a feeling my husband won't love it, ha!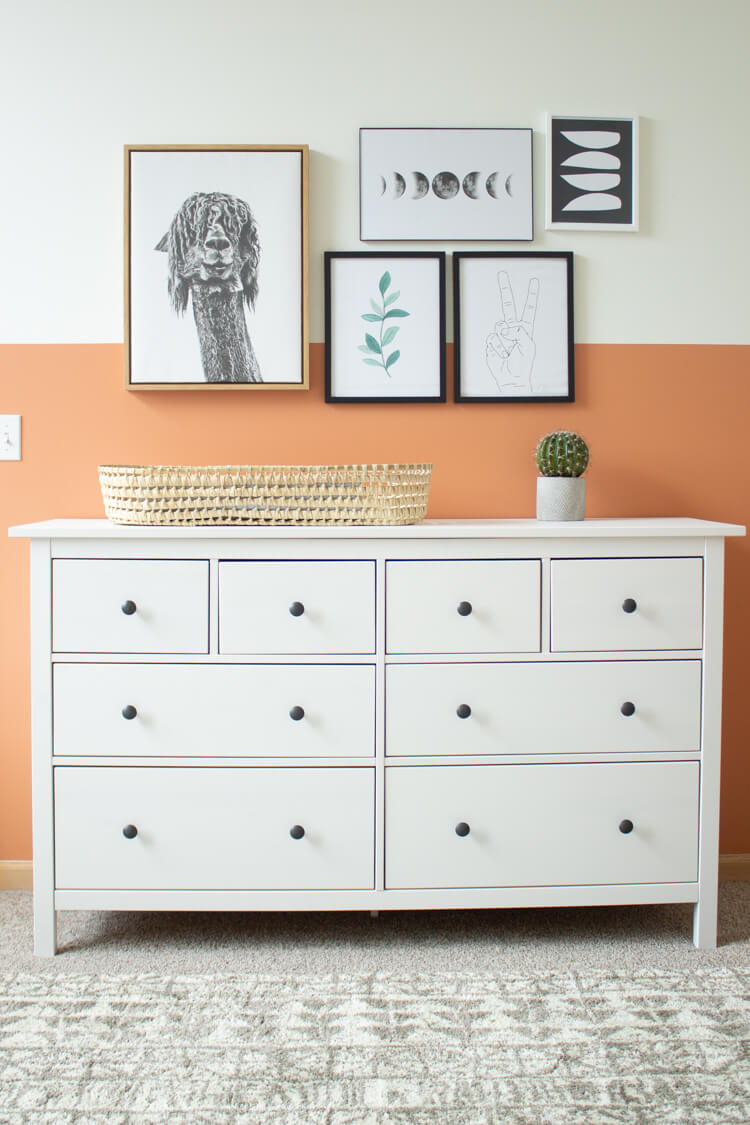 Here you can see the huge inset window. Figuring out how to cover a large window was quite the dilemma, but we finally got it figured out. We partnered with blinds.com to fit the entire inset with a block out roller shade, and it's so great for keeping the room dark and making it perfect for baby sleep!
Those two plants are real, but it's because of the awesome light this window gets. As baby gets older I'll likely have to find a new home for them.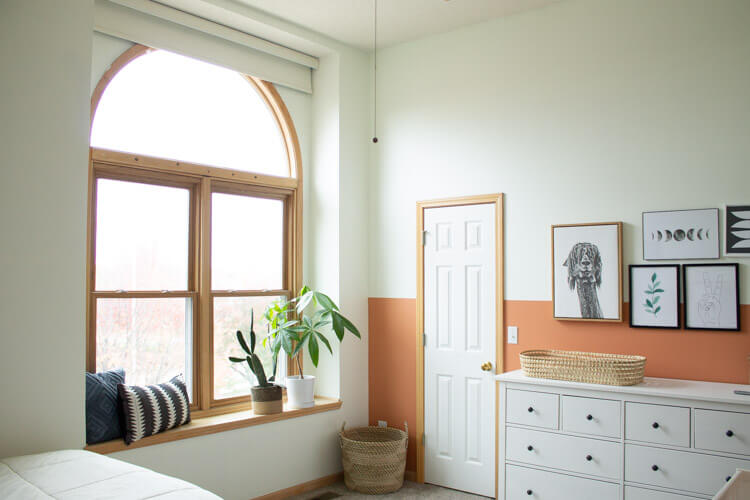 But there you have it! A fairly simple and straight forward, modern gender neutral nursery. I love how this room turned out with the color block and all the earthy tones. It is definitely one of my favorite rooms in our home!
Shopping Source List:
Dresser – IKEA
Crib – IKEA
Storage Cube – IKEA
Rug – Mohawk Home (find it on Amazon here)
Glider/Rocking Chair – Nebraska Furniture Mart (from 2015 – sold out)
All baskets (in storage cube, plant basket and laundry basket) – Homegoods
Black Wall Hanging – Homegoods
Small Tripod Lamp – Target
Navy Lumbar Pillow – Homegoods
Blue Textured Pillow – TJ Maxx
Small Faux Plants – TJ Maxx
Tribal Pillows – Target (Black Diamond, Black Global Lumbar)
Alpaca Canvas
Horizontal Alpaca Canvas
Floor Lamp – Target
Faux Snake Plant – Amazon
Etsy Prints – Moon Phases, Plant, Hand Peace Sign, Abstract Print
Moses Basket – Amazon