Fall is practically here, so I've been filling my home with pumpkins. I'm also pretty sure I've told one million people that I don't decorate for fall, but as of right now I already have 23 pumpkins in my home. Whoops. I'm really digging pink for fall this year, so I decided to get a little crafty and bring some pink to my pumpkins with this ironic modern pumpkin DIY.
This post contains affiliate links.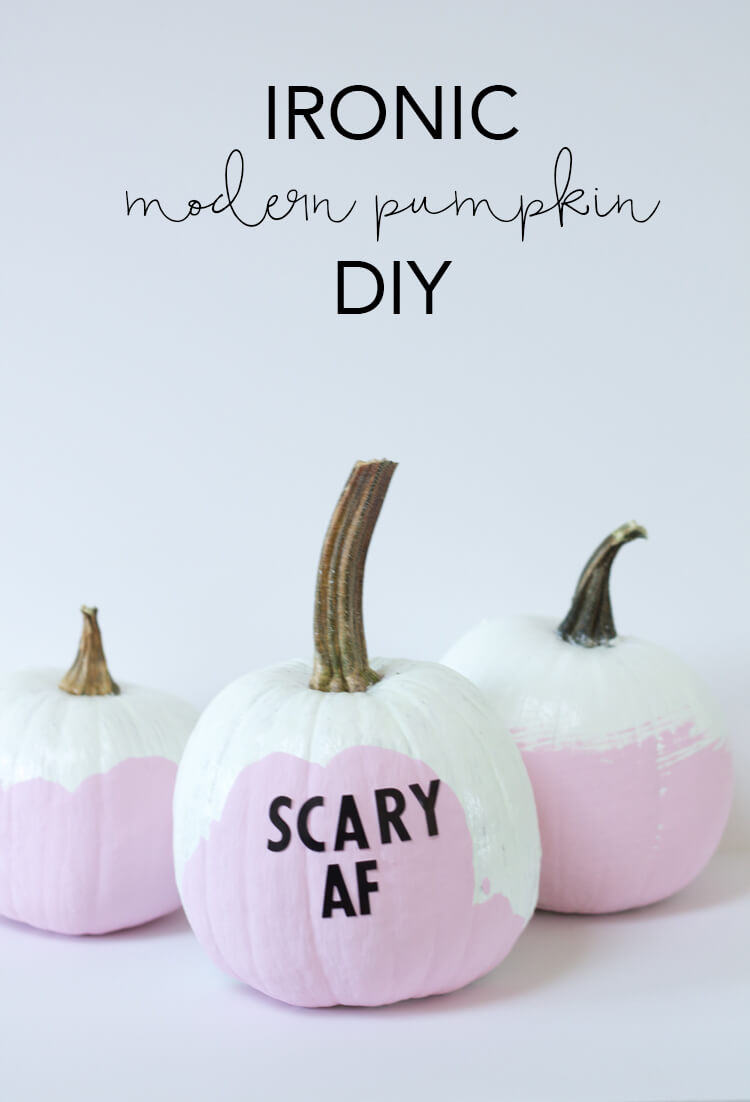 Ok, let's talk about DIYing pumpkins, shall we? I'm not sure I'm sold on if it's worth the effort. Here's how I made these (and some notes about making it easier…)
All my pumpkins started out orange. I just used white acrylic paint and a chip brush to paint them white. (Find out why chip brushes are my absolute favorites here.) I did two coats to fully cover. If you want your pumpkins to glow in the dark for extra fun, you can put on a couple layers of Glow in the Dark Mod Podge over your white paint.
Then I attempted to dip the pumpkins in pink acrylic paint for the dipped effect.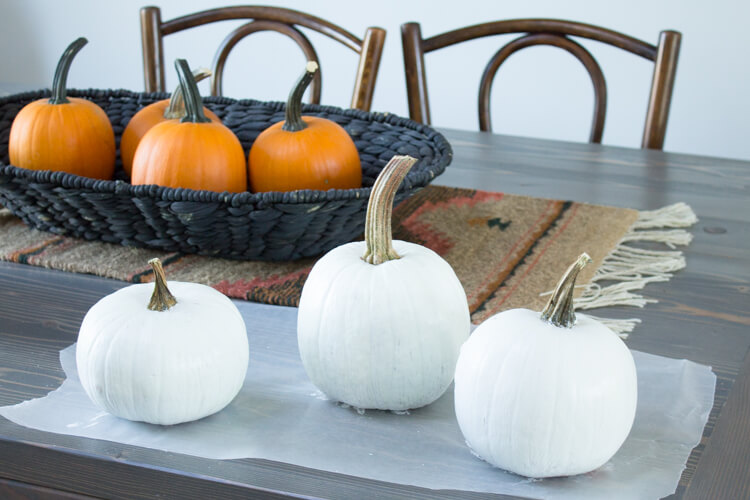 You know the whole dipping trend? I don't get it. I don't get how you dip a pumpkin (or anything) into a bowl of paint and come out with anything but a big ol' globby mess and end up using way too much paint.
So for my "dipped" pumpkins I put a healthy dose of paint on a plastic plate and rolled it around in the paint. Then I used my chip brush to smooth it out and take off the extra so it wasn't goopy.
For the pumpkin on the right I just used my chip brush to brush on the pink paint at an angle and seriously, just do that. Unless you love struggling with crafts, then by all means dip them! Ha!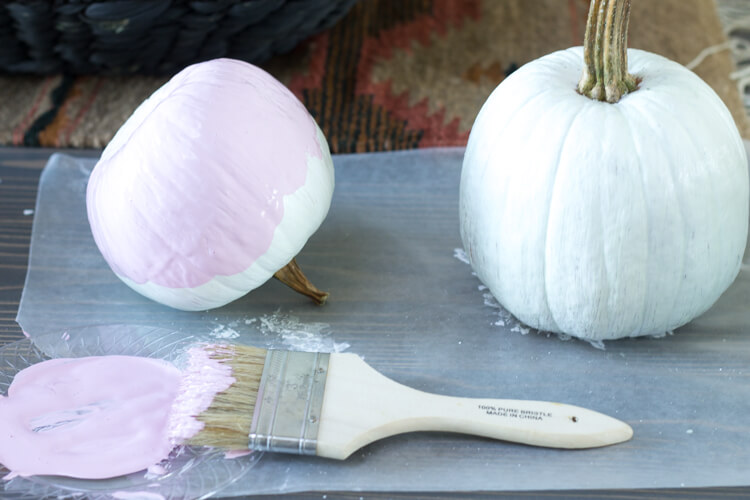 Originally I put the stickers on before the pink paint, and planned to peel them off to reveal white letters. Then I decided what the heck, who has time for this?, and decided to just put stickers on top of the paint. Easy peasy and gets the job done!
As far as sayings go, there are some really punny people out there! I love these pun-kins that say "Here for the boos" and "creep it real" by Studio DIY. They're soooo good! I apparently am not punny so I decided to go with irony instead. Because it's a pink pumpkin and actually isn't scary at all. Get it…?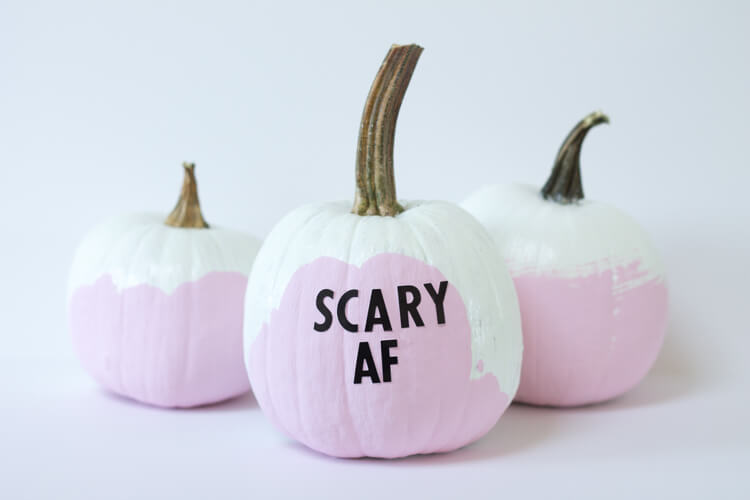 I finally got my pumpkins all set up on the shelves in our living room. They turned out way better than I planned and I love how they look here. So maybe the DIY pumpkin thing is worth the work after all.
Also – if you're into the letterboard trend but not the $70 price tag, my sister found this white one for just $10! Yes please! Also – you know I think a plant upgrades any space and I finally got a pothos for these shelves. I love it so much and can't wait until it grows and is hanging down even further!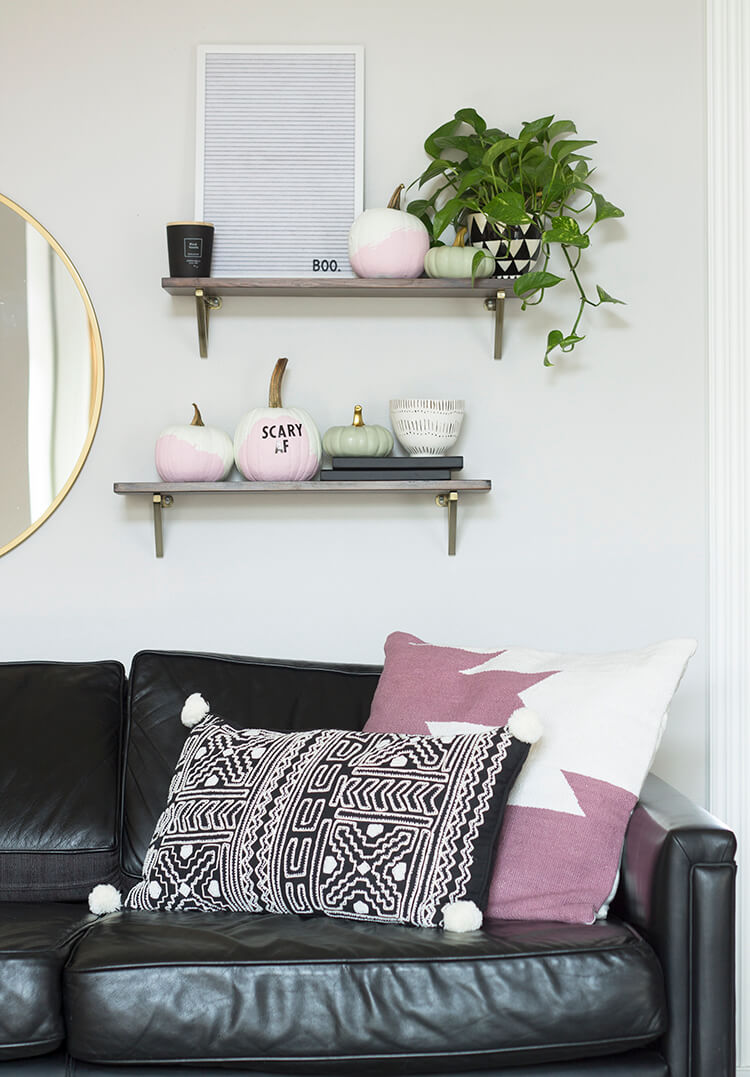 Some other modern pumpkin diy designs you'll love:
Marbled Indigo Pumpkins
Modern Painted Pumpkins
DIY Paint Splattered Pumpkins