We've been talking a lot lately about when we should transition Graham from his crib to a bed. His second birthday is next week! I'm not sure I'll do it quite yet because he hasn't even thought about climbing out of his crib. But I've been enjoying working on his modern toddler boy room for when he's ready! This post is sponsored by DHP, but all opinions and ideas are my own. #Mainstays #BelieveInSleep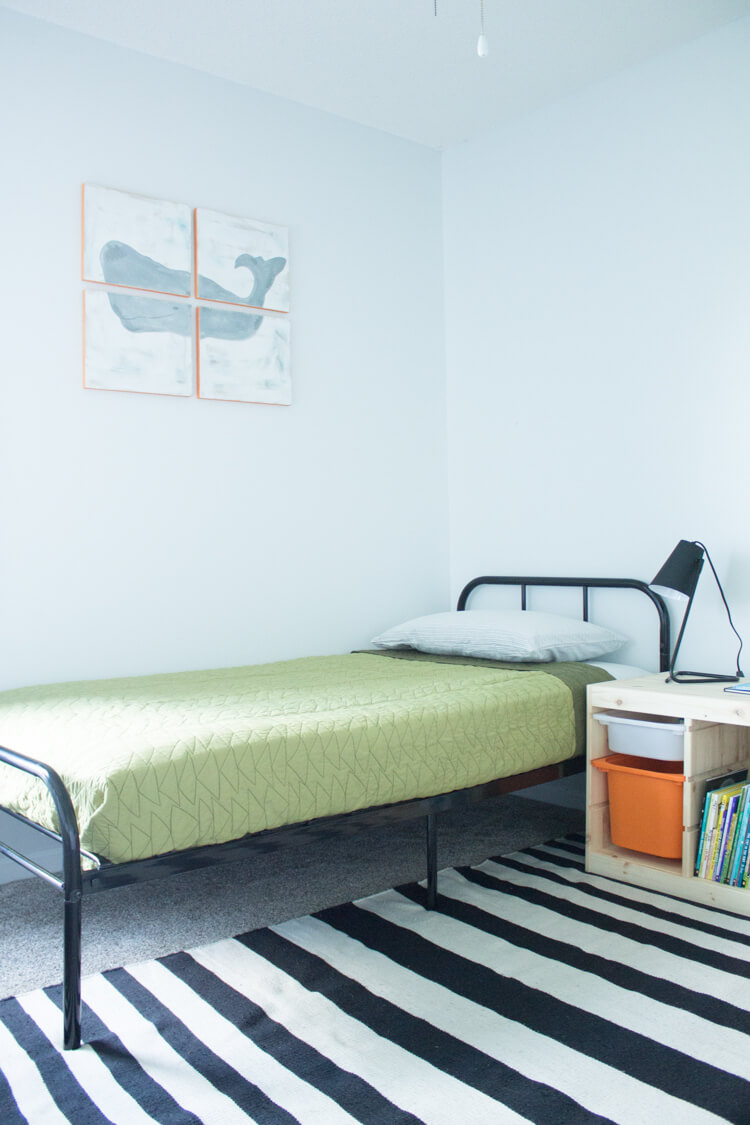 Most of what we're working with here is what I already had on hand. There's definitely a little more work to do. I ordered a HUGE poster for above his bed but it's running behind so that's an update for another day. The biggest addition to the room is definitely the bed itself.
I decided not to transition the crib to a toddler bed, because I assume we'll need it again some day and I never bought the toddler bed kit. When he does move over to this bed, we'll definitely be adding some sort of guard rail for safety.
The mattress is a Mainstays mattress from Walmart and it actually comes compressed in a small box that can be delivered to your door for convenience. It's affordable (which is what everyone wants in a kid's bed) but also made to reduce tossing and turning. Hopefully it will result in a lot of great nights of sleep for Graham – and me!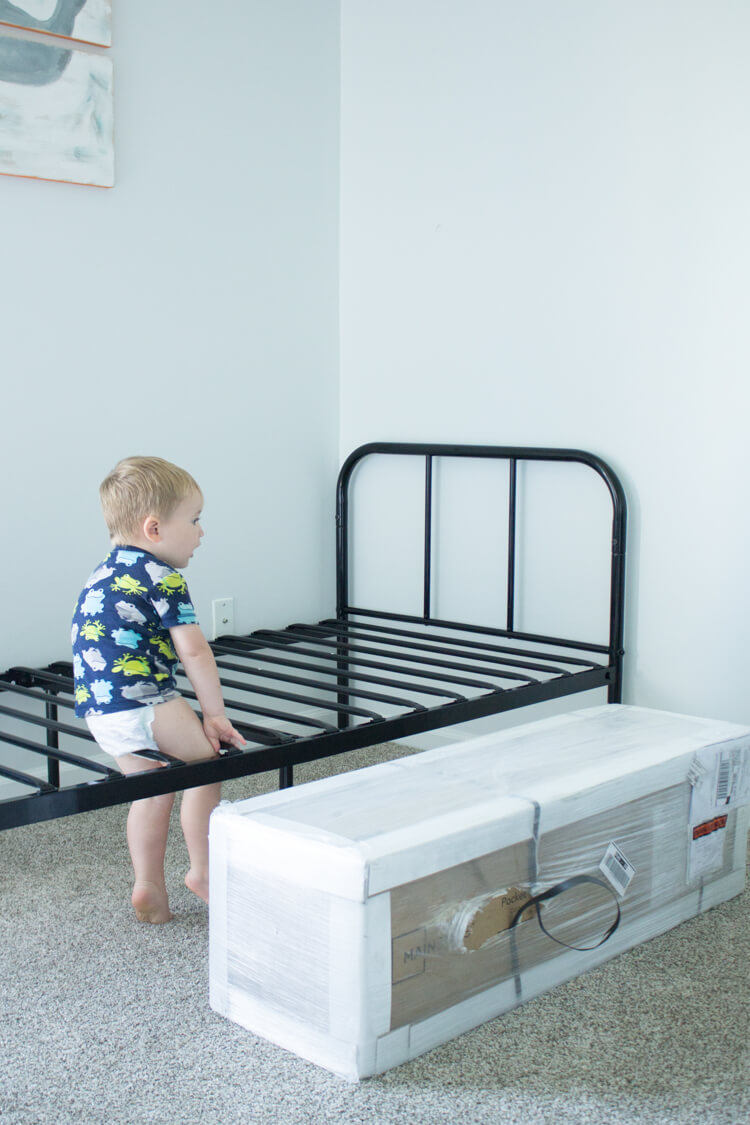 Graham "helped" me build the bed frame right before we decompressed the mattress. He was completely obsessed with hanging out in between the slats. Kids are weird.
You can see in the above picture how small the box is. And while it's not the lightest thing I've loaded into my house (there is a twin size mattress in there after all), I was easily able to manage it up two flights of stairs to get it in this room by myself.
It's definitely far more convenient than the time my sister and I tried to unload a full (not compressed) king size mattress and get it up a flight of stairs by ourselves. We were unsuccessful and the mattress hung out in a stairwell for a few hours until we could get help… So yeah, I'm pretty happy with the way they get mattresses into a box these days, ha!
The picture below was taken within minutes of it decompressing. We left it like that for 48 hours so it had time to fully expand. I've laid on it a few times and I think it will be great for Graham to use when he's ready. It should also be perfect for him to stay in as he grows. I see us getting a lot of life out of this Mainstays mattress!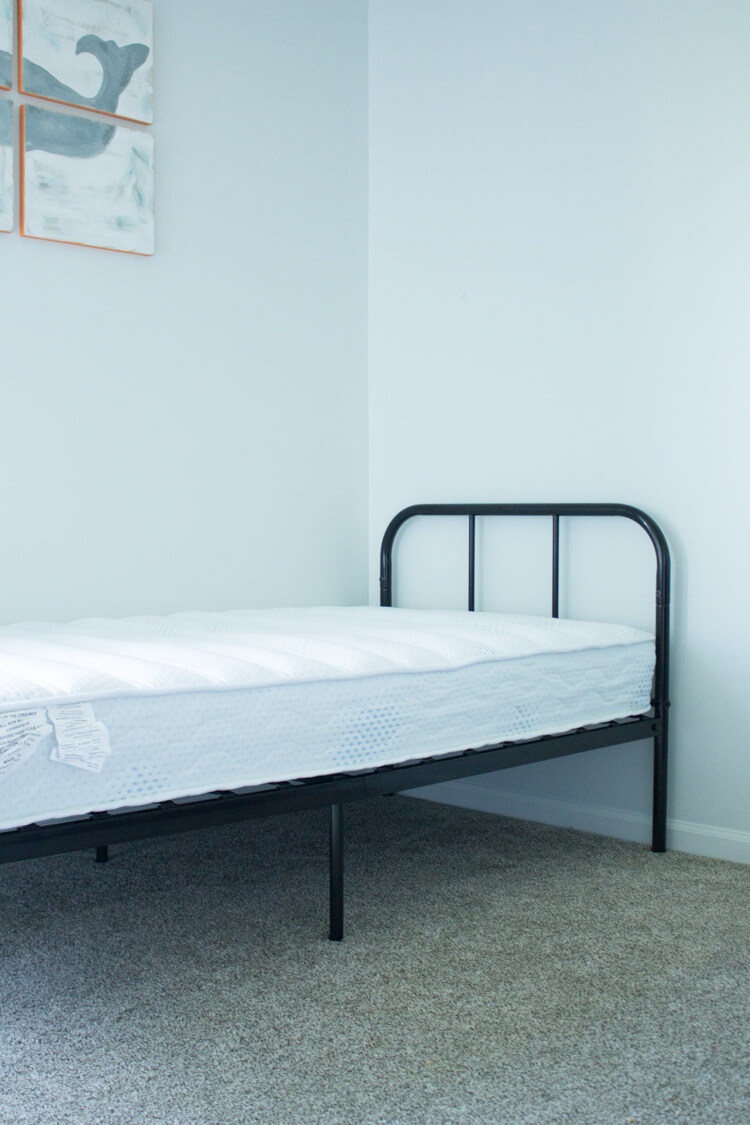 Decorating a Modern Toddler Boy Room
Then came the fun part, decorating! I want to keep his room simple and fairly neutral. I painted the walls a super light grayish white color earlier in the week and a picked up some sheets, a bedspread and a fun lamp that I think are perfect for a toddler or an older boy.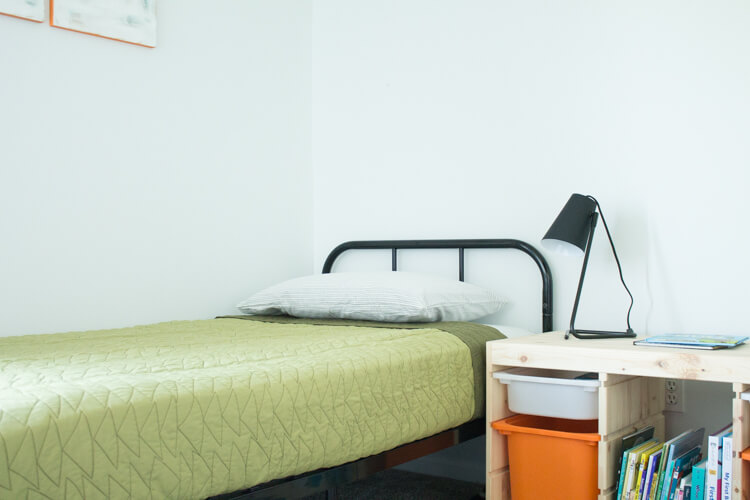 The toy box that's also acting as his nightstand has been in his closet since he was itty bitty. I used to keep all of his books on a shelf in the corner (that still needs to be reconfigured), but it just became a game for him to rip them all off. So we'll see how this way of organizing them works. I still have plans to get rid of the rocking chair and turn that corner into a reading nook with maybe a couple bean bags to hang out in.
I'd also love to add some shelving and some plants on the opposite wall above his dresser. His room doesn't get much light, so fake plants would probably be best. And a toddler lives in this room, so definitely fake plants!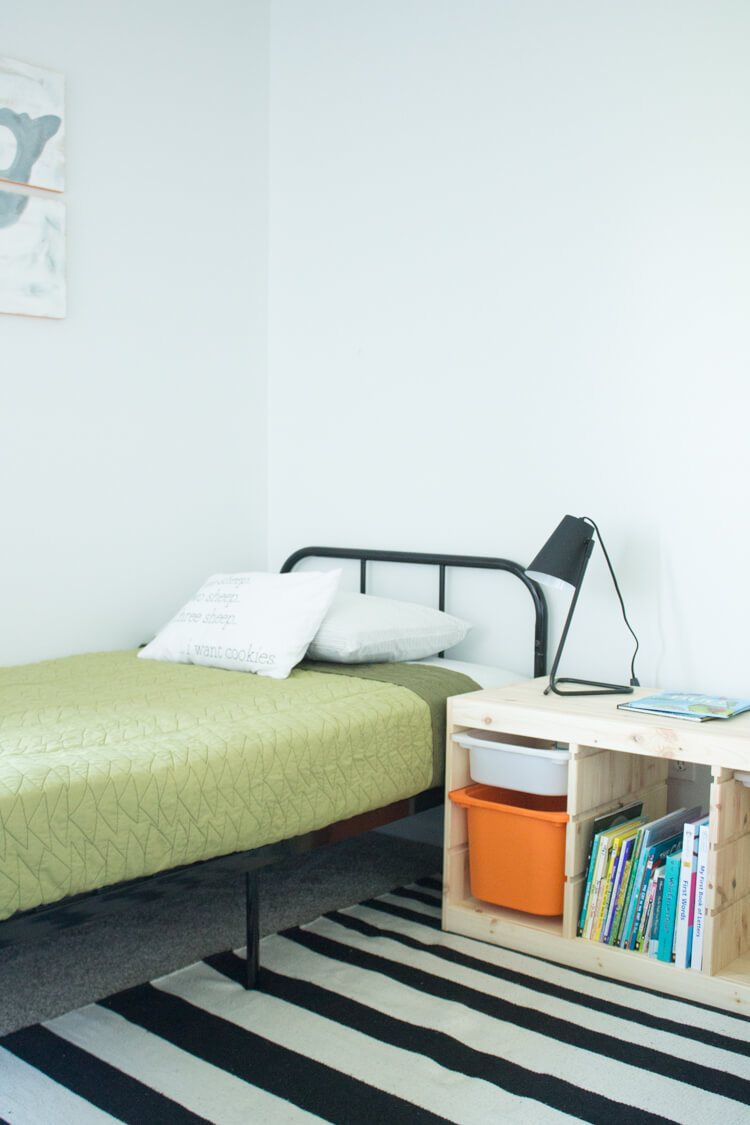 If you're in the market for a mattress, I definitely recommend looking into the Mainstays mattress at Walmart and taking advantage of the ship to your door service!
[embed_popupally_pro popup_id="7″]