Our entryway got a little refresh. I took down the wallpaper, added fresh paint and created this antique mirror entryway that is so much more my style!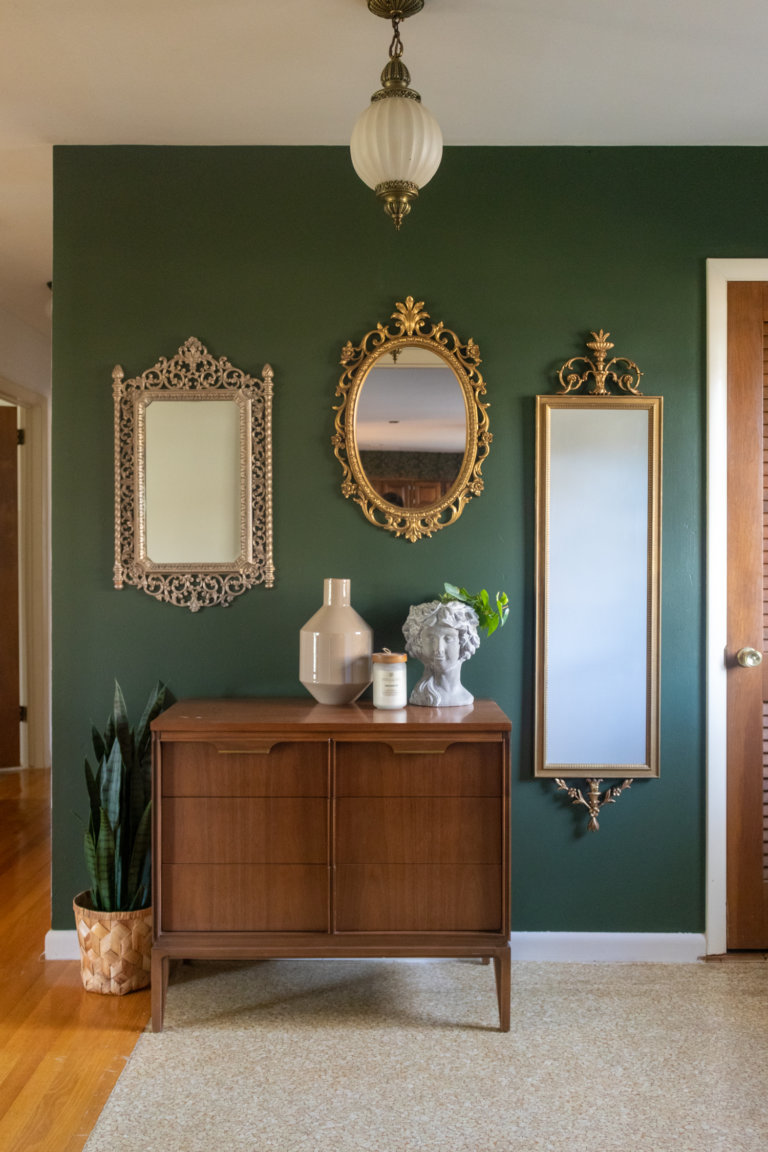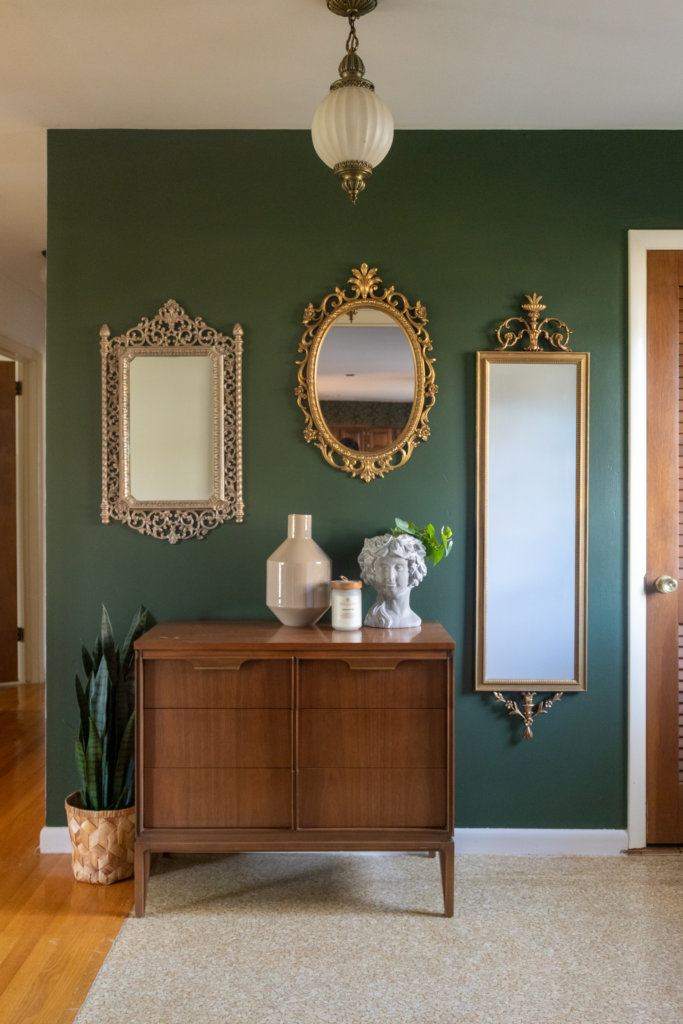 You guys, I am so in love with how my entryway turned out. I get so excited about every project that comes together in this house, but this is definitely one of my favorites so far. Just watching such a simple design come together and turn into a total knock-out it so rewarding.
First let's take a look at where we started.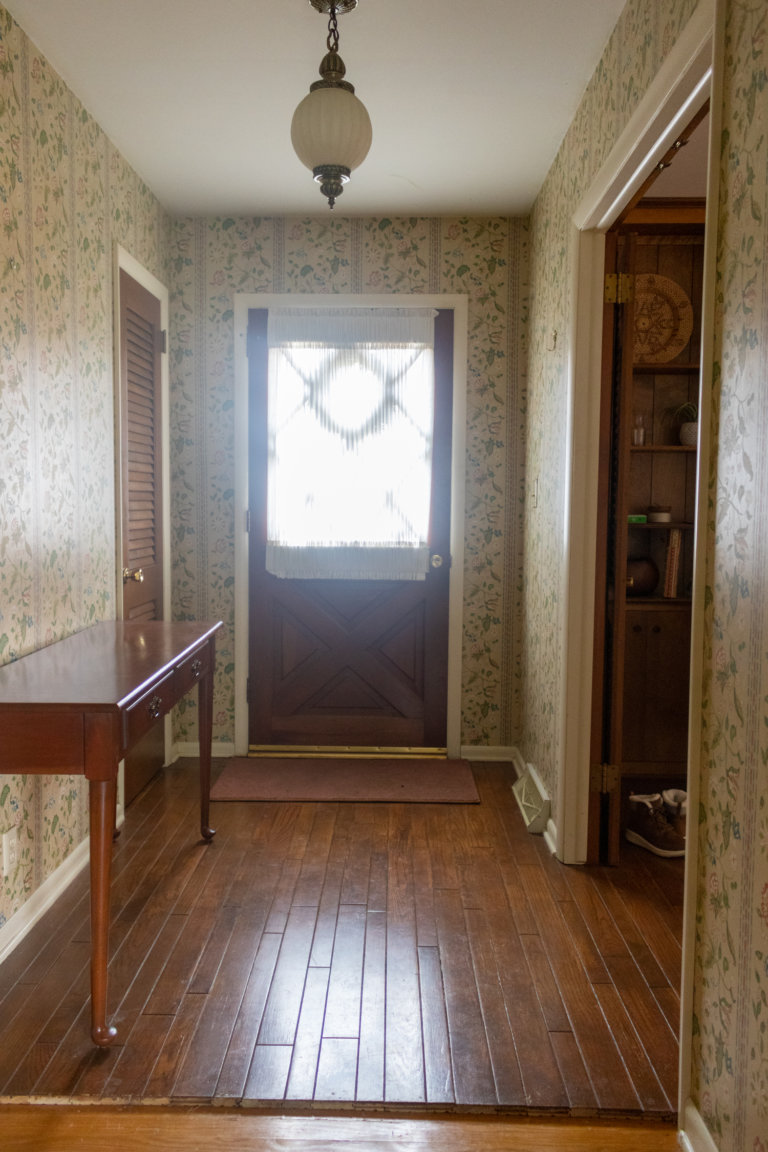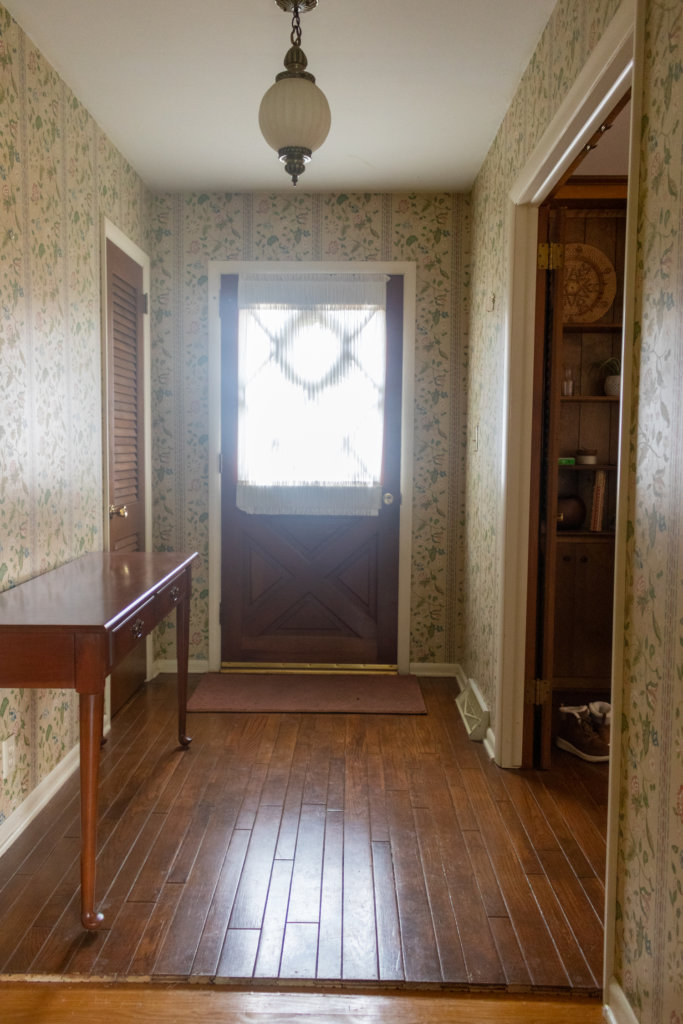 Honestly, I didn't hate the wallpaper that was on the walls. The previous owner definitely had quality tastes and you know this was super stylish at one point. But the entry and hallway were so dark all the time. Plus the wallpaper was starting to peel itself off the wall in some spots, so it was time for an upgrade.
The flooring is uneven because we pulled out the carpet that was over these hardwoods the week after we got possession of the house. There is a layer of that darker hardwood over the entry and it extends through the hearth room and kitchen. There's another layer of original wood flooring under the bit in the hearth room, but there's linoleum in the entry and kitchen.
So we did end up taking out the wood overlay that's in the entry, but we stopped once we reached the hardwoods in the hearth room because the linoleum had tons of nail holes. I didn't want to expose the hardwoods if they're full of nail holes before we can have them refinished. So that is just one part of this house that's kind of in limbo as we work our way through different renovations.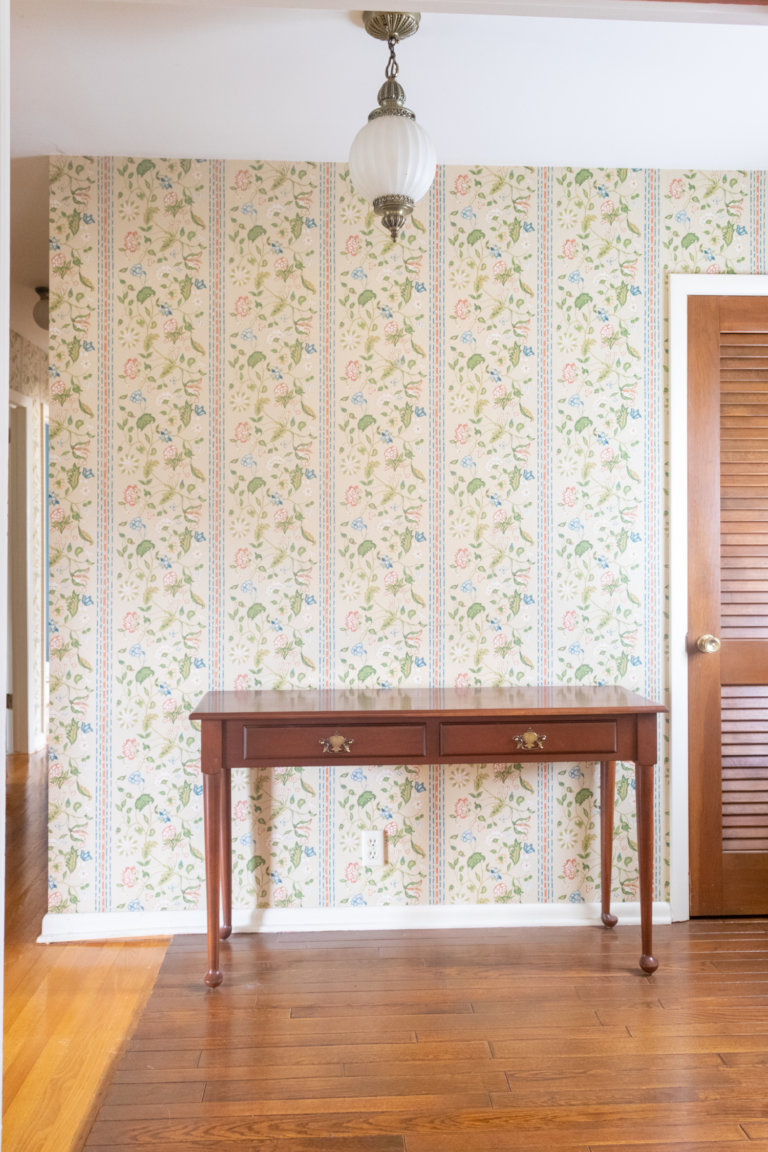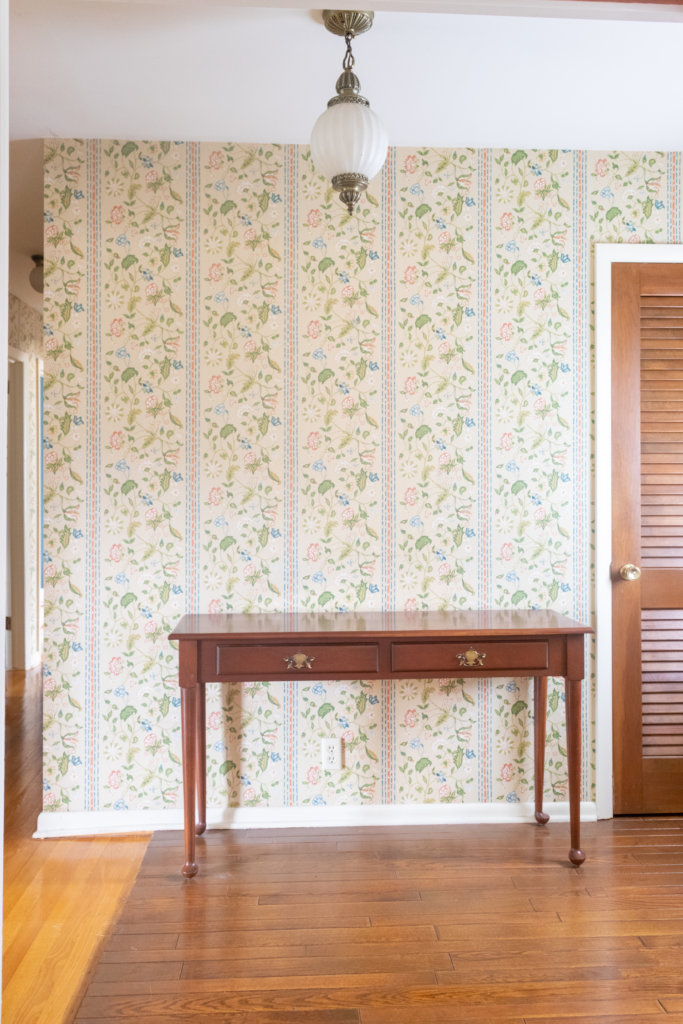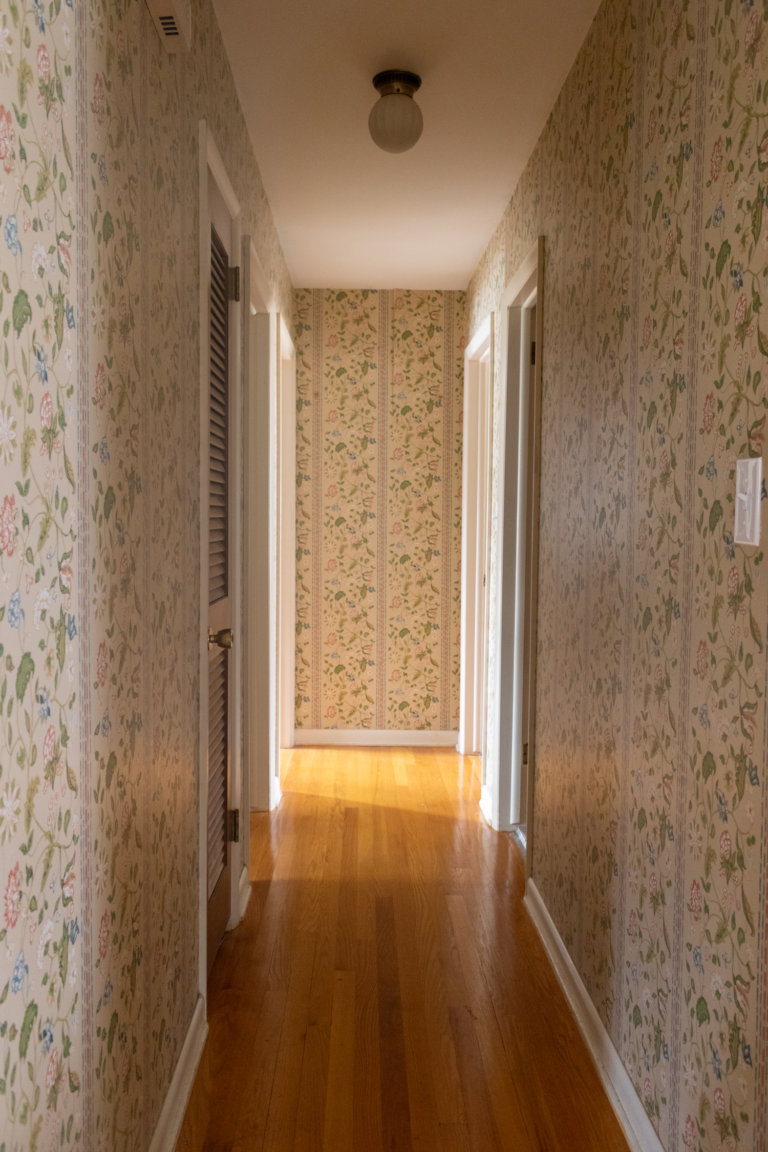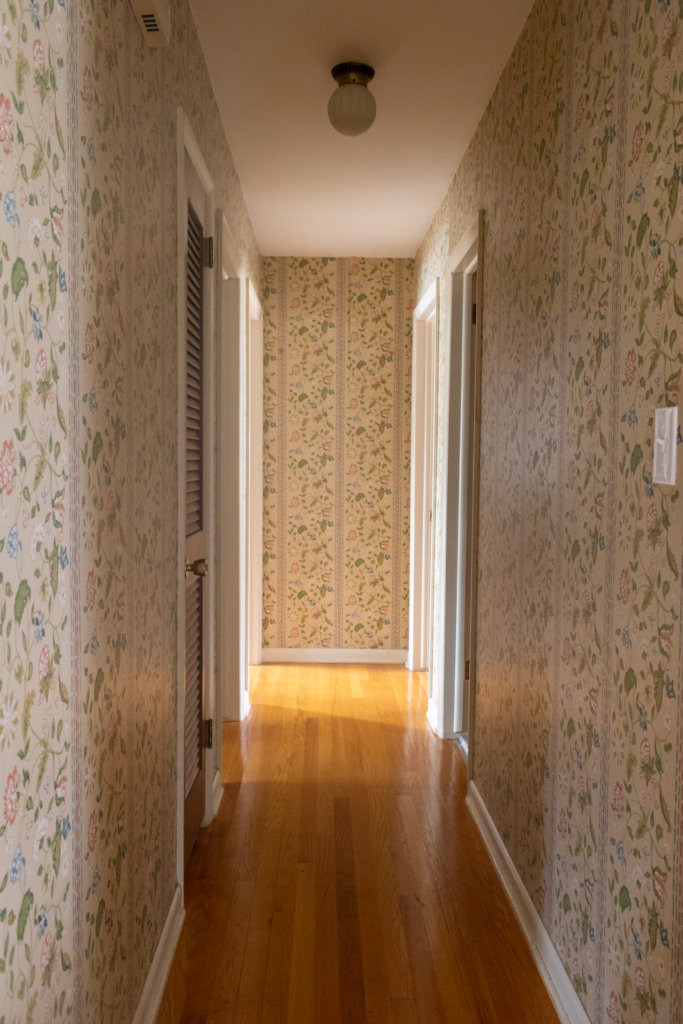 Removing wall paper is a process that has gone differently for me in every single room so far. The bedrooms all needed a skim coat because the sheetrock was pulled off with the wallpaper. The living room was super easy and after a little prep work, it turned out great for the most part.
This hall and entry were somewhere in between. The wallpaper basically fell off the wall with a little pull, but I struggled to get the glue off. I sanded and primed with Zinsser All Prime and sanded again, just like I did in the living room, but the results aren't great. I'm not going to mess with attempting to skim coat the entire space on my own, so I'm living with it as it. Now that it's painted, the imperfections aren't as noticeable, or I'm just used to them. It's fine.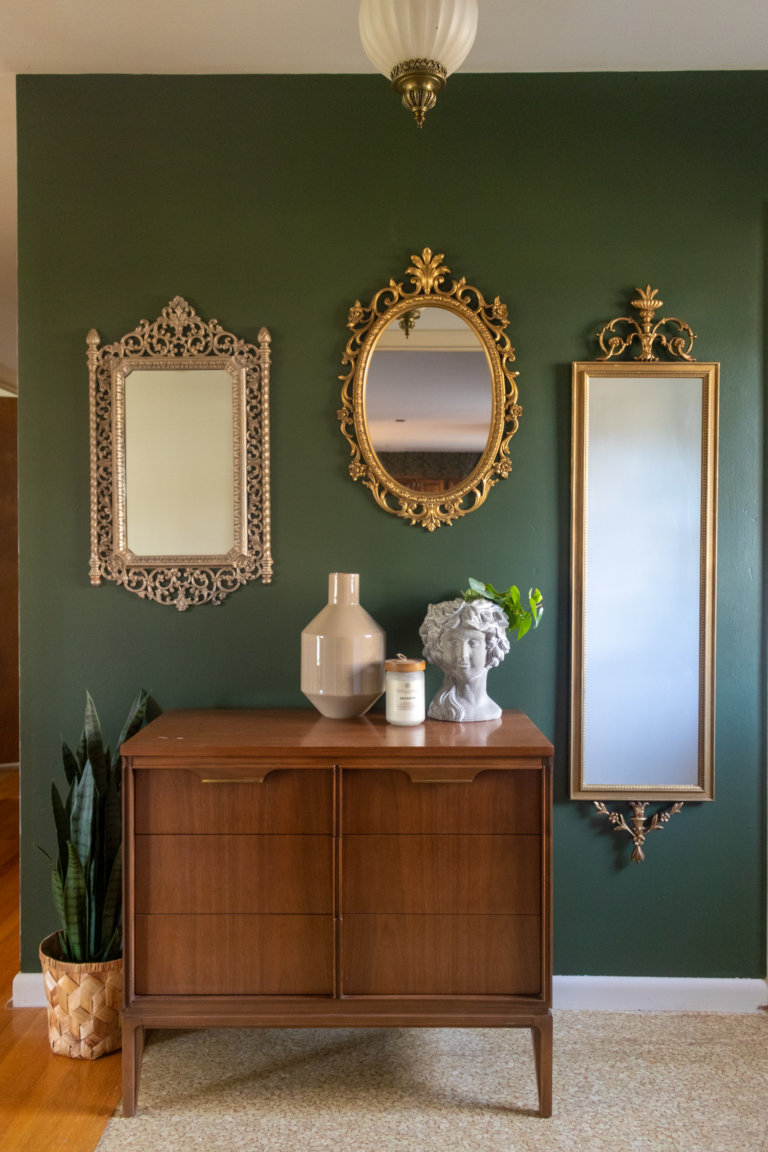 Ok but on to the good stuff. I'd been collecting a few antique mirrors and I knew I wanted to use them in the entry. I actually thought I'd need more than three, but once I got these on the wall they looked so perfect together.
The wall color is Benjamin Moore Backwoods. It's honestly a lot darker than I expected. It's a little closer to my bedroom color than anticipated, but I love it! I have so many dark walls in my house that I was planning to go with something lighter, but I guess this is just who I am now.
The dresser was one I bought off Facebook Marketplace over the summer. It had just been sitting in the garage for months. I absolutely love the mix of these vintage styles together.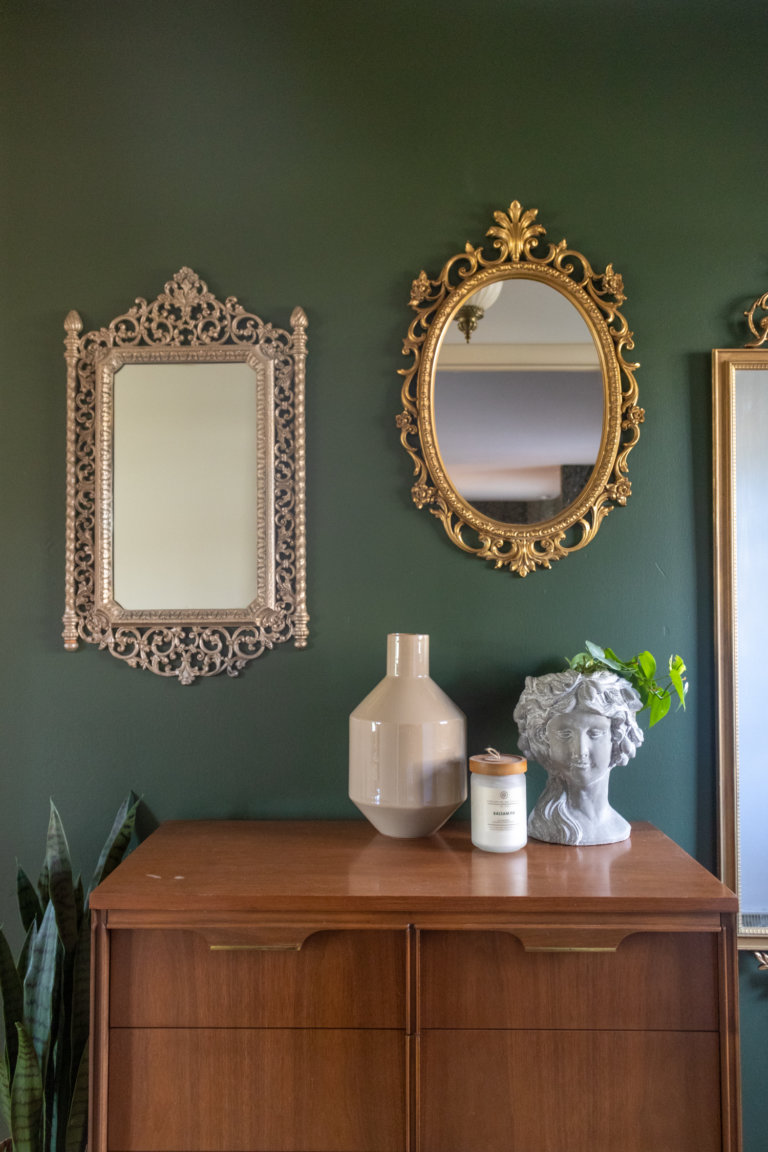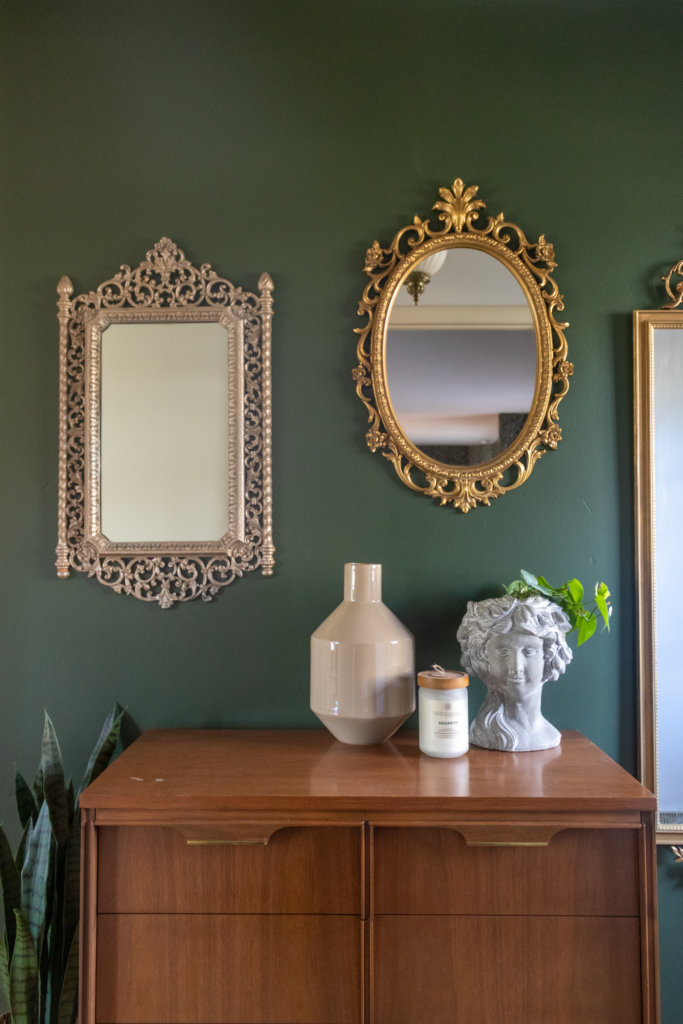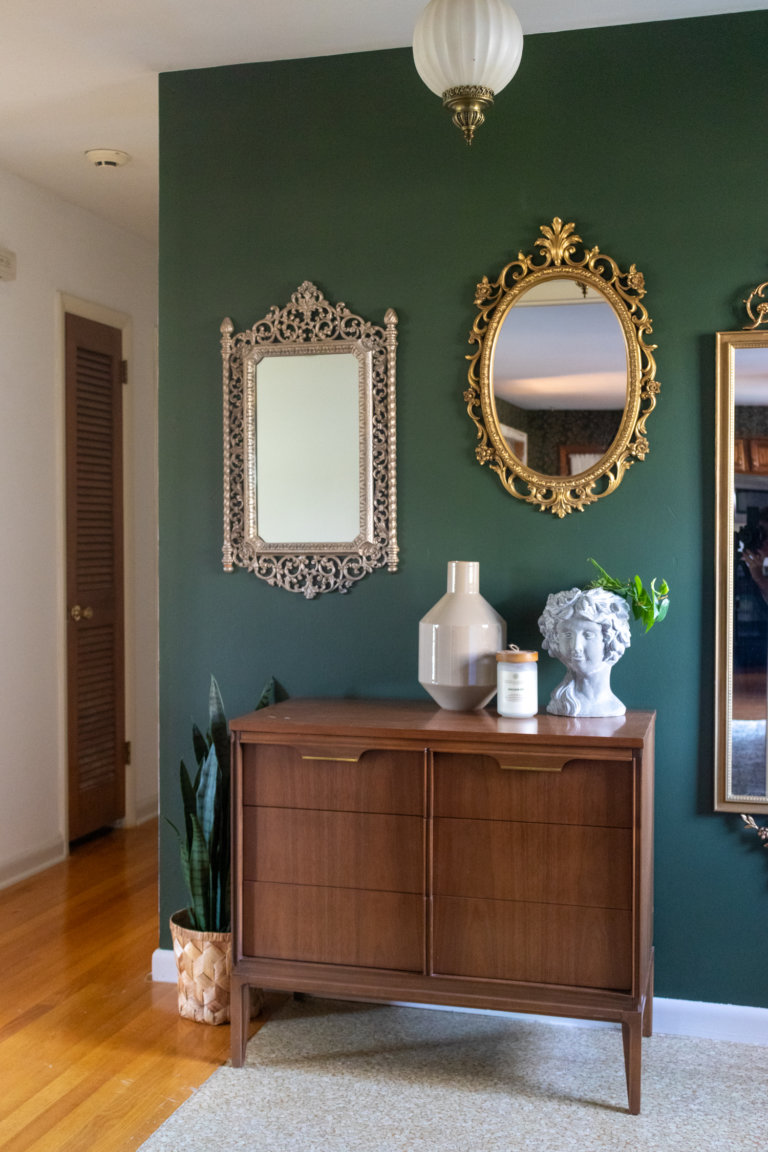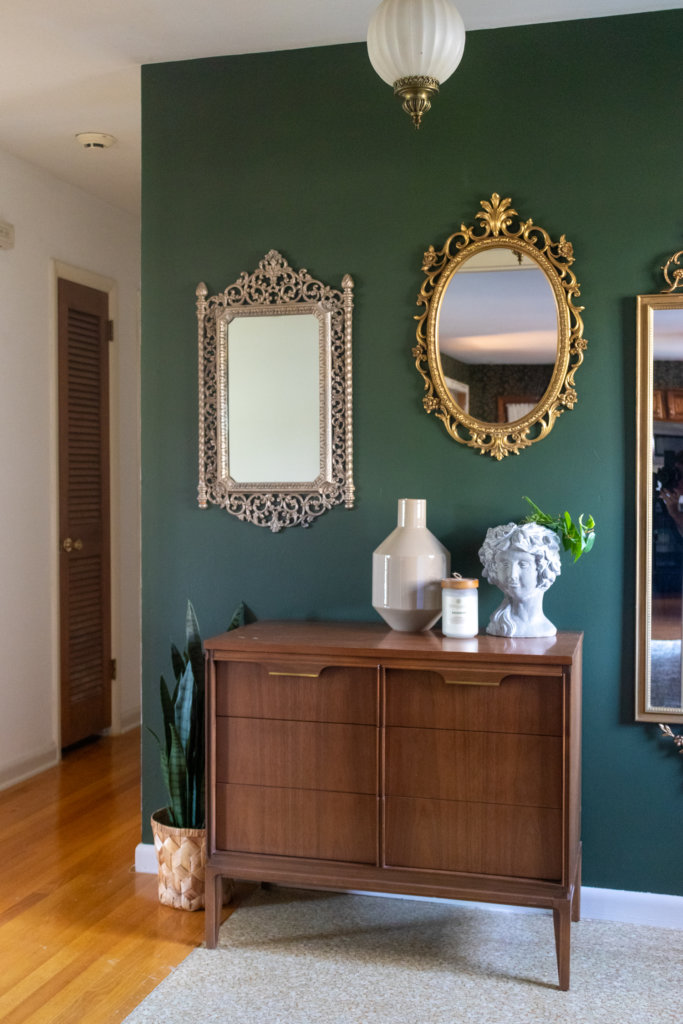 The rest of the hallway is painted in Benjamin Moore Simply White. It makes the entire space so much brighter than it was before. The hall walls could still use a little love, but we'll get there eventually.
I am just so excited that now this is what people get to see when they come in our home. Other parts of the house are still outdated, and heck this space isn't perfect. I don't love the linoleum for sure, but it's still a little piece of my style right inside the front door. And I love catching glimpses of it as I walk through the house.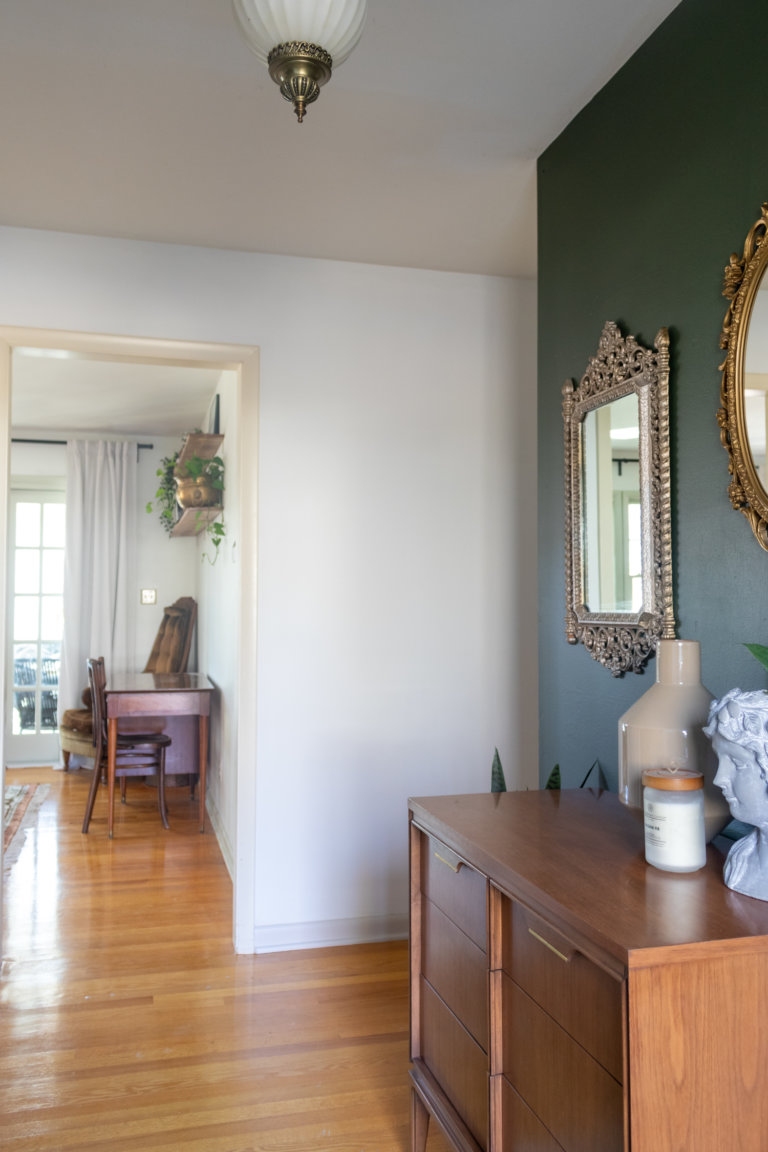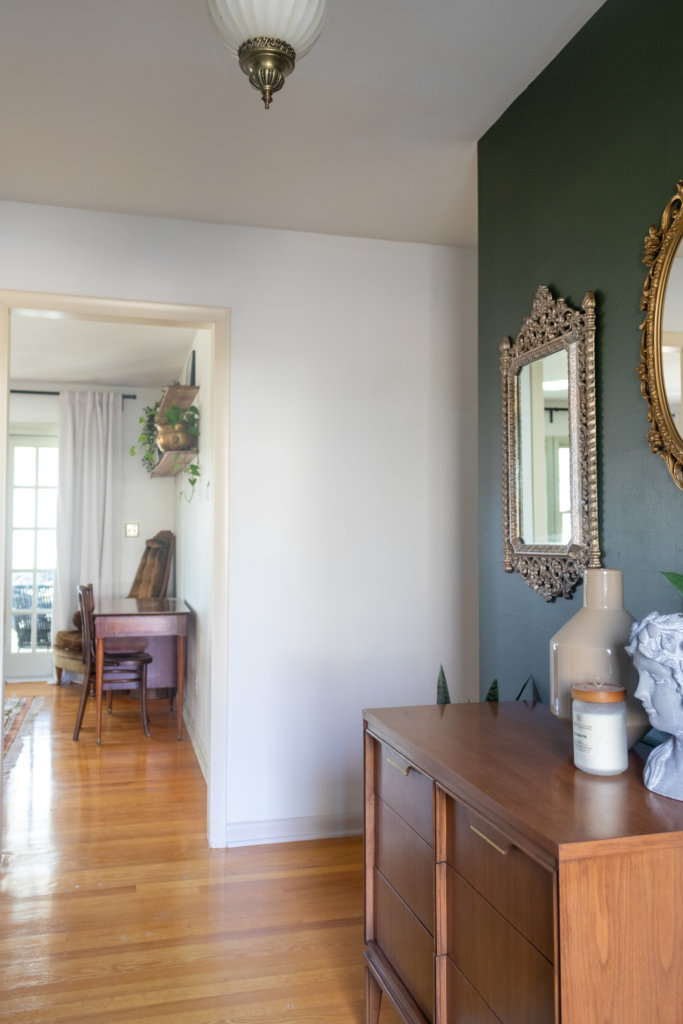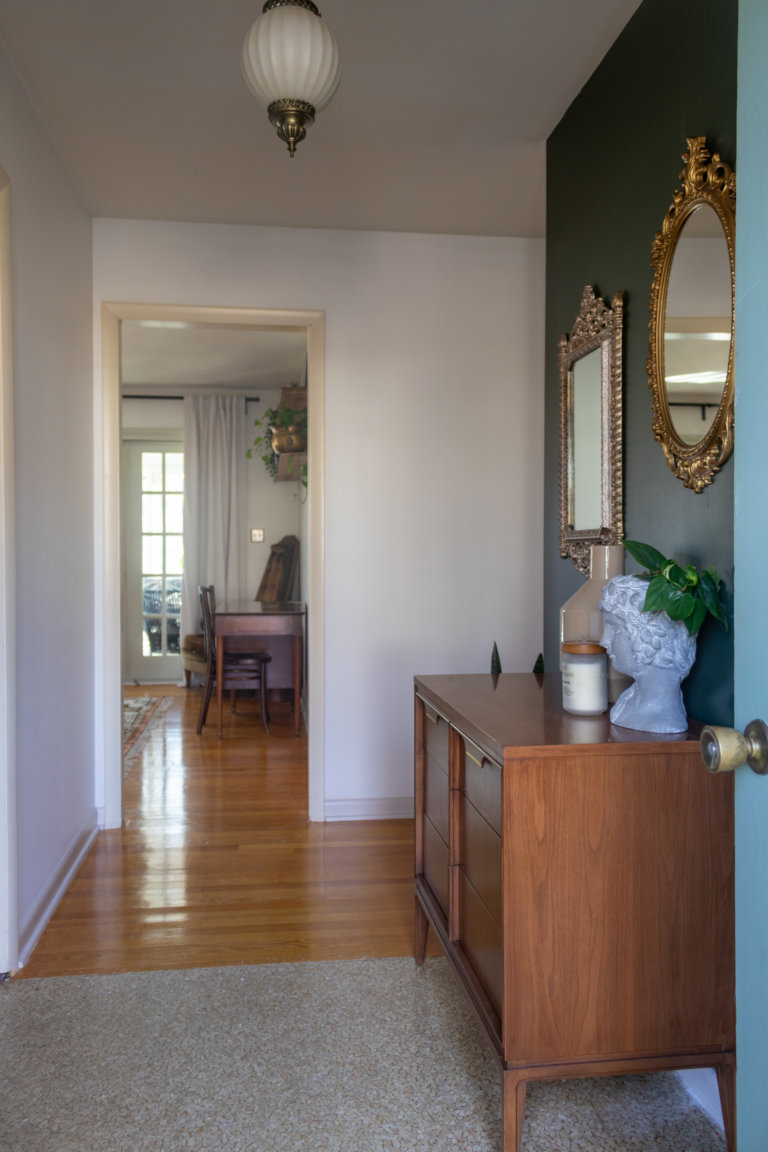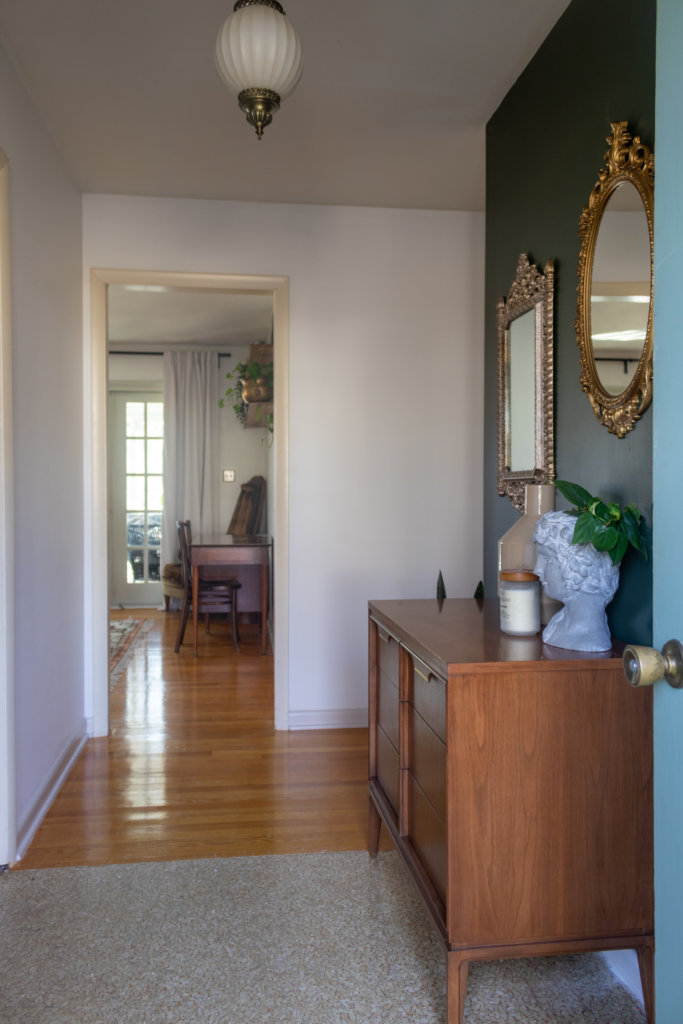 I just love this antique mirror entryway so much. Also, this wall prompted me to start a new hashtag on instagram, #fancymirrorclub. So if you have any pictures of fancy mirrors in your home, tag me and I'd love to see!