Thank you Chesapeake Bay Candle for sponsoring this post about our simple and natural modern home. Find my full disclosure here. This post also contains affiliate links.
This year, I've been so ready to mix things up with my spring home decor. I was over Christmas decor before it was even December, and since then we've just been in limbo. In true spring cleaning fashion, I've been so ready to just clear things out and start with a fresh, clean look. I finally got everything put together and am excited to show you my spring home tour for this year! I'm going with the theme of a simple and natural modern home.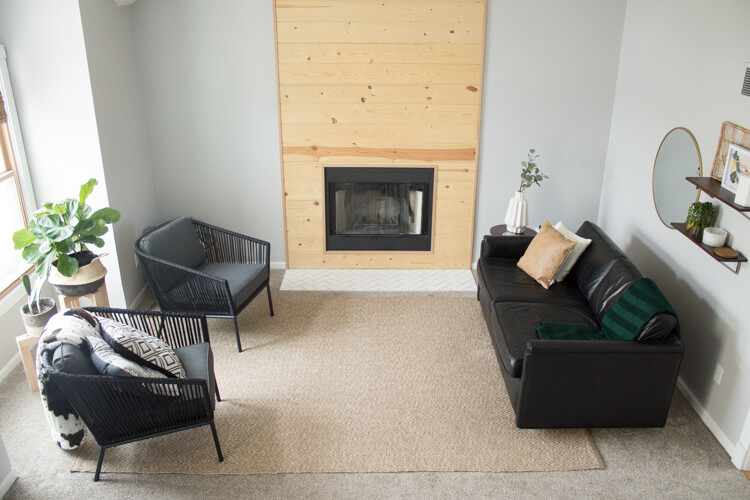 This spring my style has been really inspired by this Chesapeake Bay Candle Heritage Collection. This collection is simple, clean and natural, but modern. Exactly how I want my home to feel this time of year. Even though we are halfway through the year, I'm still sorting out all those "new year's" feels and going back to the basics is exactly where I want to be right now.
The Chesapeake Bay Candle fragrances are so good! They work hard every year to bring the best scents (you can see the ones I tried last year here) and they are always so good! My home always smells great within minutes of lighting them and I go through them pretty fast because I just can't stop. It's just a bonus that they inspire my spring style too!
This year I tried out the Milk & Honey (my favorite and the one I've been burning the most!), Bay Cottage, Cypress & Oak, Driftwood & Amber and Leather Mahogany. You'll see them all as we make our way through the home tour!
A Simple and Natural Modern Home
First up is our living room. I always like to remind you that we live in a tri level house, so when you walk in our front door you walk into what I consider our "formal living room" and can see our kitchen. If you go downstairs from this room you'll end up in our main living room (aka the tv and toy room) and if you go upstairs that's where the bedrooms are.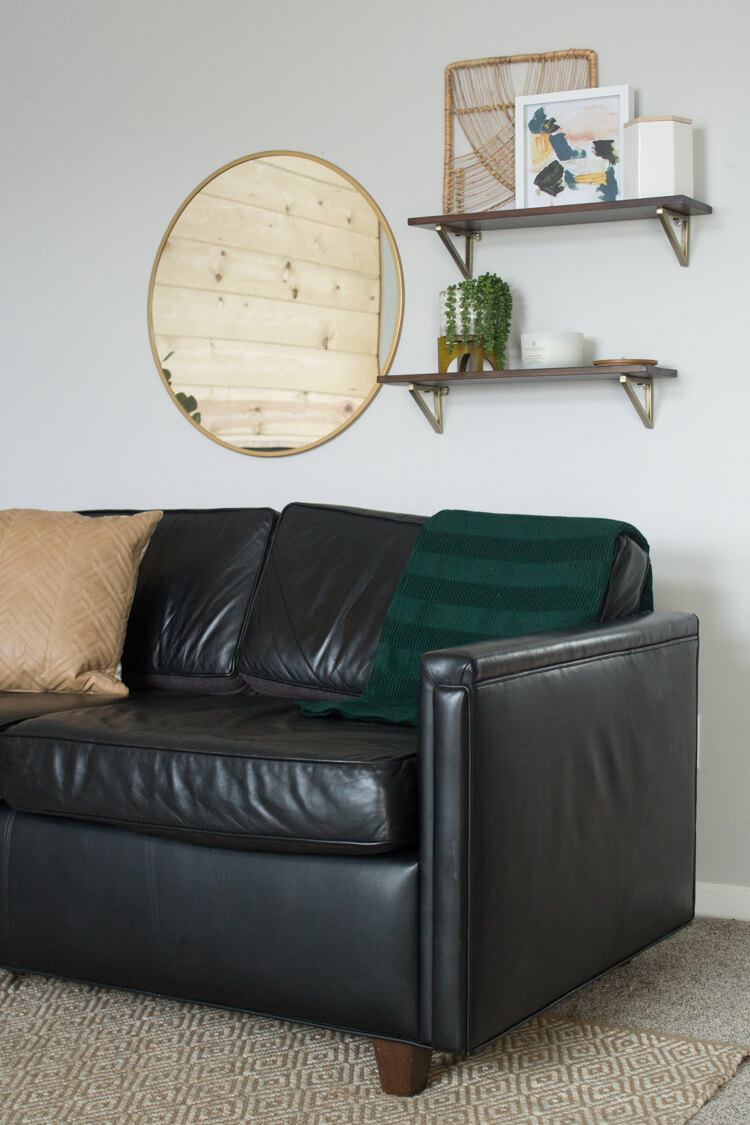 This room was probably the most challenging. The walls are gray and every time I go redecorate or take pictures I have no idea why I haven't painted them white yet. But it all worked out! I knew I wanted to keep the shelf simple. Nearly everything on this side of the wall is from Target. The mirror, shelves, rattan art, and the little vase (from the dollar section last year) and even the pillows (leather, white). Even the side table and large white vase are target finds from a previous season!
The white picture frame and planter are from Homegoods and I ordered the printable art from Etsy.
I keep the Milk & Honey coffee table jar candle in here because it's my favorite scent and the main area of the home. You can smell it everywhere when it's burning. It's a nice natural but sweet scent and is made with nutmeg essential oil. One reason I love these fragrances is because while they're fresh, they also still have a touch of warmth to them. Sometimes I have trouble with spring and summer scents because I just gravitate more toward the warm ones, like vanilla.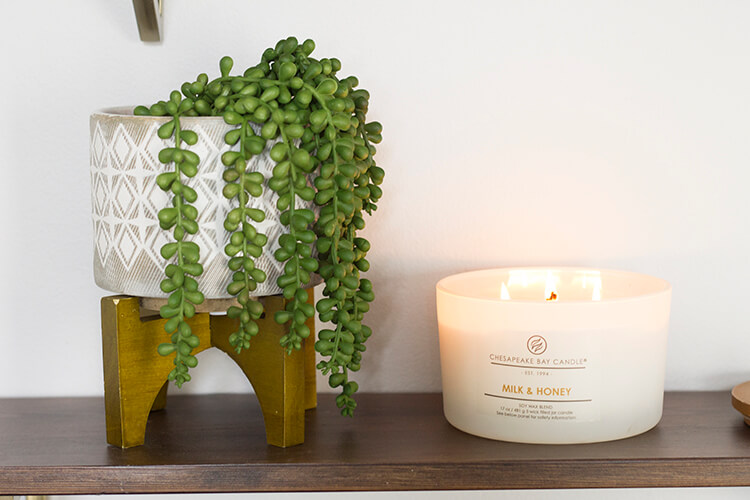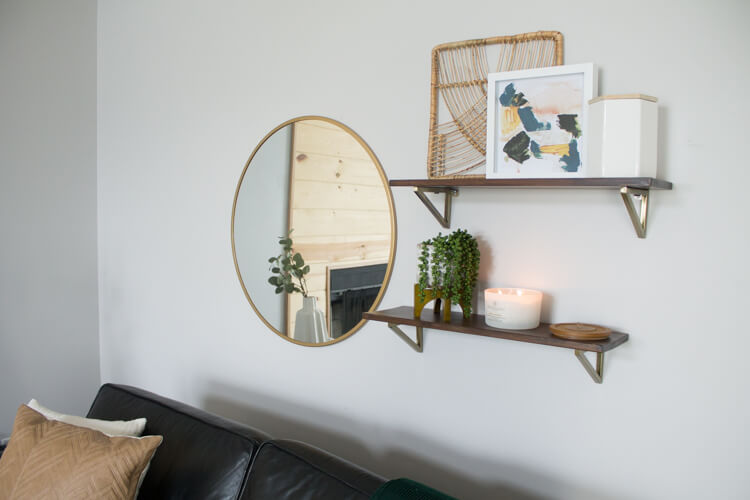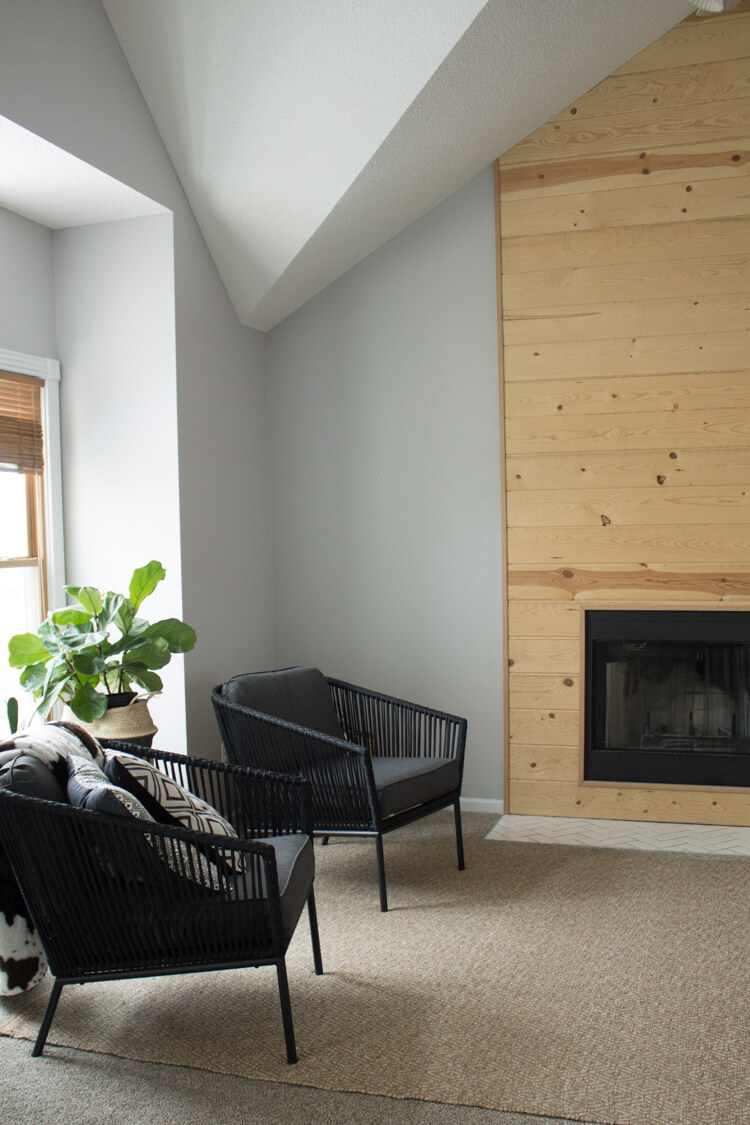 These chairs on the other side of the room are also from Target and they're actually outdoor chairs! I pulled them in last fall and now I can't decide if I should put them back out or not.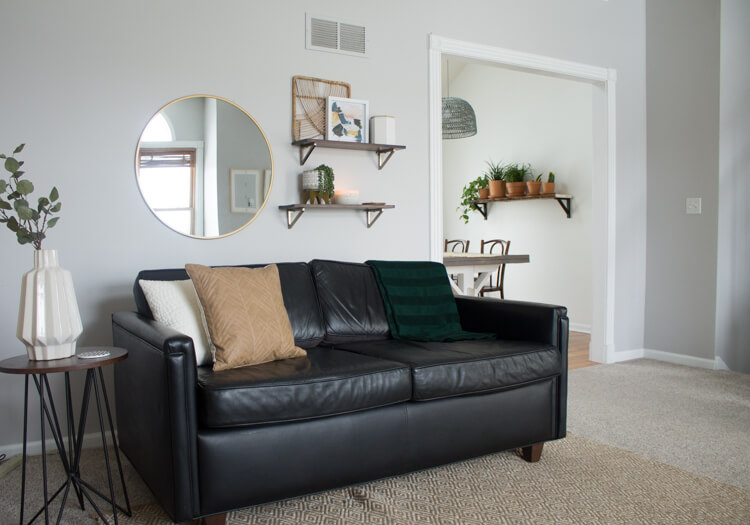 Sneak peek of the room I'm most happy about! I am currently living for that plant wall. All the heart eyes!!!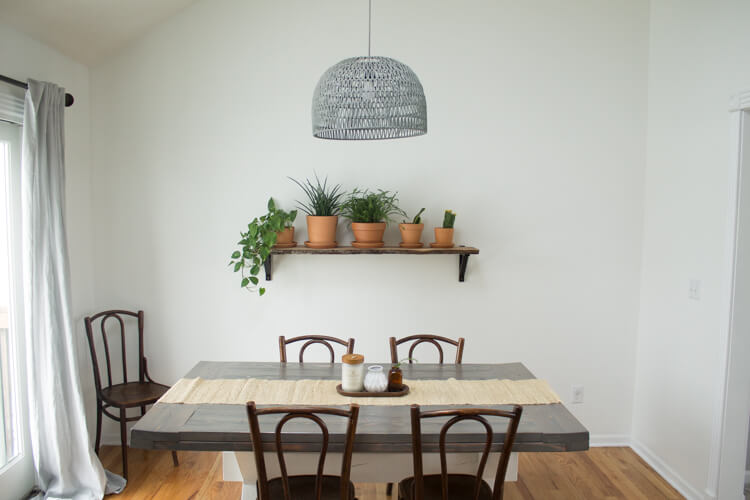 You guys. This room. I just can't quit staring at it. It's so freaking simple and natural and exactly the feels I'm going for! As soon as the idea crossed my mind I knew it was going to be awesome. And terra cotta pots are super affordable and reusable. They are also the perfect natural texture for a white wall.
In case you're curious about the houseplants, from left to right they're pothos, snake plant, lemon button fern, another snake plant (different type) and a cactus. I'm linking to some of these on Amazon, and I've bought a few plants from Amazon with no problems, including my fiddle leaf fig.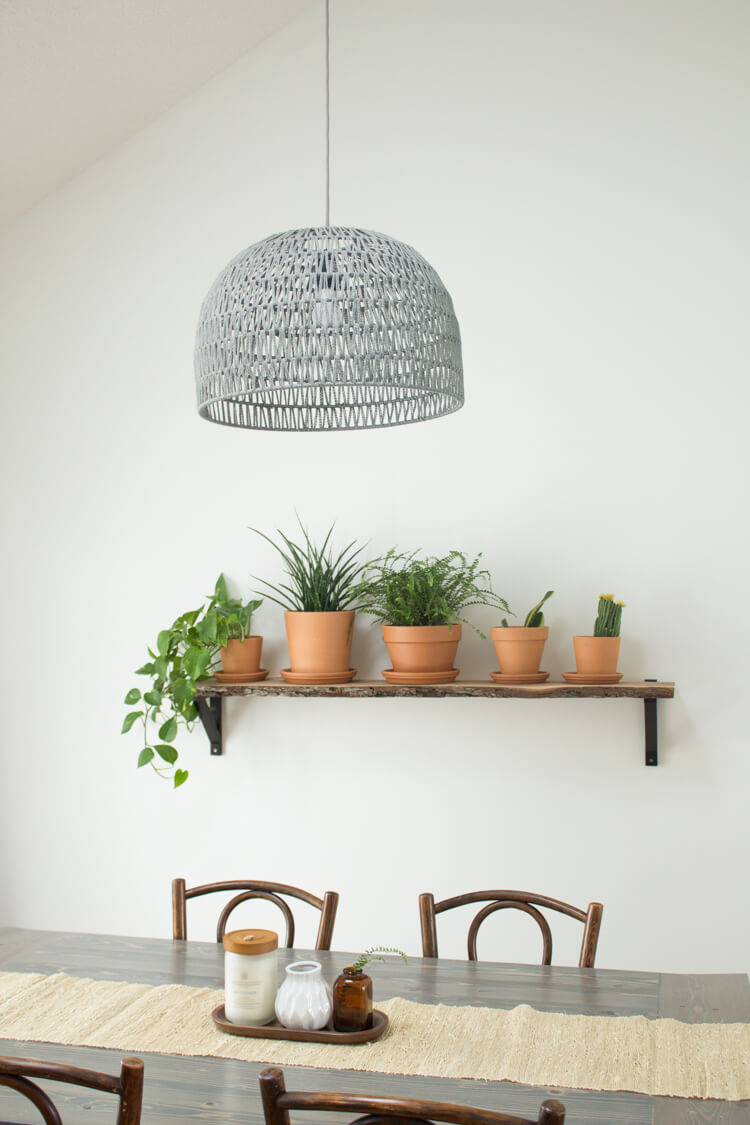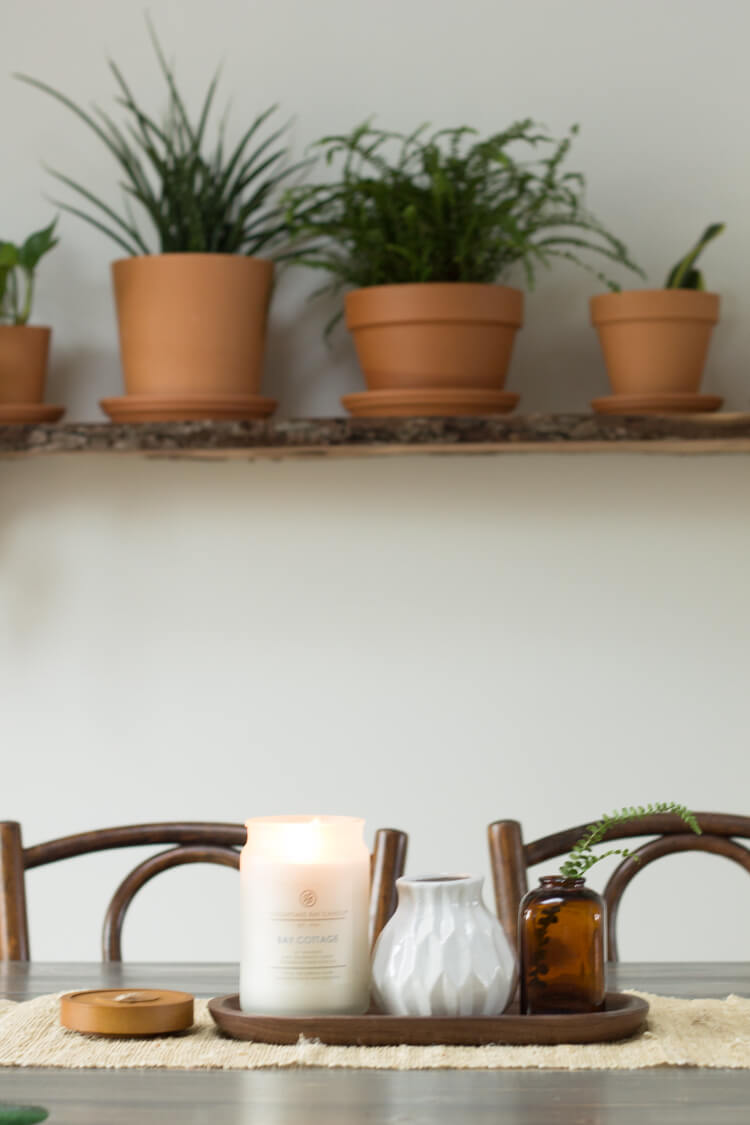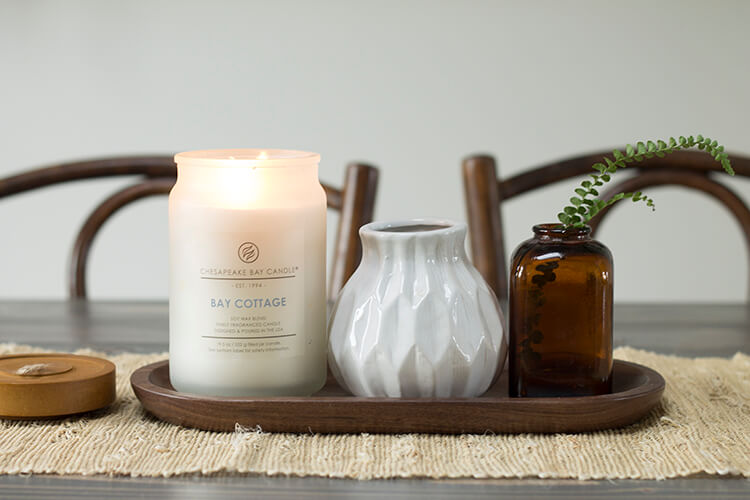 I wanted to keep the centerpiece on the table fairly simple so the plant wall could shine, and these little bottles paired with the Chesapeake Bay Candle Bay Cottage fragrance is perfect. It smells like cotton and fresh air and is made with the essential oil of patchouli. So good!
I love that little wooden tray too! And the table runner is from Target :)
Here you can see how our dining room/kitchen area flows together. I love the look of styled kitchens on Pinterest, but my goal lately is just to keep the counters clear. Of course my home looks clean in this home tour, but that's not always the case. I find that our days run smoother when I can at least keep the counter and table clear.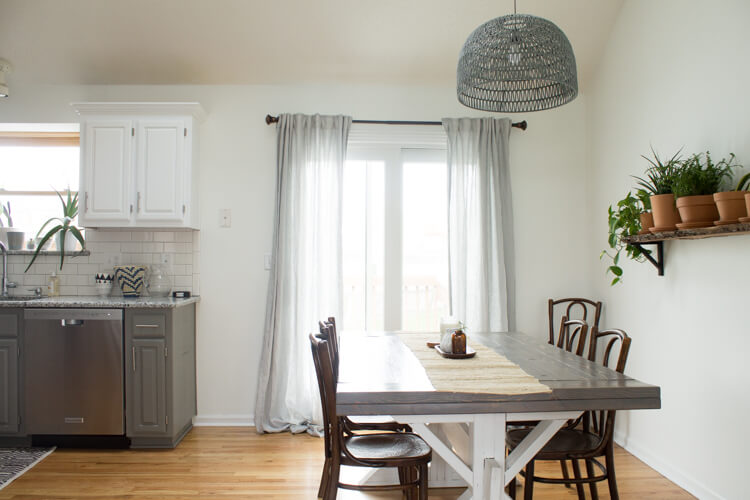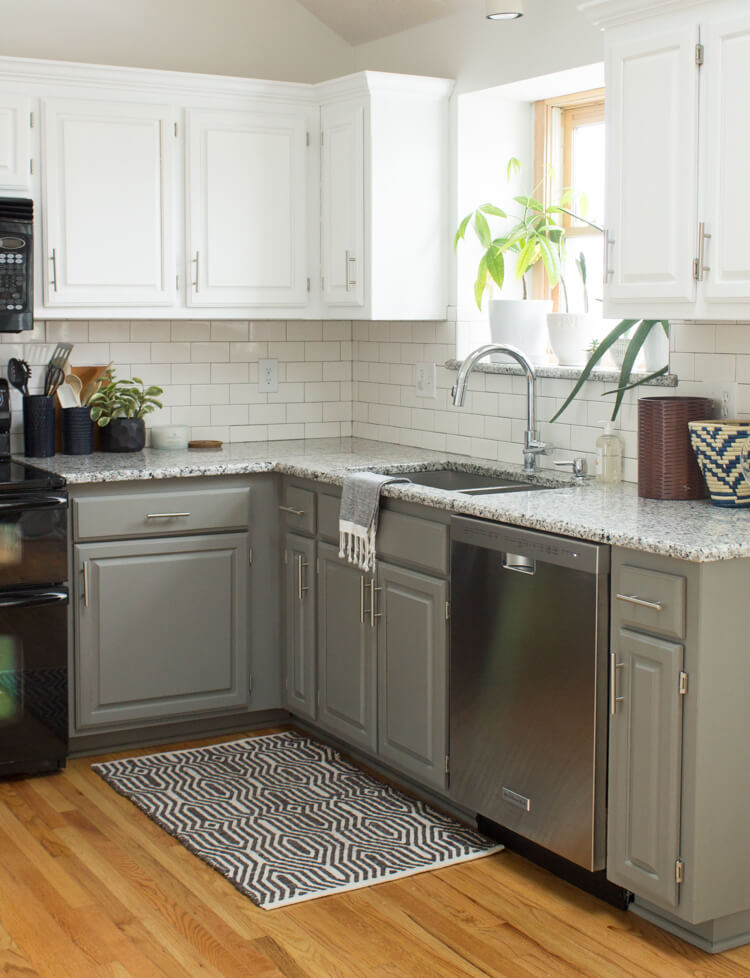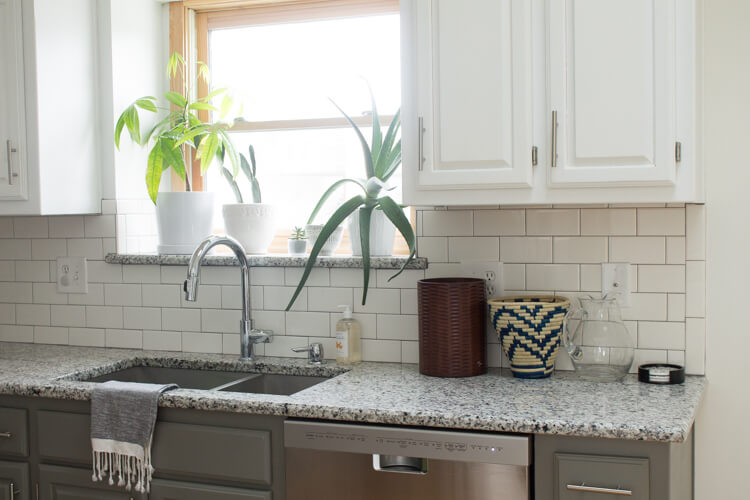 I always keep plants in the window above the sink and like to keep our utensils in pretty canisters to add a little personality to the space. Those navy canisters by the stove came in a set of 4 and I keep the other two in our guest bath. They can be go anywhere! And I'm loving turkish hand towels!
The kitchen counter is another great place for a candle. This one is Cypress & Oak, made with armoise, cedarwood, eucalyptus, fir, olibanum, patchouli, rosemary, spearmint and thyme essential oils and has an outdoors, woodsy scent.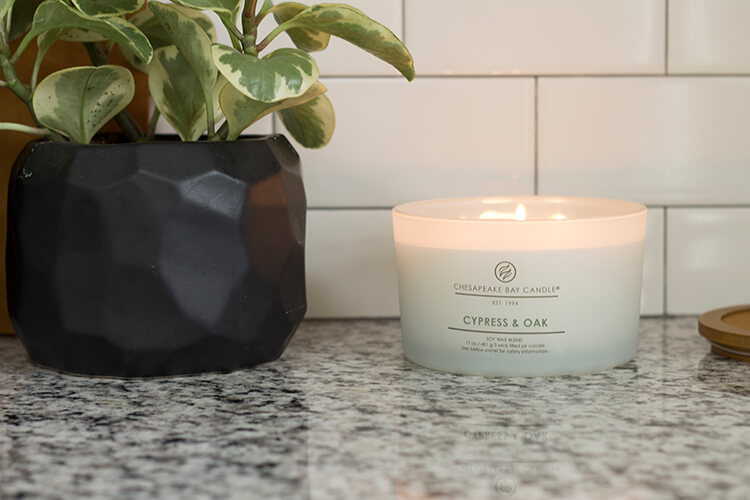 Next up is what I consider our main living room. I strive for minimalism even with a toddler running around. But the truth is that cabinet is full of toys and so is the other side of the room. Ha! But having this room look a little stylish when it's clean makes me so happy.
Because this is the playroom, we keep it extra simple and sensible. I specifically picked a mid century style TV stand with lots of storage so we could hide a lot of the toys from view when we need to. You can see how I painted and stained it here. Under the pillows the basket also holds all of our balls, convenient and easy to hide!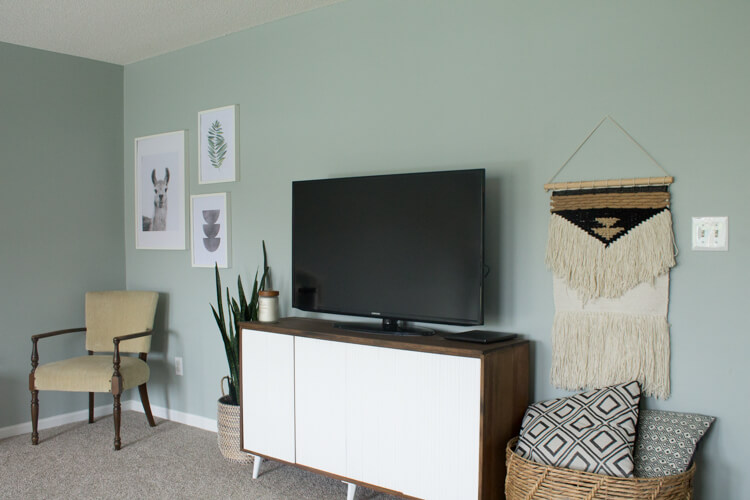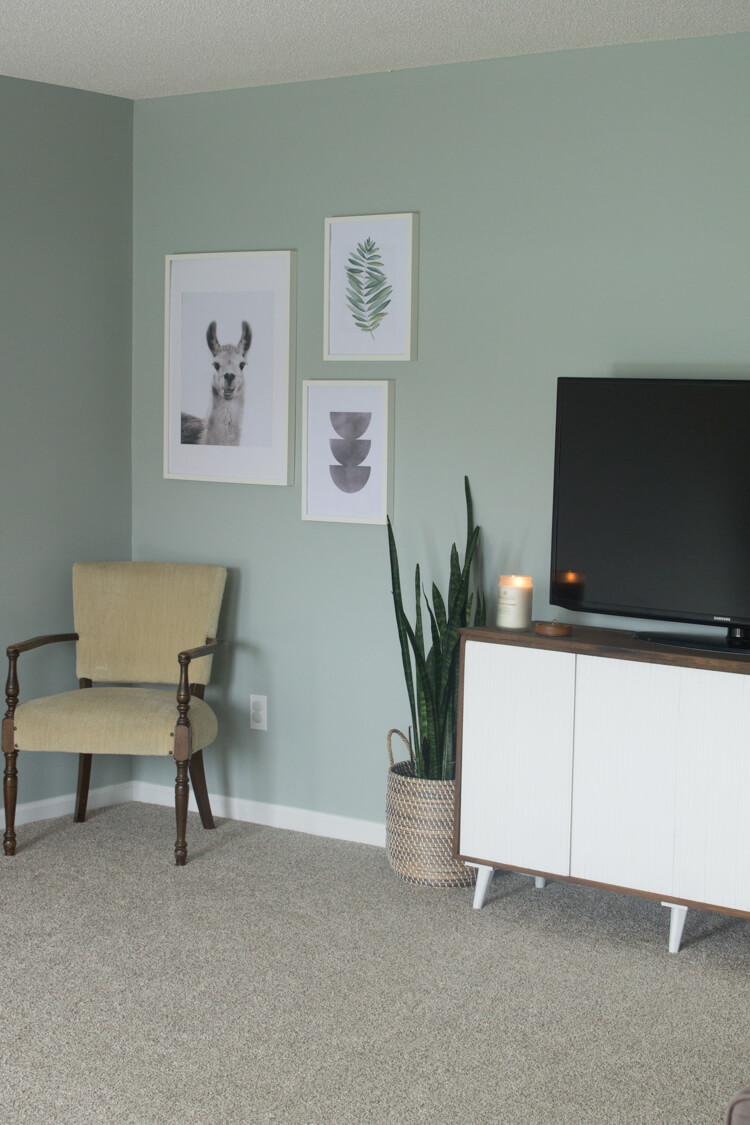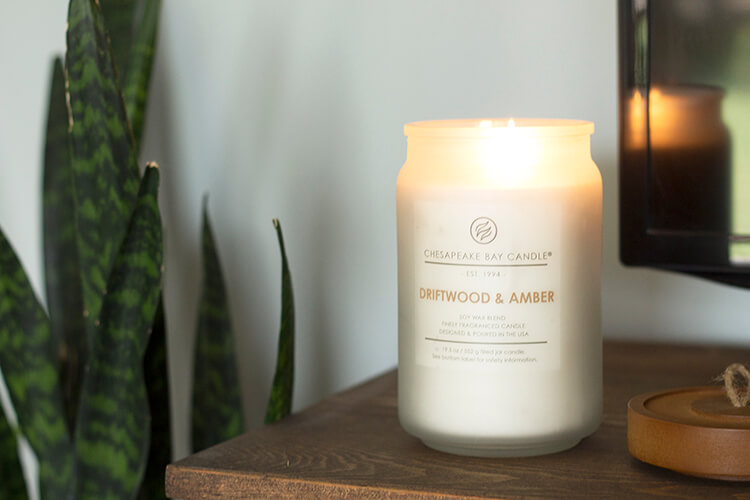 The candle in this room is Driftwood & Amber. It's another outdoorsy scent that contains the essential oils of eucalyptus, linseed, tagetes. And it's such a simple touch of decor on the TV stand. In this case, less is more!
The prints in this room make me extra happy. I love how playful it feels to have a llama print here. We got kind of attached to llamas when Graham got the book Llama Llama Red Pajama and then he was a llama for Halloween. When they started popping up in home decor I knew I was going to jump on that train. I ordered the prints from Etsy (llama, plant, modern art) and had them printed as engineer prints for around $7 at Office Depot. Easy peasy.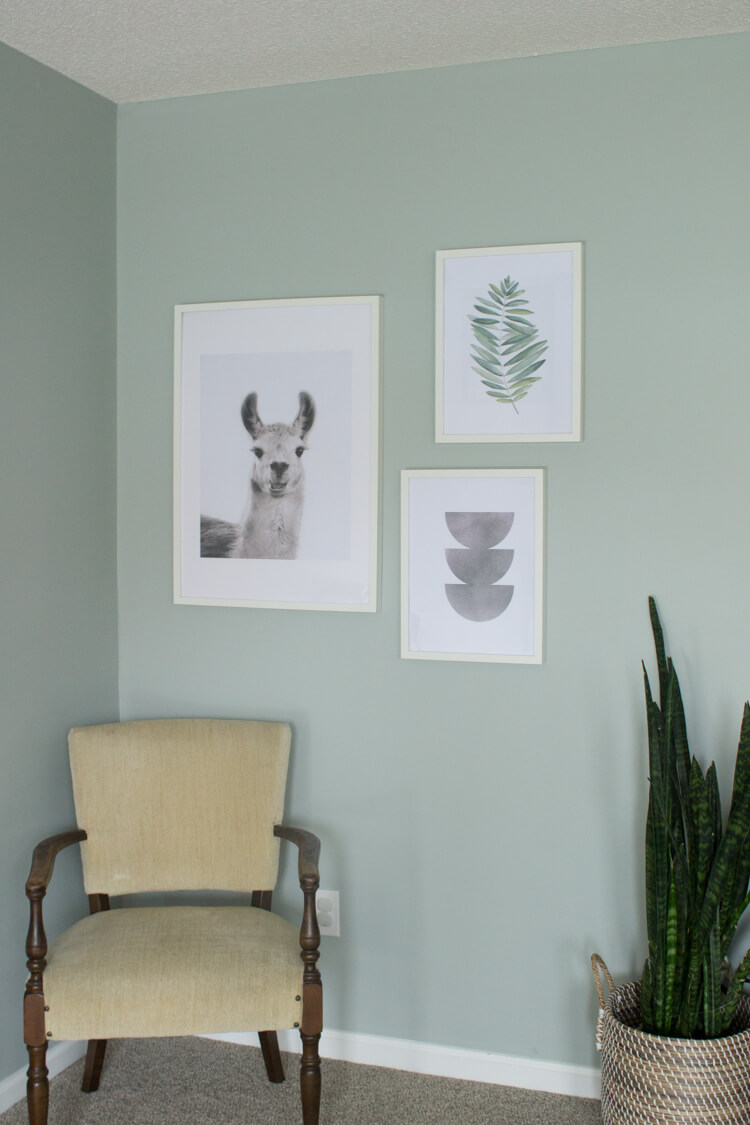 The last space I wanted to show you was this little dresser in my master bedroom. This is the other place we keep a Chesapeake Bay Candle since it's a main space we spend time. The Leather Mahogany fragrance is a spicy floral, leathery fragrance that's both fresh and warm.
I painted a dark green accent wall in this room a couple weeks ago and it turned out awesome. You can see more views of that here. It turned out better than I could have imagined.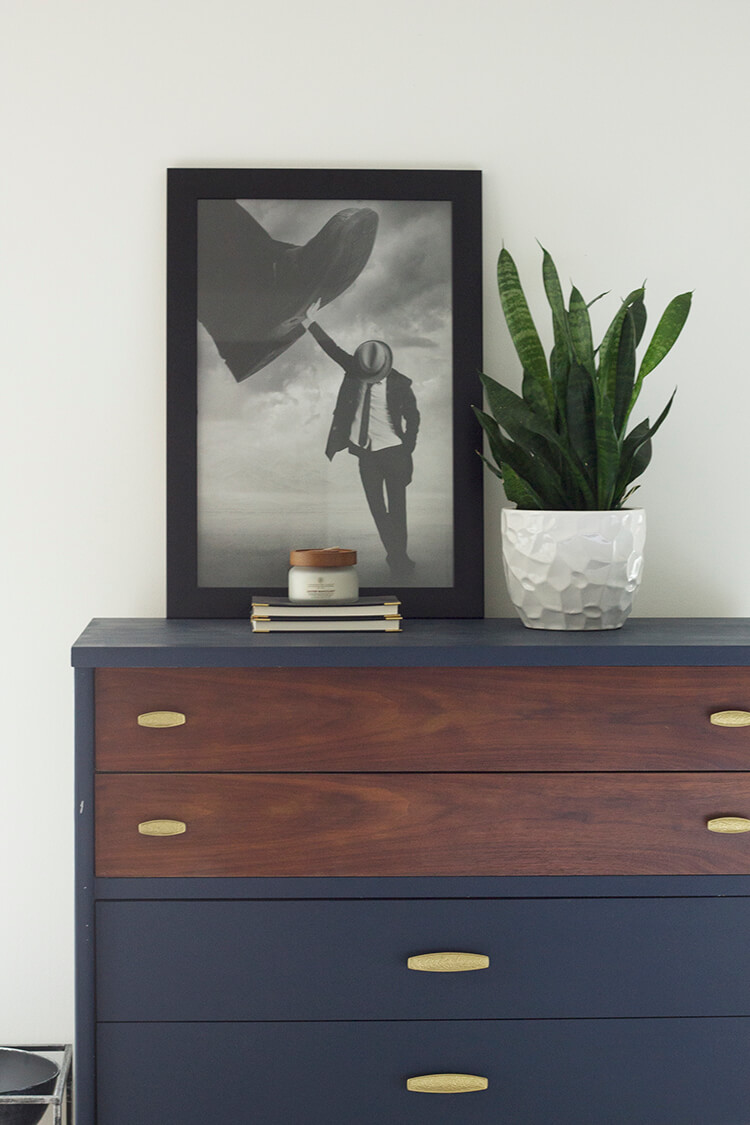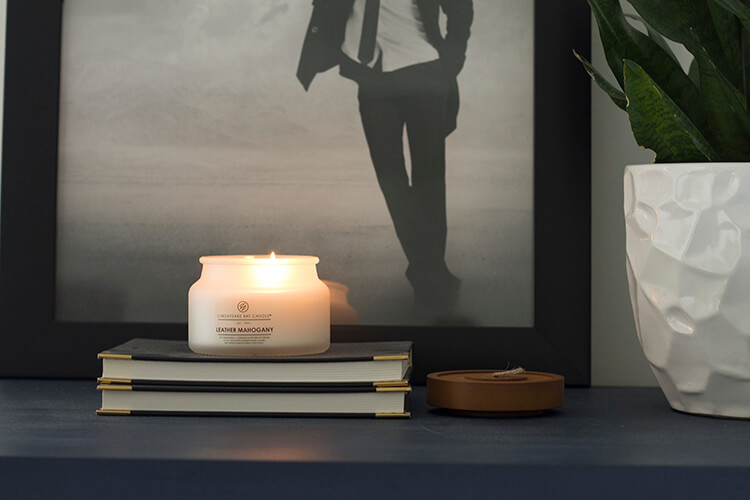 So there you have it, our simple and natural modern home tour! Curating a home and identifying your style takes time, and with each season it comes together for us more and more! I find it easier to go for a "feeling" rather than worry about sticking to a particular style. This simple and natural feel is perfect fo us right now!
[embed_popupally_pro popup_id="7″]