My blog is filled with perfectly staged photos of my home. Today I want to give you a peek into how we really live with a real life home tour. My home isn't perfect and my family can be pretty messy, but I'm still a minimalist. And you can be too.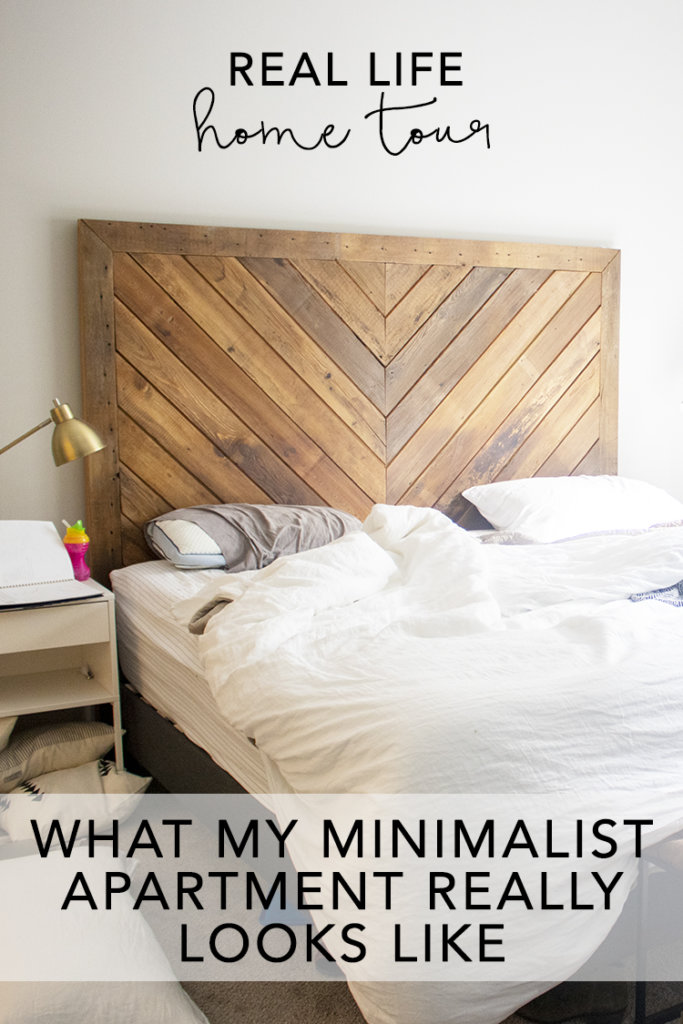 So the thing about minimalism is that there's a lot of hype around having as few things as you possibly can. And your home should probably be a mix of raw wood tones and white.
But some of us still want to live our lives in our home.
And honestly, sometimes when I look around my apartment after we've been really living in it, I start to wonder if I'm qualified to be doling out advice about how to be a minimalist.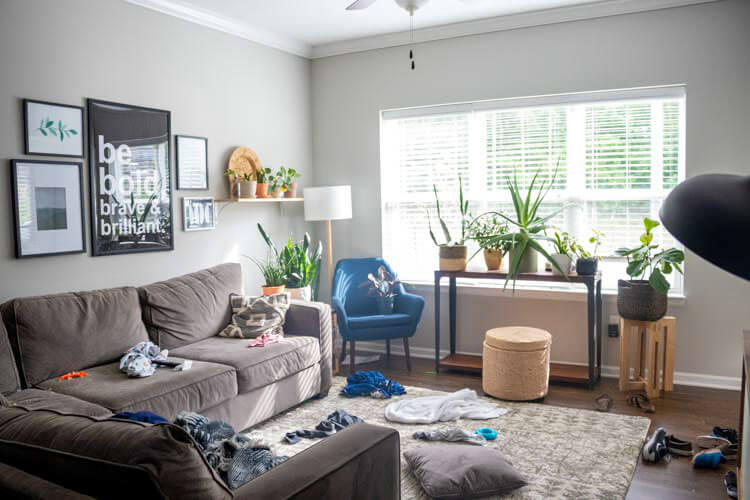 So a few months ago I was getting ready to take photos for an apartment tour. I decided to snap a few photos of how our place looked before I touched anything to make it "blog ready."
In real life, we are messy. Even before kids I was messy. And now, I have 2 littles leaving crumbs all over and pulling everything out of bathroom cabinets just to distribute it all over the apartment with no rhyme or reason.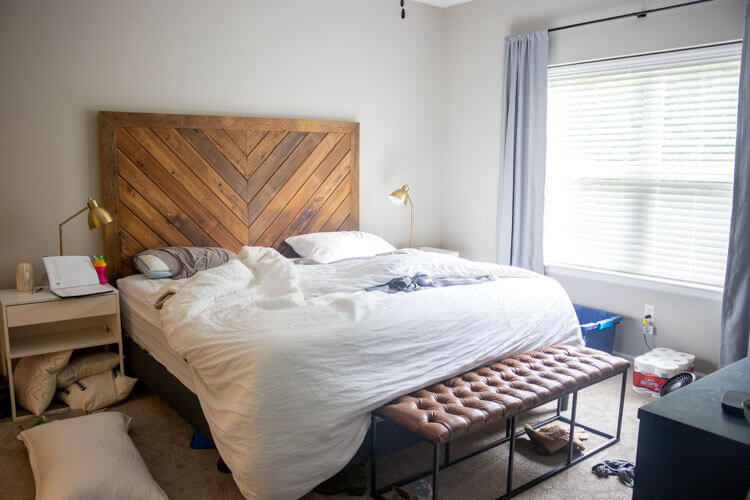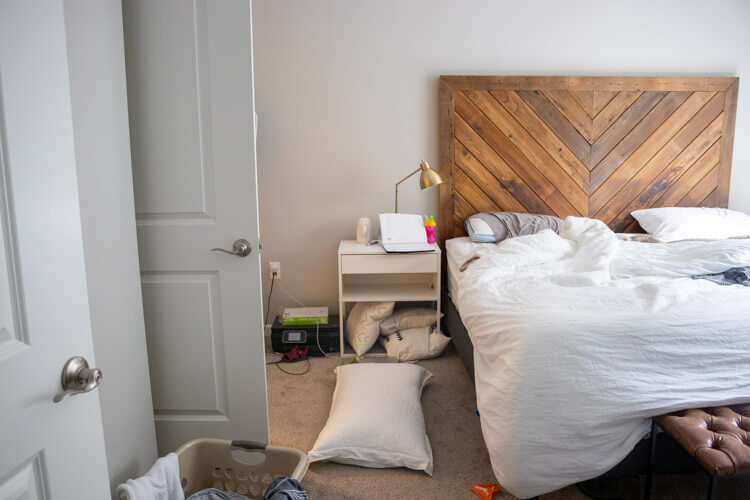 Sometimes I still take weeks to put a tub back in the closet or put away the toilet paper. Whoops.
We're usually running behind because I am who I am, so we leave a tornado of things in our wake as we rush out the door most days.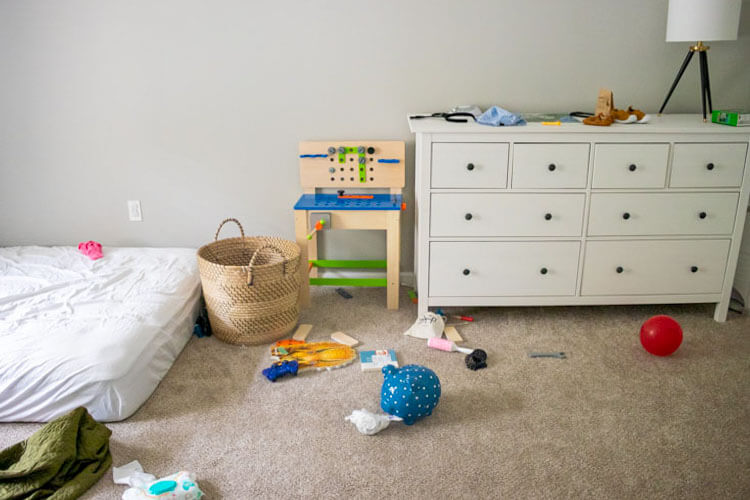 Even still, I know our lives are less chaotic because of minimalism. While these photos definitely don't represent the worst this place can get, you might think this doesn't look very minimalist. But everything does have a place.
I can clean our apartment from top to bottom in under an hour. Probably closer to a half hour. I can even make a pretty good dent in things if you only give me a 10 minute warning that you're going to stop by.
Sure my littlest might be in the other room tearing everything apart again, but if she's sleeping, watch out.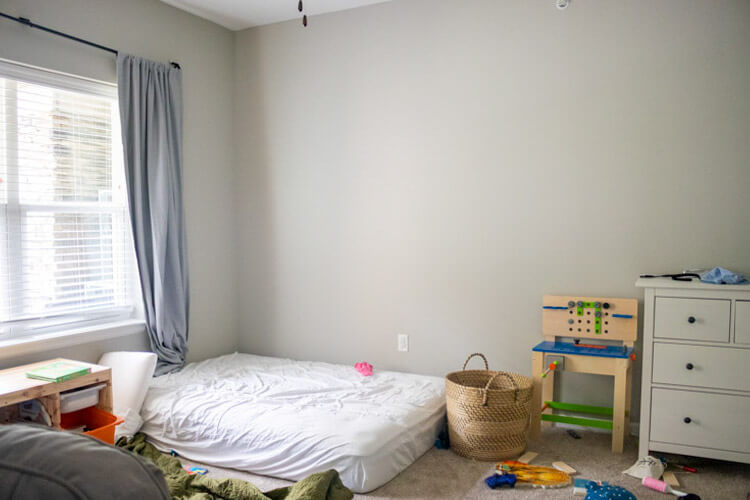 I'm constantly reevaluating the things I let take up space in our home. I get rid of the things that aren't working for us and I try to be more considerate with future purchases so we're not just constantly throwing away our money and our stuff.
I've made lots of changes to live more sustainably and be more eco friendly.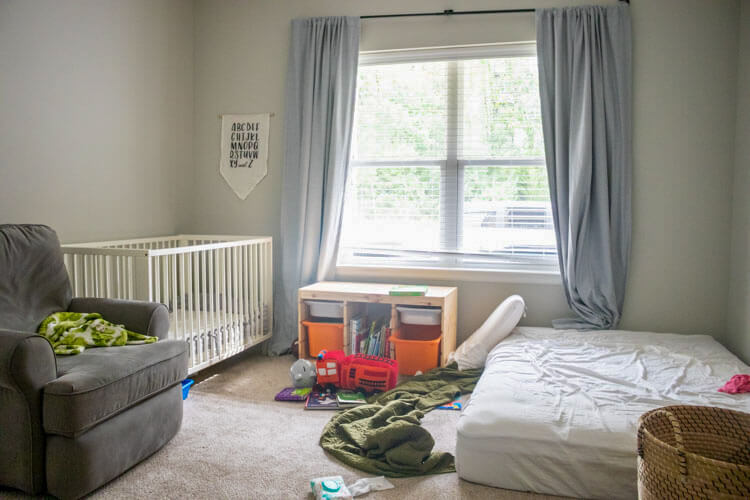 So we may be really bad at hitting the laundry basket with our clothes. And I definitely don't follow the kids around cleaning up their messes all day. I don't have any pictures of the kitchen, but I also don't do all the dishes before I go to bed every night.
But this is the real stuff. And we're still a family that's constantly striving to live with less.
Minimalism doesn't mean your house is always clean and orderly. But it does makes it easier to clean and less overwhelming overall. You learn as you go what works for you and your family.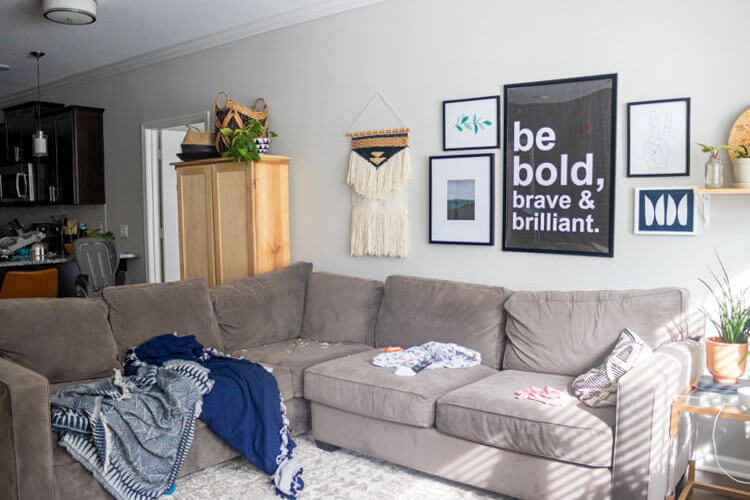 I think we need more real life online. Living in a two bedroom apartment isn't super ideal with 2 kids for us. But overall, I do like how this home has come together. I definitely like it a lot more when it's clean and staged, but we do live here.
So just know that if you drop by, I'll be scrambling to clear clothes and toys off the floors just like everyone else. And it's ok if you're doing that too.
Check out my apartment home tour if you want to see the clean version!
If you're interested in real life and attainable minimalism, sign up for my free Freedom From a Cluttered Life Challenge.