Earlier this week we rearranged some things in the living room so I can get an idea of how I picture it coming together. Most of the stuff in here currently is temporary, but it's nice to get a rough idea of how my plans will pan out.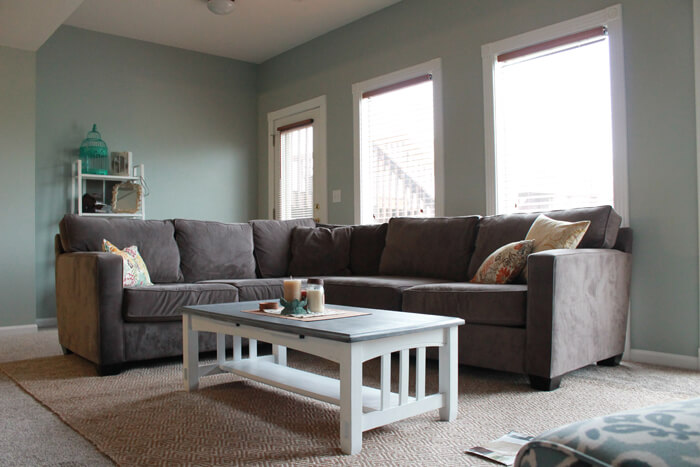 The couch was against the opposite wall, but we moved it to this space. This is actually where it originally started when we moved in, but moving it against the opposite wall really opened up the room. Eventually we'll want to add a couple chairs to the mix, and they would look strange floating out in that open space. So I moved it back and filled the wall in with a couple chairs from around our house to see how it would go together.
Also that rug was from Target for $55 and it's a 7×10′. If you're in the market for a rug, I would check out Target, because it seems there are quite a few really nice ones on super clearance. My sister got an awesome rug for just $36 and I just saw on Facebook that someone found another large one for $26.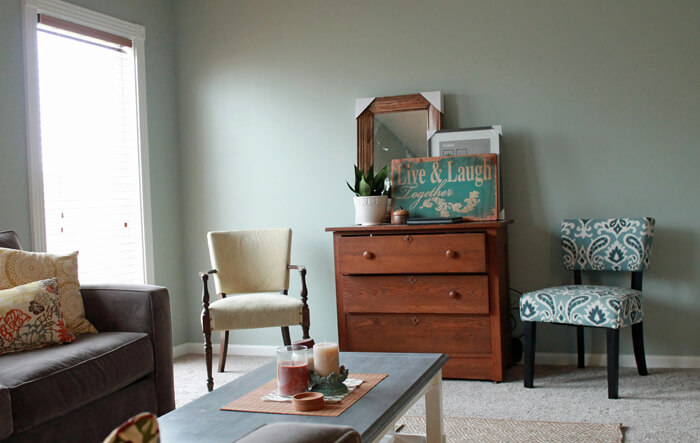 I really do think it will come together when we have some real wingback chairs or something. Will is set on wanting a recliner, and I understand why, but recliners are so ugly. And they have started making prettier ones but they are so much $$$$ and probably not as comfortable as he would like.
That dresser in the picture is something I picked up at an auction a while back. It's super good quality, and it's on little wheels which up the cool factor by like a million and I need it in my life. I'm just not sure where I need it. We'll really just have to play with it in different places to find out. I'm not opposed to painting parts of it (perhaps just the outside?) but need to know where it will reside before picking a paint color. I sold a buffet I loved this week (from the same auction), but I'm not getting rid of that dresser!
Ok are you ready for the before??? This is so bad but that wall color was the choice of the previous owners. It actually kind of stresses me out to look at it. I don't have any pictures of the couch on the opposite wall where it was all winter, but this will still give you an idea of the progress being made.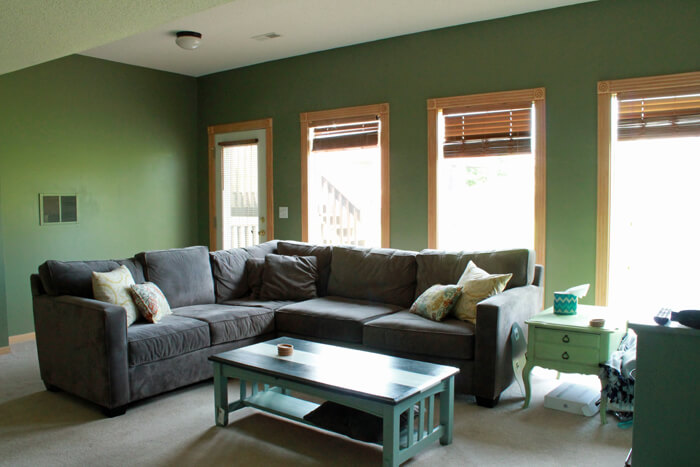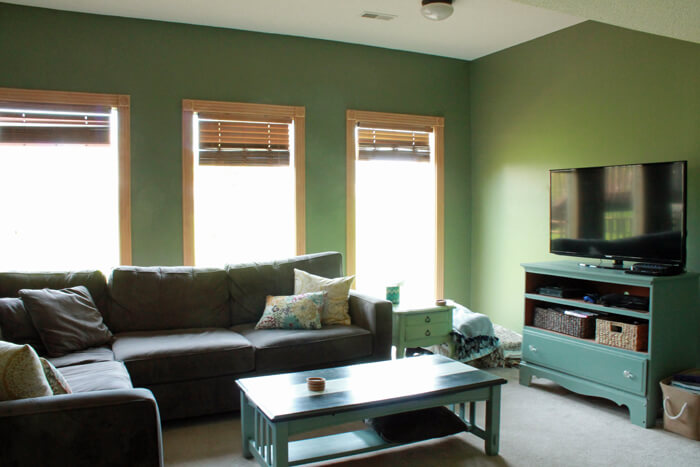 So it's not perfect but I am definitely making progress. I finally sold that lime green french side table. It wasn't being used anyway, just collecting clutter. I never meant for it to be in the living room but somehow it managed to stick around for a couple years. And redoing that coffee table that was also never meant for our living room has made a huge difference. The TV stand is still the same at this point. It was a $5 dresser, so while I'd love to replace it, it's still working for now.
So this whole refresh was actually pretty inexpensive. I paid for the paint on the walls months ago, and had to buy some stain for the coffee table, but mostly we made improvements this time around by rearranging and getting rid of things. And then the rug was $55.
So you can totally make major improvements in your home WITHOUT spending a ton of money. In fact, I'd start by looking at what you can get rid of and then see where you are. I've also got an envelope just for home decor money and am putting everything I make from selling our used furniture and decor in there so I can put it toward something awesome later! :)