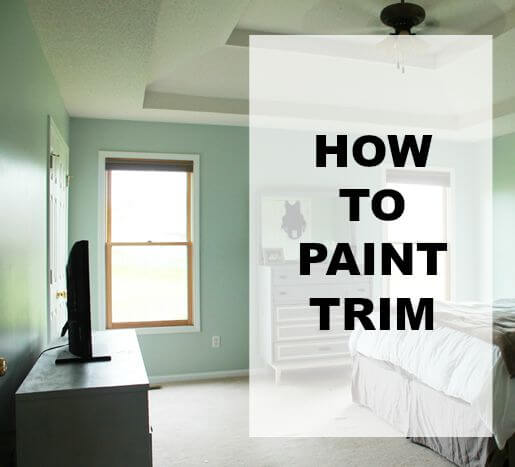 So far in our home, I've been mostly concentrating on painting to bring things up to date and to reflect my decorating style. I feel like there's no point in putting a bunch of stuff on the walls if I don't even like the way they look! Of course I've been painting the walls, but even better than that has been seeing the transformation as I paint all the trim throughout the house white.
Painting trim is pretty tedious, but it isn't hard. I find myself putting it off and then being so happy when I finally do finish a room. I am just in love with the look of white trim and think it can complement any decor style!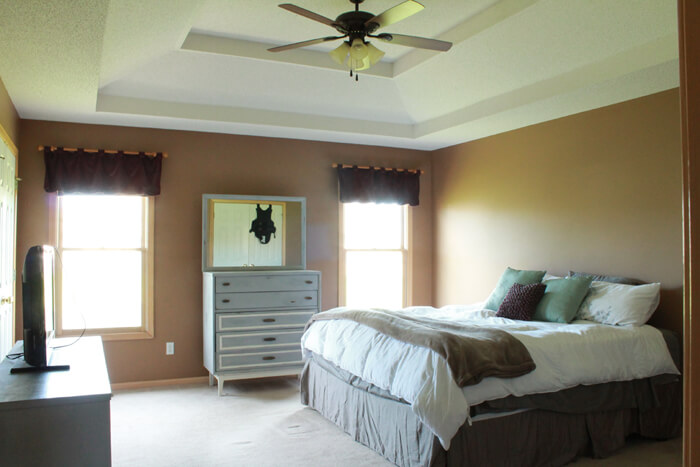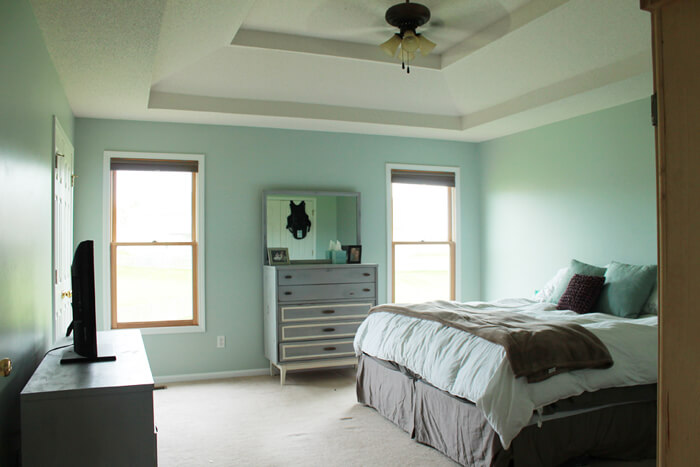 I mean, isn't the after picture so much better? It's not just the wall color (however that helps A TON), but it's also the trim. Unfortunately our window frames are also wood, and I'm not quite sure what to do about that at this point, but we're still leaps and bounds ahead of where we started and I feel like our bedroom is so peaceful now.
There are really only 3 steps involved in painting trim – caulking, taping, and painting.
I also personally like to paint my walls first since they all need painted anyways. Some people will disagree with this, and I guess it's up to you, but my reason is that I can get away with a lot less taping if I paint the walls first. So here are the basic steps I follow to paint my trim white:
1. Paint walls –  If I know I'm painting the trim, I won't tape it off to paint the walls. I'll do as well as I can knowing I'll be painting over the mess when I get to the trim. You definitely want to catch and big globs or drips though, as they'll make your trim paint uneven.
2. Caulk trim – This is something I didn't know was a thing until my husband told me he wanted to do things "right" and be sure everything was caulked. Sometimes this will feel like a waste of time, until you come to a part of the trim where it doesn't match up completely with the wall, and then you'll see the difference caulking makes. It really does make everything look more put together. You can also fill in holes with the caulk while you're at it. This how-to video from my friend Colleen at Lemon Thistle is a great one for beginners.
As for my personal method, I slowly apply the caulk, then use a combination of my finger and a wet dish cloth (an old one!) to smooth it out and clean up the excess. If you paint first, you'll definitely want something wet to get the residue off of the wall, or it will show up as it dries. It takes a little finessing, but once you get your method down, it goes pretty quickly.
3. Tape off walls and flooring/carpet – I think it's much easier to tape off the walls than to tape off the trim, hence the reason I paint walls first. I do suggest using a quality tape like 3M Edgelock. I started with a more generic affordable brand and had a bit of bleed through. I haven't had any since I upgraded. If you're painting in room with carpet, use a putty knife to shove plastic under the trim. You should be able to get it all the way under the trim. Then pull back the plastic as tight as possible (without pulling it out) and tape it down to the carpet.
Extra tip: Use a sanding block over your trim real quick to smooth out any imperfections before you start painting. This step is especially important if you had to fill holes, but if your trim is in decent condition, you can probably skip it.
4. Paint – 1 coat of primer and 3 coats of semi-gloss paint has produced great results for me. Apply thin coats and by the time you get around the entire room and doorways, the paint is usually dry enough to start in on your next coat. My trim is painted in Sherwin Williams Extra White. Also – don't underestimate the power of a good brush. So far I've used the brushes with blue rubber handles (not sure of the brand, but you can find them at Lowes and Home Depot), but I am going to upgrade to a Purdy brush soon.
Painting an entire house of trim sure does seem like a daunting task, but if you do it room by room, it's totally doable, and the payoff is totally worth it! I love the look of the rooms I've completed and can only imagine how much more I'll love the rooms that are still on my to-do list once they're done.
Have you painted your trim white? Do you have any tips that I missed?