There are a few basics you need to make any room design come together. Furniture, lighting, and a RUG. The rug makes such a huge difference in the feel of a room. Today I want to give you some more insight into decorating with rugs and how to choose the perfect rug. 
I received Mohawk flooring and accessories free of charge to facilitate my review.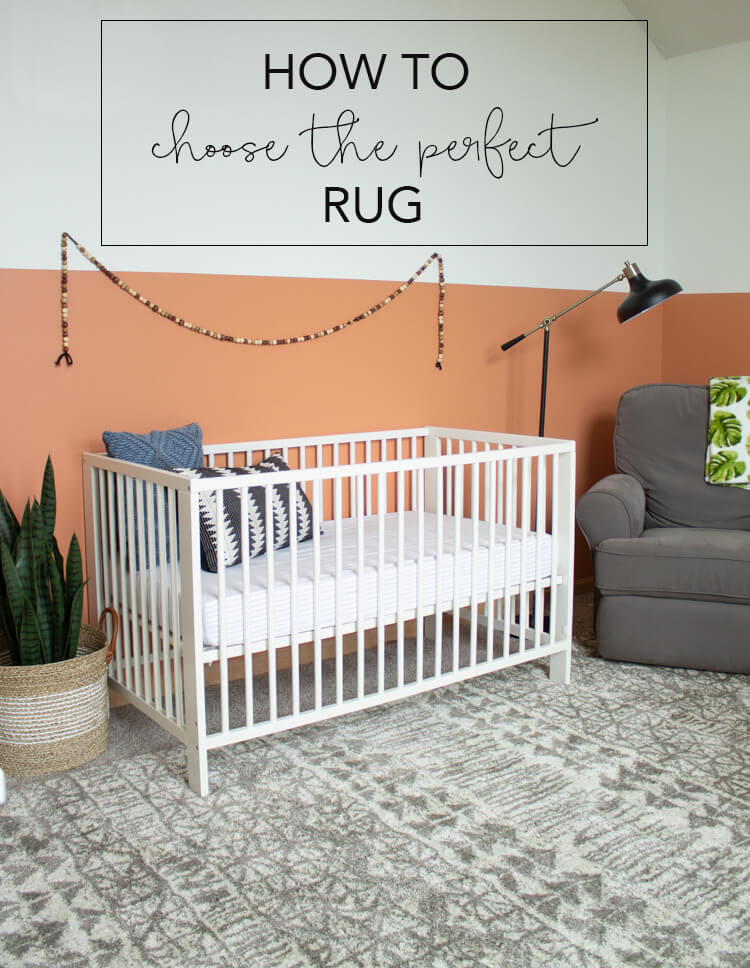 First off, let's talk about the rug in this room. It's the Mohawk Billerica in gray and it is so so perfect for the space. I love everything about this rug – the pattern, the colors and most definitely the quality. This is the softest rug I've ever seen that isn't a shag rug of some sort. You can see it in the full nursery reveal here.
It's also made from recycled water bottles in the US, so I feel like I'm winning all the way around with this one!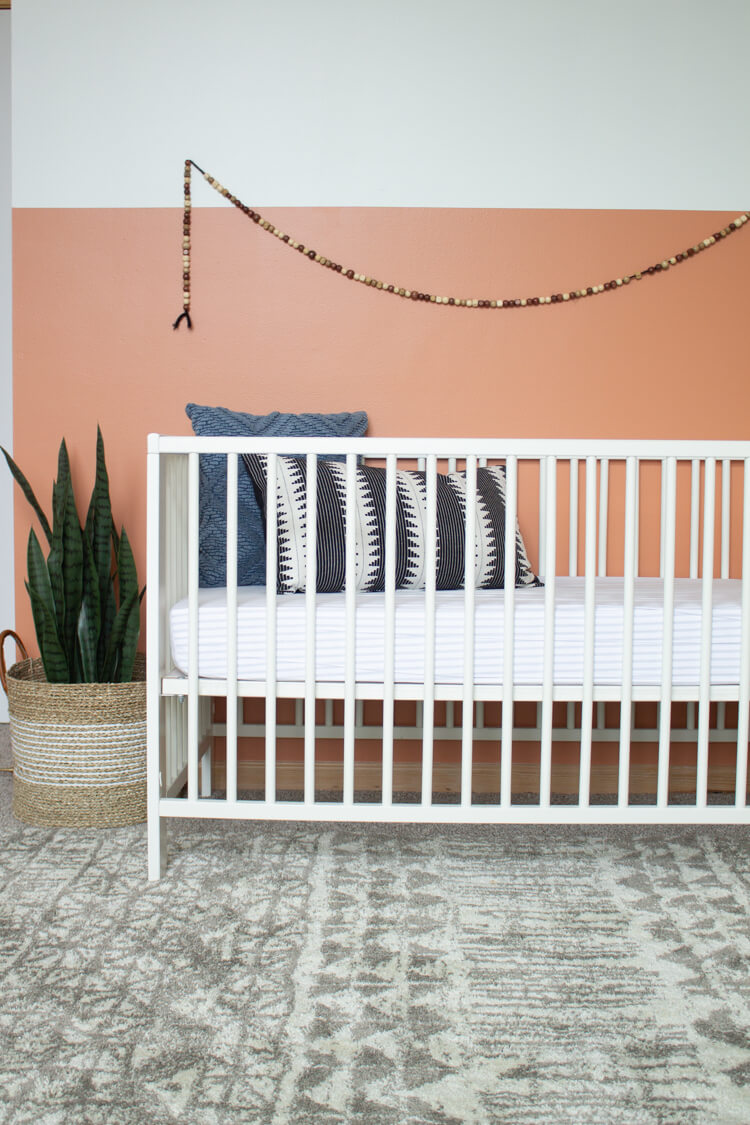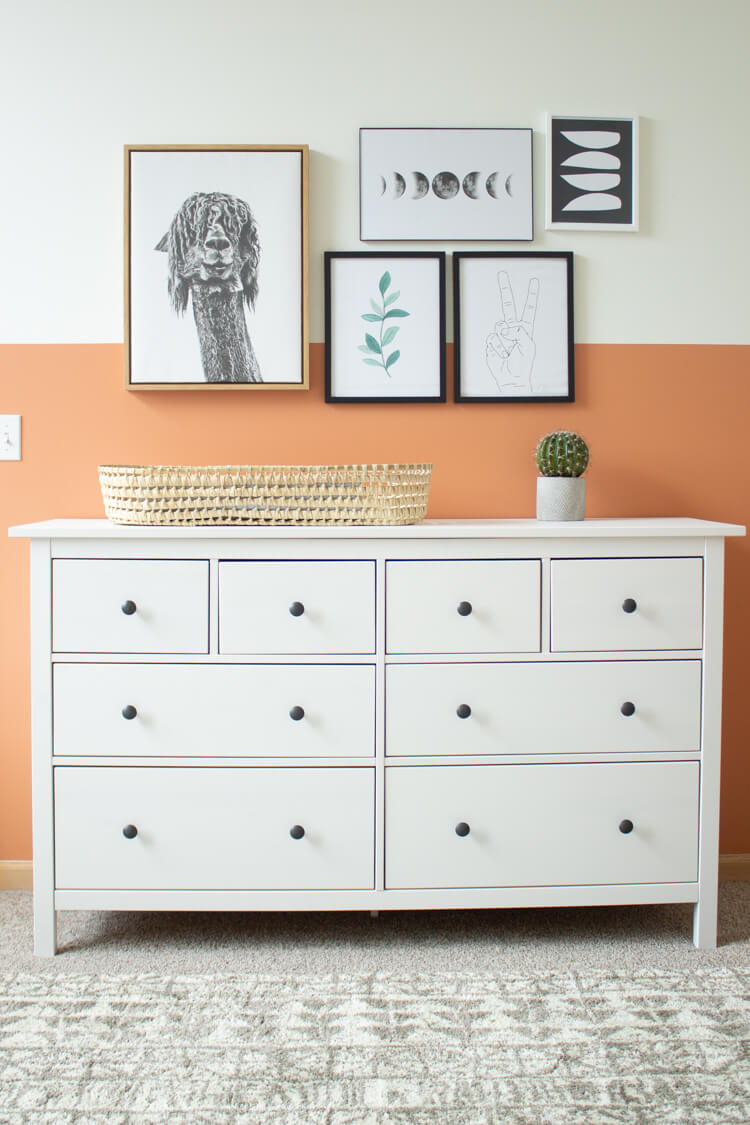 My two year old also loves this rug and has been obsessed with coming in here every day since we got it to "play on da baby room rug." Toddler approved!
Funny story though, this wasn't the first rug I chose. I had a completely different plan for this baby room originally. So throughout the process, I learned a thing or two about choosing the perfect rug.
If you've ever been rug shopping before, you know it can be quite the process. There's so many to choose from whether you're looking in store or online. We're talking thousands of rugs to dig through. So hopefully these tips help simplify the process for you a bit.
Tips for Decorating with Rugs
Figure out what style of rug you're looking for.
Especially if you're searching online, you need to know what style of rug you want. There are literally thousands and thousands of rug options, so you need to figure out how to narrow it down. Search Pinterest for rooms that have the vibes you think you'd like in your home, and pin away. Then pay attention to any common rugs types. Maybe they're mostly vintage rugs, or geometric or Moroccan. The more specific you can get the easier this is going to be.
Then when you're searching a website, you can filter rugs by style and keywords to narrow it down to the ones you're most likely to love.
You can usually filter by color, but I suggest filtering by style instead. Or else you'll be digging through a lot of rugs you aren't interested in.
Create a mood board.
Most of us have some idea what furniture it going to be in room you'll need a rug for. For this nursery, I already had a dresser, crib and rocking chair. None of them are particularly modern in style, but I knew they could be with the right decor. I typically create mood boards in photoshop by finding the products online and saving the product image. Then I put them in some sort of collage to get an idea of how they all look together.
Sometimes it's easier to start with smaller accessories you like, like pillows and wall art, and then add in different rugs to see how it changes the feel of the room. You can save the rugs as you're searching through websites, and then add them into your design to see what you think.
Originally I created two mood boards for this room with different rugs. You might notice my room turned out quite a lot different, but we'll get to that part!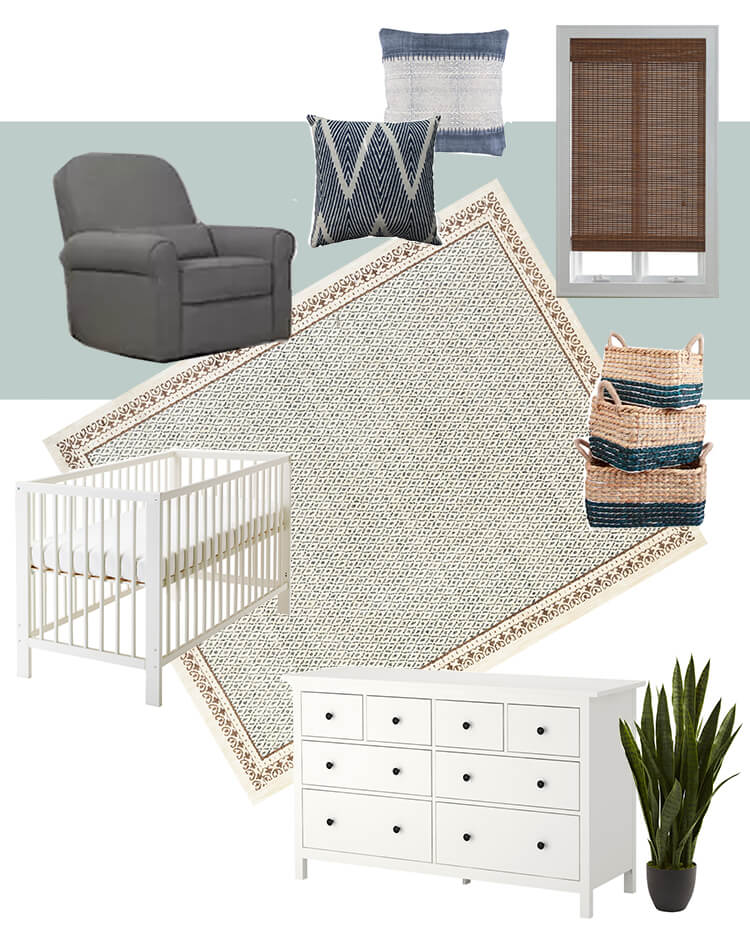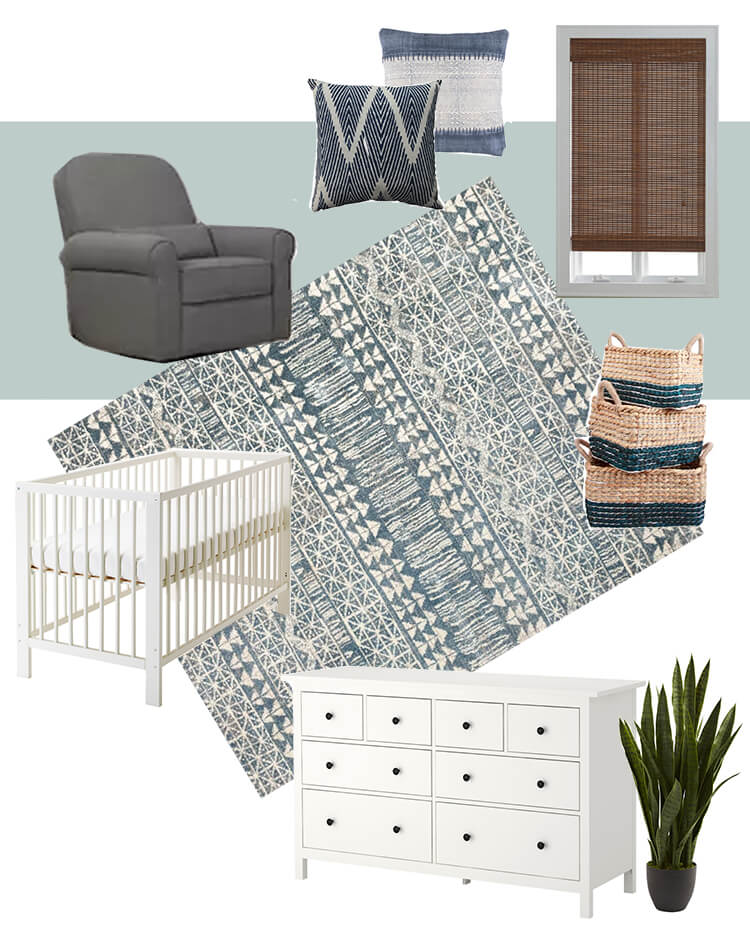 Consider the colors and patterns, but don't overthink it.
So this is the hardest part. You should be trying to assess the overall feel the rug will bring to the room. Don't worry about every detail in the rug. Look at the product pictures and see if you like the how the rug makes those spaces feel, then add it to the list, or don't. It's ok if the color doesn't exactly match other details in your room.
Decorating with rugs is kind of strange, because the rug can set the tone of the room. But at the same time, it blends with the floor and isn't something people typically fixate on.
One thing to consider, especially if you have carpet, is the how the rug will with coordinate with the color of your carpet. The more similar the undertones are, the more seamlessly your rug will blend.
This is where I messed up the first time. I loved the look of the Stardust Rug on my mood board. But it clashed with my gray carpet and the colors were just not the feel I was going for. It was a great quality rug, and I was tempted to keep it just because of the quality alone, but we'd be looking at a much different (and darker) room with that rug.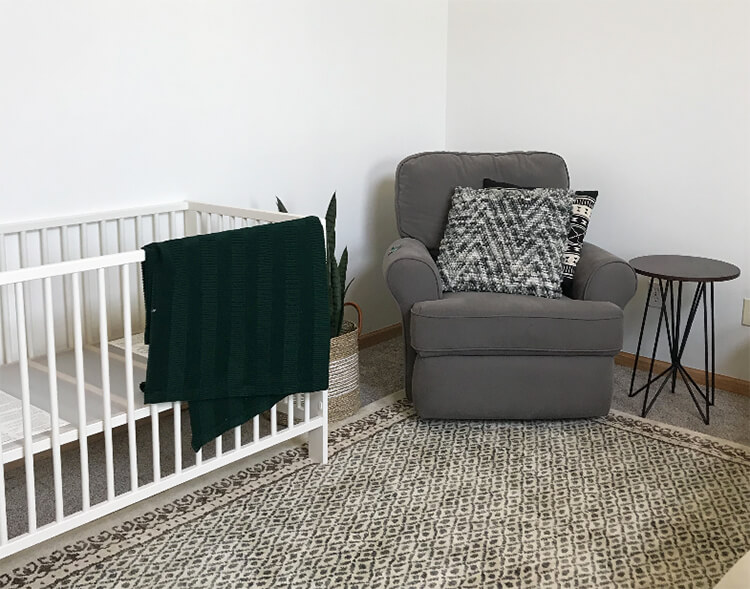 Just like every decor rug – there's a time to break this one too. If you absolutely hate the color of your carpet, definitely don't look for a rug with the same colors!
Order the appropriate size for your room.
Ideally, your rug will be big enough for the front feet of your furniture to be on the rug. This makes your room look bigger and keeps it from seeming like your rug is floating in the middle of the room. Our rug is an 8×10 and both the crib and bed (on opposite sides of the room) are able to be on the rug. The edge doesn't make it quite to the feet of the dresser, but that's ok because it leaves enough room for all the doors to open and close smoothly.
Get a rug pad.
Mohawk Home's rug pads are made out of recycle materials just like some of their rugs! And they help so much with the look and feel of the rug. This is actually the first time I've ever had a rug pad, and this rug hasn't moved an inch since we laid it down. I've had problems with nearly all my rugs shifting, even on carpet. All you need to do is use a pair of heavy duty scissors to trim the rug pad down to one inch shorter than your rug so all the edges of the rug are flush with the floor, and you're good to go!
Consider going neutral when decorating with rugs for more freedom in your room design.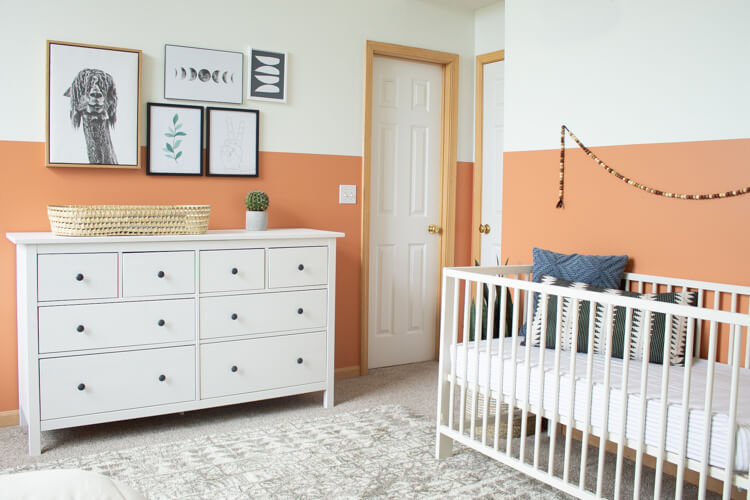 I just love a good neutral rug. By the way – neutral doesn't mean no color. Almost any color can act as a neutral as long as it isn't super loud and has a neutral background to the pattern. I am so glad we ended up going with the Billerica Rug in gray and white. It adds the perfect amount of pattern and texture for the space. And it will work in any room in our home if we ever decide to switch things around!
Obviously the room turned out a little differently than my mood boards, but they were still a great starting point that got the wheels turning. And the neutral rug gave me freedom to change my mind a bit.
Neutral Modern Rugs
I was so impressed with BOTH Mohawk rugs we received (even the one we didn't end up using in this space), that I picked out a few more of my favorite neutral but modern rugs from their website.
[embed_popupally_pro popup_id="7″]
If you haven't already, I hope these tips convince you of the power of decorating with rugs and give you confidence you can choose the right ones for your home!