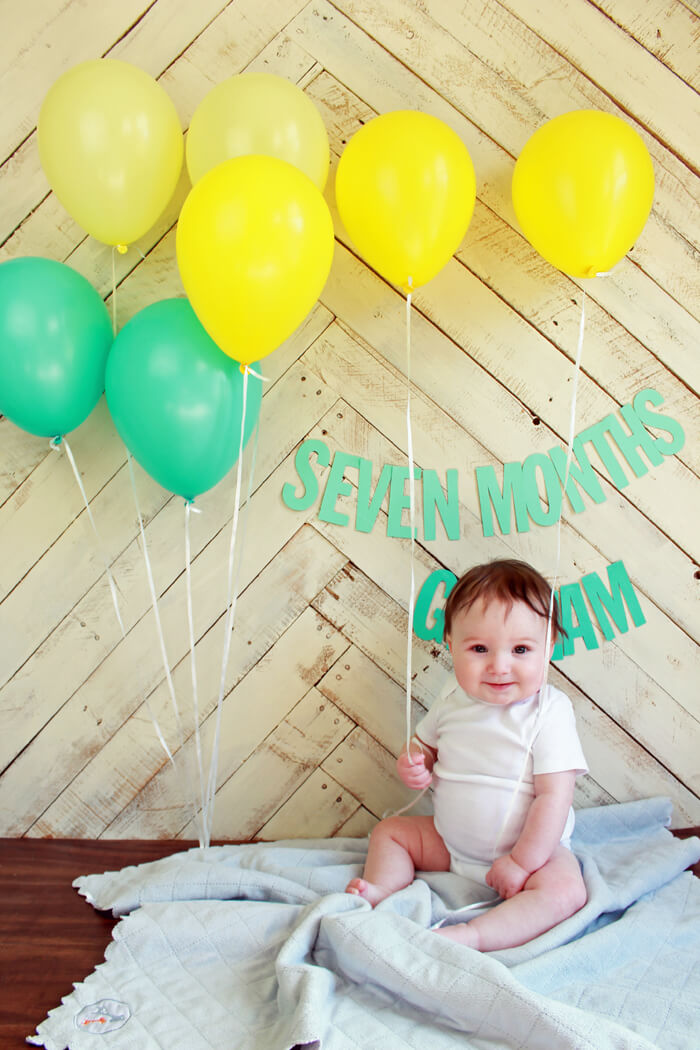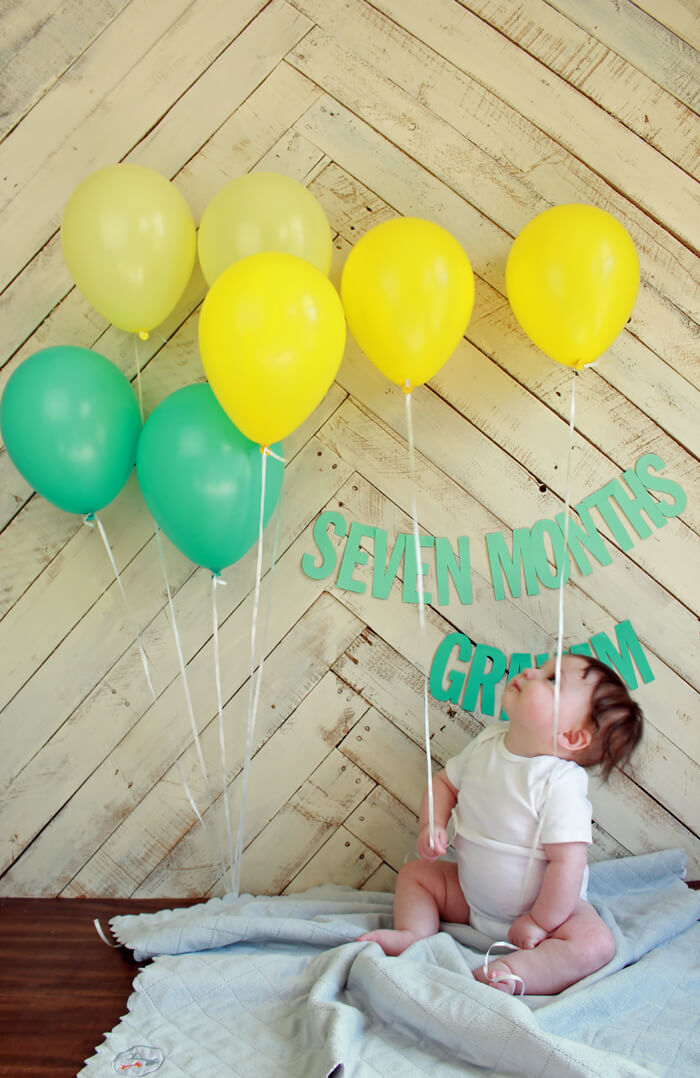 Graham turned 7 months old this past Saturday! I am loving this age so much! He is just so much fun. He's into everything and aware of what's going on around him and I love watching him learn and get into things all day. Our photo shoot was a mess and super fun. The balloons are no longer in any one area which is just as well because by the time we get to 12 they're going to be taking up the whole picture, and the blanket is a mess. It has something to do with the 7 month old that is the star of the show here…
Stats: I put him on our scale today and it read 17.6 lbs. I'm not sure how accurate that is but his little belly isn't so little lately…
Milestones: He can stand up for a few seconds, transition from sitting to belly (but not back up), he's started copying us (he makes the "indian call" where you tap your hand on your mouth while making a noise – so funny!), he dances to music, he's just taking everything in!
Eating: We are still sticking to purees right now. I need to start introducing some other foods but I'm paranoid about choking, mostly because I'm not really sure what to do in that situation. I guess I need to take a baby cpr class.
Sleeping: We have made so many improvements with sleep this month! He sleeps every night from 7:30-6 AND HE CAN PUT HIMSELF TO SLEEP! I've been meaning to do cry it out for months, but I really just felt like he wasn't ready. He can cry and keep himself awake forever. He has never fallen asleep playing or anything, only being rocked or in his carseat. So last week he just showed some signs of being ready and now we rock for a couple minutes before naps and bed, he mostly fights to sit up during this time (but I want to give him a clue that it's time to sleep before just laying him down), then I put him in his sleep suit completely awake and he goes to sleep after I leave the room. I miss the cuddles but I'm relieved that he picked it up so easily. I'm glad I didn't torture myself with listening to him cry for hours had I started it earlier.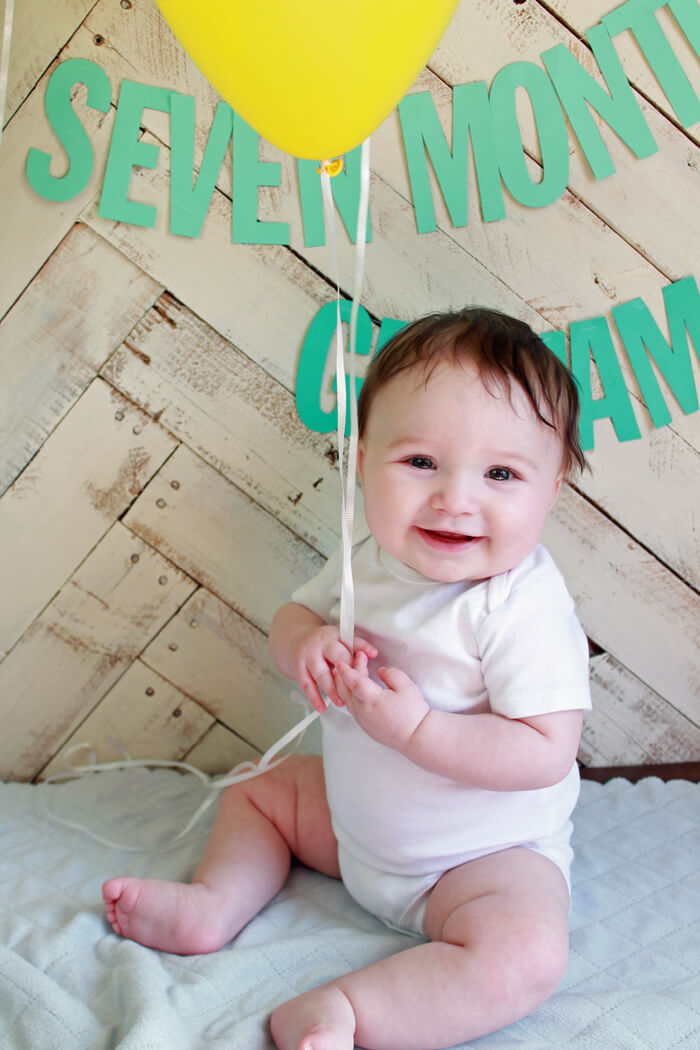 Mood: Well he definitely has his own personality. He can be a really smiley little guy, but if he doesn't like something or gets frustrated, he'll let you know loudly. I think this stage is especially frustrating for him because he's trying to figure out how to propel himself forward to reach toys and hasn't quite figured it out. And he's kind of dramatic about it…
Likes: His mommy, rolling into tight spaces, he thinks it's hilarious if you babble back at him in his own language (apparently I tell really funny jokes!), having his hands in anything and everything – I want to start doing more sensory actives so he can touch and feel more things, playing in bathwater
Dislikes: Not being able to reach things, waiting for food or his bottle, being constrained in his carseat or highchair, and he really hates having his nose and eye boogies picked. He has learned how to completely block is face if you get anywhere near his nose!
It's so strange to me that Graham is closer to his first birthday than to being born. I guess he isn't really a little baby anymore. Like everyone says, I really can't imagine our lives without him (especially now that we're all sleeping through the night!). We are excited to see what new skills he picks up in month 8!