We just moved last week so I've been putting together some mood boards for inspiration. They're a great way to plan out a space and put together a complete look. I'm also sharing some tips about how to choose functional decor that will look great and fit the needs of you and your family.
Everything was chosen from Home Depot's new home decor that's now available online.This post is sponsored by Home Depot but the content is my own.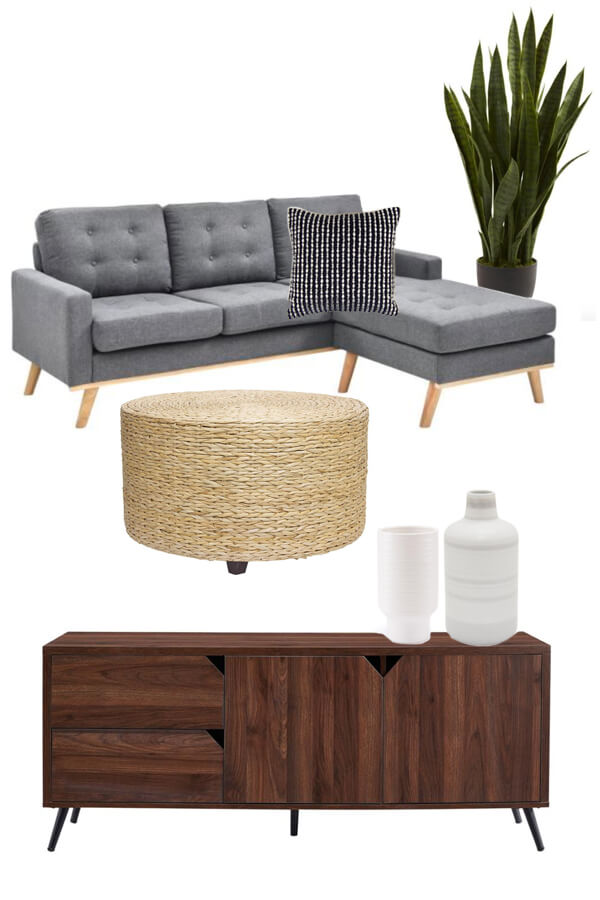 Since we just moved from a tri level house to a two bedroom apartment, I've been spending some time putting together some mood boards for inspiration for our new spaces. I've had fun checking out everything Home Depot has to offer in their online home decor sections and putting together some modern spaces. I'm basically into neutral furniture which will of course be accented with lots of textured details and indoor house plants.
I loved being able to shop for all the things these rooms need in one place. Home Depot has started offering thousands of on trend design pieces and it was so easy to find great things to create entire rooms without having to dig through tons of different websites. They're my favorite place to shop for home improvement supplies and I'm excited to use them to find home decor as well!
While picking out things that look great is fun, it's only half the battle. It's also important to choose functional decor that lets our family most comfortably live in our home.
How to choose functional decor
I love making mood boards. They're just so hang helpful in seeing the vision in your head come to life before buying.
The first thing to consider when decorating or redecorating any room is how you or your family will actually use the room. You need to make it work for you first, then apply any home decor you love in ways that fit your needs.
Some things to think about when trying to make your space functional:
How much time will you spend there?
How much storage do you need?
What kind of seating do you need?
Will this be a space you entertain guests in?
Do you have kids who will be using the space?
Then as you decide what pieces of furniture will help you get the most use out of the room, try to find pieces that make a statement and bring a lot of style while filling those needs. Home Depot's website made this super easy because they have tons of options and it's super easy to sort by type of item and style of item your looking for.
Living room decor
Things to consider about living room decor:
Is this the main hang out spot in your home?
Do you need to find ways to store/hide kids toys?
How much seating do you need for the people who live there?
How often do you have guests that require additional seating?
Will this room be used for anything else? (Office space, etc)
For us, our living room needs to be kid friendly. I'm loving the above set up for a living room for our family. Each piece is stylish but so functional. I was so excited to find all these pieces on Home Depot's website!
The couch is my favorite mid century modern style, but also had lots of room for cuddling up with babies and would even be pretty convenient to sleep on if the need arises. The ottoman is a nice replacement for a traditional coffee table because it has storage and the soft edges won't leave bruises when wobbly toddlers are learning to walk. The midcentury TV stand has cabinets and drawers for stashing plenty of toys!
Dining room decor
Things to consider about dining room decor:
How often do you eat at the dining table?
How many people use it regularly?
What size table will you need for the space and the amount of people you need to seat?
Do you need to make room for high chairs and booster seats?
Do you only use your table for meals, or is it a place you spend time doing other activities like working or crafting?
Can you pull chairs from other areas of the home when you have guests over?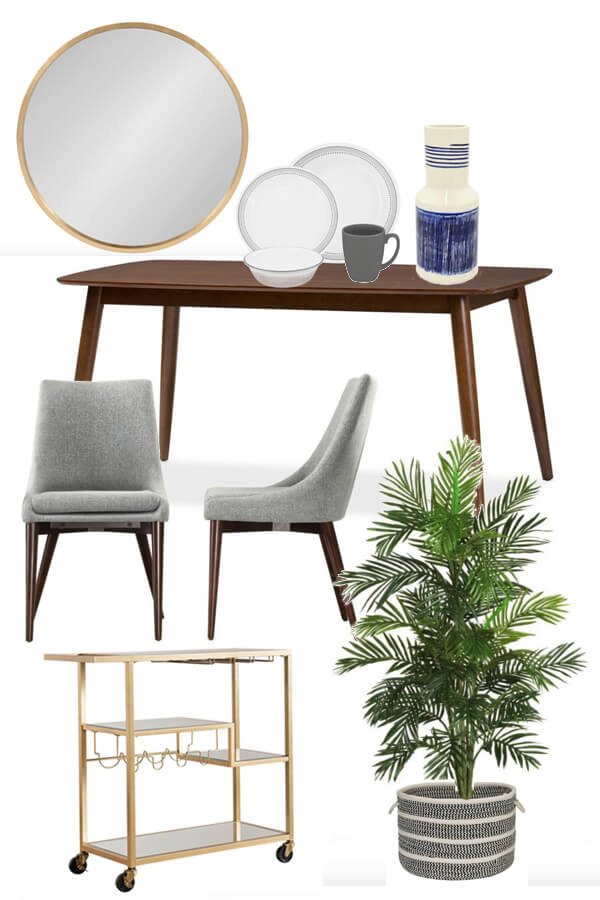 Our dining room is an area where I learned the hard way a couple things that work and don't work for us. We used to have a farm table with a bar connecting the legs that is so pretty, but makes it hard to scoot chairs all the way in when you're sitting in them. It's inconvenient when it's just us using our table, and much more so when we're crowding a group of friends around the table.
I've also learned that for a house where the dining room table gets a lot of use, simple centerpieces are better than complicated tablescapes. A nice vase to drop some fresh (or faux) flowers works best for us.
Some things you learn as you go after you try things that don't work.
We said goodbye to our farmhouse table before we moved and I'd love to get something a little more sleek and modern. I'm loving the simplicity of this one. We also need to upgrade our chairs. The ones we have now are old and really cool, but the kids tip them over really easily, so I'll be looking for something a little more sturdy that cleans easily. I'm loving these simple fabric ones!
Bedroom decor
Things to consider for bedroom decor:
Who's bedroom is it? (Duh!)
Is it a kid's room that will need to be a relaxing place for rest as well as a place to store toys and other belongings?
Will you need dressers or can all your clothes fit in the closets?
Do you watch TV in your room?
Do you read before bed regularly?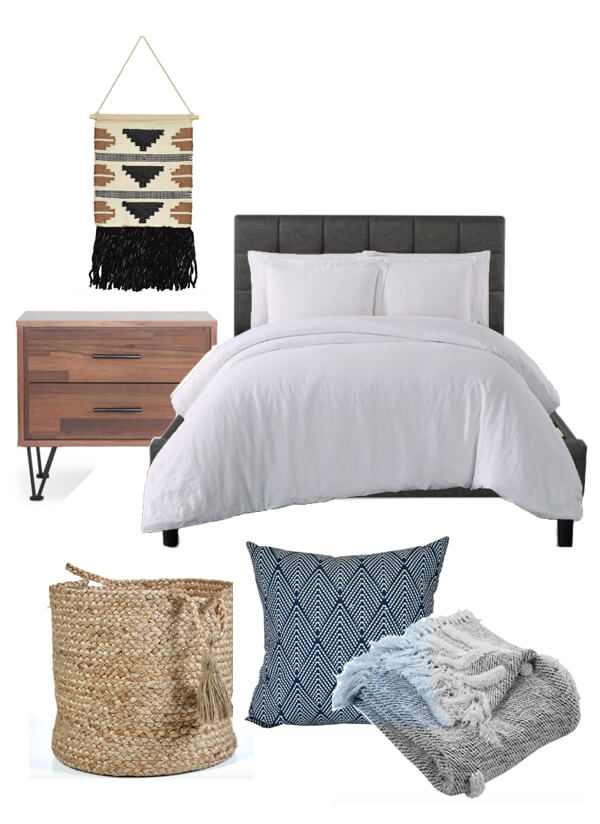 Everyone uses their bedrooms differently, but we keep things pretty low key in our bedrooms. I do have a TV in my bedroom, because I'm an adult, ha. But in the kids rooms, they only have their beds, dressers and books. We don't keep any toys in their rooms.
Even when you keep it simple, bedrooms seem to need a few more things than you might realize. A bed, nightstands, dressers, bedside lamps, a hamper and I love having a bench at the end of the bed for putting sock on, ha!
I love the look and feel of white linen bedding with a cute pillow and blanket to add texture. It instantly creates a cozy factor that combined with the other aspects of the room make for a relaxing place to end your day. And yeah, Home Depot also has bedding. I'm telling you, they've got everything now! And any order over $45 ships free!
Making sure your functional decor is stylish
Once you make sure the main pieces of furniture in your home do their part, then you can start adding in fun wall decor, vases, baskets and blankets who's main function is to look pretty. That's an important part of putting together a room too.
We humans tend to like aesthetically pleasing things and feel more comfortable and relaxed in a room that's appealing to the eye.
When you combine form AND function, you'll master the art of choosing functional decor.