If you're just starting to experiment with houseplants, this post is for you. I'll be explaining the basics of caring for indoor houseplants and giving you a list of the best houseplants for beginners so you can start off with a green thumb and fill your home with lots of happy plant babies. 
Indoor houseplants add so much texture and life to a space, so they're one of my favorite ways to decorate my home, especially since I love minimalism so much. It's also super rewarding to watch them grow. There's nothing like seeing a new baby leaf on a plant you've been caring for!
But maybe you've brought home a succulent or two and watched it whither away despite your best efforts. Don't worry, there is still hope. We can turn your black thumb green, you just need to know the basics.
Buying the right houseplants for beginners to start with and learning the basics of how to care for house plants is all you need.
The easiest houseplants for beginners:
I have an entire list of the best houseplants for beginners, but these are my 4 favorites I recommend to everyone.
PS All of those are linked to amazon. It seems weird to order plants online but I've ordered from amazon and etsy with no problem!
General Care Tips for Indoor Houseplants for Beginners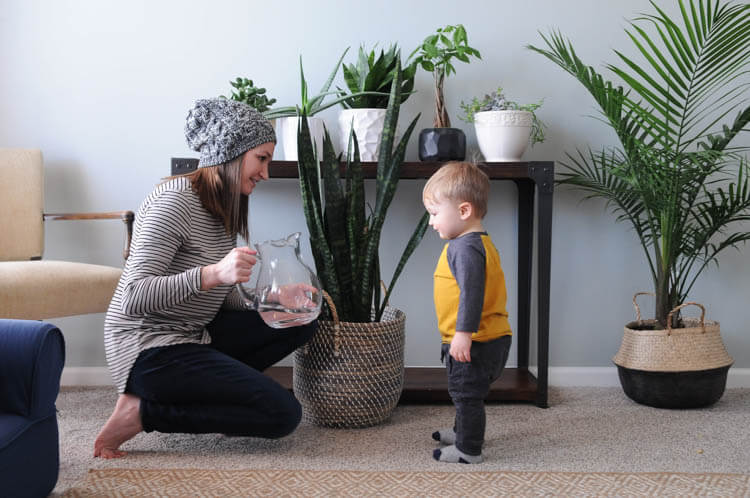 In order to keep your indoor plants alive, you need to know the basics of how to care for houseplants…and well, every plant. The 3 things every plant needs to survive are:
The reason you may have had issues keeping your houseplants alive in the past is because the balance of these 3 things was off in some way. So let's dig into these 3 things so you have a better idea of how they work together. I know they seem straight forward enough, but it's so easy to have too much of one or not enough of the other if you don't understand the balance.
How much sunlight do my indoor house plants need?
You already know sun is important for your plant. But determining how much sun it needs or exactly where to place a plant in your home is the tricky part.
Typically, plants are classified as high light (full sun), medium light (bright indirect sun), or low light plants. The biggest thing to know is the amount of sunlight a plant can absorb greatly decreases with every foot you move it away from the window. So a low light plant might actually need to be closer to a window than you would originally assume.
Another thing that's easy to overlook is that not all windows are created equal. If the window is shaded from the outside (by a porch or tree or something similar), your plant won't be getting full sunlight in that spot.
So I like to think of it all like this:
High sun plants should live directly in an unshaded window
Medium sun plants will be happiest in a shaded window or a spot near a window that receives direct sunlight from the window.
Low light plants can be happy in shaded areas of your home, but need to be in rooms that receive some amount of natural light.
One last note on light is that low light indoor plants still need to be near a light source. They won't thrive in a dark corner or a room with no windows. A pothos is a great low light plant and for me they're the only ones that have survived on a wall opposite of a window, but they do still need some amount of sun.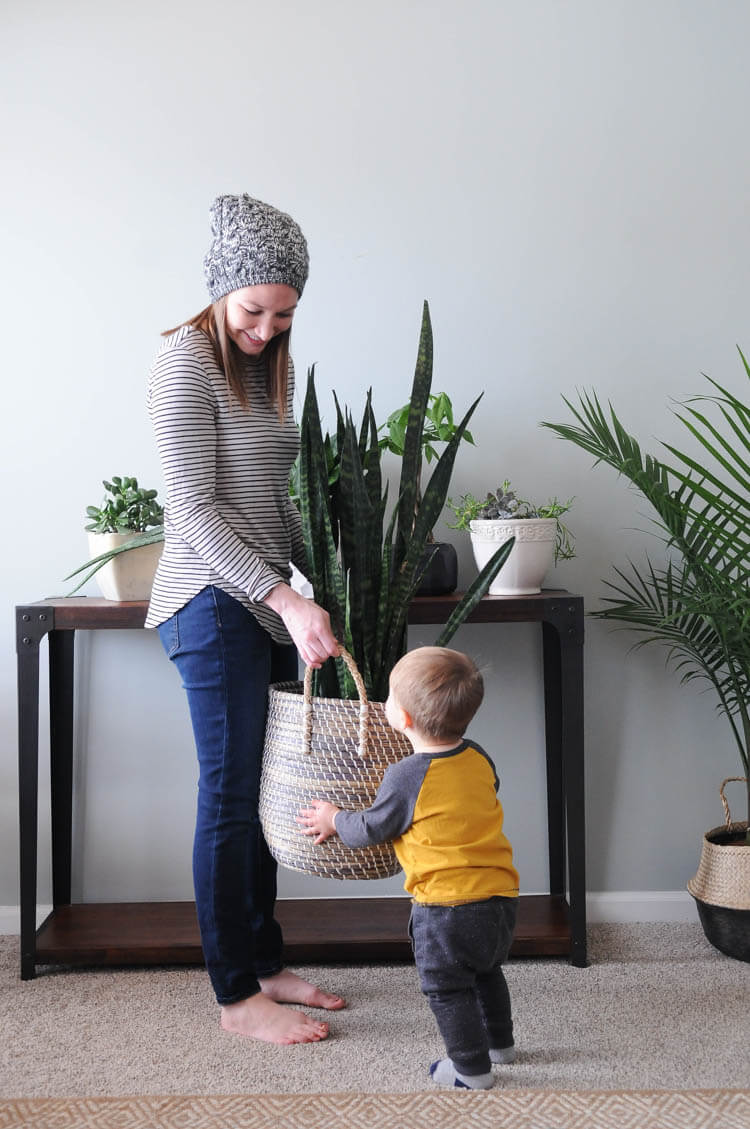 How often should I water my house plant?
Another tricky thing about houseplants for beginners is knowing how much to water your plants always feels like a mystery in the beginning. I killed the first few plants I brought home because I didn't understand that all the basics of taking care of a plant depend on one another. Before I learned about the relationship between sun and water I assumed any time a plant wasn't doing well it needed more water. Consequently, I drowned most of my early plants.
The amount of water your plant needs depends on the type of soil environment the plant prefers and the amount of sunlight it's exposed to.
Some plants prefer dry soil, some prefer mostly dry soil and some prefer moist soil.
I have streamlined most of my plants onto a weekly, biweekly and monthly watering schedule based on their preferences and how quickly their soil dries out.
If your plant prefers dry soil, you'll need to wait for the soil to dry out completely. These types of plants will probably only need watered once or twice a month. If your plant is absorbing more sunlight, the soil will dry out sooner and you'll need to water it more. Because of this, most plants need watered more often in the summer when there are more hours of daylight than the winter.
Indoor house plants that prefer mostly dry soil need to be watered when the top inch or so of the soil has dried out and plants that prefer moist soil should be watered more regularly.
It's normal to need to tweak the amount of water you provide as you get to know your plants better. Usually the leaves can point you in the right direction and you can adjust as you go. Typically if the leaves turn brown and start to shrivel up, your plant needs more water. If they turn yellow, the plant probably needs less.
Most plants also need a decent way for the water to drain so their roots don't rot. I really like putting my pots in baskets, so I use these little plastic saucers. For the ones I've replanted in pots, I put rocks in the bottom to allow for some drainage.
I got so many questions about how to plant a plant in a basket, I made a fun little video about it!
Example plant watering schedule:
Snake plant: Water every 2-4 weeks
Jade plant/ Aloe plant (or other succulents): Water every 2 weeks
Pothos: Water every 10-14 days
Fiddle Leaf Fig: water every 10-14 days
Does my indoor plant need plant food?
The third way to keep your houseplants healthy is to ensure they have the right kind of soil. Different types of plants prefer different soil, usually based on the amount of water the soil holds.
Potting soil also comes filled with the nutrients your plant needs. However, over time as your plant absorbs these nutrients and watering washes some of them away, you'll either need to fertilize your plants or repot them with fresh soil regularly. Repotting every year or two is sufficient!
Most people only recommend using fertilizer once or twice a month during the summer. Those are the months plants are in a natural growth phase.
I recently started using a fertilizer from my local nursery (Family Tree Nursery if you're in the KC area) that my plants seem to love. You might try your local nursery to see what they have available or recommend.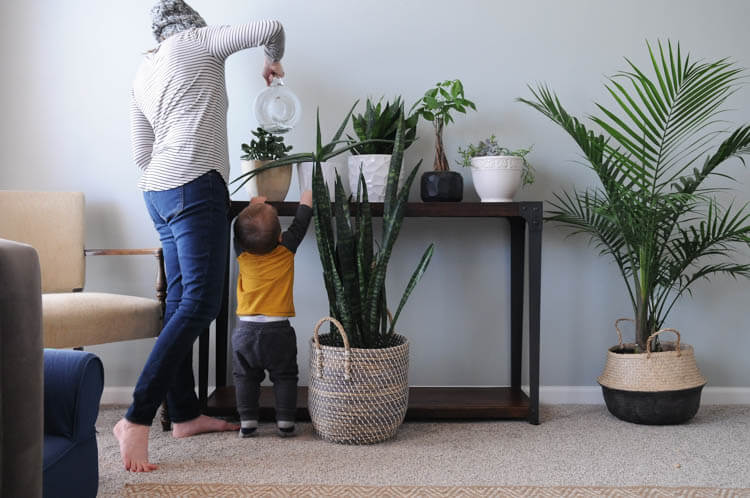 Other things to know about plant care:
Indoor house plants can go into shock when they're moved into a new environment. So when you bring a new plant home, try not to move it around too much. Leave the plant in one spot for at least a month. (Unless you find the light conditions are not absolutely not working out). This way it can adapt to the temperature, humidity and other unique factors of its new home.
One way to determine how to keep your indoor plant happy is to research where it grows naturally. Then try to mimmic those conditions in your own home. For example, desert plants go a long time with no water and then receive occasional downpours. So generously water those plants on their watering days.
I like to plant full sun plants like succulents outside during the summer months before moving them in. This way they get plenty of sun and establish a good root system before I convert them to indoor house plants. I have had quite a bit of luck keeping succulents inside as houseplants, but they're not as carefree as some people make them out to be.
If you take your house plants outside in the summer, gradually expose them to the sun because they can end up getting burnt from the sudden exposure.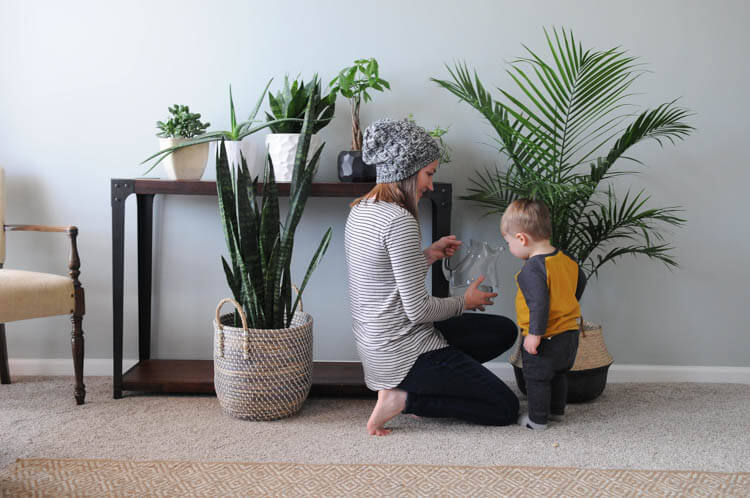 Alright, there ya have it, a complete guide about houseplants for beginners! Feel free to drop any extra advice you have for houseplants in the comments.
If you need help staying on a watering schedule for your house plants, download this free houseplant watering guide!
If you liked this post about houseplants for beginners, pin it for later: