Last summer I took one last chance on a few small succulents (for the 4th time), and finally kept them alive! And then I took a chance a few other plants here and there and my thus my obsession for houseplants was born.
They say houseplants add texture and life to a space, and I totally agree! Especially with a more minimalistic theme like what I'm into, they're so important! I wanted to pop in with a list of my plants and how I've managed to keep them alive + see them grow in the last year.
P.S. This post contains affiliate links.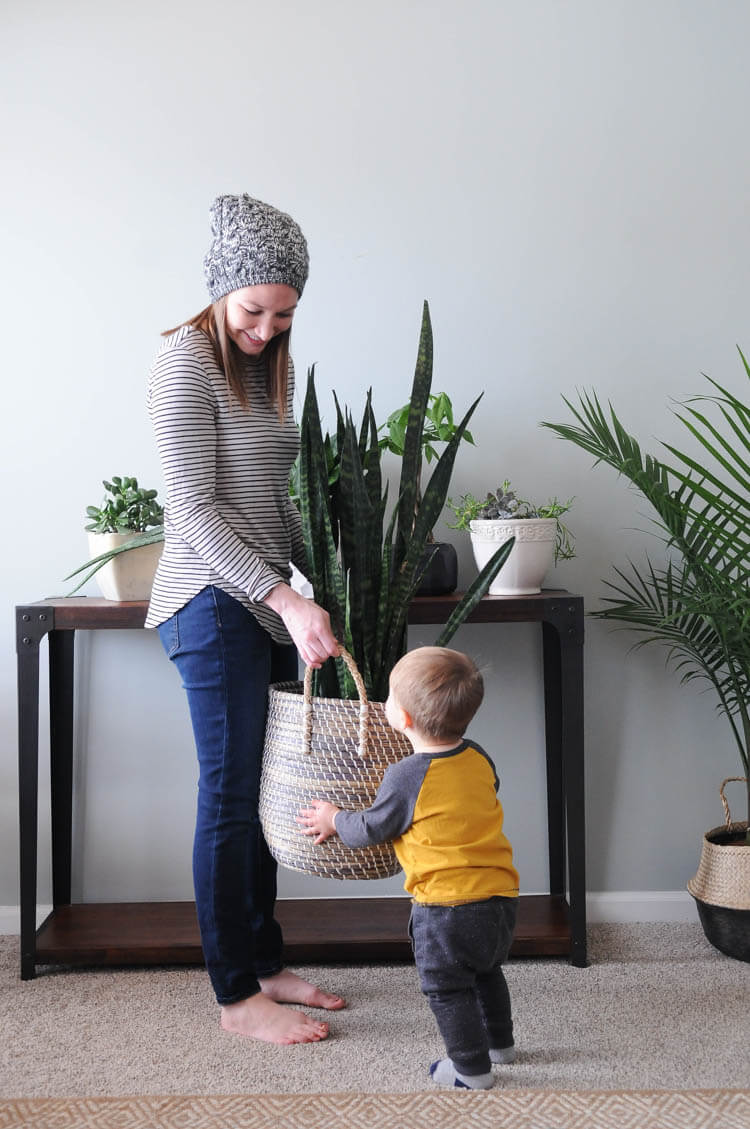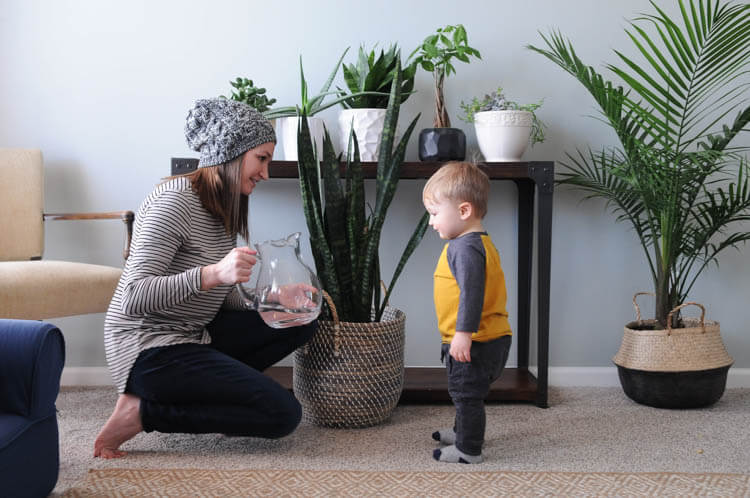 General Care for Succulents
Almost all of my plants are succulents of some type. I always heard succulents are the easiest plants to keep alive, but as soon as I'd get home they'd start dying.
I determined I'd been overwatering and not providing enough sun. So be sure to read the instructions when you get a new plant and maybe even do a google search for more information.
I originally assumed a plant that needed to be watered less often meant every few days. My plants do best when I water them just once or twice a month! That's quite a difference!
Understanding their sun needs is also important. All plants need sufficient sun, so even if the instructions say moderate/low light, it doesn't necessarily mean it can survive in the darkest corner of your home. The amount of sunlight a plant gets decreases drastically by every foot away it is from the nearest window.
Most plants also need a decent way for the water to drain so their roots don't rot. I really like putting my pots in baskets, so I use these little plastic saucers. For the ones I've replanted in pots, I put rocks in the bottom to allow for some drainage.
What's your plant's personality?
I like to think of my plants as each having their own personalities. Some plants are moody, and others are more flexible. As a rule, I now try to place new plants in a spot that's ideal for their growth and leave them there for at least a month. Plants can go into shock when introduced into a new home (new light conditions/humidity levels/etc), so it's best to leave them some place they can get comfortable for a while.
I have a few full sun, desert succulents and I started out by planting them outside in a hanging basket (great drainage). I didn't touch them all summer long and that seemed to work really well. By the time I moved them inside for the winter they had grown much bigger and had a strong root system. The first couple weeks inside they were a little tired looking but were strong enough to recover pretty quickly.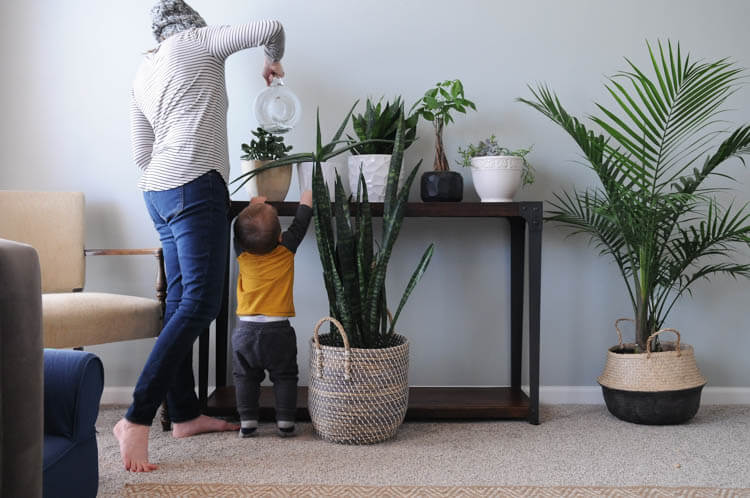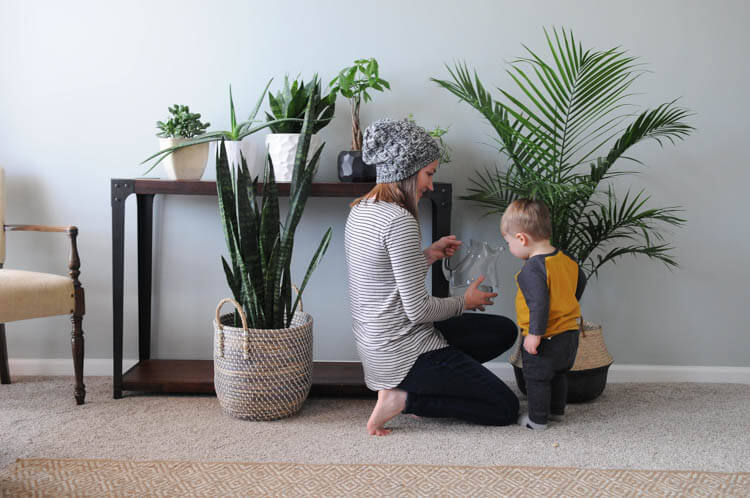 A few of my favorite houseplants for beginners:
Aloe – these can get huge! I really want to keep repotting mine so it can keep growing. I got one from a vintage shop and am getting another soon from a friend!
Fiddle Leaf Fig – I ordered this one straight off Amazon and so far so good! I've had him for about 4 months and seems to be doing good. I've heard they can be finnicky and will update if we have any problems!
Pothos – I have 2 of these and they're perfect for open shelving or anywhere you want a viney plant. And they're the only plants I've been able to keep alive on the opposite side of a room from a window. Great low light plant!
Assorted Succulents – Ok so I kind of suck and threw out the cards that told me what my small desert succulents are called. I know that one of them is the ice plant – they flower in the summer and I was able to keep it alive all winter. They're all from Lowes and I just chose the ones that looked prettiest/strongest. These are the ones that lived in a hanging planter and loved the sun and lack of rain from a Missouri summer. I've spent a little time on Google trying to identify them but there are tons. My advice for these little guys is lots of sun, very little water!
Ghost Plant or Graptopetalum – This is the only other one of my assorted succulents I was able to identify, it lives in the white pot on the far right and has grown a ton since I bought it. Every time I check on it there seems to be a new baby growth underneath. This is one of my very favorites!
Jade Plant – Super easy to grow and I would recommend this one to any beginner! Mine is pretty big now! Start it off in a sunny place then once it's established it can live just about anywhere!
Snake plant – I have two snake plants and there are a few different types of them. They're super hardy, don't require a ton of light and super forgiving if you never water them. Also they look great almost anywhere in your home! I love the color and texture they add! Also – this faux snake plant is the most convincing faux plant I've found. I have it in my toddler's bedroom and it looks great!
Money Tree – I definitely recommend these! Mine has gone through a lot – including being pulled out of the soil by a toddler and has managed to recover! Plus if a branch grows 6 leaves instead of 5 you're supposed to be blessed with wealth…worth a shot!
Majesty Palm – I love the look of these palm trees! But so far here in Missouri I'm having trouble keeping mine healthy looking. I would definitely suggest some palm food and a neighbor told me fish oil is helpful in getting them the nutrients they need. Please let me know if you have any other tips for these!
Lemon Grass – Another one that's outside of the succulent family. They grow really tall and there are rumors they keep mosquitos away.  I thought they'd be great for creating a little privacy on our back deck, so I actually ordered two of them from Amazon. You can actually find all of these plants on amazon! They did great outside all summer long! I was able to keep one alive through the winter and it's back outside this year.
Alright, there ya have it! My obsession with houseplants is real! Feel free to drop any extra advice you have for houseplants in the comments!
Here's another list of the best 8 houseplants for beginners, and some tips for keeping succulents alive indoors.
If you need help staying on a watering schedule for your houseplants, download this free houseplant watering guide!
If you liked this post, pin it for later:
Comments
comments