This is a sponsored conversation written by me on behalf of Cricut. The opinions and text are all mine.
In this post I'm talking about 5 things I love about my Cricut Air Explore 2. My Cricut has definitely upped my crafting game and here are the reasons why. 
I got my Cricut Explore Air 2 a few months ago and had a few projects in mind, but there are truly no limits to how you can use this machine. The more I do with it, the more ideas I get of other things to do with it. I actually have a list in my phone of all the things I want to get around to making eventually.
A few things on that list are leather keychains, pantry organization labels, wall hangings, tshirt designs, pillow designs, gift tags and more!
But of the things I've made so far, here are the top 5 things I love about my Cricut Air Explore 2:
1) I can use my Air 2 to customize more sustainable options.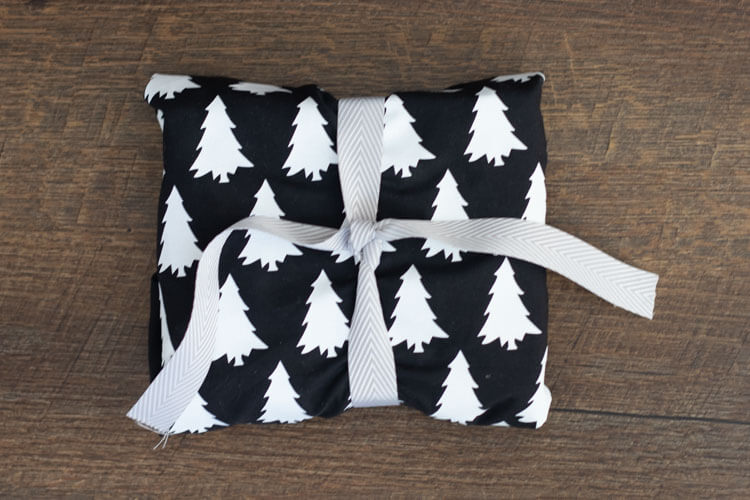 I don't typically consider myself a crafter. When I tried to be into crafting a few years ago, it seemed like I was creating all kinds of ridiculous projects that just ended up in the trash later.
But using my crafting abilities to keep things out of the trash is more my style. I loved being able to create fun patterns for this sustainable gift wrap. It's basically just an iron on design on material used to wrap gifts. Better than your average gift wrap being thrown away 10 minutes after it's opened.
2) My Cricut saves me at the last minute when I need something, especially for the kids.
Somehow holidays and other occasional events always sneak up on me. I find myself running around at the last minute trying to find something I like that meets our needs. Both kids are in preschool and they're always needing to bring or wear different things to school for this and that. The Cricut Air Explore 2 writes and cuts 2x faster than previous models, so I love using my Cricut to whip up something fast and easy that I love and can keep for a long time.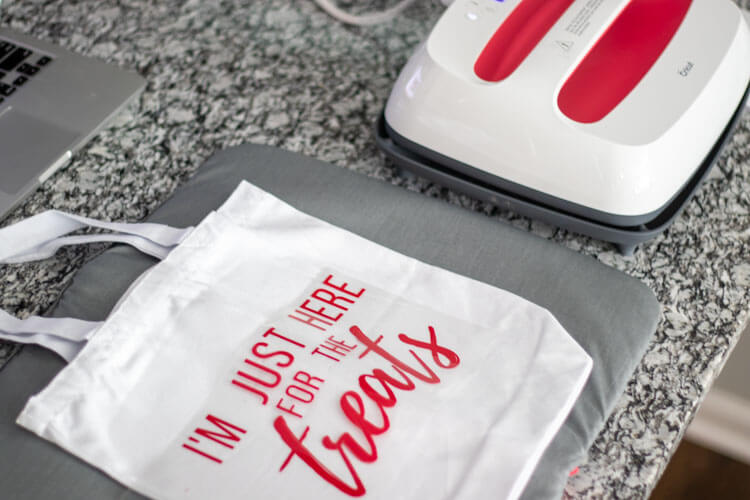 These Halloween bags are a great example of how my Cricut came in handy on Halloween day! I also had a friend who just used her Cricut to make Christmas shirts for her kiddos before sending them to school. Such a great idea!
3) Cricut Design Space has everything you could ever want to make.
As a fairly new Cricut user, I have been blown away by the Cricut Design Space. I have yet to search for something and not find it. Every shape or design I've used so far has come straight from the Design Space. I like designing on my laptop, but you can also design on your phone or ipad.
I did watch the introductory videos on how to use it, but I think it's pretty intuitive. If you struggle with something, you can just search for that topic on Cricut's youtube channel and they have tutorials on everything. I've used it quite a few times just to make sure I'm doing things right or to troubleshoot.
We just made this awesome butterfly shirt for my 4 year old, Graham, and I was so excited to find this butterfly design already laid out perfectly. I just added the text on top to say "butterfly guy" and cut it out.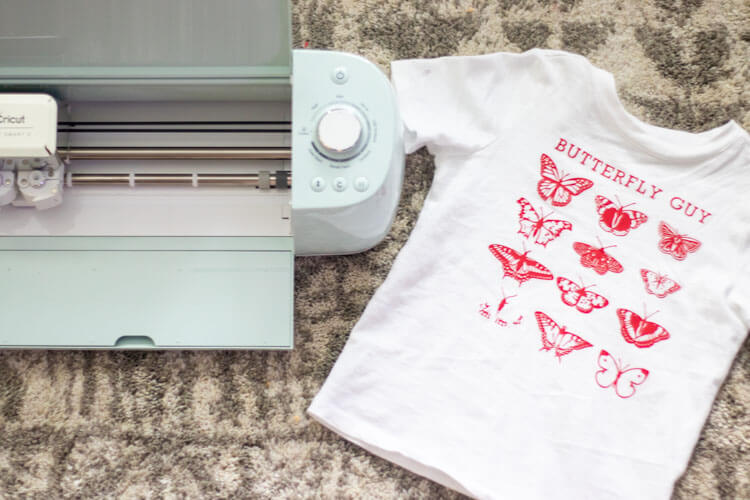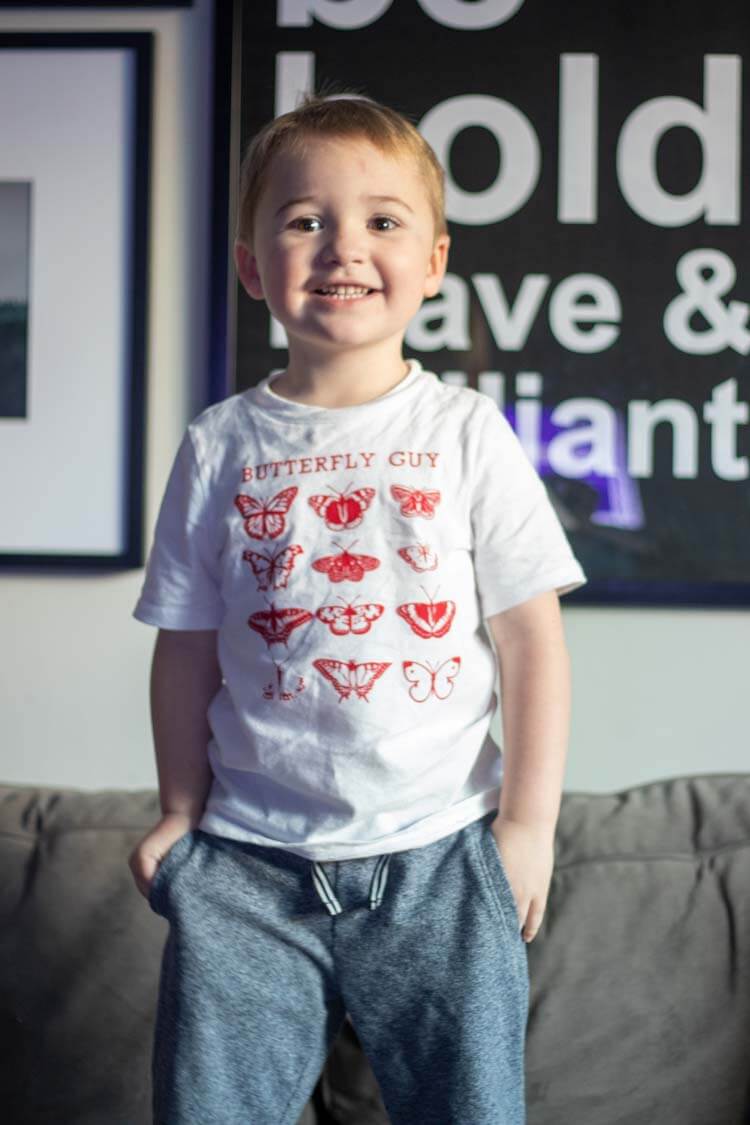 We did mess up the bottom left butterfly while ironing. Risks of working with a 4 year old. And the shirts a bit wrinkly because said 4 year old was unwilling to take it off for any length of time, so I'd say it's a hit!
4) There are over 100 different materials the Cricut Explore Air 2 can cut, meaning you can make just about anything!
I've decided 9 times out of 10, I'm either making something for my kids or my home. And it turns out, depending on what you're making, there's so many different materials you may want to use. So far I've used permanent vinyl, removable vinyl and iron on. Even within the iron-on material world, there's so many different types available, like glitter and flocked.
I used the permanent vinyl for these fun planter designs. And I'm brainstorming different ways to use the removable vinyl for some sort of wall decal. See how alllll the different materials come in handy? I also have some leather I'm dying to try out. So many possibilities!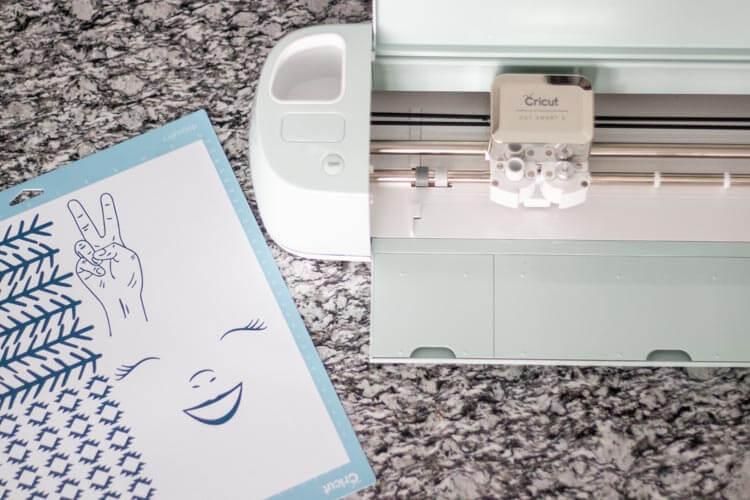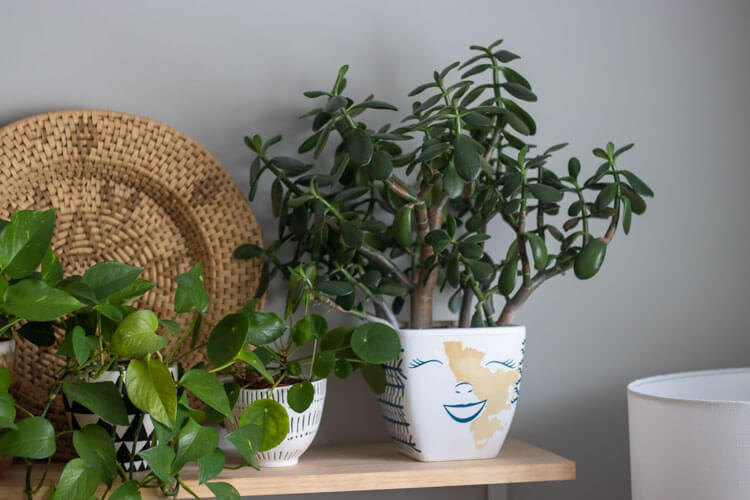 5) My Cricut makes it fun and easy to create little projects I'd never make under other circumstances.
Fun fact: For Graham's monthly pictures during his first year of life, I cut out letters for a cute little banner by hand every month. And I vowed never to do it again. Having a cutting machine is life changing.
I don't even want to think about the hours I'll never get back that could have been completed with the push of a button.
Another thing I wouldn't make without a Cricut? These quirky Christmas planter designs! I have a thing with plants and planters, ok? I used the temporary vinyl for this project so they can easily be removed after the holidays are over.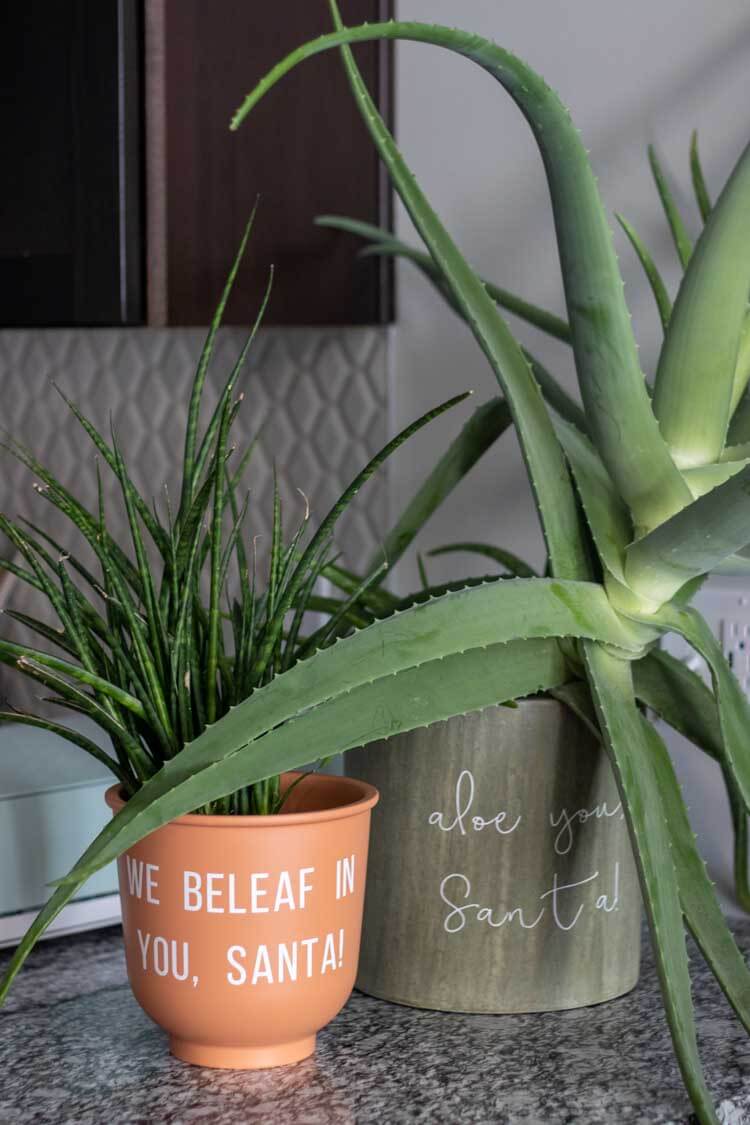 These corny puns make me giggle every time I look at them. Totally worth it!
How to make temporary Christmas decals:
These vinyl decals were so quick and easy. The perfect last minute holiday decoration! First I just logged into the Design Space and typed out these silly puns. I sized them to be about 6″ each so you could still read them once placed on the planter.
You can check out the project using similar Cricut fonts here.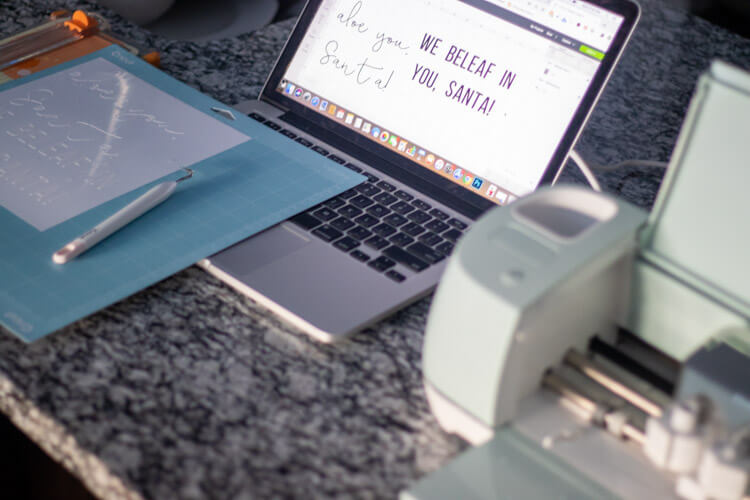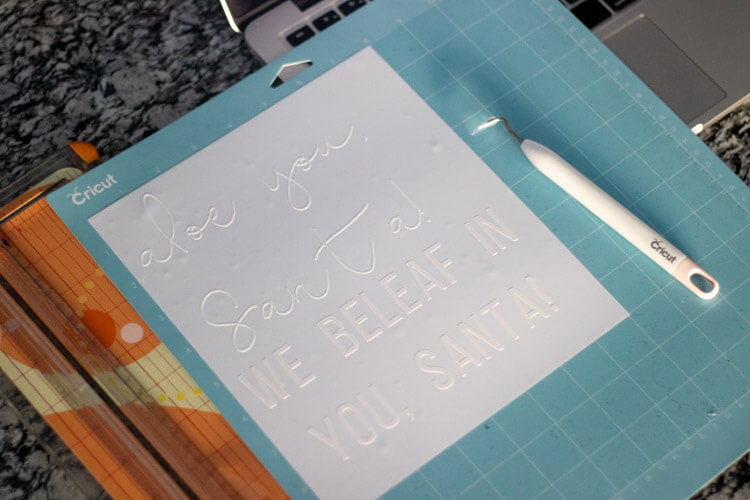 Then I loaded my mat with removable vinyl and cut the letters with my Cricut and weeded them. I finally got a new weeding set with a few cool and super handy tools, so that part was easier than ever.
Next I used some transfer tape so I could transfer all the letters at one time. The hand lettered font was a little tricky to get onto the tape, but I figured it out. It involves a lot of really slow rolling of the vinyl backing onto the transfer tape. Youtube has lots of tips for this!
Once your design is on the transfer tape, the rest is super simple. Just place it on your planter (or whatever other surface) and peel back the clear paper. It's the most satisfying part of the whole process!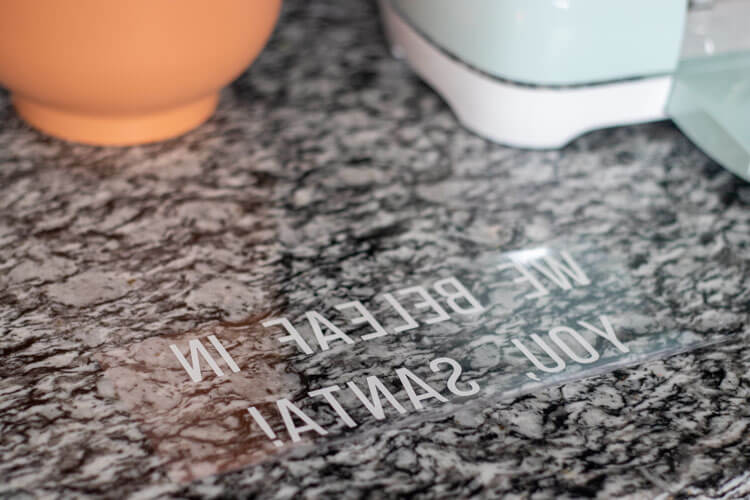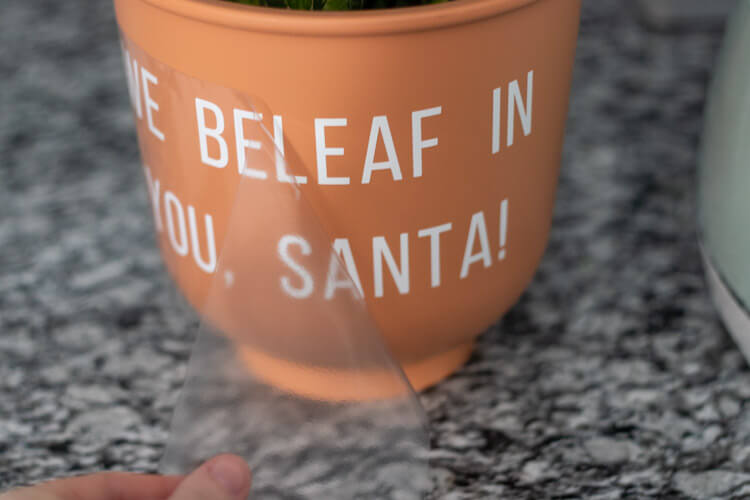 And that's it. Super simple and super cute (and corny). I haven't done much Christmas decorating this year but these are fun. Of course you could put punny sayings on any number of things, plants are just my personal favorite.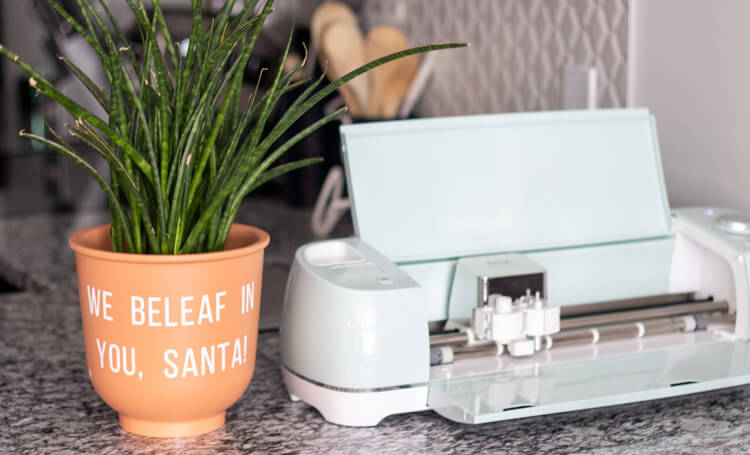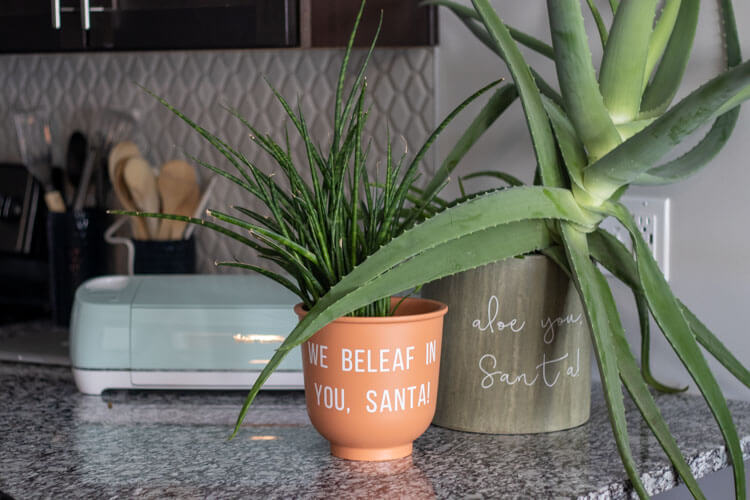 I have had so much fun using this cutting machine the past few months. Since moving to this apartment, I haven't done a ton of home decorating. Instead I've been playing around with my Cricut and enjoying the smaller projects. There really are so many things to love about it and the possibilities are endless. Next up, learning how to cut leather! Wish me luck :)