Styling shelves seems like it would be easy enough. Add your favorite items to a shelf and arrange it so it looks good and you're good to go. Most of us have tried just that and quickly realized it's not always that easy. We love the look of it on pinterest, but most of us are at a loss about how to decorate shelves. I met with an interior design to bring you these guidelines for styling open shelving.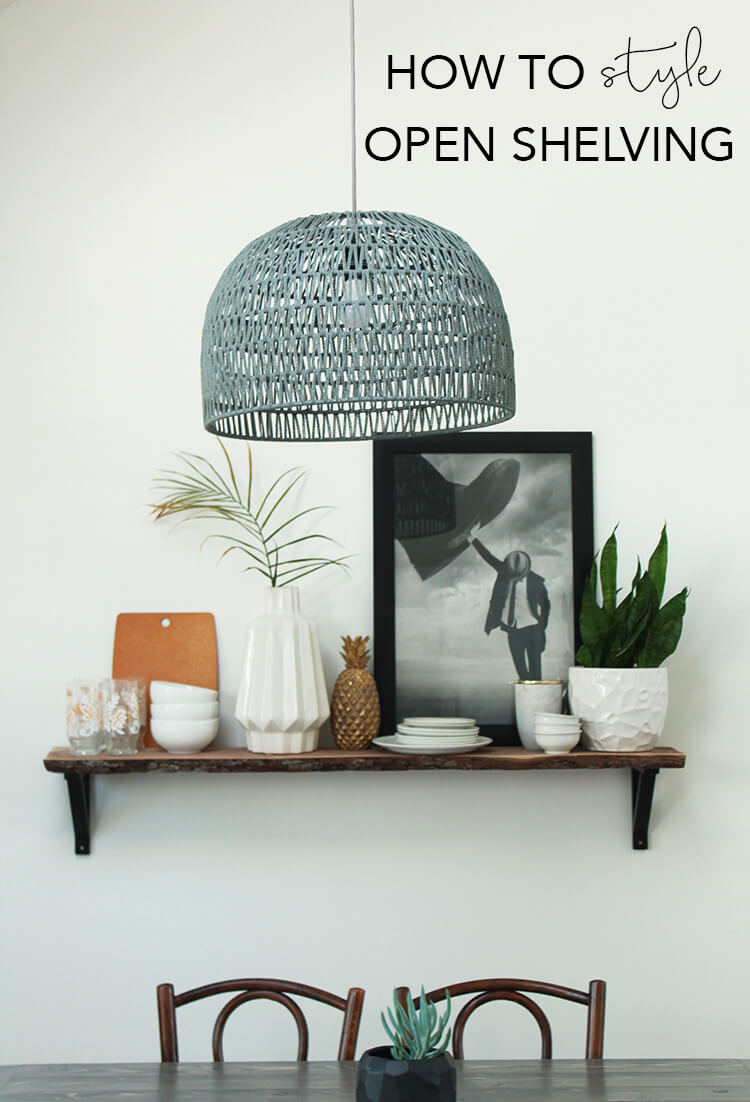 I got together with my friend and designer Abby, owner of Intrinsic Design for a little more insight into how to style open shelving. It turns out there's more to it than just picking out a few things you love. Of course, some people like Abby are blessed with an eye for these things that some people (read: me) don't come by naturally, but she also has a few guidelines we can all follow to improve our shelves.
How to Decorate Shelves
Here are the basics rules of how to decorate open shelves:
Gather all your things to put on shelves in one place.
Try creating different arrangements and groupings of your shelf decorating items.
Strive to create a balanced look.
Add some personality to your shelves.
Mix and match different styles of decor for a more interesting look.
Use these tips and you'll know how to decorate shelves throughout your home with confidence.
Gather a bunch of different items you like of varying sizes, shapes, colors and textures.
The number one problem with most home decor in general is that it appears flat. It seems unfinished and something is just not right. And trying to figure out exactly what things to put on shelves can be the hardest part.
The solution to this is bring in a lot of items with texture. You can use different colors, or keep everything the exact same color, but you need texture to bring it all together. Texture gives your decor some visual fluff and helps it stand out from the other stuff around it so each piece contributes to the overall look.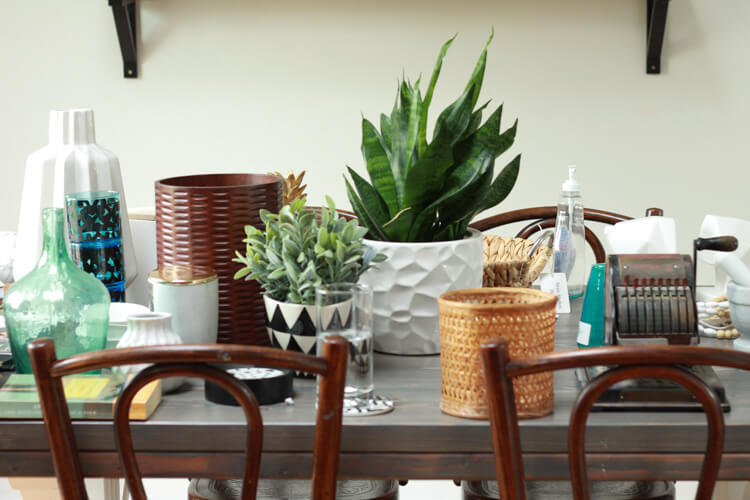 You don't have to spend a fortune on new stuff – shop your home first. Gather everything you can find that would fit on your shelf. Then assess what you have and look for things that are missing. Maybe you need more color, or a few pieces with more height. A variety of heights and textures are the most important qualities you want to find.
Natural colors and textures will always work. You can easily pull off an entirely natural setup (think white and wood tones) or mix them with different colors to bring everything together. Also be sure to include some sort of plant, living or fake (they make some really realistic looking ones these days) to add some life to your arrangement.
Take your time styling shelves with different arrangements.
This is where I personally struggle. I am impatient and get frustrated when I feel like things aren't looking great right away. Abby is a professional, and it still took us a little while to get our groove on. Play around with your decor and try different combinations to get a feel for what you're working with. If you start out with more items than what you think you'll need, you'll have more flexibility when it comes to figuring out what looks good.
Try setting things vertically and horizontally or in ways you wouldn't typically set them to find what works best. Also – layer things in front of each other to give more visual depth to your display. Some people say to group things in odd numbers and live by the rule of thirds – that's a great place to start and you'll notice most of our groupings definitely fall into those categories, but just remember, rules are made to be broken so be creative.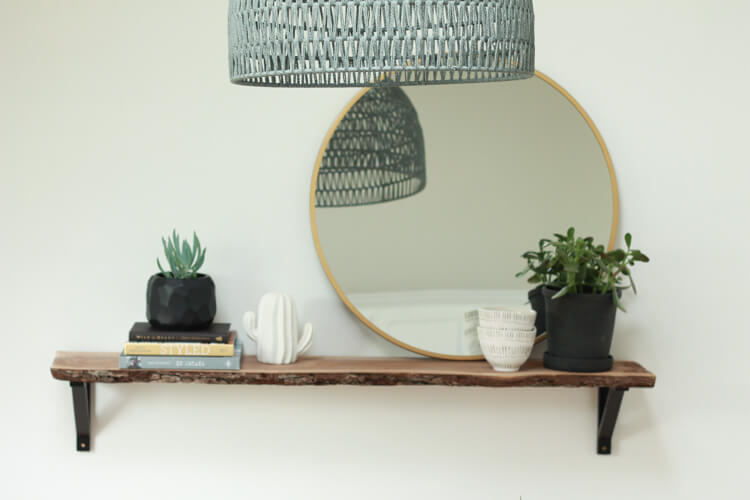 Strive for balance – but it doesn't have to be even.
When you hit the sweet spot of balance when styling shelves, you'll know it. If you can't tell, you probably aren't there yet. While you can totally make everything completely even if you're going for a traditional look, it's fun to play around with the scale of things.
This is where the size and height of your items really come into play. You need a good mixture. I think most people tend to buy things on the small side, probably because those are easier to make decisions on and typically cost less. But having larger pieces too is so important (not just when it comes to open shelving). If you have a bunch of small things around the same height, your shelf is going to look super flat and cluttered. You can also use things like books to stack other items on to give them illusion of more height.
And try to think outside the box if you just can't get it right. Don't be afraid of two large circular shapes. Add a branch or part of a plant from around your home or yard (we grabbed a palm leaf) to add to a vase you originally planned to leave empty. Sometimes you're j
ust a simple tweak away from perfection.
Add some personality to your shelves.
While you're searching your home for things to put on shelves, bring out some quirky pieces that represent you and your style and add them for more interest. I'm obsessed with plants so we have a little clay cactus that makes its way into these setups in addition to our live plants. We loved that large black and white art you see with the dish ware. It's a bit unexpected in an otherwise functional layout.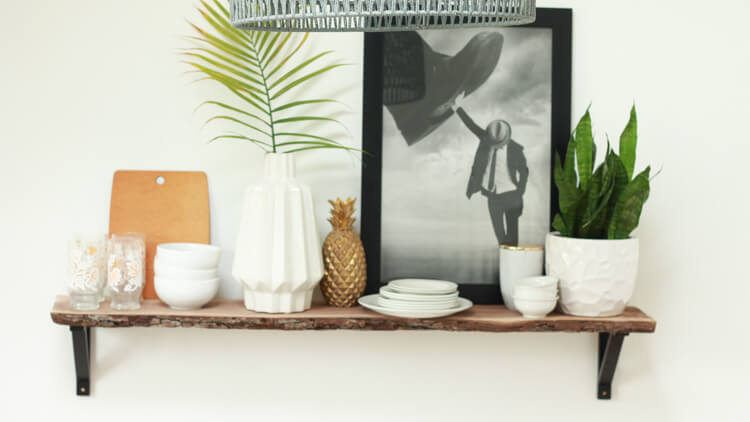 In the bohemian layout we literally taped a photo to a wall – that's an easy way to avoid a frame and to quickly switch out photos/art when you get tired of it. On that note, not everything has to be sitting on the shelf. You can hang (or even tape!) things on the wall if you feel like you're missing something.
Don't be afraid to mix and match different styles.
If you love mid century modern, and boho, and farmhouse, don't be afraid to mix those! Obviously some of the trends from each style may not mesh well. But you CAN find a way to represent all of the styles you like. As long as you have varying textures, heights, shapes, etc – you will find a way to make them all come together!
Your shelving and your entire home is meant to be a representation of YOU. So use things YOU like, and don't worry so much about which style you're going for. Take your time and experiment, and save receipts. Return policies are unbelievably helpful!
Abby and I made a video where we talk all about how to style open shelving here, and also a video showing you how we added each piece to all 3 designs here.
For more design tips from Abby, check out her website here or follow her on Instagram here.
If you liked this post about how to decorate shelves, pin it!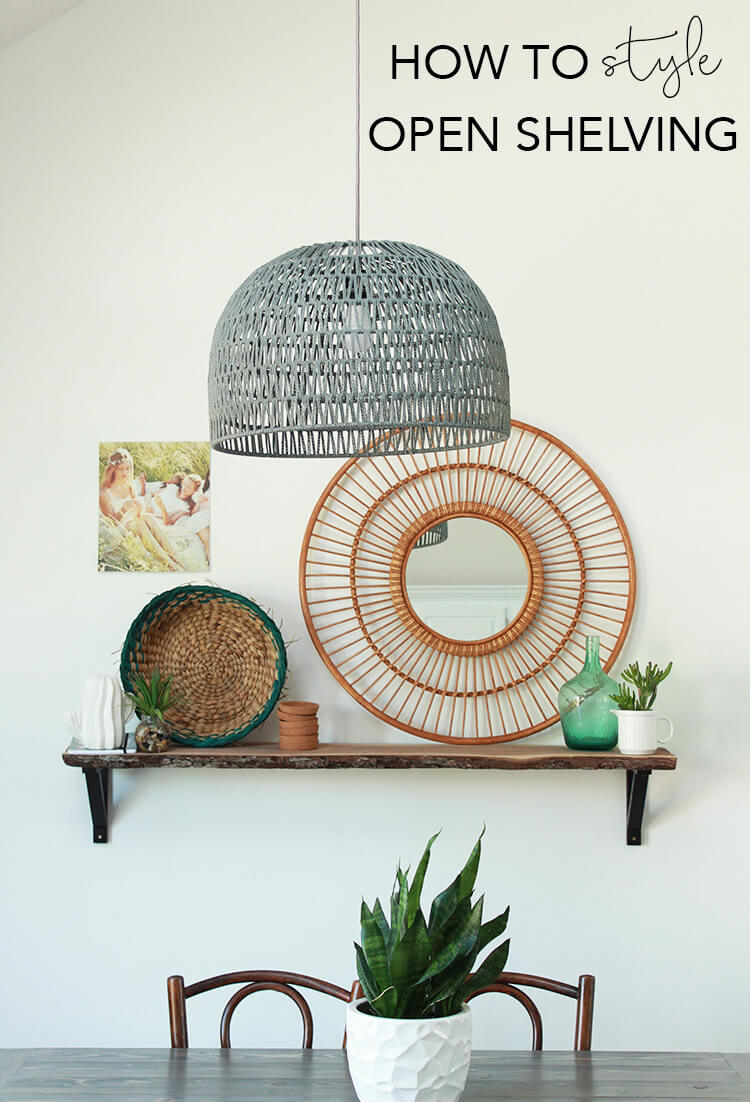 Other home design posts you may find helpful: