When I first started painting furniture, I started off with chalk paint. It was a new product that promised to make painting easy and I think it made trying a new project less intimidating. With chalk paint you don't have to sand or prime your furniture and it dries quickly and washes off with water for easy distressing (or for cleaning it off things you didn't mean to paint). With all these claims, it's hard to imagine why I don't use chalk paint anymore.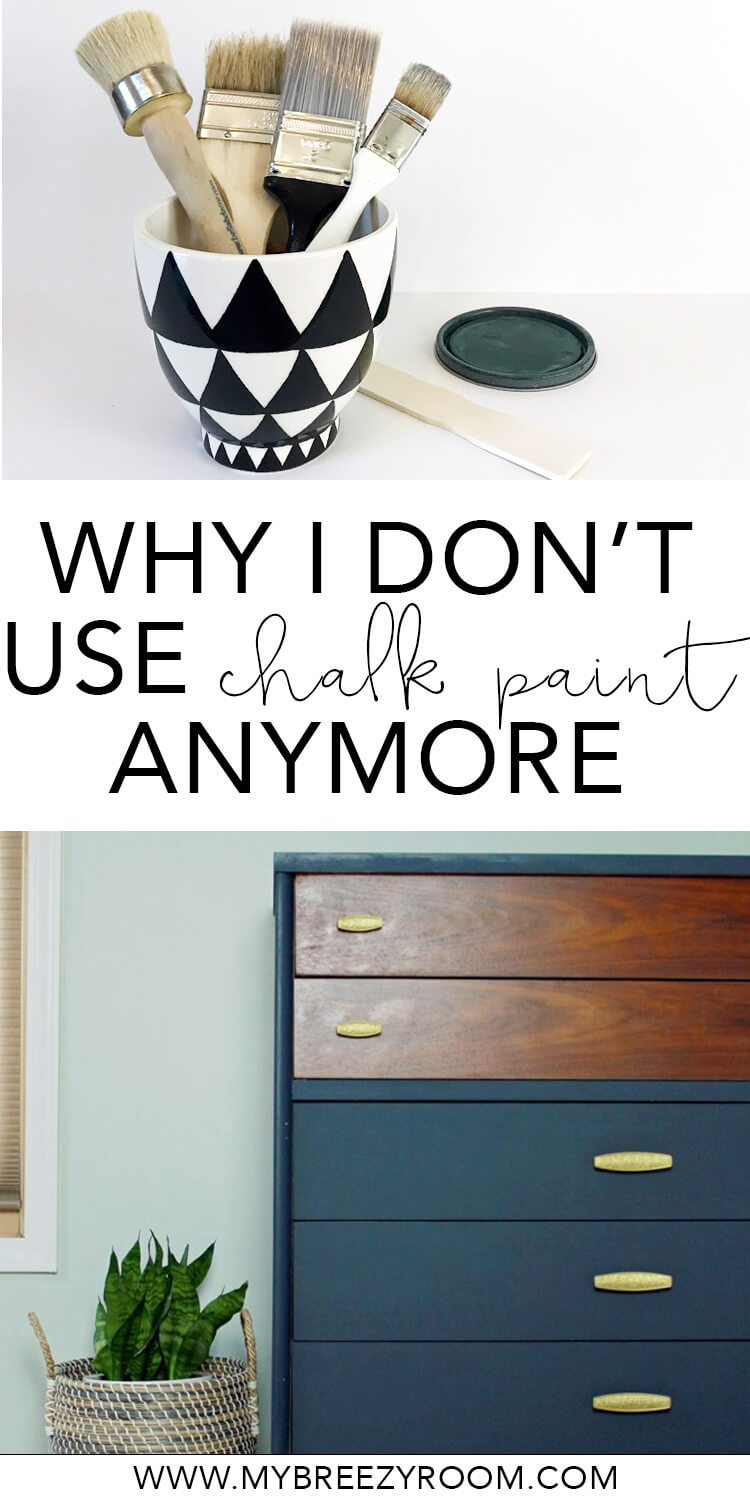 I still think if you're new to painting, chalk paint is a great place to start. But there are a few reasons I've graduated from chalk paint to latex paint and other professional paint products – I've used affiliates links to link to my favorite products.
3 reasons why I don't use chalk paint
1. Chalk painting companies make promises that are too good to be true.
Chalk paint promises that you'll never need to sand or prime your projects, but sometimes that's simply not true. Sure you can keep layering paint colors until you can't see the stains that leak through. But if you're going for a smooth, clean finish, the right prepping method is helpful. The more complicated conventional process of sanding, priming, painting is tried and true and it works. It helps smooth out any rough spots in the wood and guards against bleeding through of old stains. You may not notice these things at first, but if you paint a lot of furniture, you'll eventually run into these problems. You'll need a good oil-based primer to completely block stains. This is the kind of primer I use.
2. Conventional products are more durable. 
This is probably the biggest reason I don't use chalk paint. Did you know you need to reapply the wax every few years? You need to reapply it even sooner for furniture in high traffic areas like chairs and tables. And it requires an entire month to fully cure. I'm willing to bet that most furniture that's sold using chalk paint isn't sitting around for an entire month before it's moved to sell.
And I was never able to get the wax to completely cure. It would scrape off fairly easily even months later. I'm sure that was a user error, but I'm probably not the only one who has issues with that. I did, however, keep using chalk paint for quite some time because I had accumulated so much of it. Using a polycrylic top coat to make my furniture more durable seemed to work much better. I prefer polycrylic over polyurethane because polyurethane is known to yellow over time. I know that some brands of chalk paint make more durable finishes, but the price is still much higher than other products on the market. Which brings me to my next point.
3. The price
It's much more reasonable for me to buy a $15 quart of latex paint or acrylic paint in multiple colors than to drop $40 per quart to build up my stash of chalk paint. And that's just for the paint. I do invest in more expensive products now that I paint furniture for clients and have more experience – like this top coat. But you can still do a quality paint job with less expensive products.
My go to furniture painting products
Now when I'm painting a piece of furniture, I grab these 3 things and am good to go.
These 3 products are super durable and create a quality finish that lasts. The primer and top coat last for many many projects and are worth the investment, and the paint is a self leveling mineral based paint, not a true milk paint.
I never would have gotten into this business if I hadn't discovered chalk paint brands like Annie Sloan and CeCe Caldwell's. These are just some reasons why I don't use it anymore for most of my furniture painting projects.
I do think chalk paint is a great place to start for beginner painters. There are many gorgeous colors available and tons of classes to teach you how to use the products, which is awesome. And I totally get it if you're into the all natural alternatives to conventional products. I personally try to use water-based products as much as possible in well ventilated areas. I also use a respirator when using oil-based products so hopefully these precautions will keep me healthy!
I use these brushes for SO MANY painting projects. They're perfect to have on hand at all times whether you're using chalk paint, acrylic paint or latex.
If you have questions about chalk paint, I'm still willing to answer them to the best of my abilities based on my experiences with the product. But if you have questions about the other products I've started using, I'd be happy to answer those too!
Have you tried chalk paint? Do you like it better than conventional painting products?
If you enjoyed this post, pin it to save it for later!