Lately I've been working on updating updating our guest bathroom so it's ready for…ya know…guests. When my sister lived with us before getting married, she had it decorated nicely. When she moved out my husband took over that bathroom and it hasn't been decorated since. It wasn't until someone asked to use it a couple weeks ago I realized I hadn't even stocked it with soap or hand towels, and that is how this bathroom moved to the top of the list. So I've been putting together some modern bathroom inspiration to get a bit of a game plan going!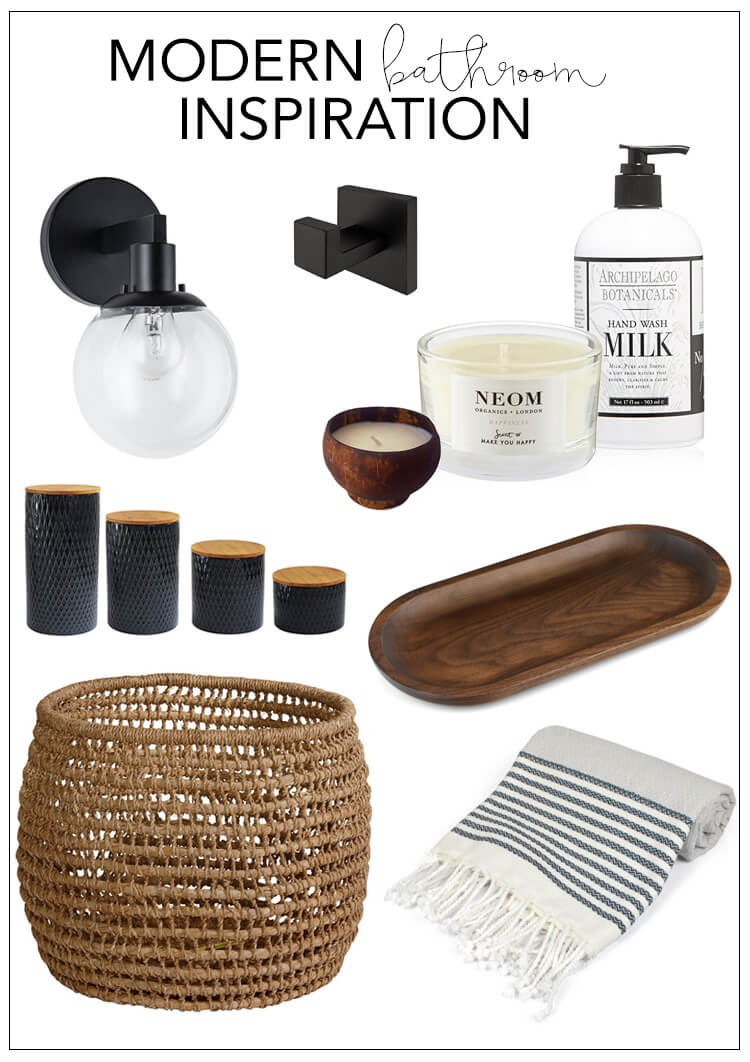 There's a few things I've noticed from studying modern bathrooms on Pinterest and shopping around for decor. First off, get out of the bathroom aisles. Most of that stuff has no personality. Instead check out the kitchen aisles and other home goods areas for things you can fill your bathroom with. I'll go through the rest of my pointers as we go through all the goodies I found!
And bonus – everything on this list is from Amazon!
Modern bathroom lighting and hardware
Replacing the lighting in your bathroom should be one of the first things on your list, or you'll never get around to it! It makes such a big difference and you can find some really great modern lights on Amazon for a decent price with a little bit of digging. Some nice modern towel hooks add a polished look as well.
Modern bathroom pretty basics
So this tip is a little superficial, but I noticed that you won't find any bright colored basics like hand soap that clash with the rest of the room's aesthetic. So finding some hand soap and candles with plain labels or natural elements will take your style up a notch higher. They also help the room feel more spa like. And can we just talk about how adorable that coconut candle is?
Trays and canisters for a modern bathroom
We all know that trays help ground your decor, but I've found this is especially important in the bathroom. Things tend to get scattered about and grouping them together on a tray just makes everything feel more pulled together. This is where I really recommend leaving the bathroom aisles to find the good stuff.
I found 3 awesome trays in the three basic colors: wood tone, black and white. I really love the black one but I think I'm going to go with the wood tone tray for my own bathroom. Those black trays might find a home in some other area of my home though!
I also love the look of canisters on a bathroom tray. You can fill them with anything. Cotton balls, q-tips, travel size toiletries. Anything you think your guests might need. These blue ones are such a good deal and you can't go wrong with white canisters.
Texture and storage
I noticed quite a few modern bathrooms using large baskets to store towels and I'm pretty positive I want to jump in on that trend. Texture on texture and easy peasy storage. Count me in! This particular basket is admittedly pretty pricey but it is so good that I just had to include it in this round up.
I haven't fully converted to Turkish towels yet but they are beautiful! I did just order these hand towels for my bathroom and I am in love!
Alright, so there you have it! Of course there are so many things to consider when decorating a bathroom, but I figure that these basics will get everything going and headed in the right direction.
[embed_popupally_pro popup_id="7″]