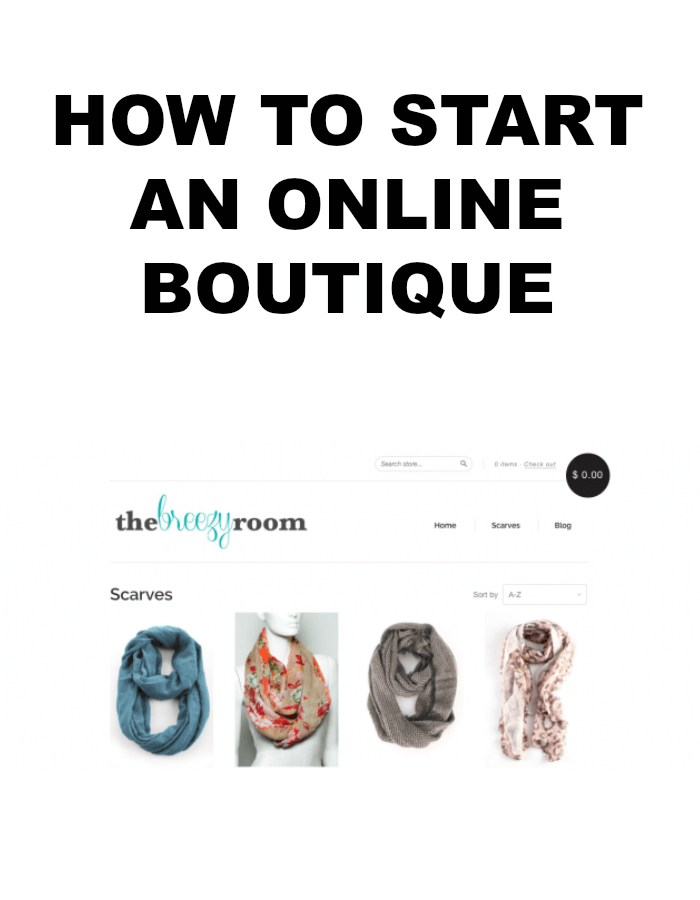 Did you know that starting your own online business is actually quite easy? It's coming up with great ideas that requires a little more work and time. But legally setting up a new business really just takes a few minutes for someone who knows what they're doing. I was lucky that a friend of mine was able to walk me through the process to let me know what I needed to do to create a legal business. In case you've been wondering about that too, this is what you need to know about how to start an online boutique.
*Affiliate links included to help guide you to my favorite products!
1) Create an LCC, Corporation, S-Corporation, etc.
If you google "Secretary of State [Insert your state]" and go to their website, there should be a link to find all the information you need. On Missouri's there is a tab that says "Start a Business." This link tells you how to apply online for the type of business you want to start. I consulted an accountant for this step just to make sure I filled out the forms correctly. You should also use this site to research business names in your state to make sure the one you want is available before you fill out the application.
2) Apply for a Federal ID Number
You can apply online for an instant Federal ID Number at IRS.gov. You will use this number to file taxes each year and to verify that your business legally exists when you are doing business with other companies, establishing a business checking account, etc.
3) Apply for a Sales Tax Number from your state
If you're selling retail, this is required. Most real wholesale websites will not let you create an account without one. This just ensures that you are responsible for collecting sales tax on the products you sell and can turn them in to your state. It took me a little longer to get this number. I was able to apply online, but had to mail in a bond to cover any future unpaid sales tax and it took about 2 weeks to get the letter that assigned me a sales tax number in the mail.
4) Open a business checking account
This is extremely helpful in keeping your accounting records straight and keeping the business money separate from your personal finances. Once you start making money, you can withdrawal whatever amount you like to start paying yourself. I typically write a check from my business account to my personal account to pay myself. My business was linked to my checking account in Quickbooks Intuit and it made the accounting process so easy. I also think it's helpful to make as many purchases as possible with your debit/credit card. This way you have an online record of them instead of having to keep every single receipt.
5) Decide on a shopping cart service
There are many shopping cart services to choose from out there, including selling your items through Amazon, eBay or Etsy. But I do recommend creating your own website as well so that your sales aren't dependent on the decisions of those companies. I used and personally recommend Shopify which has multiple plans to fit your needs and your budget. For a beginner, it seemed to make the most sense. You can also host your own shopping cart on a website platform like WordPress. There are a lot of options out there, so do your research to find one that is the best fit for you.
6) Purchase packaging, labels and stamps to ship products
This is something I admittedly didn't think about until AFTER I made my first sale, which was a mistake. I ended up going to the post office, purchasing a box from them, then stood in line to get my package stamped and shipped. As soon as I got home I headed to uline.com to purchase packaging (they have all sorts of options to best fit your products), purchased adhesive shipping labels, and set up an account with Stamps.com so I could print my own labels (shipping costs included) directly from home. This allows me to prepare everything at home and just drop my packages off at the post office at the end of the day.
Places like Office Depot also let you drop off your packages with them will ship them via USPS, Fedex, or UPS. You can also ship priority mail and schedule a time for the USPS to come pick up the packages. There are a lot of different shipping options, so this is another one that requires a little research to determine the best fit for your business. Another handy thing to have for shipping is a scale. They are more affordable than you would imagine!
7) Find wholesalers or manufacturers
Finding REAL wholesalers is actually a lot harder than it seems. Google generally brings up hundreds of companies that claim they are wholesale, but are really just discounted retailers. That is not who you want to be buying from. Talk to trusted friends or connections in your industry to find out about legitimate wholesalers. Or check the tags of the products that you like and research the brands that way. Just know that if you consult someone who will be a future competitor, they might be a little hestitant to help you out.
If you follow these steps you'll be well on your way to owning and running your own online boutique. There is still a lot of other stuff to figure out like product photos, marketing, finding your ideal customers and delivering a great buying experience to customers, but you'll be learning all of those things before you know it!