Lately I've been accepting more custom painting jobs from family and friends, and I have some really great projects to show you, and even more coming up soon! Today I'm sharing a piece that belongs to my cousin that came with a house she bought way back when. How awesome is that? Some people have all the luck!
It started out pretty dark and with some damage to the top and some of the doors.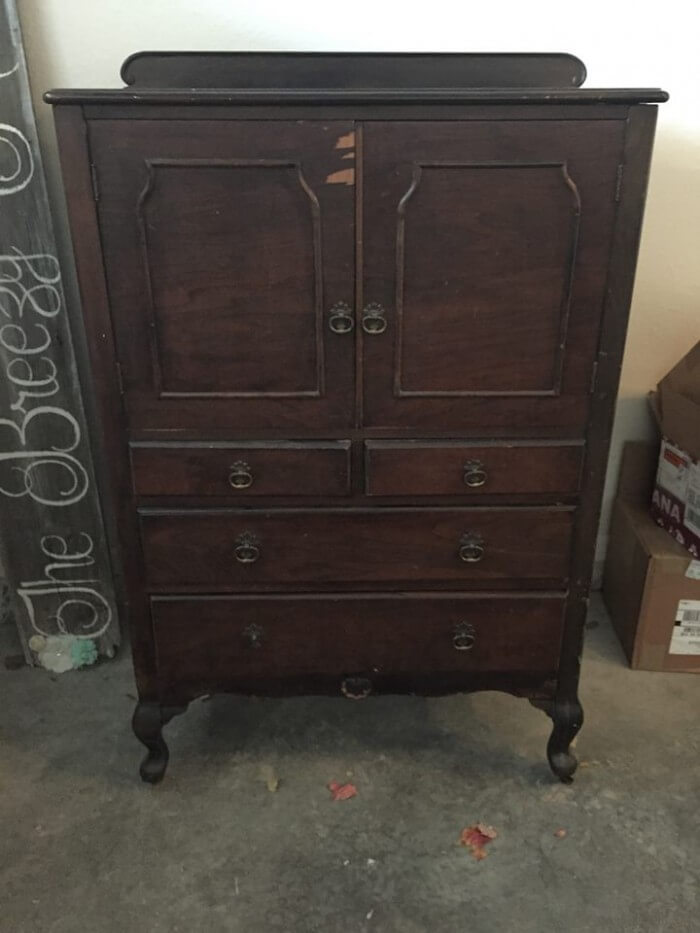 I started out by filling in all the missing veneer with putty and then sanded it down even once it was dry. Then I used a sanding block to sand the entire piece and went ahead and painted the body of the piece in Navajo White. I was just going to restain the top to begin with, but then some of the old marks were showing through the new stain, so I decided to go back and strip the top then restain it again. I just covered the body with trash bags since it was already painted, but it wouldn't be a bad idea to do this part first!
I feel like the idea of stripping a piece of furniture is really intimidating, but it was so much easier than I thought it would be. After a little research, I decided to go with Citristrip, because it's supposed to be less potent as far as fumes go. It was still pretty bad and I wore a respirator mask during the process just to be safe, but I was still happy with the product. I basically just followed the directions on the can, spraying it on, letting it sit for a few hours, and then I went back with a plastic scraper to take it all off. Then I cleaned the remaining residue off with odorless mineral spirits. After letting the wood dry overnight, it was ready for a new coat of stain.
I've been using an oil gel stain from a local paint shop lately rather than the stain available at Home Depot. I just like that I have more control over how much goes on and I can truly wipe of the excess unlike with the liquid stain that soaks in too quickly.
I added a quick layer of Valspar antiquing glaze (you can get this at Lowes) over the body of the piece to give it a more "dingy" look and help the bright white blend more with the dark top and sealed the top in with Masterclear.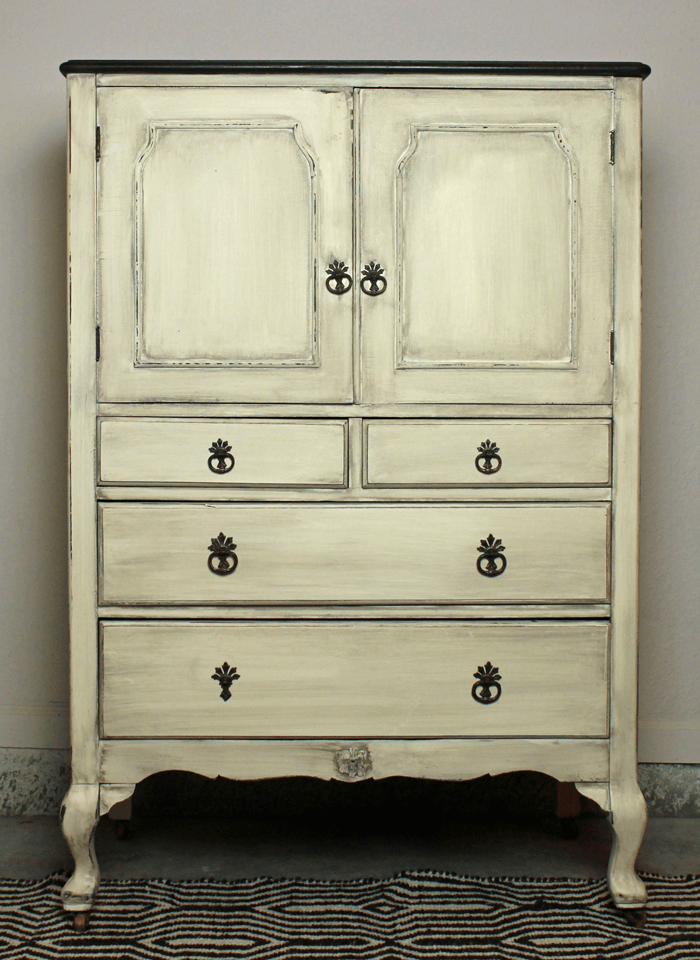 You might have noticed that on of the little handles is missing a ring, so we may find a way to change a couple of them out, but regardless, I really love how this one turned out!
The worst part of painting custom furniture for people is giving them back their lovely pieces! It would be so nice if I could just keep them all! ;) The best part is knowing that they love how they turn out!
If you want to learn more about painting furniture, download my free furniture painting guide. 
[embed_popupally_pro popup_id="1″]