If you're looking to clean your hardwood floors fast, the Bona systems having everything you need. This post about how to clean hardwood floors fast is sponsored by Bona but the content and opinions expressed here are my own. Stick around for a giveaway at the end of this post!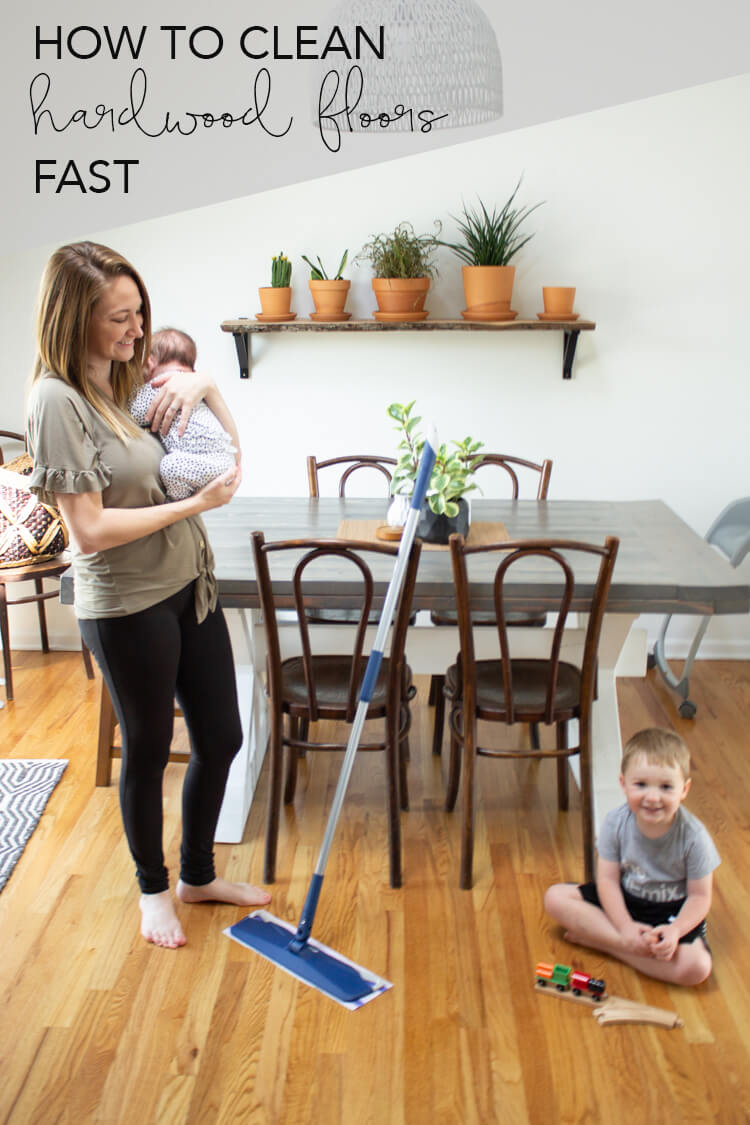 Last week we had Graham's 3rd birthday party, and of course I was running around like a crazy person trying to get everything done in time. I've never been one to prepare too far in advance, but doing it with 2 kids takes things to a whole new level. I was trying to navigate around nap times and managed to get nearly everything ready in time. Except I was on my hands and knees scrubbing the kitchen floor when people started showing up. Now I've got a new system and some advice for how to clean hardwood floors fast!
For reference, this is what our floors look like 90% of the time. 3 year olds are messy eaters. In addition to the high chair area, it seems there are always wet spots throughout the kitchen that instantly get dirt and grime stuck to them. I swear I never noticed my floors getting dirty so quickly before having a toddler!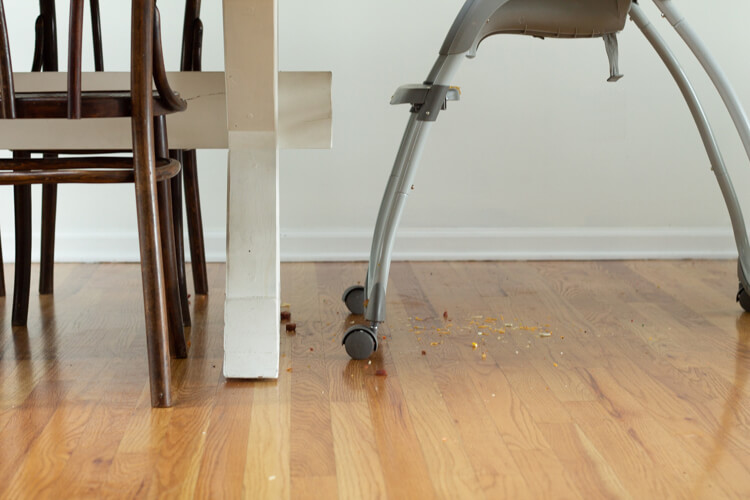 I was able to get the Bona Quick Clean System this week, and it's been life changing. When friends stop by unexpectedly, or when floors are the last thing to do on my list before expected guests show up, I'm grabbing this. Or let's be real, I'll mostly be using it when I want clean floors but don't have the motivation to deep clean.
How to Clean Hardwood Floors Fast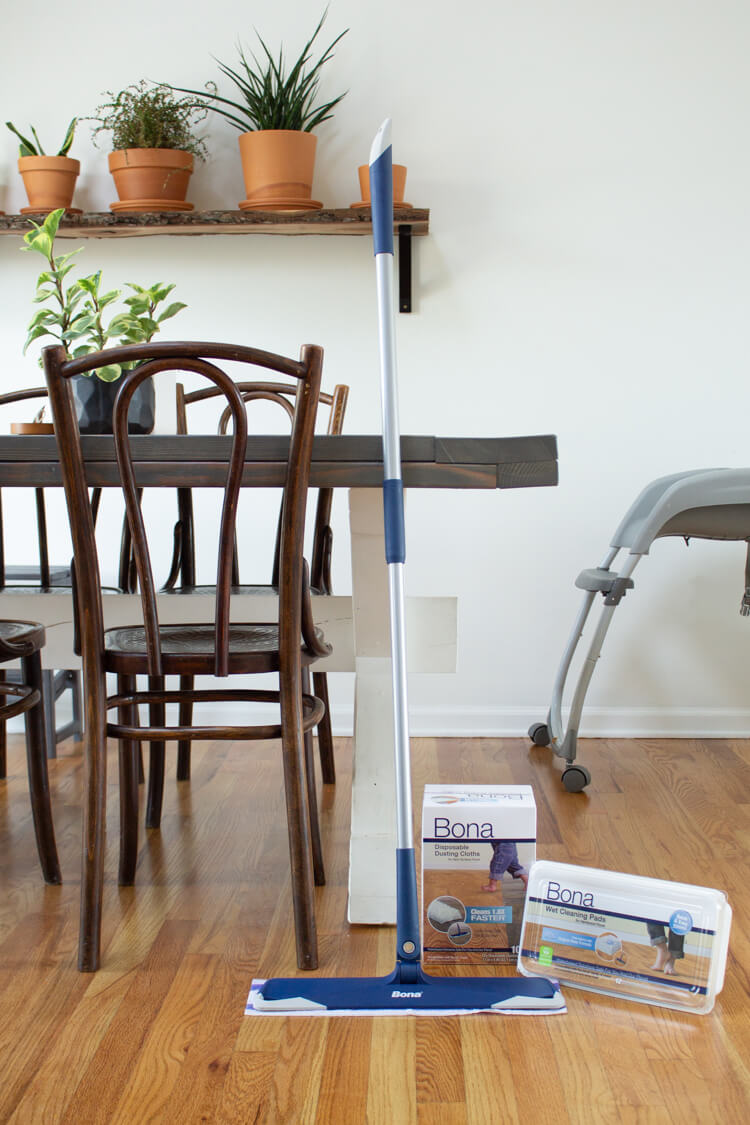 The Bona Quick Clean System consists of:
Premium Microfiber Mop for Hard Surface Floors
Disposable Dusting Cloths
Hardwood Floor Wet Cleaning Pads.
All you have to do is quickly dust your floors with the disposable dusting cloths. Then clean them with the hardwood floor wet cleaning pads.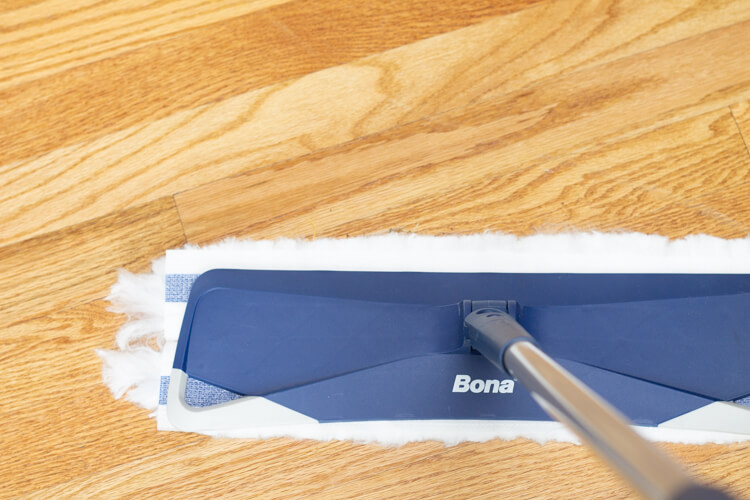 Some things that make the Bona Quick Clean System different from other similar products are the size of the mop head (40% larger), and the specially designed no residue formula that effectively cleans floors.
As you can imagine, there are a lot of stuck on spots on our kitchen floor. With other products, I've had to go back over those spots on my hands and knees to scrub them off. With the Bona, I was able to get them all off with the mop. The size made covering our small kitchen a fast task and gave me leverage to scrub at the tough spots. And our floors were left shiny clean, not dull like with other products I've tried.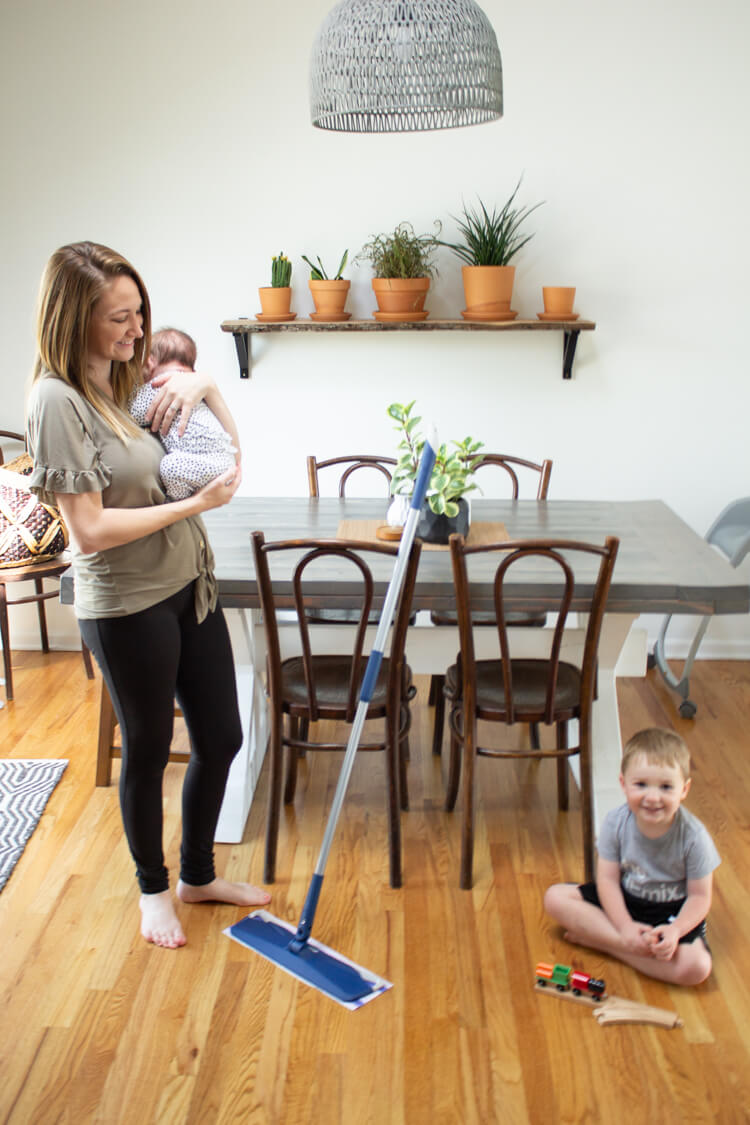 When to Use the Bona Quick Clean System
The Bona Quick Clean System is best for fast cleaning between deep cleaning sessions. So it's perfect for embracing life's surprises like unexpected guests, or toddler messes you didn't plan on. (By now I should just be planning on all the toddler messes…)
When you don't have extra time, the Bona Quick Clean System can make your floors clean enough to eat off of in just a few minutes.
Another thing I love about the Bona? The mop comes with a reusable microfiber dusting pad and cleaning pad for deeper cleaning. They can be used with other solutions to help you get a cleaner clean. So the Bona is the only product you need to maintain your hardwood floors!
Bona Quick Clean System Giveaway
Check out the Bona Website and leave a comment below with your favorite quick clean tip for a chance to win your own Bona Quick-Clean kit! I think you'll love this system for cleaning your hardwood floors fast!