My Breezy Room began as a creative blog in 2012 and has since grown into a creative company that offers custom furniture painting services.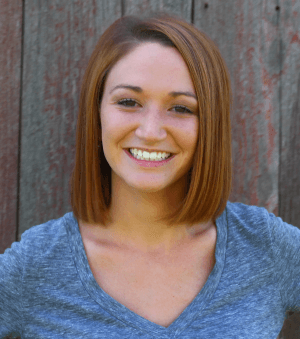 I'm Kala, blogger and owner of The Breezy Room LLC. I'm all about chasing dreams and letting go of experiences that aren't taking you where you want to go. Some people call that crazy, but I think it's the best kind of crazy.
I'm from a small town in Northwest Missouri, but now I live in Kansas City with my husband Will and our baby boy Graham. If you've looked at my site for any amount of time I'm sure you've seen a little about him already!
A little more about me: I'm known for eating a lot of ice cream, crying almost every time I laugh, and getting sucked in to Criminal Minds rerun marathons when I have a long to-do list. And I'm not a bit shy about my love for Taylor Swift songs and weird TLC reality shows.
If you're looking for something to read, I've already narrowed down my most popular posts and I have a whole gallery of before and after pictures for you to take in for some inspiration!
Thanks for stopping by and I hope you can find something that motivates you!
Feel free to contact me about anything at mybreezyroom@gmail.com. :)
Disclosure:
This blog is a personal blog written and edited by me. For questions about this blog, please contact mybreezyroom@gmail.com
By reading this blog, you acknowledge that you are doing so of your own free will and you are taking and following the information provided at your own risk.
Unless otherwise noted, I am the legal copyright holder of the material and pictures posted on my blog. My material may be used by peer blogs, if it is linked to my blog and I am given credit for my pictures and ideas. My images may also be pinned on Pinterest or shared through FaceBook, Twitter and other forms of social media if they are linked to my blog and I am given credit. My content may not be published, copied, or reprinted without my consent.
The information I provide on my blog is based on my own experience and is my own opinion. You are reading and following my advice at your own risk. Please always use safety precautions when performing a DIY project and always read and follow manufacturer's directions for the products and tools you use.
I respect the privacy of my readers and will never sell your contact information to another company or put you on a spam list. I am not responsible for the privacy practices of my advertisers or blog commenters.
I reserve the right to change the focus of my blog, shut it down, sell it or change the terms of use at my discretion at any time.I am not responsible for the actions of my advertisers, sponsors or blog commenters. If you purchase a product through a link from my blog, you must take action with that company to resolve any issues, not this blog.