Since I was 16, I've always had a job. Most of the time, I worked two jobs. I took great pride in my strong work ethic. So naturally I thought I would always be a "working woman."
But lately, after only a little over one year of working a "real" job, being a SAHG sounds pretty good. Why you ask? Here are my top reasons…
1) Traffic.
I'm seriously over this part of living in the city and going to work at the same time as a million other people. God forbid it rains, or snows. You'd think everyone just passed their driver's test yesterday. Not that I'm a particularly great driver…but still. Combine the awful drivers with the fact that Missouri weather plus a crappy Department of Transportation leads to year-round road work, you can bet my least happy  hours are from 7-8 am and 4:30-5:30 pm.
2) All my Snapchats look like this: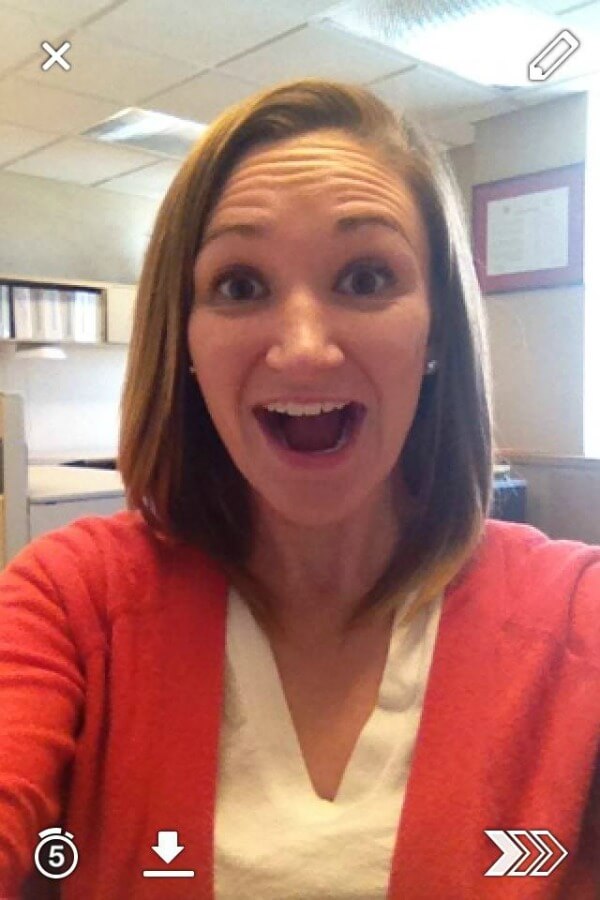 Maybe I'll be wearing a different colored cardigan. This is also the only Snapchat you'll get from me because I don't really understand the concept. If someone Snapchats me, I always feel like I have to "reply"… so I do – and it is always this with some saying like "hard at work" under my photo. I feel like this is not what Snapchat was meant for. But since I can't send nudie pics from the office…this will have to do.
3) I'd have a lot more time for blogging and painting furniture.
For some reason, the 5 hours I'm awake after work don't seem to be enough to get anything accomplished, so I find myself blogging on my lunch break…or later. I can't help but wonder how great my blog would be if I didn't rely on the previous day's iPhone photos for blog content. And as far as painting goes, I get home from work, put on some comfy painting clothes, then my mind autopilots me to the couch for 4 hours of Teen Mom and not to the garage. Oops.
Ok those are my only 3 reasons, because I'm not actually a stay at home girlfriend…and I've actually been required to work at work today. The nerve! So back to work I go. No worries co-worker friends, I will continue fighting the traffic to get to work each morning because sitting around at home has yet to provide me with a suitable paycheck! :)
Comments
comments