Have you noticed that I took a break from wedding talk? It's actually because I was reorganizing my blog a bit and found all these guest posts that I did and figured I'd recycle then. So I'm cheating at blogging…sue me. Sometimes we all just need a little break from the wedding talk.
Today I'm going to let you in on my top 5 reasons I love painting furniture (more than wedding planning).
1. First and foremost, painting gives you a great excuse to look like crap ALL the time.
I mean, why put on makeup and nice clothes when you're just going to get covered in dust and paint within an hour anyways? And you definitely don't have to worry about the perfect messy bun. Just throw that hair up as fast as you can to get it out of the way and get to painting. (See nasty slicked back hair in picture.) I'm sure when you go out in public like this it's socially acceptable because everyone can tell by the paint on your right arm and left leg and that little bit on your forehead that you've been painting, right? Or if just looks like you haven't showered for a few days….whatever. You know you've been hard at work!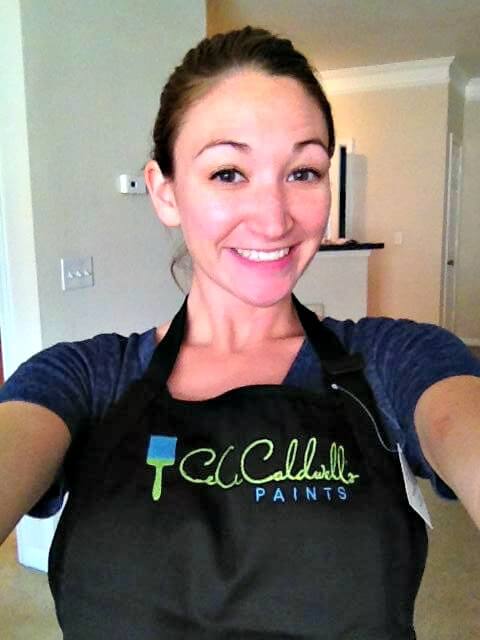 2. People give you presents all year long.
Seriously. It's like your birthday everyday. Ever since I made it known to all my friends and family that I have a booth and redo furniture, I get tons of calls all the time from friends and family that have this or that old piece of furniture they need to get rid of, or know of a garage sale here or there. Sometimes I'm not good at telling them a piece a won't work, so then I just end up taking it to the thrift store after I get it. BUT, people are always willing to help. And most of the time, they won't even let me pay them for the things they give me. Score!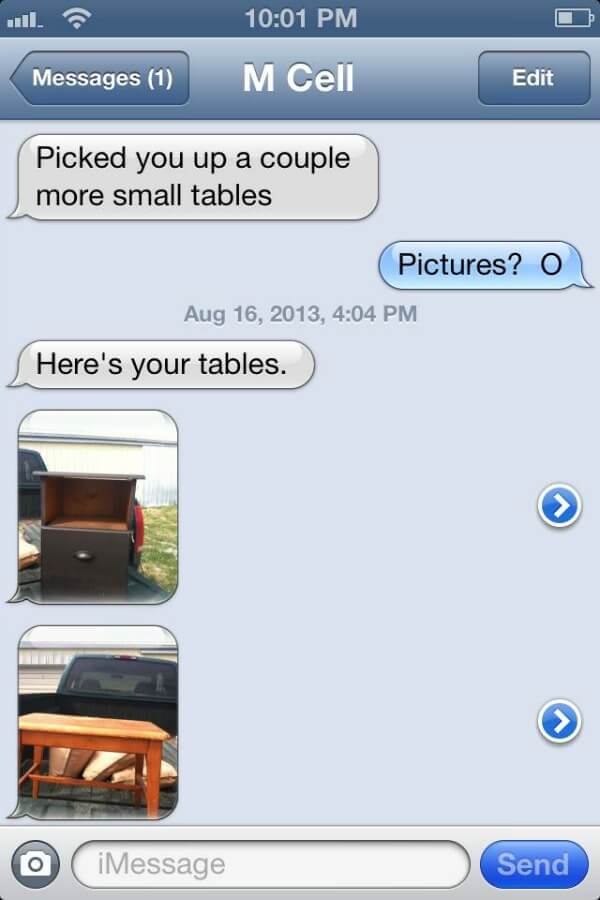 3. You get to practice your haggling skills.
What's more exhilarating than getting a great deal on a piece of furniture and knowing it's because you successfully talked someone down. Now I love this feeling when it happens, but more often than not my conversation goes like this:
(I'm looking at a globe at a flea market)
Man selling globe (sees me looking): That's priced at $25 but I'll give it to you for $20
Me: Oh…I dunno if I can pay that much. How about $15.
Man selling globe: Nope. $20.
Me (.5 seconds later): Ok, I'll take it.
(Then I go home and tell everyone I talked him down from $25 to $20)
Maybe I need to work on my haggling skills a bit more…ha.
4. Everyone starts thinking of you as creative and artsy.
I've always been jealous of the image that "artsy" people have. They usually have some sort of unique style and can see things from a different point of view. I mean, hey, I don't know how much creativity and artistic talent it takes to slap a coat of paint on a piece of furniture, but I'm not going to deny the title. I have a unique style that works for me, too. See number 1. I guess I identify most with a grunge look…?
5. You get to have beautiful, colorful and changing furniture all over your home.
So far in my apartment I've painted two dressers, two nightstands, a TV stand, and 3 side tables. I can't make up my mind on which side table works best, so I just paint something new, put it in place for a while, then sell it if I don't like it and find another piece to paint. The hardest part is finding a balance between interesting colors and neutrals so that your home doesn't look like a circus. You're always about that bright funky color until it's sitting in your living room, then you're like…."Uh, no, that's not going to work." But it's worth it when you find the right piece and you love it every time you walk into a room.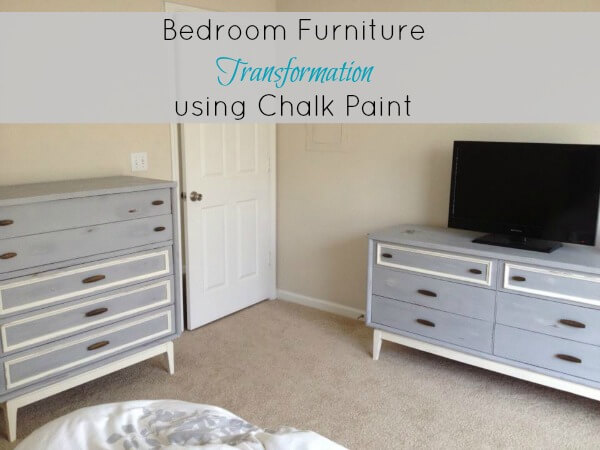 Well there you have it. Those also count as reasons why I'm ready for spring so I can get back into painting furniture almost every night! :)
Comments
comments