…To someone who paints furniture.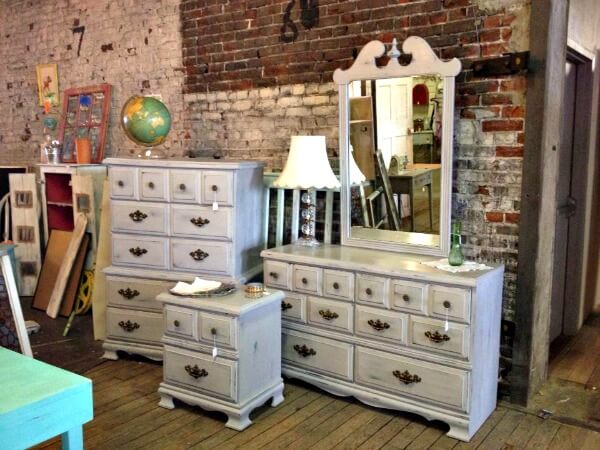 We know everyone has opinions about how a piece of furniture should look, but unless you're buying these masterpieces, here are some thing you should try not to say.
1. Did you mean for it to turn out that way? 
Maybe I did, maybe I didn't. But for the sake of not making it awkward, just assume I did. Sometimes things don't work out exactly like you plan when painting furniture. A lot of the times, it actually turns out better. But let's just assume that I'm super talented and planned for everything that happened.
2. You should have painted it [Insert person's favorite color here]. 
Now this one's tricky, because most of the time I have trouble picking out a color, so I ask around. But if I'm not asking, it usually means I have a vision and I hate when someone notices I did the exact opposite of what they suggested. It makes me feel bad even though I'm the one investing everything in it. And if I've already painted it, well it's too late anyways.
3. That's a good idea, but it would be really cool if you [insert a not so awesome idea here]. 
If I'm really excited about something I have planned and my mom you interrupt me and tell me what you think would be better, again it gets awkward. Maybe I just take things too personally, but then I'm going to feel bad again when I turn down your awesome idea. Now if you're an expert and already know my idea straight up isn't going to work, please tell me. That kind of advice is more than welcome.
4. I think I'm going to start painting furniture, can I put some in your booth to see if it sells? 
The answer is no. Except that's really hard to tell you because I don't want to be rude. But I pay rent for my booth. So if your piece of furniture is the only thing that sells, you're not going to be happy when you don't get any money because it all goes to rent. Don't put me in that position.
5. You paint furniture? Awesome…I've been wanting to paint my great great great grandma's antique dresser. Would you be interested in doing it for me?
Now more experienced painters don't have a problem with this. I do. I am not taking on the risk of messing up this awesome family heirloom. That terrifies me. If you want me to paint other, less meaningful furniture, the answer is yes, but only if you pay me. I do this for money now. If I don't charge everyone, where do I draw the line?
Comments
comments