So this weekend, we finally had a weekend with nothing specific to do! It was fantastic.
Well Will was working overtime during the evenings, but I had a whole weekend to spend however I wanted.
Ok – before I go into my weekend, listen to how sneaky the boyfriend is. The day we are moving in together, he tells me he has some news I'm not going to like. Well he started a new job in January and has pretty much been on call ever since. He'd work whenever he was needed. Sometimes overnight, and sometimes days, and in no particular order, so he had no set sleep schedule. So he's been trying to get a 5 week schedule.
Well he got one, working Sunday-Thursday 4 p.m.-midnight.
Awesome. So basically he found a way out of living with me for the first 5 weeks!Tricky!
So anyways – we had a little time to hang out before he had to work on Saturday and Sunday.
Saturday we went to the West Bottoms of KC. I really wanted to go get some Annie Sloan Chalk Paint so I can start painting the boyfriends our bedroom furniture.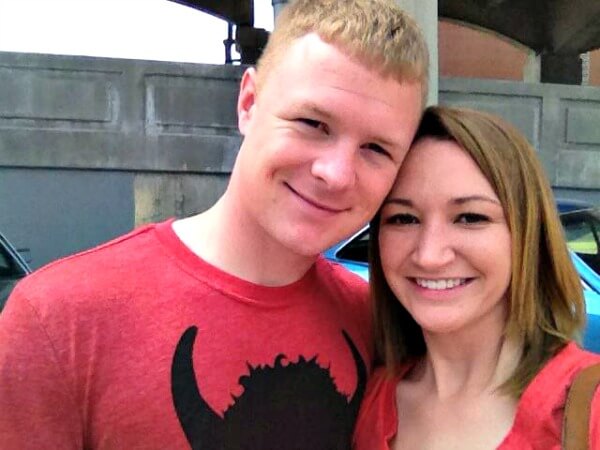 So I bought my paint, then I wanted to walk around a few of the Shabby Chic shops that were open. I'd thought they were only open on First Fridays weekends, but apparently I was wrong.
If I have to give the boyfriend credit for something, it's for going to all these furniture/antique/vintage shops with me and not ever complaining. I don't think most guys would be okay with that, but it doesn't seem to bother him to much! He's been a great guy to explore KC with. He'll go where I choose to drag him!
But I bet he was a little more excited when we found out there was a car show going on, something a little more guy-ish.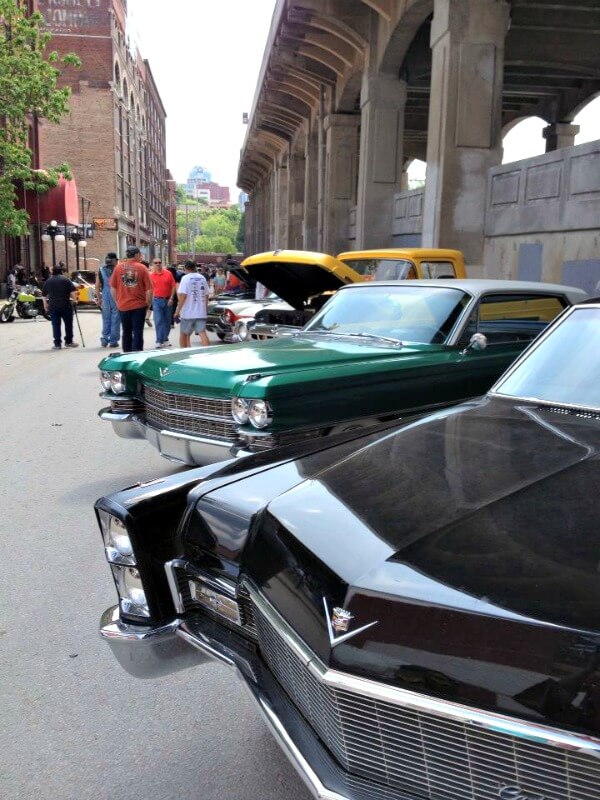 I probably coulda/shoulda taken a couple better pictures of some of the cool cars, but it's not really my thing. So I didn't.
Also, the pool opened this weekend at our apartments, so we spent a couple hours a day there this weekend. Well actually I spent ALL DAY there on Saturday after Will went to work because I got stuck in a good book. I hardly ever decide to read anymore, but when I do, I have to finish it in one day. I can't put it down! Sometimes I forget how much I love to read!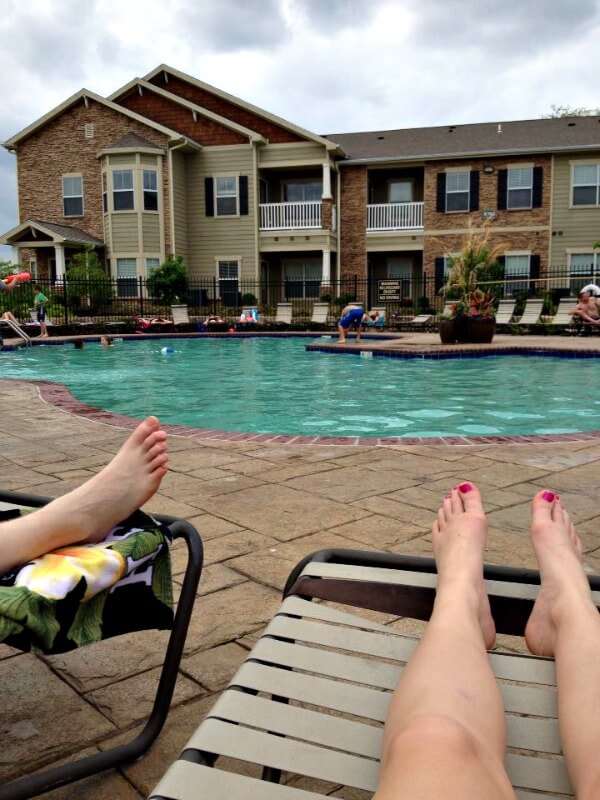 I actually did get a little bit of a tanline, but it was so faint I'm sure it will be gone by next weekend!
In blog news,  I was featured on The Daily Tay Saturday! Check out my interview here! And I added a new section to my blog to organize my furniture transformations. There's not much there yet, but I have plans, friends. Big plans!
Anyways – that's a little about how I spent my weekend. Last week I had to spend over $500 on my car getting new breaks and tires and what not, so I'll probably be laying low project-wise this week. I might be able to squeeze in a couple little projects I've had in mind, but no promises!
Comments
comments