You guys. I'm dying.
Okay, I'm not dying. Just craving every bad carb on the planet. And sugar. Lots and lots of sugar. I could totally go for a pop and some ice cream right now.
This past Monday, I began my wedding diet. Actually, it's not supposed to be a diet, right? It's a lifestyle change. But really for me, it was a convenient way to get my aunt to make me a weekly meal plan. She's the best! She has actually been doing the Fast Metabolism Diet for around 2 months (I think?) and has lost over 20 pounds! Yay Aunt Gina!
So anyways, I decided to follow her diet because she's already got a menu down and I've been starving Will for the last year we've lived together because I NEVER have any idea what to make for dinner. Does anyone else see it as a problem that it's MY responsibility to always figure this out? Yah, me too. 
So, I'm not actually trying to lose weight or anything, just trying to eat healthier. I've also been doing T25 for the last five weeks, so hopefully a healthier diet will help me see some more muscle tone in the next four weeks before the wedding. I'm not going to lie, I've been less than motivated to work out or change my diet for this wedding. I don't know if it's because I feel like Will is already stuck with me or what, but I just can't seem to make myself care.
I even had probably somewhere around 15 desserts last weekend during my sister's graduation party and the prepping for it. Every time my dad or brother caught me with something sweet in my hands, they'd say, "Wedding dress!" I said it didn't matter because my dress has a corset back, so it can be let out a little. Dad said I might need to find a longer string.
Anyways, it's day 3 of the diet and I'm doing fairly well. Except for yesterday when a friend from work brought me this delicious snack.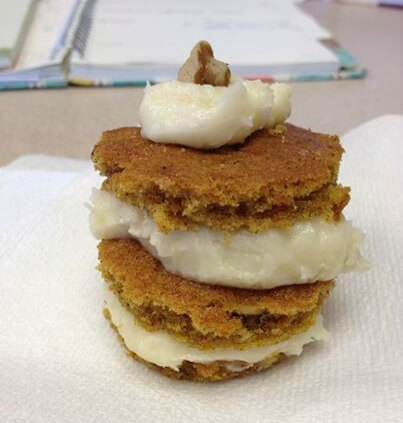 They say the first week is the hardest. I'm sure it doesn't help when you sneak in a sugary snack on day 2, but I'm not counting it. :) Luckily, this plan includes eating every 3-4 hours, so I'm not hungry. In fact, I get almost too full. But it doesn't keep me from wishing for some ice cream.
Aside from dieting, we've finally reached the final stretch of wedding planning. We're down to 4 weeks this Friday, and I'm slightly terrified. I just keep reminding myself of all the people who have gotten married in the world and that most of them survived it. And the thought of Mexico the next morning makes it all a little more bearable!
What's your best advice to staying sane the last four weeks before the wedding? 
Comments
comments