Well I didn't get many more photos on vacation after the last photo dump, but I did get one with Will and I painted like pirates.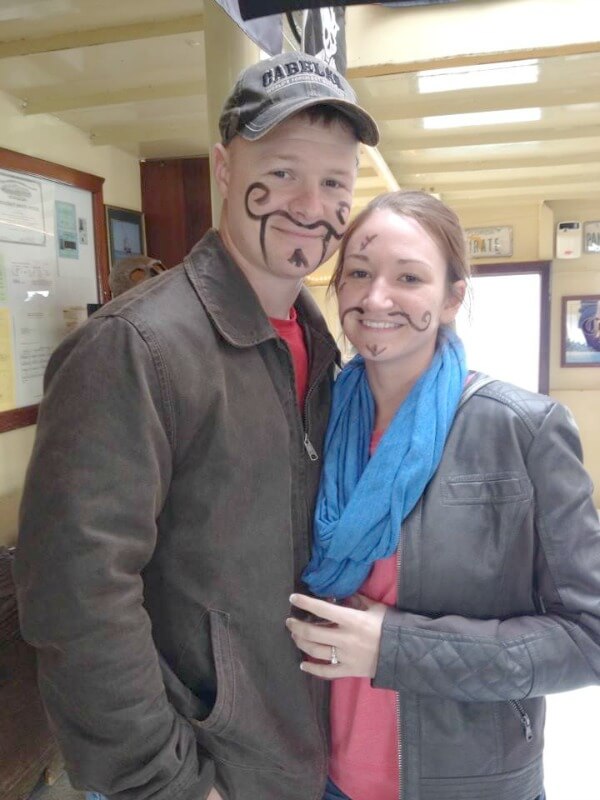 That is how I looked the whole trip. Minus the pirate facial hair. I only bothered to put makeup on maybe twice. But it was kind of nice to let my face air out for a few days. Plus the airport took my face moisturizer on the way in so I used that as my excuse, not that it makes any sense. 
We went on a pirate ship and the kids had a lot of fun getting in water fights with the adults and what not. Will even played the part of Peg Leg Jack, the bad pirate who stole the treasure. It was pretty cute.
Now I'm back home with a face full of make up and had to come back to work today. It takes me over a month to earn a whole day of vacation, so I figured it was worth it to come back even just for Friday.
This weekend I'm finally going to start working on some furniture. And I have to clean out my garage. Boo! Also, I'm going to be the Vendor of the Month at the Red Apron next weekend, so that should be fun! Now I just have to find a way to get all my furniture there since Will has work and National Guard this week.
Vacation was great and it was so generous of Will's parents to take us, but now it's time to get back to real life. :)
Comments
comments