Wedding season has officially arrived — which means the "what on earth do I wear" dilemma has too.
I attended my first wedding of the summer this past weekend. My cousin Kelsey and her new hubby Eric tied the knot on a cloudy, but beautiful May evening. It was supposed to be an outdoor wedding, however, our completely confused Mother Nature decided to make it snow just 2 days prior, therefore the ceremony was moved indoors in order to escape our highly unpredictable Missouri weather.
 Well, the only good that came out of this was my outfit. Had it been an outdoor wedding I would have needed to wear something a little more colorful – I had a really cute coral chiffon dress picked out, but I just could not find the perfect blazer to go over it! Ugh. So with the move, I was able to switch up my outfit choice.
I decided to go with this black and white geometric-shape patterned dress (T.J. Maxx, approx. $20), black blazer (T.J. Maxx),  black GUESS heels (T.J. Maxx), and pink statement necklace (Rue 21, $10)
(Sorry about the awful iPhone quality picture)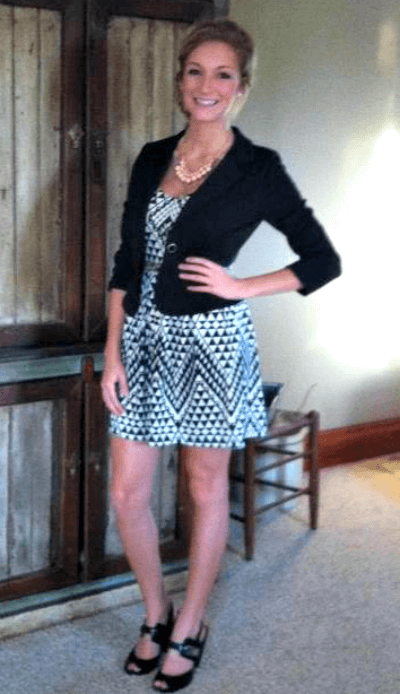 (I'll chalk that up to another Maxx-inista success story, ha!)
 Also, for this wedding, I played "makeup artist" for three of the bridesmaids — my sister and two of my cousins. Next week I will show you how they turned out and give you some makeup tips and tricks. Stay tuned!
-Ashley
Comments
comments