Today's post will be a little different than all the previous; as today I will be letting you get a peek inside my personal "beauty salon".
I'm going to show you where, and what I use during my everyday routine.
Here it is — this is where all the 'magic' happens.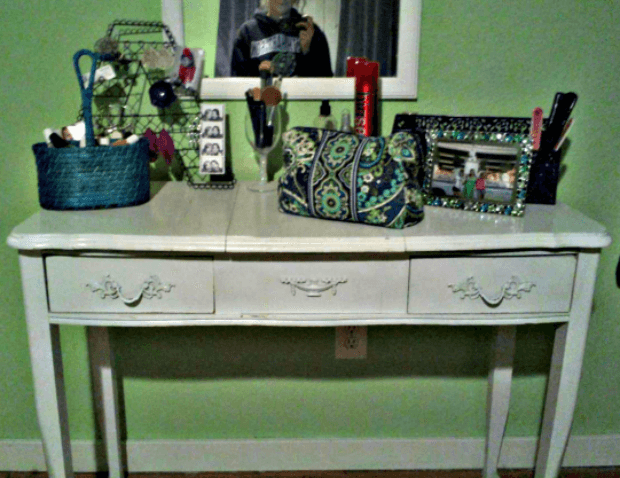 This "salon" I speak of consists of my vanity (courtesy of my Aunt Gina's younger years), my adorable Vera Bradley makeup bag (courtesy of my favorite sister!), the essential bottle of hairspray, a basket full of nail polish, a wine glass converted into makeup brush holder, and a wire "A" to hang my earrings. I can pretty much take care of my entire routine right here!
Now we can take a peek into that adorable Vera Bradley bag and I'm going to get a little deeper into some of my favorite items that I couldn't live without!
(Okay, maybe that's a little dramatic.)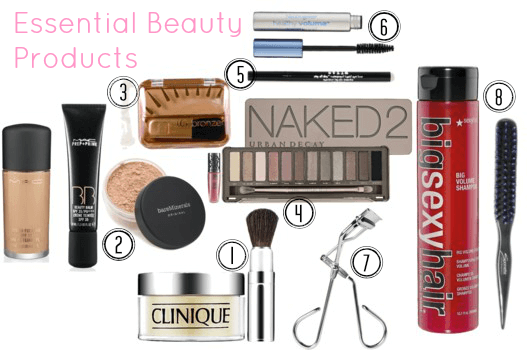 1. Moisturizer, check.
(Clinique Redness Solutions, $45.00 – fairly hefty price, but it makes my face feel magical!)
2. Foundation, check.
(M.A.C. Studio Fix Fluid, $27; M.A.C. Prep + Prime BB Beauty Balm, $30; or Bare Minerals powder foundation– Sephora, $27) I choose one these based on the coverage I want for that day:
full coverage – Studio Fix Fluid
light coverage or primer – BB Beauty Balm
medium coverage, lightweight on skin – Bare Minerals
3. Bronzer, check.
(Covergirl Cheekers Bronzer – Wal-Mart, $3.74)
4. Eye shadow, check.
(Urban Decay Naked 2 – Sephora, $50 – another fairly
hefty price, but I absolutely love this stuff!)
5. Eyeliner, check.
(Stila Stay All Day Waterproof Liquid Eyeliner – Sephora, $20)
6. Mascara, check.
(Clinique Voluminous Lashes, or Neutrogena Healthy Volume – Wal-Mart, $6.08)
7. Eyelash Curler, check.
8. And last but not least, a
Teasing Comb and Hairspray!
(Big Sexy Hair Spray and Intense Hold Hairspray –Beauty Brands, $17.98)
These can be real life savers.
It's not necessary to go out and purchase all these things at once (that'd be a little pricey!), but I definitely recommend stocking up your makeup supply a little at a time. The right make up could be the perfect touch to that cute little outfit you put together!
Have a great week!
Comments
comments