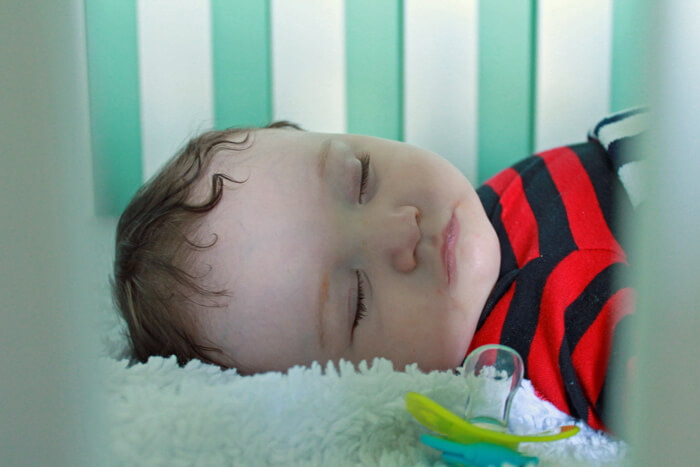 Graham has been sleeping in his crib since he was about 4.5 months old and it is so nice! Before crib sleeping, he slept in his rock n play in our room. When he was a newborn this was perfect. The inclined position kept him from startling like he did when he was on his back and he was close to me without being in bed with me. After a few months though, he became a lighter sleeper and Will and I would have to tiptoe around as we got ready for bed once he was asleep. Anytime he woke up on the nights when Will had to work, it woke all of us up and Graham and I ended up going to rock in his room anyways. When we were finally able to transition him to his crib, it made for better sleep for everyone!
I actually tried to transition him a few different times and was unsuccessful at first. I finally figured out what worked for us and wanted to share a few tips in case they could help you too!
Invest in a sleep suit – Merlin's Magic Sleep Suit is seriously magic. It is made to muffle the startle reflex and is a good way to transition out of the swaddle. Graham never liked to be swaddled anyways, so this has been great. Even for naps he sleeps sounder and longer in the sleep suit. And it's really funny looking which is cute on a baby! It's a little pricey so we ordered up a size so he could wear it longer.
Start with naps – I thought this was the easiest way to introduce the crib. If it took a few tries to get him in it asleep at least I wasn't losing sleep over it, and when he woke up in a strange place it wasn't pitch dark so he could get more familiar with being in his own room. Graham napped in his crib for a few weeks before we committed to keeping him in it overnight.
Be consistent – It's really easy to think that you're going to deal with going into the baby room every 2 hours throughout the night for a week or so just to put the binky back in until baby gets used to his own room, but when you're exhausted it's really easy to just do what works. I would start him out in his crib some nights and bring him back to our room after I'd been up a couple times with him. Or I'd be too tired to fight with the crib at all and just start him out in the rock n play after a rough day. At one point he wasn't sleeping good anywhere and I think it's because every night was different. Once I finally stuck with the crib, he got comfortable pretty quickly.
Get a good baby monitor – The first night Graham slept for a long period of time in his crib, I also got my first long stretch of a deep sleep. I woke up around 3 or 4am and freaked out that I hadn't heard anything out of him. A quick glance at our baby monitor let me know that he was alright and I could go back to sleep without getting out of bed.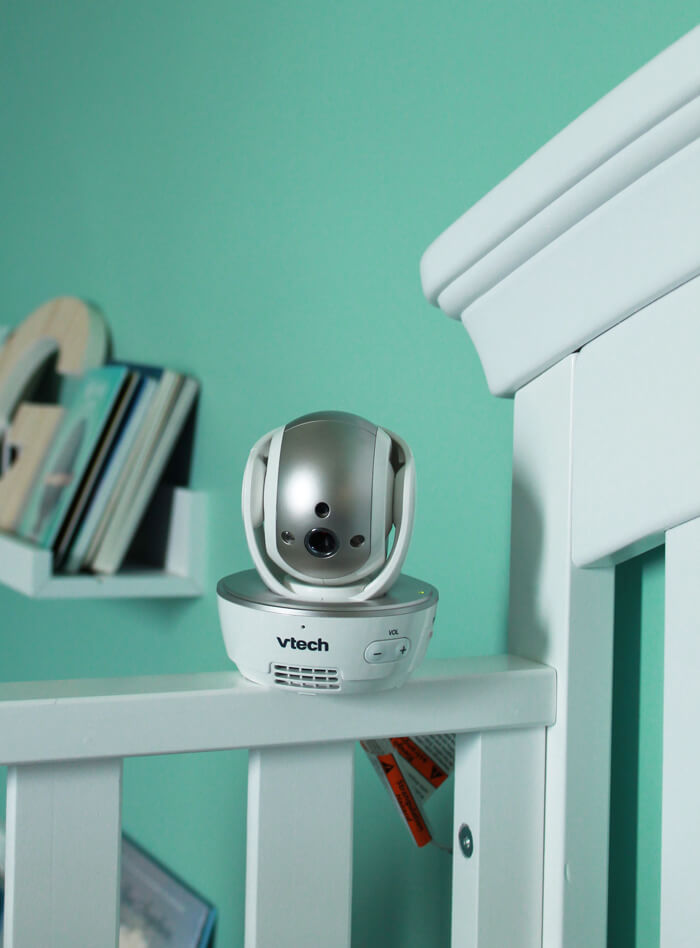 When I was pregnant I strongly debated whether or not a video monitor was necessary, but I love our VTech VM343. I use it for naps and bedtime and sometimes when he's just playing in his crib while I do something in another room. (I can do anything up to 1000 ft away!) I love that I can peek in and check on him without waking him up or distracting him. I love it when he wakes up without crying and I can watch him play on his own for a few minutes, a peek into little moments I wouldn't have without this monitor. The remote pan and tilt camera features of this monitor will really come in handy when Graham is older and out of the crib some day, and all videos are completely secure so you don't have to worry about hearing other babies or someone else being able to hack your device and talk to yours. (Those stories make me shudder!)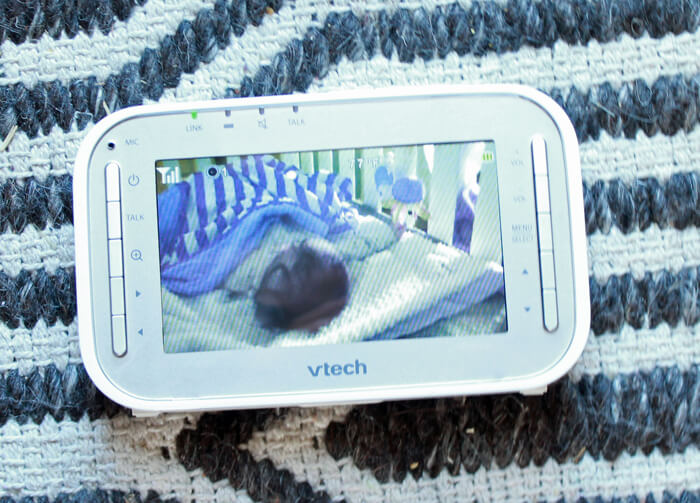 Do it when you and the baby are ready – This is my biggest piece of advice. When Graham was 6 weeks old I thought it would be a good idea to start him out in his crib early. I couldn't even get him to lay in it without startling and crying and would have been up more than once an hour if I'd made him spend all night in there. At that point, it really wasn't bothering us that he was in our room. Finally I asked myself why I was rushing this process when he slept just fine in our room and we didn't mind him being there. If you and your baby are happy with your sleeping arrangement, that's all that matters. The transition will happen easier when you are both ready for it!
I was selected for this opportunity as a member of Clever Girls and the content and opinions expressed here are all my own.