So…I know I should be posting about my wedding or my honeymoon, but I still need some time to sort out the memories and pictures, it all happened so fast. Instead, I'm going to share a little light hearted, maybe TMI post about things that only happen to me, prompted by something from our honeymoon. Not what you're thinking.
I seriously, of all things, ended up with a burst blister on my butt crack, right where my tailbone is. No, it is not a hemorrhoid as has been seriously suggested to me. Good gosh, I'm only 24 and haven't given birth…it is not a hemorrhoid. We were kayaking in the ocean and with the back and forth of the rowing, I think my tailbone was rubbing on the seat and caused a blister.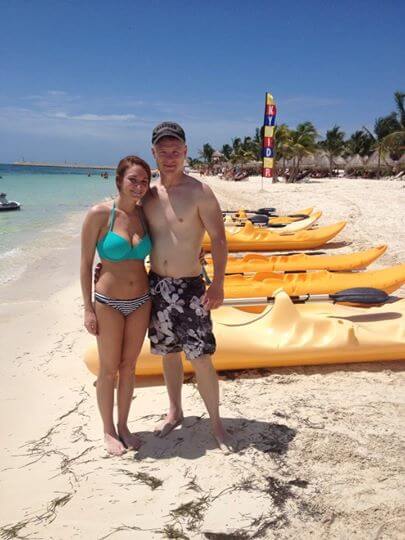 But really, did you know that your butt cracks moves around with almost every move you make? Seriously probably one of the most painful places to get a blister.
So on to the other random things that only happen to me. Most of them are health related, but I promise I hardly ever get sick, which is why they're all the more random.
1. When I get strep throat, I break out in a rash with no sign of a sore throat. But I was diagnosed with it after they swabbed my throat. Totally weird, and maybe more uncomfortable than a butt blister. Half of my body was covered in the most miserable itchy rash. My mom was convinced I'd acquired some foreign disease from traveling in Brazil.
2. I've had an infected saliva gland. Again, really weird and painful. Basically, anything I tried to eat would make my saliva gland swell up and it would basically feel how really sour candy feels, making my entire jaw lock up. Like seriously, who does that happen to? I didn't even know that was possible.
3. I got 3 MIPs before turning 21, and two of them were within a three week period. For those you who don't know, that's tickets for getting caught drinking underage. I was 20 for most of them. Talk about unlucky…or being a bad kid,  however you want to look at it. (I thought you needed a break from weird medical stories.)
4. The same time I experienced the infected saliva gland, I did something to my jaw (no idea what) and everytime I open my mouth past a certain point, it pops. It has been doing this for 4 years. Hopefully this doesn't lead to lock jaw some day, however Will might be thankful for the break from my constant talking…
5. I've been hit in the jaw with a mango, by an Italian guy trying to throw it to a Belgian in Brazil. The life of a foreign exchange student, I suppose. This was well before the jaw popping started occurring, so I don't think they're related but who knows.
So, do you think I'm totally gross now? Hopefully pretty pictures from my wedding tomorrow will help you get over it!
So, any weird medical conditions in your past? 
Comments
comments