Hello to those Breezy followers stopping by. My name is Serena…I've been admiring the Breezy lifestyle that Kala has introduced to the world and can't express how excited I am to contribute by sharing a few of my favorite things… Baking and Boozing (ha!)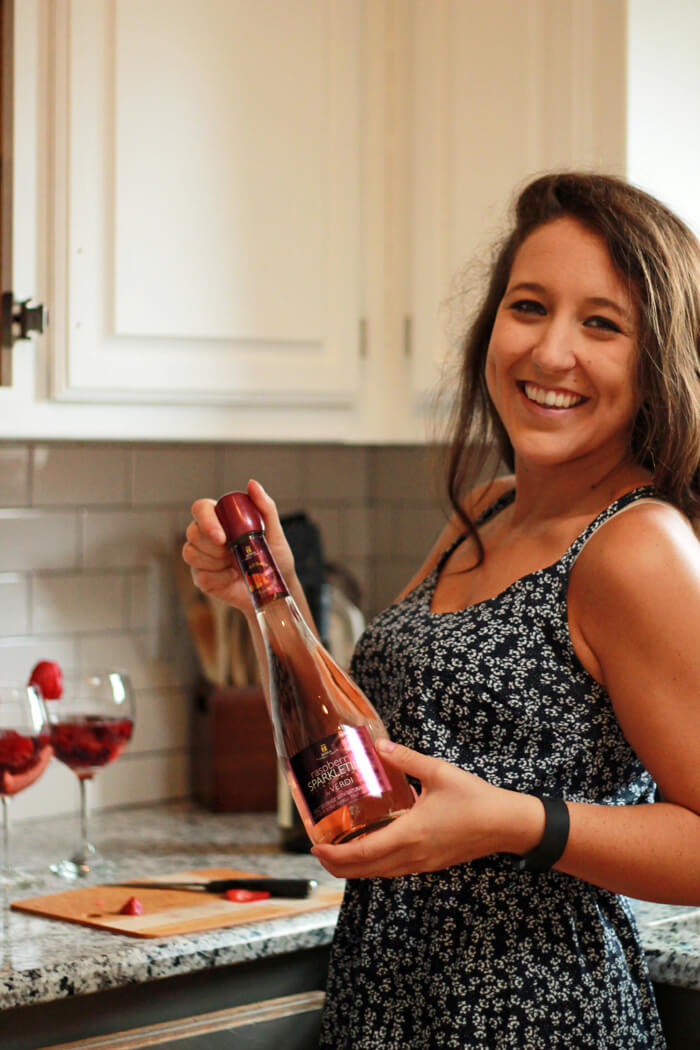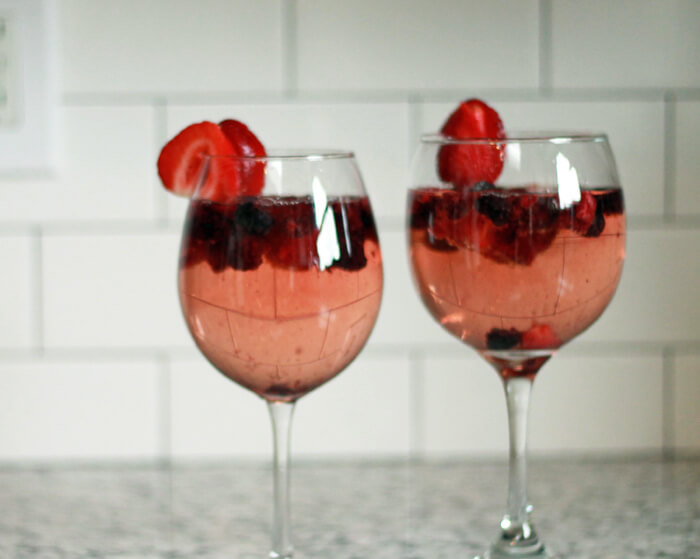 Let's be real…There aren't many things in life I enjoy more than enjoying a good adult beverage and entertaining a group of friends. There is something so satisfying about hosting friends and feeling like you've actually put something together that you can be proud of. I've hosted many events, some magically flawless, and others…well, let's just say we ate fried chicken off paper plates. Hopefully you have learned by now that life is easier when you can laugh at yourself for any shortcomings, and the world needs to realize…It ain't easy being a woman.
I hope that I can bring some helpful tips, delicious recipes, and a few laughs each time I have the opportunity guest star. Today let's take a load off and enjoy learning how to prepare a super easy summer drink.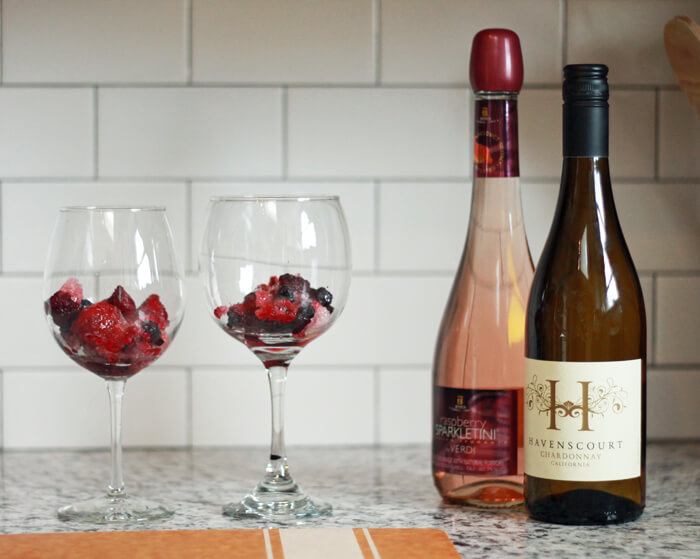 Summer Sangrias
What to pick up at the store:
1 bottle of your favorite white wine
1 bottle of bubbly (I chose Raspberry Sparkletini – but any flavor will do!)
1 bag Frozen fruit (you can use fresh and freeze, but this is supposed to be easy!!)
1 carton strawberries for garnish
Step one – Gather Ingredients and a big pitcher (or a few large wine glasses)
Step two – Uncork the wine and pop the bubbly – take a good sip of each for taste testing purposes (This is an absolute must.. After all, you don't want to serve your guests anything you wouldn't sample yourself!)
Step 3: Place frozen fruit in pitchers or glasses. These are going to serve as our natural ice cubes to prevent any "watered down" effect ruining our perfect drink!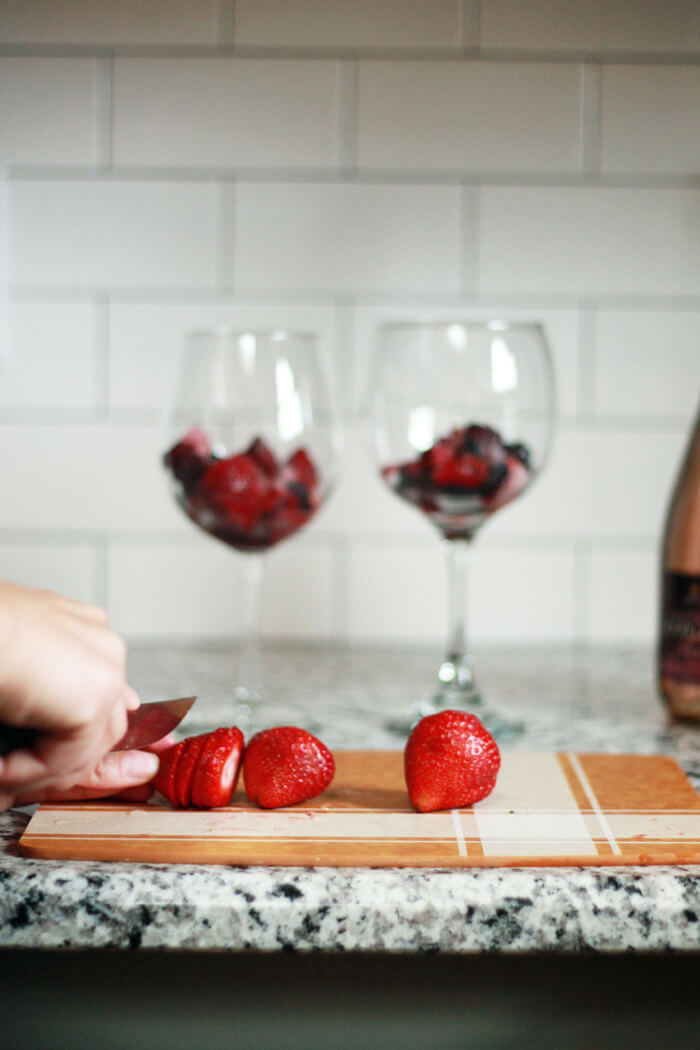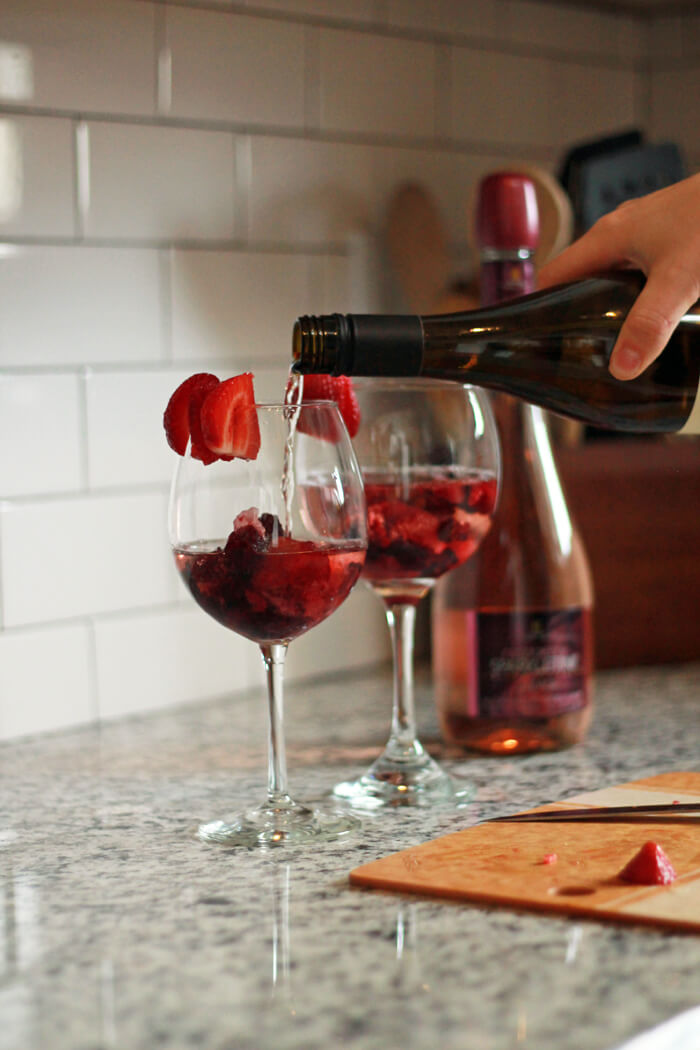 Step 4: Pour wine into pitcher or glasses with frozen fruit and add the bubbly. I would suggest adding the bubbly right before serving to preserve the carbonation.
Step 5: Slice up fresh strawberries and add to serving glasses for a beautiful presentation.
Step 6 (and my favorite step so far) : Pour final product into serving glasses, take a beautiful photograph, and serve to your undoubtedly thirsty guests.
Over the years, I've made several different variations of sangria. Take a few individual liberties and try out different wines and fruits, add a little Triple Sec or some bourbon. At the end of the day, the best part of entertaining is using your own little personal flair!!
I'm so happy to meet you all, and look forward to sharing more in the near future!!
Xo,
Serena