She's back! Naomi is here today with some tips for her kind of thrifting. I know I need to get better at this stuff!
…..
Hey, I'm Naomi from Patterned Love, delighted to be back so quickly after my last guest post!
I'm so excited to be trading tricks of the "trade" with Kala today!
Generally we do the same sort of thing. You know… the whole buy used, make it look new business!
But we have a major difference! While Kala is over here finding deals and working her magic on household decor, I'm over in my little corner of the interweb finding deals and working my magic (which sometimes manifests itself as disaster) on clothes!
Seriously, I'm not sure how people find the room in their bank accounts to spend so much moolah on their closets…but I know most ladies out there want to look great and feel confident in what they're wearing. So in my effort to not walk around in a sweatshirt and jeans every day of my life, I discovered what is gloriously known as… The Thrift Store!
Yep… It's not just where your Great Aunt Susan drops off her old skirt suits when she retires from her desk job of 38 years.
While I love storming through automated doors of a thrift store, I know it's a little intimidating to most people. So I've put together a few tips that may help in your quest to find a few diamonds in the ruff.
1. Learn to make basic alterations. I know this isn't really about thifting… but to me it is. If you find a $2 dress or a sweet shirt that are just a little too big or missing a button, sewing basics will come in so incredibly handy. $2 plus 30 minutes is still cheaper than that $18 shirt or $27 dress you saw online.
2. If you don't want to sew, don't buy things you don't LOVE just because they're $2. It will end up sitting in your closet forever. You'll never want to get rid of it because it was such a sweet deal, but eventually you'll say to yourself in 10 years, "where did this come from?" and return it to the thrift store as a donation. I thought "Maybe I can make it work." when I tried on this sweater. I've only worn it this one time. And I know I'll keep trying to make it work…but it's not my fave sweater by a long shot!
3. Find out what they stand for and what they offer. Figure out where all your local thrift stores are located. There might be the big chains that everyone knows about, but most likely there are small mom&pop type set ups around too. Don't count out consignment stores, too. Then find out what those thrift stores stand for. My favorite local store is a non-profit and donates to 3 local charities that are doing great things in the community. Because I know that, I tend to go there more than the huge thrift stores. Then find out if the stores you frequently visit have sale days. One of my faves has different tag colors. This month all green tags are half off. Another store does 50% off each Wednesday. And another one posts a "code" word on their facebook page each Friday, so when you ring up and tell them the word, your whole purchase is 50% off. SCORE!
4. Have a plan. Before you bust through the doors of the randomly racked thrift store, make a plan. What are you looking for? Will you only shop "in season" clothes? What colors is your wardrobe missing? I've made a list before of different trends I wanted to replicate with thrifted items and looked specifically for them. The day I bought these jeans, I literally didn't go to any other section except the jean racks.
5. Know your fabrics. Even at the thrift store, not everything is worth the low price. I tend to search for mostly cotton things. And I always check the tags to see if an item is dry-clean only. It's a huge bummer when you bring home that $4 dress that you know for sure would have been $35 in a store and see that you then have to pay $12 more for dry cleaning. So do the research on what sort of fabrics last longer and wash well. I fell in love with this red sweater and was excited that it felt expensive. Then I got home and it was dry clean only. A $4 joy turned into a $12 bummer. (But I still love this sweater!)
6. Have a spending cap. I know, I know, it's thrifting and everything is cheap so how much could you really spend?… EXACTLY! It's easy to get caught up in how amazingly inexpensive all these great clothes are and ignore the total when you add them all up. $2 pants and $4 dresses add up if you buy too many at once.
Thanks again Kala for having me! I'm so excited to have your tips and trick to trade today. Pop over to Patterned Love to see these wonderful furniture tips!
…..
Are you ready to head out to a thrift store tonight and try out these tips? I am!
And just because I promised, here's another before and after. :)
I bought this dresser (and a matching headboard that I'll show later) at an estate sale this past weekend. Proud of myself for already getting it done!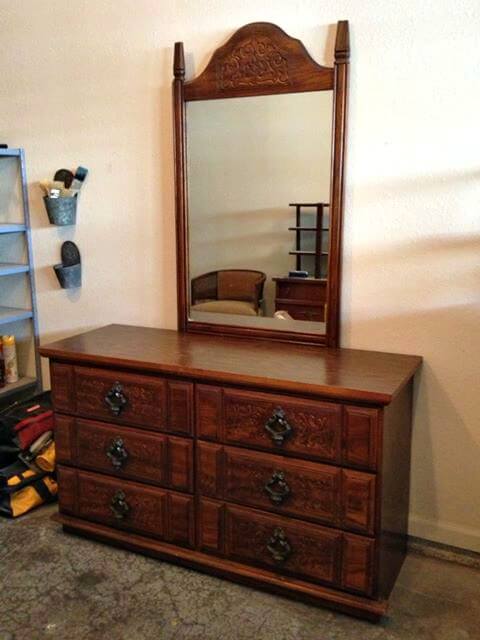 I painted it with Annie Sloan Paris Grey. I've done quite a few other pieces in this color, but people really seem to like it, so it's kind of one of my "safe colors."
This is all set up in my booth and ready to go to a new home. I'm still loving the curtains my mom and I hung up last month to give my booth more of its own personality! And just look at all that awesome furniture reflected in the mirror…Love it. :)
Comments
comments