This shop has been compensated by Collective Bias, Inc. and its advertiser. All opinions are mine alone. #HuggiesForHolidays #CollectiveBias
Yo. Taking care of a baby all the time is hard. Mine is currently napping right now for the 100th time today, and we'll see if this one lasts more than 5 minutes. See you thought I had all this extra time, right? Nope, just enough to make myself something to eat then not get to eat it. But I know you other mommas know exactly how that goes. I'm also on my second pop of the day, which I probably shouldn't even be drinking in the first place.
Anyways, one thing we did figure out pretty early to make this parenting thing a little easier was to have diaper changing stations/supplies in all the rooms we spend a lot of time in. For example, the pack n play is currently a diaper changing station in the living room, stocked with diapers, wipes and diaper rash cream. We also have a changing pad in Graham's room on his dresser and one of his top drawers is stocked with diapers and wipes. This is sooooo much easier than getting ready for a diaper change, all the way down to a bare bum, and then realizing you forgot the wipes or a fresh diaper. Also, the holidays are coming up, so having these things in place now will save you from an "emergency" later.
Here's list of places you might consider having mini changing stations:
Living room – If I had to hike up the stairs to the official changing pad everyday I would lose my mind. (However I might have already lost the baby weight too, so I might have to reconsider this one…)
Room the baby sleeps in (his/her room or your room if that's where they are) – Who wants to traipse to another room to change a diaper in the middle of the night? Keeping wipes and diapers close to where you sleep makes this much easier! That being said I actually do take him from our room to his room for changes and to nurse because Will gets up at 4:30 am for work and I try not to wake him up, but it's right next to our room, so not too terrible.
Car – This is a big one for me because I've been known to forget the diaper bag. One time we were going to a breastfeeding support group so I could have Graham weighed, and I forgot it. It was pretty embarrassing because you have to weigh him naked, and his diaper was wet. I didn't want to put a dirty diaper back on him, so I had to bum a diaper and some wipes off one of the other moms. Confession: I was only worried about my wallet when leaving the house so I could get some McDonalds on the way back. #momfail
Diaper Bag – You know, so you have these things when you do actually remember to take it.
Grandparents' house you visit frequently – One of my biggest goals in life right now is to cut down our travel load when we go somewhere with the baby. I've slowly been doing that, and one way was to leave diapers and wipes to my mom's house so I don't have to pack them every time. When we go visit for the holidays, I won't have to worry about them.
Another tip is to have an easy way to keep everything together and organized. I love the Huggies Clutch 'n Clean Wipes (the pouches are cuter than your average wipe packages and refillable). I got one as a gift when Graham was born and I've since made my way to CVS to stock up on a few more. #CVSHuggiesHeroes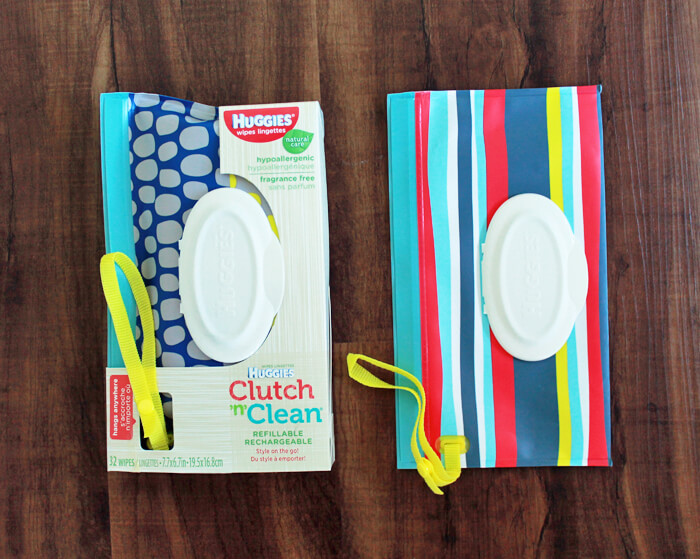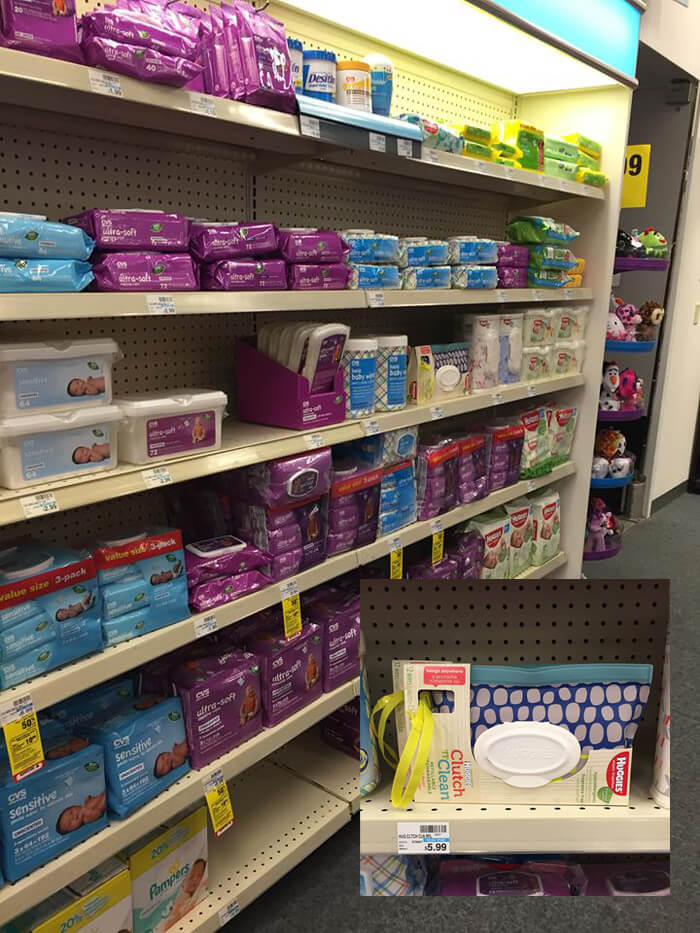 I also made my own diaper organizer so diapers aren't just floating freely around the house/car/diaper bag, etc. I promise you I can't sew and this project so was easy. All you need is fabric (most stores that sell fabric have scrap pieces for cheap, that's what I used), heat n bond hem tape, and velcro stickers.
Step one: Cut your material to size. Make sure it's big enough to fit diapers inside make it a half inch or so bigger than you want the finished bag to be. My measurements are below. The one on the left is the back and the one on the right is the front. To center the flap, start the halfway point which would be 4.5″ and trace your ruler to 2″ and 5″.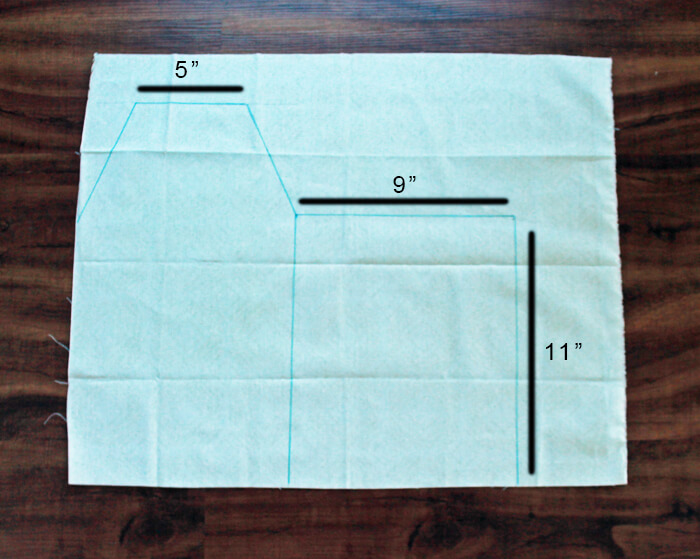 Step 2: Use an iron to fold over your sides so the edges are clean.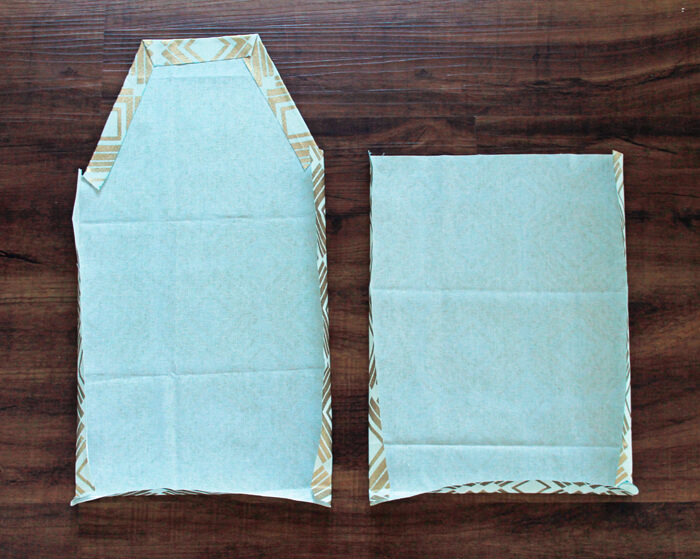 Step 3: Use the heat n bond Hem Tape to connect your two pieces. For the flap, use the hem tape to keep your folded edges down.
Step 4: Add velcro to your to the flap and you're done!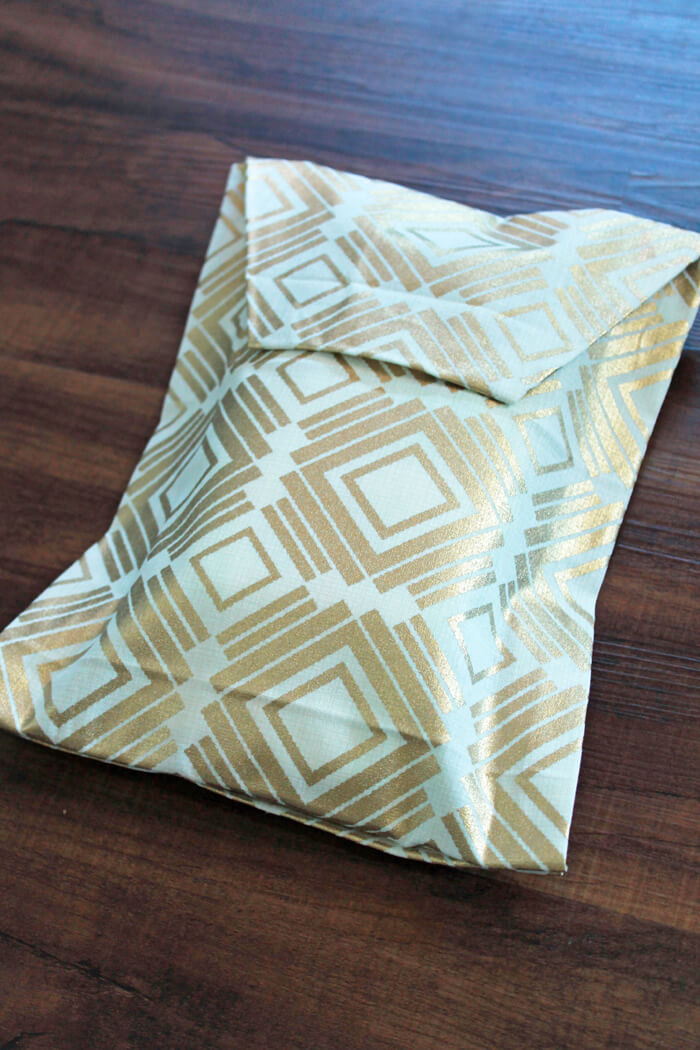 So now my diapers and wipes are ready to be stashed wherever I need them! What tricks do you have for making parenting easier? You can find more ideas here.