I've been a subscriber to Ipsy for, gosh, almost a year now I guess. If you don't know what Ispy is, it's a monthly subscription service that sends you 5 beauty products for $10/month. Most products are sample size, but I've received a few really good products that have lasted quite a while, like eye shadow, foundation, face moisturizer, etc.
Occasionally I post about my Ipsy bags on Facebook, so I thought I'd share this month's Glam Bag with you here to give you a better idea of what it consists of. This month I received: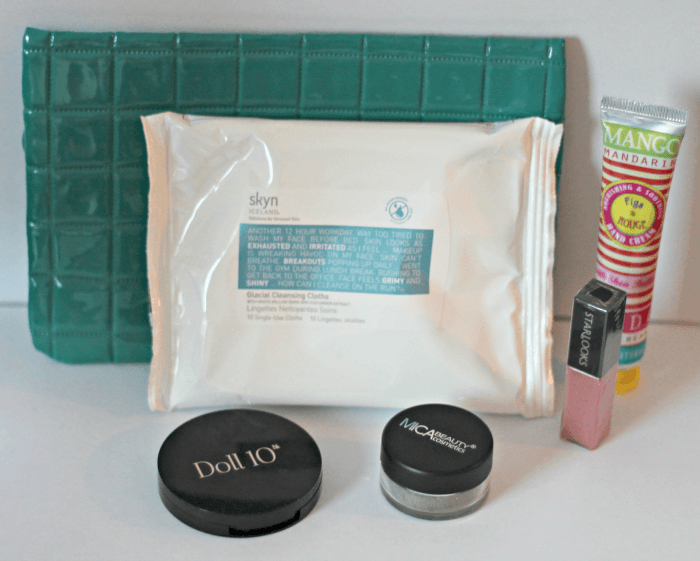 1. DOLL 10'S H2GLO HIGHLIGHTER
This is my favorite product this month. It's actually more of a creamy texture, which I wasn't expecting when I stuck a brush in it. Highlighter is something I've always wanted to try, but never wanted to spend the money on. I think this sample will become a staple in my routine and it's big enough that I'm sure it will last a while for me.
2. FIGS AND ROUGE HAND CREAM
I love hand cream. My mom and sister and I have this thing where we can't breath when our hands are dry. Anyone else, or just us? Okay then, moving on. I tried this out right away because my hands were feeling dry, and it was nice and creamy and not too oily. At first I really liked it, then the citrus scent kind of started to get to me and I didn't love that so much. I'll probably still use it up until it's gone when I'm hard-pressed for lotion. It did moisturize as promised!
3. MICABEAUTY MINERAL EYE SHADOW
I think this is a really good product, I just need to learn how to apply greenish eye shadow. I'm really not that adventurous with my makeup (because I don't really know what I'm doing), so I'm not really sure how much use I'll get out of this one. But I still think it's a great product to get.
4. SKYN ICELAND MINI GLACIAL CLEANSING CLOTHS
These weren't too exciting, but I'll pack them around when I travel, so they'll come in handy.
5. STARLOOKS LIP GLOSS
I don't wear anything on my lips, I just don't like how it feels, so I won't use this one at all. I'll probably just give it to a friend who would get good use out of it.
Overall, I was happy with my Ipsy Glam Bag this month. The highlighter was the highlight of the package and makes the rest worth it! For $10 a month, I think it's a worthwhile investment and overall has kept my basics stocked enough to keep me from having to shop for new makeup much.
Are you a member of any monthly subscription services?
Comments
comments