Here in KC it is bitterly cold. And it is magnified by the fact that exactly one week ago we were enjoying a beautiful 70 degree day, and since then it has snowed. Boo.
On the plus side, I got in a new order FULL of soft, comfy, cozy, warm, fuzzy winter scarves. I love them all so much!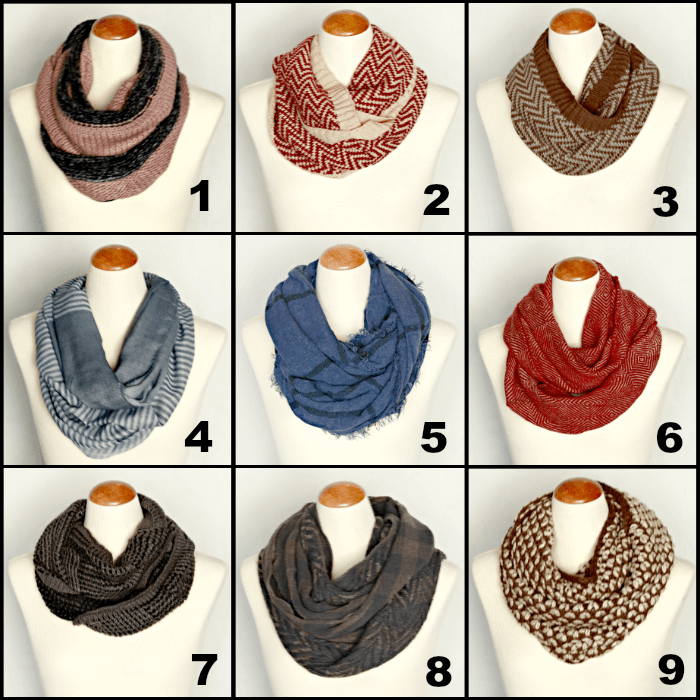 1. BORDER RIBBED ACCENT INFINITY SCARF – This pink and black scarf is so warm and cozy, it would be great for a cold day! $15
2. BURGUNDY CHEVRON INFINITY SCARF – This one's a little thinner, but still thick enough to keep you warm. I'm loving the chevron print! $15
3. BROWN CHEVRON INFINITY SCARF – Same as #2 in brown :)
4. BLUE STRIPED INFINITY SCARF – The blue is almost a chambray color and would go with just about anything. I think it is so classic! I also have a very similar one in white and gray. $15
5. BLUE PLAID INFINITY SCARF – Plaid is super popular this fall, so I tried to get in a couple new styles. I love the fringe on this one! $15
6. BURGUNDY AND BEIGE INFINITY SCARF – It's so super soft and I just want to touch it all day. Need I say more? $15
7. CHARCOAL TWO-TONE KNITTED INFINITY SCARF – I've been drawn to deep grays this year and the pattern makes it more interesting. $16
8. CHARCOAL ZIGZAG PATTERNED INFINITY SCARF – I love Love LOVE this one! It's my favorite of the favorite. It's half plaid and half zigzag and it's just fabulous! I'm strongly considering keeping one of these for myself! $16
9. TAUPE AND BEIGE WOVEN INFINITY SCARF – It's just so warm and fuzzy! I really love this one too.
I also restocked a few styles and bought a couple more solid colored scarves that are great for wearing year round…AND I got in fleece lined leggings ($12). I do not want to live through another winter ever again without fleece lined leggings. The ones I have in right now are plus sized, but would fit everyone except itty bitty people. I'll be getting in some regular sized leggings at the end of this week. You can check them all out at The Breezy Room.
Comments
comments