Since blogland is already too full of fall posts, I thought I'd add just one more. Mostly because I celebrated the first day of fall yesterday by buying these: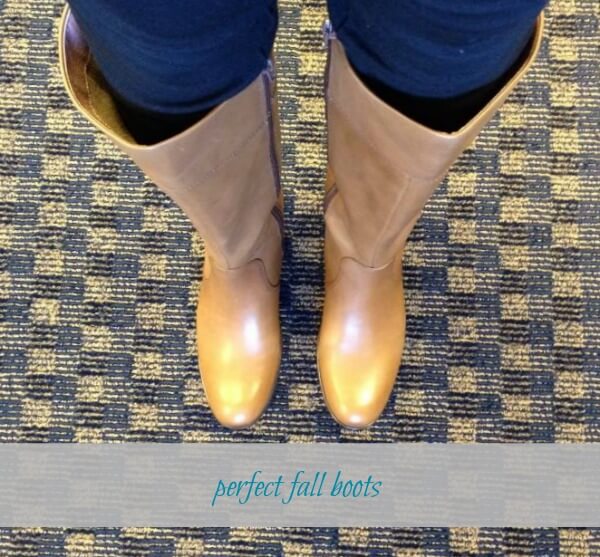 I have been looking for the perfect pair of light brown fall boots (so I can wear them with anything) for about 3 years now! Yesterday I took my first trip to Nordstrom Rack at the suggestion of one of the Red Apron owners and found these babies in about 10 minutes. I love that they're simple, but the zipper is also a little darker to give them a bit more detail. You can kind of see one of the zippers in the picture.
And isn't that carpet to die for? (sarcasm font) (work carpet)
So in the spirit of new fall boots, here are my favorite things about fall:
1) Fall Boots – I know you guys had no idea this was coming. I really just love these things though.
2) Fall Candles – Pretty sure I've mentioned my awesome Pumpkin Cheese Cake candle from Target on here a couple times in the last week. I bought it last Monday and it's already more than half used up. :(
3) Sweaters – I kind of have a mom-ish style. I like to think of it as classy. Boots and conservative-ish sweaters make me feel good about myself.
4) Scarves – I've given in to the blogland pressure to be in love with scarves. I have more than I've ever had before and I'm definitely looking forward to cooler days so I can wear them more comfortably.
5) Fall Family Pictures – I don't even have a family of my own, but I always find myself jealous of the people who do around fall. I just love the pretty pictures with the changing leaves. Last year I won a contest to get a free photo session from my cousin who is a photographer and forced my parents and siblings into a fall photo session. Plus we hadn't had official family pictures in over 10 years so it was necessary.
6) Hayrides and bonfires – I'm not actually sure when I'll get to partake in any of these this year, but I'm really hoping something comes up. My parents used to put on a big hayride for all our family and friends every year, and that was always fun. Well until they made me do "work" to help set it up. My sister and I were always in charge of the "Haunted Forest." Pretty sure we had great ideas that never got put to use because we kept deciding to go "exploring" through the woods instead.
7) Approaching Holidays – who doesn't love when Thanksgiving and Christmas start getting closer? Granted, it was definitely more fun when I was little and collecting tons of presents and didn't have any money to buy anyone else presents (am I selfish much?), but I still love the holidays. I'm going to make the boyfriend take me to the plaza to sip hot chocolate and walk around once it gets cooler. Which brings me to my next point…
8) HOT CHOCOLATE! I really can't believe this is so far down on my list. It should actually be #1. The boyfriend bought me a hot chocolate maker a couple years ago for Christmas that will heat up water or milk! I feel so comfy sipping hot chocolate from a pretty mug in a sweater on the couch during a lazy day. Maybe I should set up a hot chocolate station this fall?? Is that going too far?
So happy belated fall, everyone! What is your favorite part of the season?
Comments
comments