I still cannot believe that I am actually married. In fact, I referred to Will as my boyfriend 4 or 5 times today and was corrected by the people around me. How do you get used to this?
I really wish I had more photos to share with you guys today, but I was actually enjoying the moment all day and didn't take many any pictures at all, except for this very first one.
Will's parents bought a 1941 DeSoto a couple years ago and we used that for the wedding. One of my favorite parts of the day was when my dad and I went for a cruise right before the ceremony started. We cruised for 20-30 minutes and it was nice to get away and just hang out with my dad for a little bit. So I snapped this selfie. I feel like it definitely relieved some stress and helped me relax for a bit.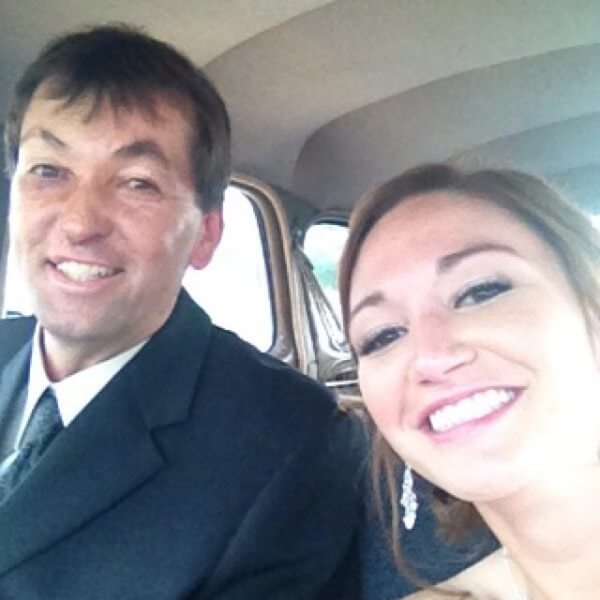 Will never got nervous at all in the weeks and days before the wedding, but I saw him for a bit before (he was blindfolded) and he admitted that he was getting nervous. He was determined to dip me when we kissed, and I resisted during the rehearsal. But after he was adamant about doing it, I decided we'd better practice. So we practiced a bunch the night before. When he admitted he was getting nervous about an hour before the wedding, I was a little nervous I'd be hitting the floor even after all our practice. I don't have a good (non blurry) picture of the dip kiss yet, but I'm sure the photographer will have a shot that makes it look less awkward than it was!
This is an iPhone photo I stole from a friend's Facebook of us during the ceremony.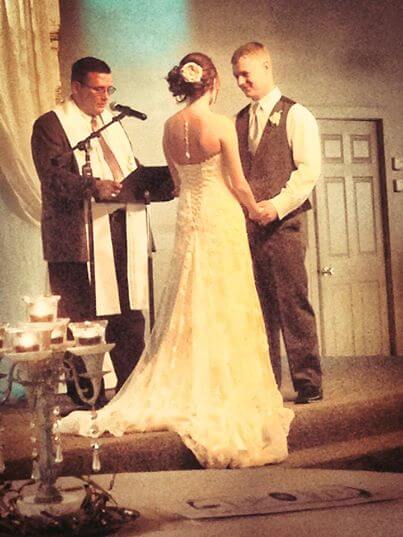 My cousin has an awesome camera on her phone, and this is one of the better, up close pictures that kind of shows my dress. (I know you're all curious!)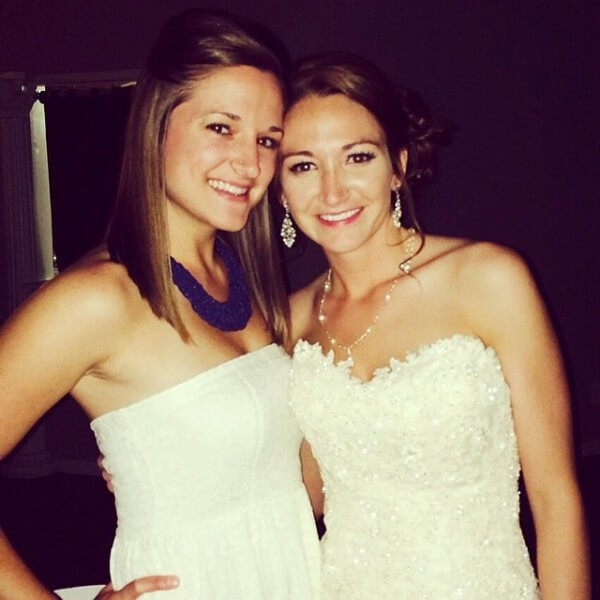 At the end of the night, everyone ended up wearing my sister's chair ties as headbands. I know that one of Will's groomsmen, Brad, had been wearing one since a little too early in the night and also had his shirt unbuttoned a little far, but I'm not sure when everyone else caught on. I came out on the dance floor a while later and apparently there was an official headband ceremony that you had to go through to be initiated. By the end of the night, everyone, including our parents, had on a chair tie headband. They even had my mom and dad slapping a bag of wine and chugging it! It was too fun!
This is Will, my dad, me, my sister, and my mom.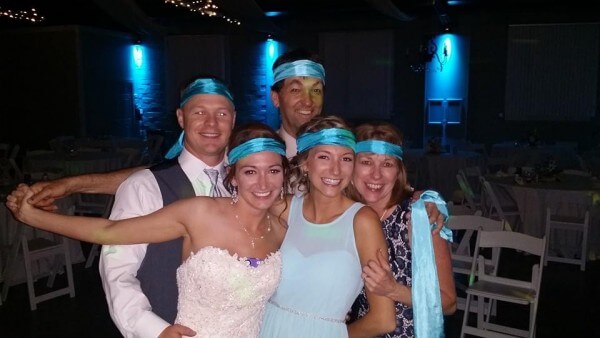 Brad approached Will and I later in the night and said, "I just want you to know that I've been wearing this all night, and everyone thought I was an idiot earlier. Now they're all doing it."
Throughout the whole night, my photographer was fantastic. I will be going back to her for future photo shoots and might even ask her to help me out with a photo shoot for my blog sometime this summer or fall.
I am really not huge on pictures. Yes I want them to remember, but I wanted more in-the-moment pictures than staged pictures. And she was so great about that. I was worried that I'd get a photographer who would try to convince me that I needed more or needed to spend hours doing that, and she didn't at all. And based on this preview we got last week, I'm confident that the posed photos she did take turned out fabulous.
I didn't let Will see me before the wedding, but our ceremony also didn't start until 7 pm. I didn't want to be out all night taking photos. She got all the family photos out of the way quickly and took us to this spot for couple pictures for about 10-15 minutes and then we got to join our guests at the reception in practically no time at all. We let them start eating without us so they weren't just waiting around.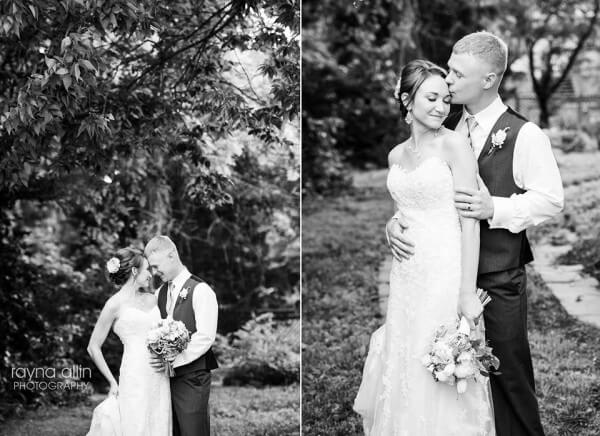 If you live in the KC area, I totally recommend her. Check out her website at raynaallinphotography.com.
I know this is a decor blog, and I apologize for having zero photos of the decor. I'm pretty sure our photographer got quite a few photos of that, so I really can't wait to share them with you all when I get them back. Hopefully they'll be ready by the end of this week or beginning of next!
Basically the day is a blur. I can't remember who all I talked to and I feel like I'm missing a lot of memories from the night, and I didn't even drink! But we did have a lot of fun. We didn't get to sleep (other than a couple cat naps on the planes) until 3 pm the next day when we could finally check into our room in Mexico. By that time I was so exhausted I definitely felt drunk, ha! I'm usually asleep by 10:30, even on weekends!
There are so many stories I could tell that I wish I could just meet you all for lunch and give you all the details. However, I feel like it'd be pretty boring in a mile long blog post. I'm not a very emotional person, in fact that kind of talk makes me squeamish, so I'm going to skip the mushy part of this post saying how this was the most sentimental, best day of my life, but just know that it was!
Comments
comments