One of my favorite blog friends
Julie
happens to have some mad design skills so I asked her if she'd like to contribute to the blog a couple times a month and lucky for us she was willing to! So I'm handing it over to her today, enjoy!
…..
Hey Friends!
Since it's close to the end of January and resolutions may be starting to slide I decided to whip up a little Meal Planner to help get you back on track!
As part of my resolutions (or non-resolutions) for the year I have decided to simplify my life.
The Meal Planner has your days listed, as well as a snacks category, with room to write in up to 5 options for each day. You can list a few for each day of the week or completely fill it out so you have lots of options for the entire month.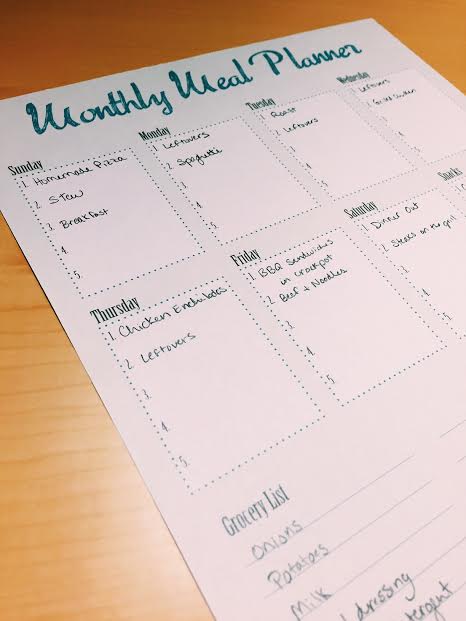 At my house we don't always feel like eating pizza on a Monday or enchiladas on a Thursday. This Meal Planner will help to eliminate some of the common complaints that come with planning your meals.
Complaints:
1. I don't feel like eating pasta tonight.
Use the planner to pick something that you are in the mood for that day (you should have multiple options if you filled in each day of the week). 
2. I don't have all the ingredients to make those stuffed peppers.
Sometimes we don't always have every ingredient on hand, pick one of the other options that you do have all the ingredients.
3.I don't have enough time to bake the chicken tonight.
Pick something that is super quick like a crockpot meal that you start in the morning.  
The Meal Planner helps to give you a little more flexibility than only 1 option on each day. Use it however it works best for you.
I've addd a grocery list to the bottom because let's face it as you're writing down meal ideas you are going to be thinking of all the ingredients that you need. WRITE THEM DOWN. Then, when you go to the store you can take your meal plan with you or just snap a photo of it on your phone.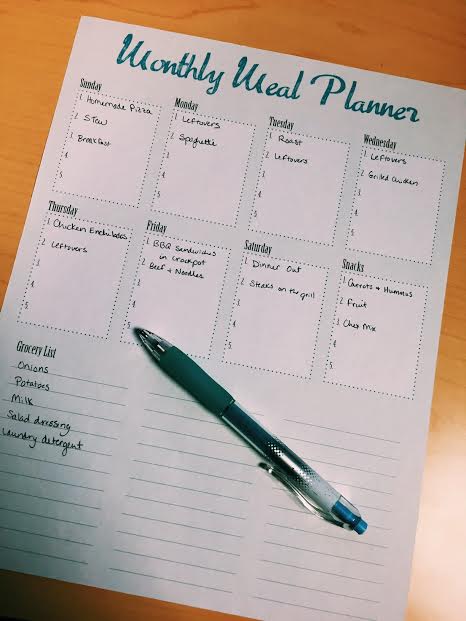 Once you have filled out the planner for a couple months you should have quite the list of popular menu items at your house. Use them to look back at and make your future meals easier to plan!! Click here to download the PDF.
For more tips and tricks about how I'm simplifying my life this year check out my page!
Comments
comments