Not only did I not get much done in the world of DIY this week, but I'm leaving town this weekend to go to visit a friend. Sometimes I think I can't get anything done, not because I'm busy in the moment, but because I have the upcoming plans looming in my head. So then I feel busy…but really I'm not busy at that time. Am I the only one this happens to?
Anyways, it's worth it for me. Jenna and I make an effort to see each other once a year despite our busy schedules and changing lives. We worked together 2 summers ago at a summer camp for people with disabilities.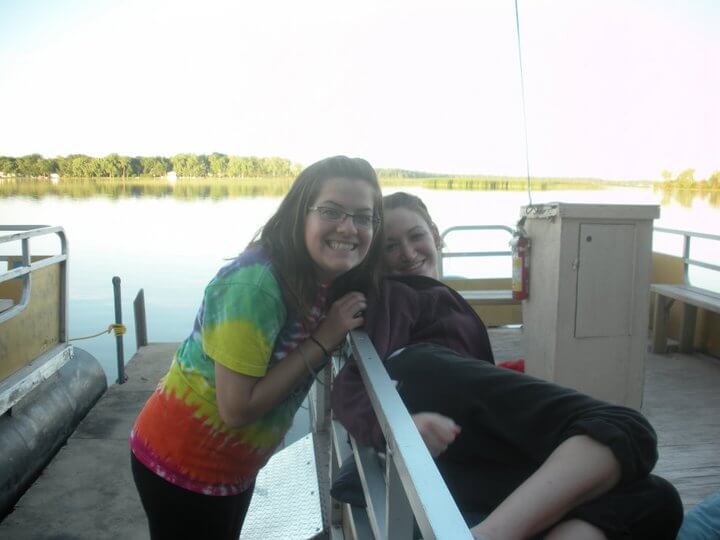 Jenna might not love this photo, but let me explain how that summer went for us.
I can't even remember how many weeks camp lasted, but it was all summer long. The campers only came for 6 days at a time. So every Sunday, we would get a new slew of campers, 8-10 campers to a cabin with 3-5 counselors normally. They would stay until Friday afternoon and we would get Friday evening and Saturday off. Sounds easy, right?
Not so much. In that six days of ongoing camp, we got 1, ONE!, 6 hour break. That's it. I usually used that time to leave camp and run to McDonalds for some non-camp food, then nap. I have never been so tired in my life. Or dirty. I think I might have taken 2 showers a week. 3 if I was lucky. And we were staying in mosquito infested cabins (in Minnesota…you can bet they love that lake water) with no air conditioning in the middle of a humid summer. Gross. And with our campers' special needs, you rarely got a full night's sleep. So we were tired, and dirty, and in this photo we were getting ready for a camp out on an "island."
While it was definitely the hardest summer of my life, it was also the most rewarding summer job I took during college (I tried out a couple different things because I'm adventurous like that.)
I can still vividly remember the campers that made the biggest impacts on me.
One of my favorite experiences was toward the end of the summer when, quite honestly, I was ready to go home. I just wanted to sit in air conditioning and watch TV for the rest of my life. But then, this happened…
My cabin had a camper with Down's Syndrome and he also suffered from depression, which we saw in his camper application. He was just kind of mopey through all the activities and didn't really get into any of them.
Then we took our cabin tubing behind one of the camp boats. This is not an easy task all of the time. Many of our campers were in wheelchairs and needed quite a bit of assistance, but the purpose of the camp is to give the campers the opportunity to do things they "can't" normally do. So we did. I rode in the tube with this one particular camper when it was his turn. I had no idea how he was going to react. I was worried he would be really scared.
When the boat started moving and pulling our tube through the water, he at me unsure of what was going on. Then as the boat picked up a little speed (not too much, no worries) and the wind started blowing his hair and a little water sprayed in his face, he started smiling so big and LAUGHED for the first time that week. HE LOVED IT. And I loved being a part of it. His face would go back to being really serious, and then he'd just explode in laughter again. It was so awesome!
Anyways, I could go on and on about camp stories, and meeting Jenna, and how she got the PR internship I really wanted when I applied at the camp, but the point is after going through that type of a summer together…how could we not be friends forever?
So we are. And I'm going to visit her TOMORROW, and we all need to pressure her to start a blog, because she'd be great at it. :)
P.S. Sorry about the lack of photos, but we don't have permission to post photos of campers, or else I'd definitely include some great ones! :)
Comments
comments