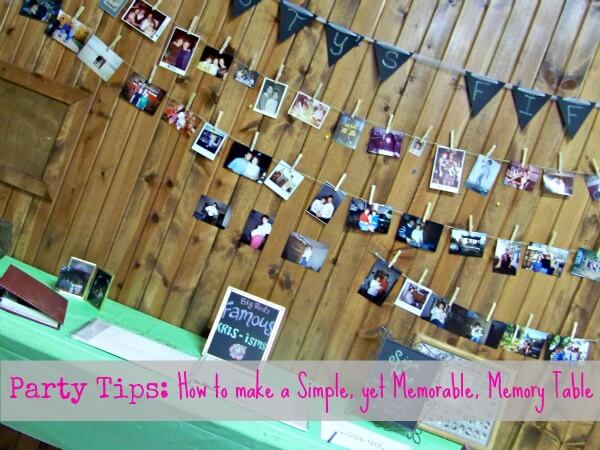 Back in April. my sister and I threw my mom a surprise 50th birthday party. No birthday party is complete without a memory table for a little blast from the past.
Here are my tips for a simple, yet memorable, memory table.
1) Twine and clothes pins create an awesome photo display. And the best part is that you don't ruin the photos. I didn't want to glue ours to poster board or tape them. Every time I did that in high school, the back of the photos remained sticky until forever, and they still all stick together. Annoying. We just tied the end of the twine around push pins and put them in the wall to hang it up.
2) Chalkboard. Make personal signs for super cheap by putting black poster board from Dollar General in frames and using it as a chalk board. It's super cheap and works really well! You can even kind of erase it, although it's cheap enough that if you mess up, it's not a big deal to cut out another piece. Plus you won't feel bad when you throw them away after the party. We used the signs to tell guests to sign the memory book and explain the importance of everything on the table.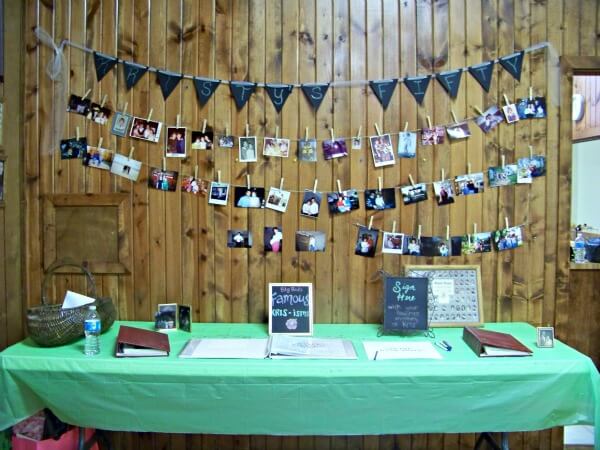 3) Chalk Banner. I also used the black Dollar General poster board for the "Kristy's Fifty" banner. It was super easy. I did have to purchase a hole puncher as well, but those are only like a dollar at Dollar General as well! (I promise this is not a sponsored post even though it's starting to sound like it, go Dollar General!) I strung the banner together using ribbon left over from a Christmas gift.
4) Memory book. I purchased a memory book (or scrapbook) from Michaels with blank pages, and we stamped every other page with "famous Krisisms". My mom says a lot of repetitive things that can be funny, and everyone recognizes. (I will hear "On the road agaiiinnnnnn!" in my head for the rest of my life every time I hit the loud bumps on the side of the road and then get back in the lane. When I had my permit I used to stay on them until she promised not to sing it!) We had guests sign around the "Krisisms".We planned to fill the blank pages with pictures of the party later.
5) Don't forget a basket for cards and a space for gifts!
6) Pictures. Make sure you pick out pictures that highlight the most important moments of your birthday guy or gal's life (wedding, kids, etc) and then lots of funny embarrassing ones. For some reason mom had pictures of herself getting ready in her bra and underwear when she was younger. I knew they'd embarrass her, but she was HOTT, so I had to include them. I think they made my Grandma's boyfriend blush, but other than that, everything went over well. Pregnancy belly pics count as important AND embarrassing! :)
Follow these simple tips and you're sure to have a crowd around your memory table all night!