Graham has been sick this week and it's been tough. My smiley fun-loving baby has reverted back to his two-month-old self who only wants to be held, and held standing up at that. I think we are seeing light at the end of the tunnel, because yesterday he took a two hour nap in his crib instead of my arms, and then slept all night from 8pm-6am. I needed it as much as he did!
During his long nap, I decided to ignore the messy house and started reading a book I bought last week. Turns out, it was good for my soul! Big Magic is the name of it, and it's about being creative without fear. And it motivated me to show up here today :) Most of the time I don't post because my projects aren't finished or I don't have any specific advice to give, but blogging makes me happy, even when I don't have something spectacular to share or say, so today I'm sharing some unfinished projects!
Want to know something else that makes me happy? Our master bedroom. I recently redid the furniture and love how it's turning out! It's a little different than my original vision, but I love it more and more!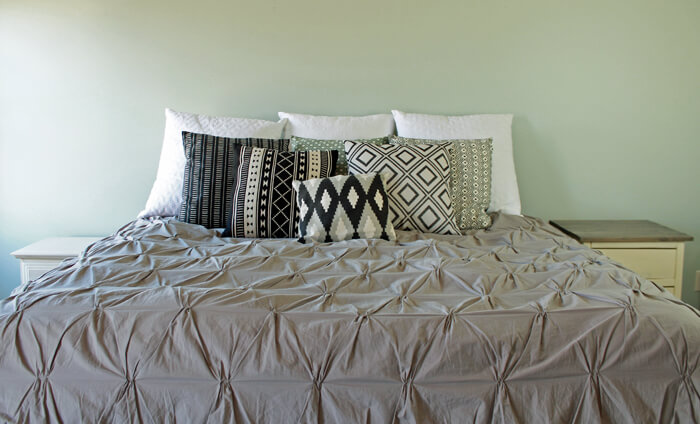 Will hates having 9 pillows on our bed, but I love it! I originally bought these thinking some could stay on the bed and others could be couch pillows, but I just love them all, so they all stayed, and I pile them beside my side of the bed at night!
–Pillow cases from H&M, bedspread from West Elm and paint color is Sherwin Williams Sea Salt–
I have no idea how to photograph our wall color to give you an accurate representation of it, but it's my favorite. It feels so peaceful and…breezy! I feel calm and happy when I go to sleep and wake up in here. I've started using darker colors on the furniture and decor to make it feel cozy, too!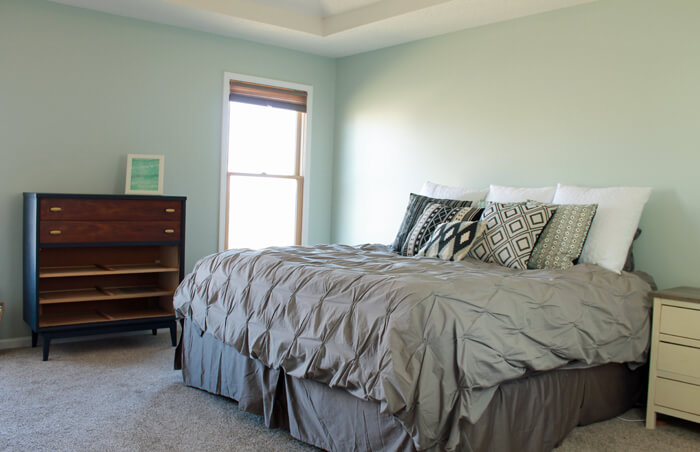 The bedspread is crooked and at the bedskirt is wrinkly, but hey #reallife. I can't wait to add my new barn wood headboard to this room, but currently it's waiting to be sanded and sealed! Maybe it'll be in by this weekend! If you follow me on Facebook you've seen it. If not, here ya go!
I painted that dresser with SW Naval. I was super super nervous about taking the plunge on navy furniture, but I'm so glad I did. That + those stained drawers + gold pulls = heart eyes. The bottom three drawers are missing because they had trim on them that I had Will remove. Well that process tore off some of the veneer and while I would LOVE to stain them, I think I'm just going to patch the holes and paint them navy. At least the stained drawers on top give it a little flair!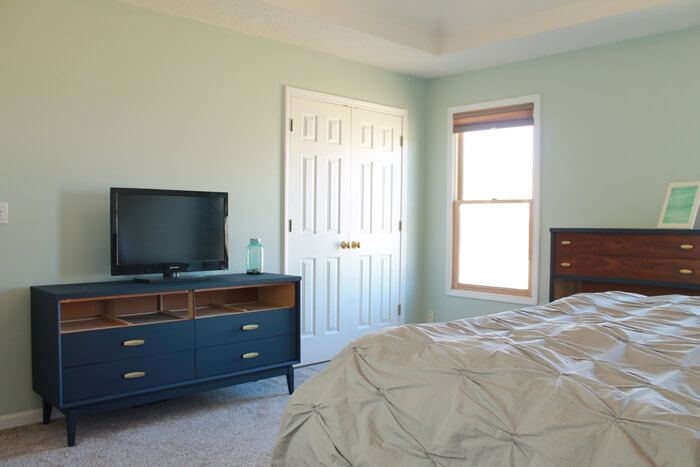 This sister dresser is also missing drawers because of the trim problem, but it will be solid navy + gold pulls. They are obviously a set but I'm over the matchy matchy thing so I wanted them to go together but not be exactly alike. Problem solved! Also – how lucky am I that mid century is back in for these hand-me-down pieces?
Anyways, obviously there is room for progress. The headboard is already taken care of, but then I need to finish the drawers, work on getting stuff on the walls and buy some lamps. But all in all this is my happy place!
I'm looking forward to sharing more unfinished rooms with you soon!