Ok – so I know most of your are put off by all the Christmassing that's going around a tad early, BUT I have booth that needs decorated for the holidays. So therefore I HAVE to do Christmas crafts early. And I HAVE to watch Christmas movies while doing them to get in the spirit.
And I didn't hate it.
So last night, I was hanging out with my Little (BBBS stuff, ya know?) and we got started on a couple Christmas crafts while drinking hot chocolate and watching a Christmas movie that we got a little too wrapped up (that's punny) in and I made chili. It was a nice Thursday evening. And actually, since she's the creative one, I let her do the crafting and I made dinner then laid on the couch.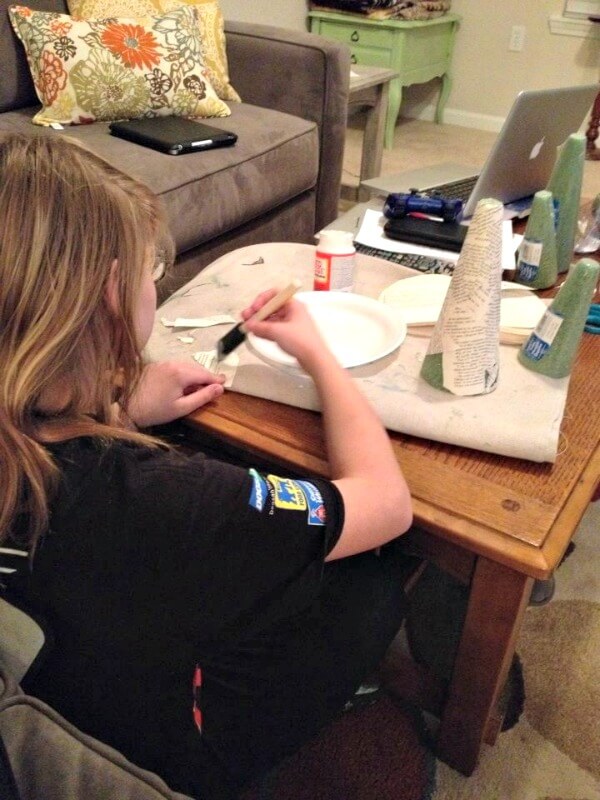 Am I breaking any child labor laws since these things are going in my booth? I sure hope not.
These things were super easy and a great project for kids. My Little is 11 years old, and I struggle with knowing what is age appropriate for her. She's too old for little kid things, but not quite old enough for teenager things. I'd love to have her help me paint a piece of furniture (child labor violation again?) because she loves artsy things, but she's kind of sloppy with a paint brush still. And that's okay, she'll get better, but for now we're going to hold off on that.
Anyways, she did these all by herself and they turned out great!
All you need for this project is:
– a book (we used my pumpkin decoration)
– mod podge and sponge/paint brush of some sort
– a styrofoam tree
You just rip pieces from your book and modpodge them on in different directions. After they dried I added one final layer of mod podge to the top to help keep everything in place.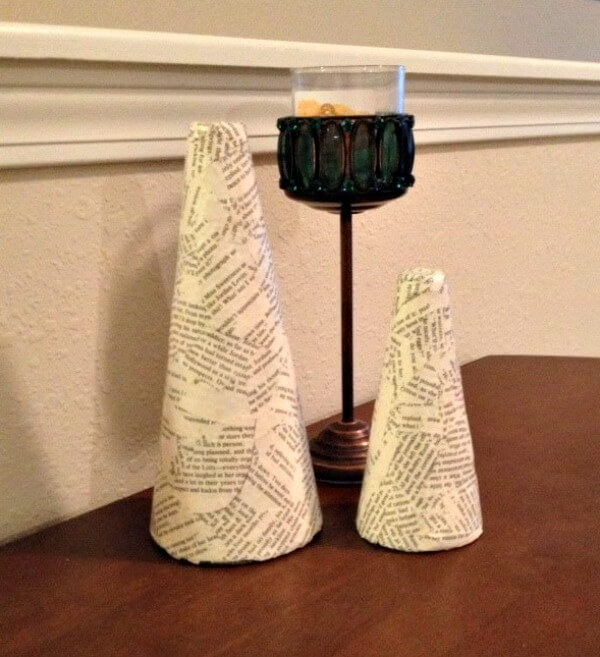 Apparently my table-scaping needs a bit of work. But I think they'd look super cute with some greenery of some sort. I might even buy some little clay flower pots to stick them out of with greenery inside the pot and around the "trunk" of the Christmas trees.
When do you think it's appropriate to start Christmas crafting?
Comments
comments