I love having an extra day on the weekends. So I've spent a little more time watching Criminal Minds than I meant to already today, BUT there's a marathon on and actually a couple episodes that I haven't seen before. That NEVER happens.
I have got a couple things accomplished though, like finally finishing my cake topper that's been on my to-do lists for months now. I ran out of pearl's big enough to finish the last curve, but yesterday Will and I stopped in at a little antique shop I've been wanting to check out and Will spotted a necklace with the perfect sized pearls right as we walked in.
So finally, here it is: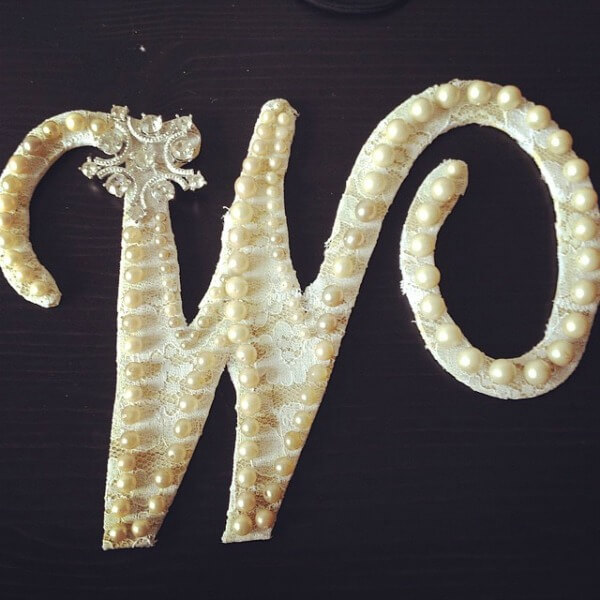 You can find my inspiration here. It was just a little out of my price range. However, this wasn't quite a $5 project. I probably spent $25/30 on my supplies, but I love it so much that I think it was worth it.
My aunt's boyfriend cut the W out of plexiglass. Thankfully he has the skills for that, or else I probably wouldn't have pulled it off. Then I painted it an ivory color and glued on some lace I found at a local antique store. I used E6000 glue and folded the lace over the edges then glued it so it didn't bleed through the lace visibly. I bought multiple pearl necklaces, also from antique stores, to find the right sized beads and used E6000 glue to attach them to the W. I just copied the pattern from my inspiration picture. The brooch is also, you guessed it, from an antique store.
We put in our cake order yesterday and we're going to have 3 mini turquoise ombre cakes in different flavors and then one of my extremely talented friends is making us ivory cupcakes. I'm getting hungry just thinking about it. I could share Pinterest pictures, but I'm going to make you wait until the wedding to see them!
Next on my to-do list for the day is to finish my desserts banner. I've just got to run to Michael's to grab some glue to attach the letters. I'm sure I'll post it to Facebook and Instagram this afternoon when it's finished.
I'm going to use a couple crates to stack cupcakes on and I might check out another antique store to find some plates and cups to make cake stands out of. I think they cute be super cute if I can find the right dishes!
At this point, I'm finishing up quite a few wedding projects, but I'm also trying to cut out the ones that are too much effort and won't be noticeable. The wedding isn't about the decorations anyway, so I don't want to drive myself crazy making everything perfect.
How are you spending your 3 day weekend? 
Comments
comments