You guys. I am so excited about my new online store I can hardly stand it. 30 styles of scarves are all on the road on the way to my doorstep right now.
Here's a sneak peek at the new website. You can actually get to it now and sign up to receive discounts in your inbox. I've also provided a little discount code for when the store opens as well as sneak peeks into the inventory.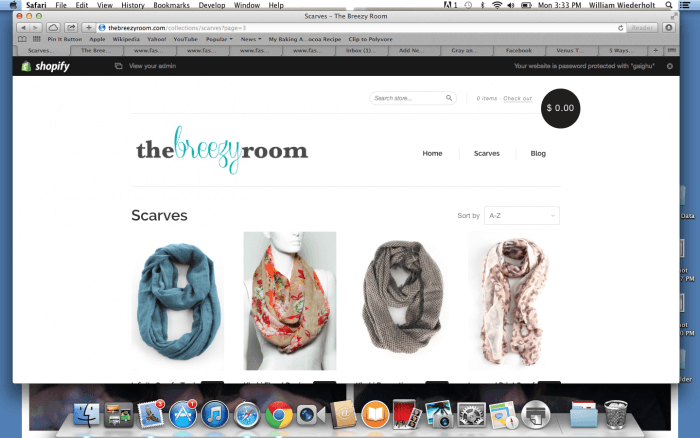 Look at all those windows I have open on the computer. Will hates that, ha! I'm a busy lady, what can I say?
Those really are 4 of the 30 styles that I ordered. However, those are the manufacturers' photos which I only have uploaded to get a better sense of how the website will look when finished. Once they arrive I'll have to retake my own photos, get them posted and then we'll be open for business. I suppose I should have an actual open date, but I'm too excited to wait, so I just plan on opening the shop as soon as everything is ready to go. I'm hoping that will be by Saturday since the inventory is scheduled to arrive on Friday.
A few of you are a little confused as to why I'm selling scarves when I paint furniture. I'm not quitting furniture, I'm just expanding if you will. The two are not exactly related, but I assume that the same people who like pretty furniture also like pretty scarves, so it's a win-win, right?
For now I'll be sharing both furniture and scarves on my existing Facebook page, but if it creates too much confusion I might eventually create a new Facebook page just for the scarves.
Also, I'm giving away a super cute fall scarf over at Venus Trapped in Mars today. Go check it out!
Comments
comments