Random Act of Happiness project numero uno complete. If you're not sure what I'm talking about, my Little, Storm, and I decided to try out our first Random Act of Happiness project (an idea stolen from one of my favorite bloggers Jennifer) last night by offering free flowers to strangers just to make them smile.
And let me tell you, spreading happiness is harder than you think. At least it is if you go about it this way.
First we bought enough flowers to make 4 simple bouquets and printed off some pretty tags that said, "You deserve flowers each and every day."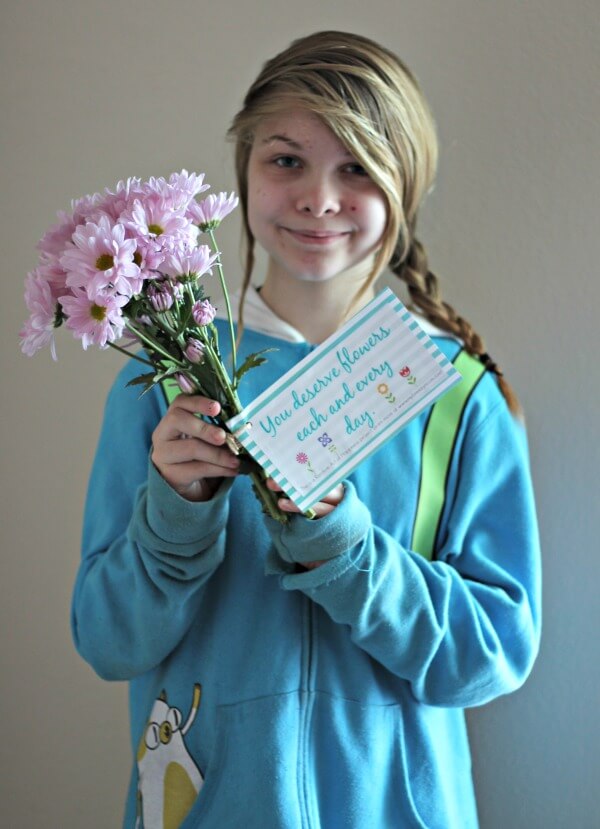 Then we went to a local outdoor shopping center to find strangers willing to accept our flowers in exchange for a smile.
Luckily, the first girls we ran into were really nice and accepted the flowers without too many questions.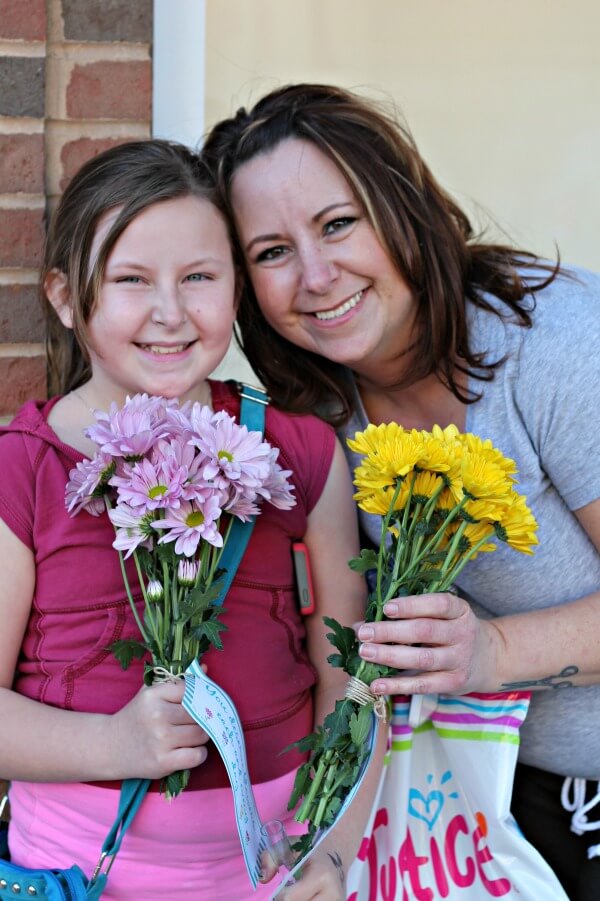 They were so friendly, we wrongly assumed we'd be out of flowers in no time and on our way. Not the case.
The next lady we ran into was extremely confused. I explained to her a couple times that we weren't asking for anything in exchange and accepting the flowers wouldn't lead to a lengthy sales pitch. Then she said she felt like she should at least give us a dollar, and I explained again that we wouldn't accept any money, we were just trying to spread happiness. She ended up turning down the flowers and said she had a good life and to give them to someone who needed them more. So I suppose she had good intentions.
We approached a lady who was knitting on a bench next, and she quickly turned us down without making eye contact. So then we approached a couple ladies who looked to be headed to their cars. I figured that was best because then they wouldn't have to carry the flowers while shopping. They rejected our offer with a tone that suggested they didn't trust that we were offering flowers for absolutely nothing in return.
We were about to head home and enjoy the flowers ourselves when we spotted another duo that looked promising.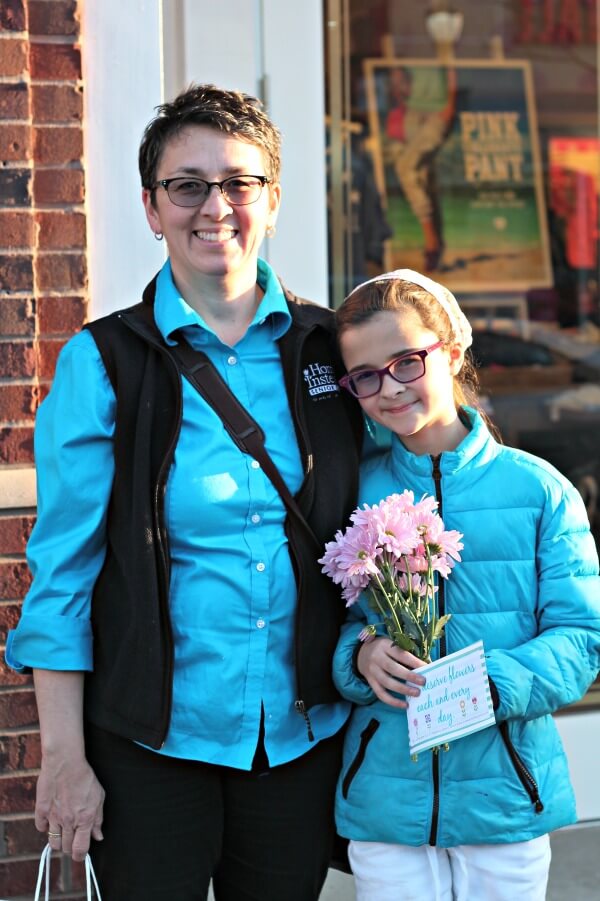 After they accepted the flowers, I tried to explain that Storm and I were matched through Big Brothers Big Sisters and were just doing this as a happiness project for fun. For a minute, I think she thought I was going to ask for a donation. Ha! I reassured her I wasn't.
Anyways, they were super nice and we decided that they were a good one to end on even though we still had one bouquet left. We'd faced enough rejection for our first project.
Luckily, I ended up checking a Facebook notification on my phone and saw that one of my friends had sarcastically commented that she would take some flowers off our hands. Lucky for her, we had one batch left and delivering them to her gave us the perfect finish to our first Random Act of Happiness project. I guess we kind of cheated because she wasn't that random…but she sure was happy!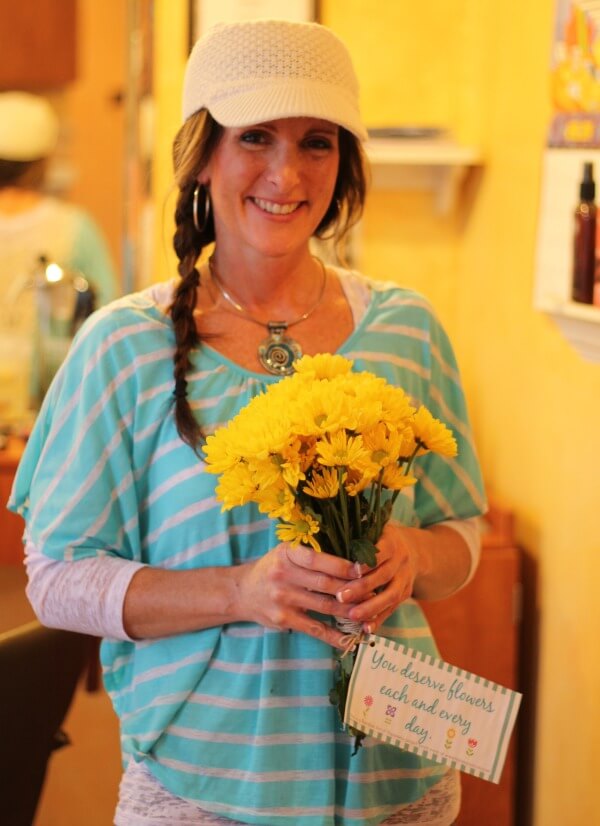 And she was able to snap a photo of Storm and me together!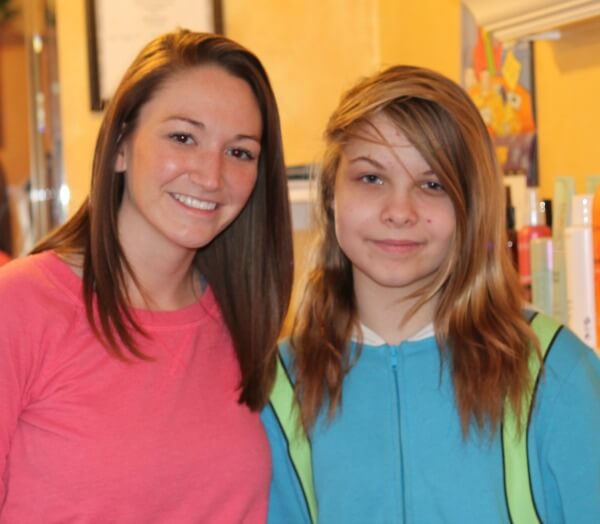 So those were our results. It was much more intimidating than I anticipated, but it was also much more rewarding. Storm and I ended our outing laughing about the rejections, feeling good about the smiles we did get to see, and discussing what projects we'd like to try in the future.
In hindsight, I think going to a shopping center made us seem more like solicitors. Unfortunately, we live in an area where everyone drives everywhere, so that was the most convenient place to run into people. Our next idea: set up a free lemonade stand in a park with a walking trail to offer a refreshing drink to the people enjoying the trails! :)
Head over to Jen's blog to read about the 30 rah rah rah projects she's completed in Minneapolis so far. And remember, other people can only contribute so much to your happiness. It's up to you to say yes to free flowers!
Would you take flowers from a stranger or would you worry about ulterior motives? What do you think about our experience? Would you get back out there and try another rah rah rah project?  
Comments
comments