*This post contains affiliate links, which means I'll make a small commission if you purchase the items, but I promise to only recommend products that I use and love.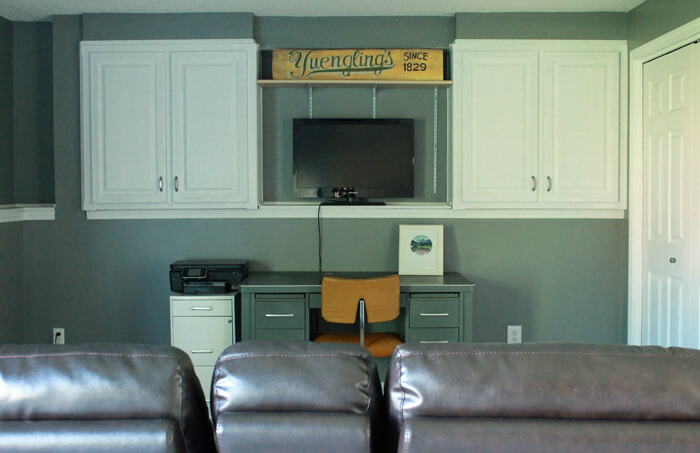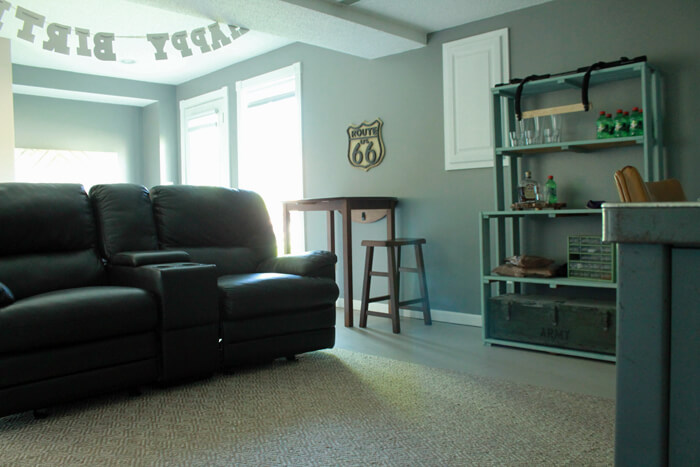 So I know this week is all about the moms, but I spent the last two weeks turning our semi finished basement into a surprise man cave for my husband's birthday while he was away at annual training for the National Guard.
I'm not sure how I damaged the decision making part of my brain – I'm guessing it was in college – but I have somehow lost the ability to discern when to stop starting new projects. Around the time Will was getting ready to leave for two weeks of military training, I decided that would be the perfect time to halt the kitchen projects and jump to the man cave idea, and also throwing a garage sale in the mix to get rid of that junk that was currently hanging out in the basement.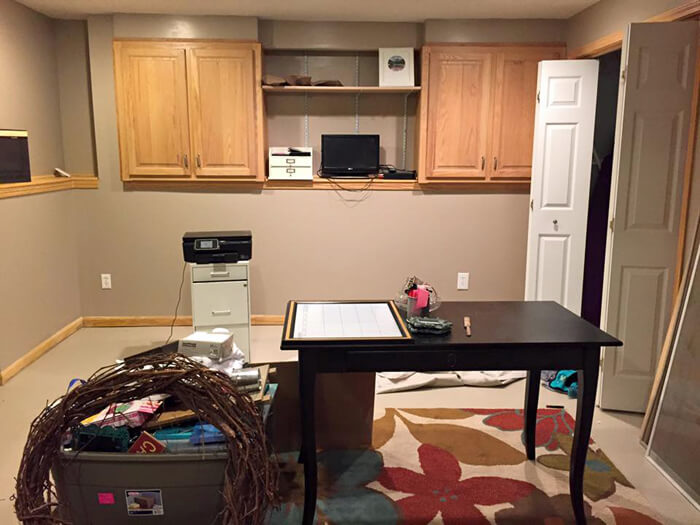 I haven't had doors on my kitchen cabinets in weeks, but sure, this is a fantastic idea!!
All that we needed to do was sort, donate and sell all the junk in the basement. Host a garage sale. Paint the walls. Paint the trim. Move in a large and heavy metal desk. Find, buy and move in a large and heavy recliner set. My sister was helping me so this would be easy. Ha. Ha ha.
I'm pretty sure the neighbors got a good laugh out of watching us move furniture for two weeks. But we pulled it off. And he loved it.
And I don't recommend hosting a garage sale alone with a baby. Like how are you supposed to feed it and put it down for a nap with strangers in your garage? Just some food for thought.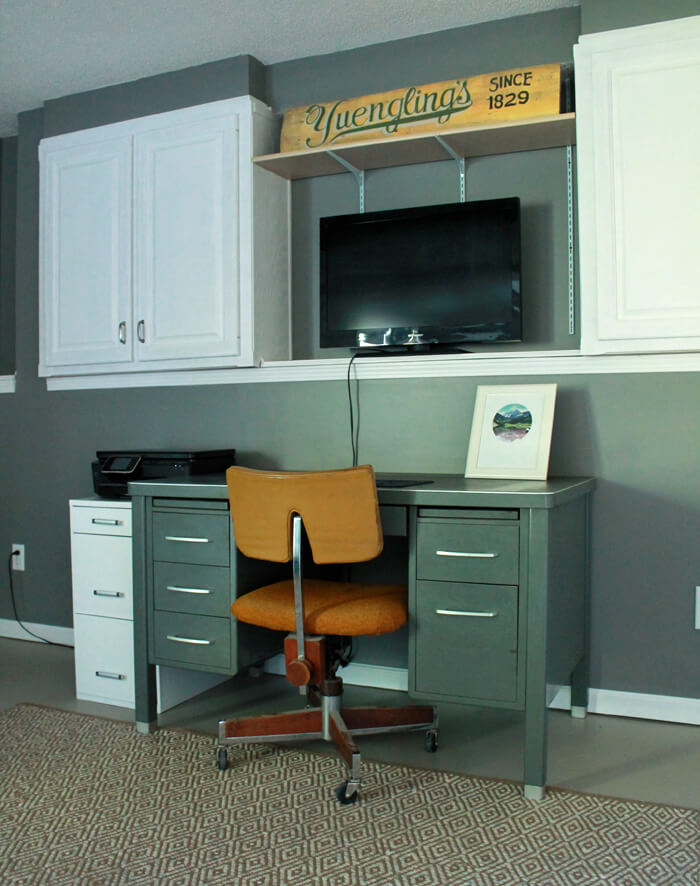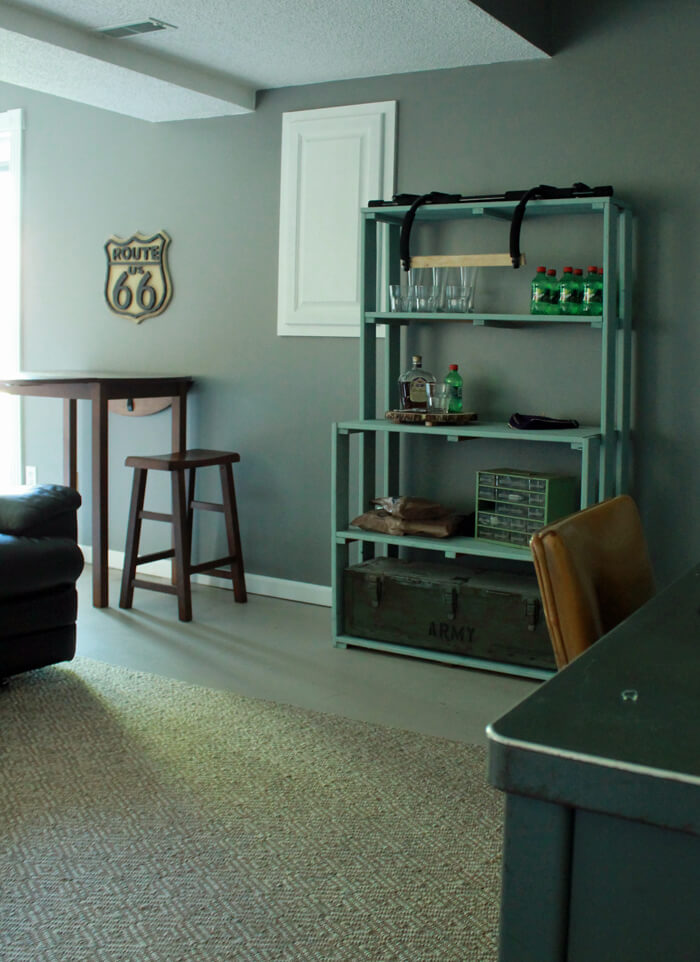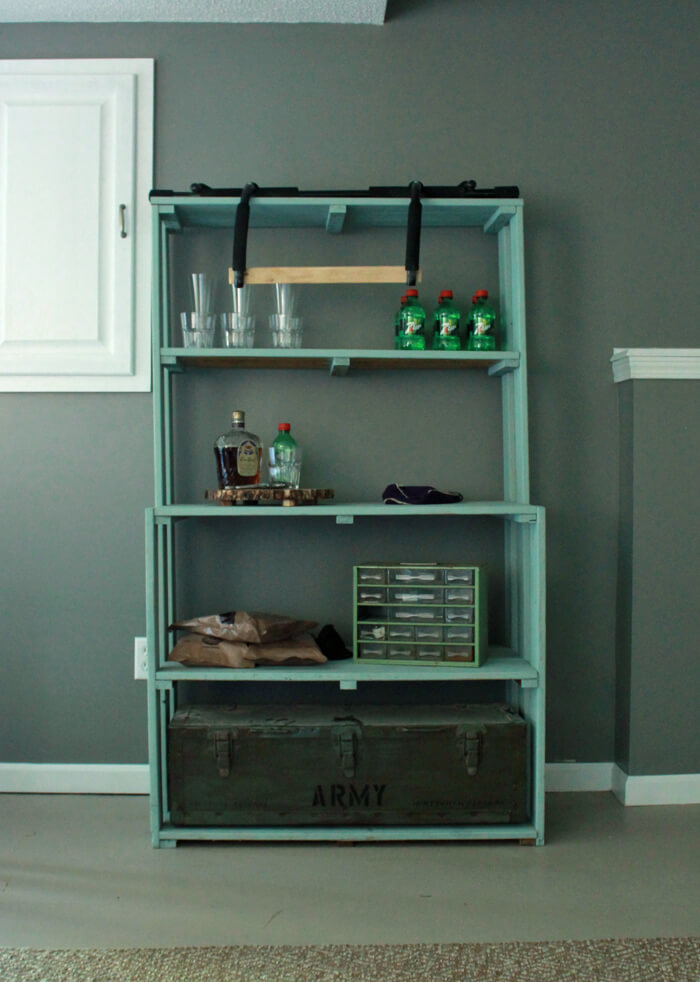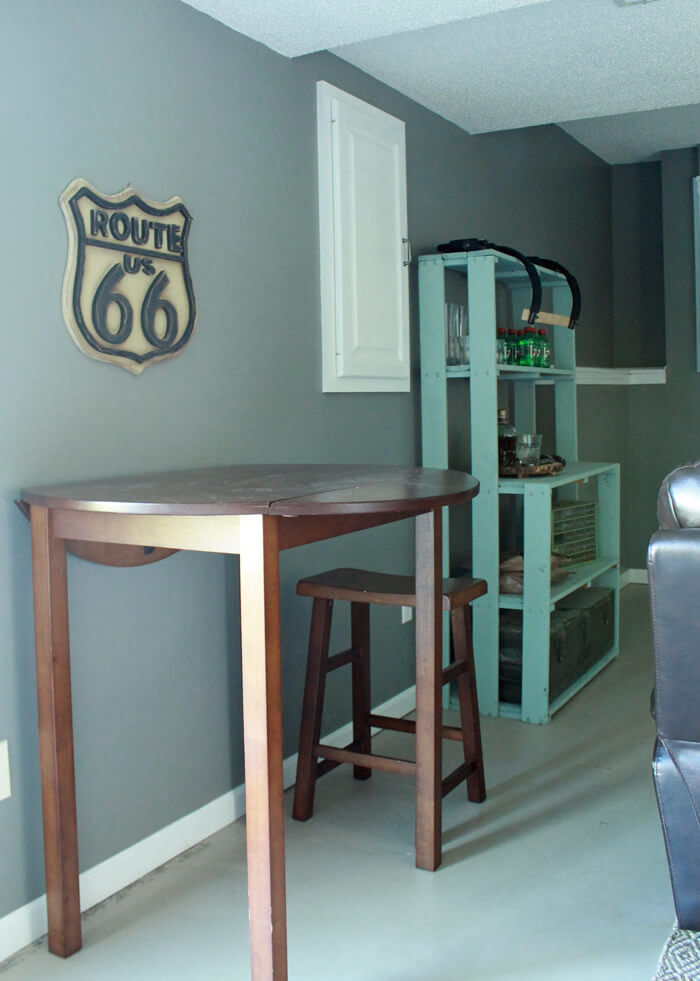 Other than the physical labor involved and the logistics if you're planning your remodel around a baby's sleep schedule, putting together a man cave is fairly easy. You only need 4 things:
A recliner and tv – What is it with men and recliners? This is actually the reason for this whole project. Will wants to put ugly grandpa style recliners in my living room and this is my diversion. If you've seen my living room you know that big puffy recliners are not going to mesh with my couch. I haven't approached the subject about living room chairs again, but I'm going to wait until he is nice and comfy in his man cave.
A dark color for the walls – you know, to make it cave like. This is not the time for breezy wall colors. We went with Benjamin Moore Chelsea Gray (which is also the color that's going on our lower cabinets).
Simple decor that aligns with his hobby – He's always wanted a metal desk to clean guns at for whatever reason. This one was a Craigslist find for $15 and it fits in perfectly. My sister hand painted the Yuengling sign – she has a gift – because it's his favorite beer. And the Route 66 (here's a similar one*) has no real significance other than being a cheap find at Home Goods that fit the budget. We got a great deal on the rug* a couple months ago, but even full price it's still a good deal.
You could do way more than this if your guy is really into a specific hobby, but Will wants a say in decorating (hence the argument over living room chairs), so we left the rest of the room blank so he can fill it in with whatever he wants in the future.
A bar – It doesn't have to be fancy, just a place to keep his favorite drink on hand. Stock it with pop and snacks if he doesn't drink. This shelf is one we acquired when I had an antique booth. I was going to paint it a more manly color but ran out of time. And the little table has been around since college and had just been hanging out in the basement anyway.
We really got lucky with how it all came together. It's really a coincidence that everything complements each other because we really just worked with what we had, which is all the man in your life needs!
[embed_popupally_pro popup_id="7″]