This shop has been compensated by Collective Bias, Inc. and its advertiser. All opinions are mine alone. #LoveAmericanHome #cbias #CollectiveBias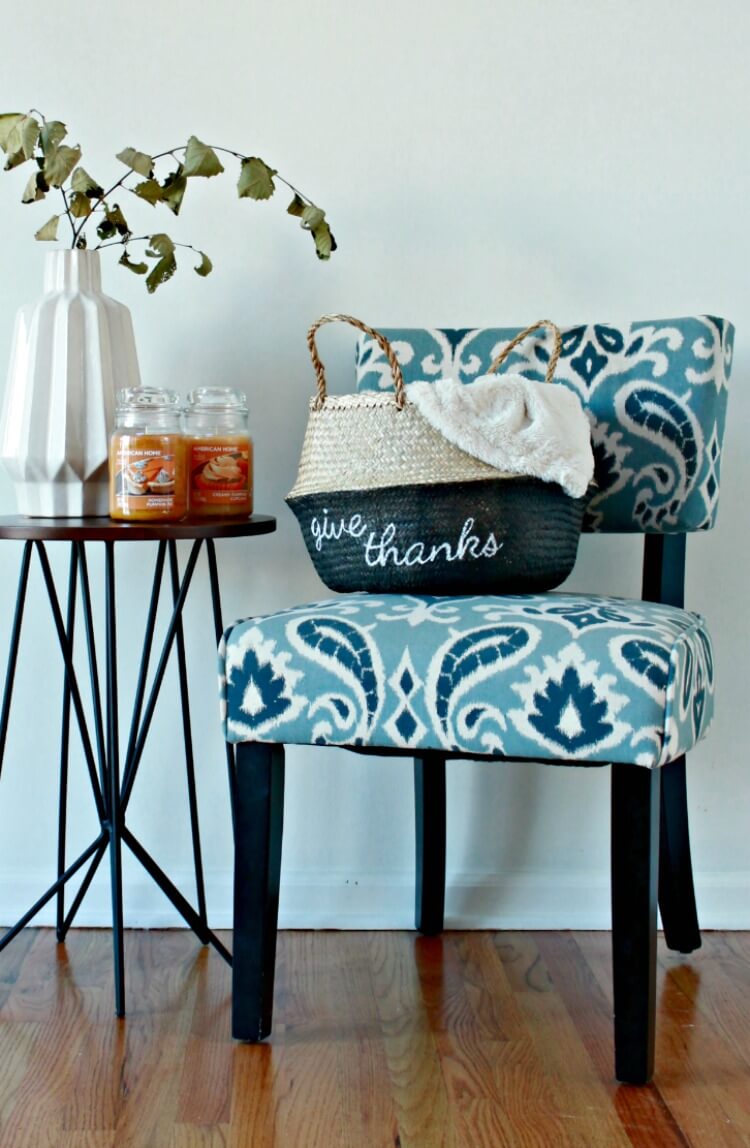 I've been trying to get a head start on holiday gifts and decorating this year, but it seems I'm already a little behind. Story of my life. I've got plans to possibly get out the tree this week (I am a blogger after all) and work on some Christmas decorations, but at this point I've only got as far as pulling out my favorite fall/winter candles and making it smell like I've been baking up a storm.
If nothing else, you will smell the holiday spirit in my home, even if you can't see it. It's funny how a fragrance can make the season come to life even if the weather is a little unseasonably warm and the decor is still packed away (and you haven't actually baked anything in ages…)
I've been stocking up on American Home™ by Yankee Candle® brand candles when I'm in Walmart to give as gifts this year – so maybe I'm not that far behind schedule? They're perfect for a thank you gift for holiday party hosts and for gift exchanges! They're great quality, strong fragrances and I can grab a couple here and there while I'm doing my grocery shopping. Win-win!
I've also been working on personalizing a basket to give them in for an extra personal touch. I've been obsessed with belly baskets this fall and finally got my hands on one. It makes the perfect little gift bag – and one the recipient will want to keep around long after the holidays. This design was fairly easy and it took me less than 2 hours, including dry time.
You'll need:
Belly basket
Black paint
Chalk
White paint marker
Paint brush, scissors, pen, and a printer
Paint the bottom half of the belly basket.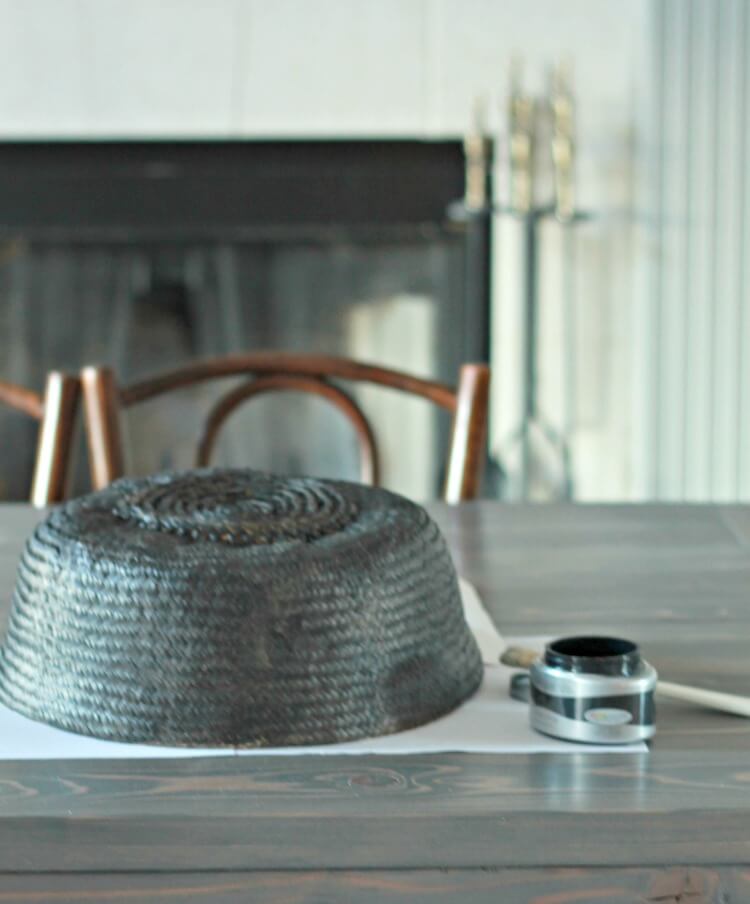 I've seen this look all over the internet and couldn't wait to try it myself. Don't bother with trying to tape it off, just flip the handles inside the basket and place it upside down on a protected surface and start painting. I used a sample of latex paint, but you could also use acrylic paint or whatever you have on hand.
Decide on a font and saying.
I decided to go with something that applies all year round, even if we think of it more around Thanksgiving: Give Thanks in dancing script font. Search Pinterest for other ideas if you're stumped! Try to choose something short enough that it's readable without needing to turn the basket.
Use a paint marker to draw/trace saying.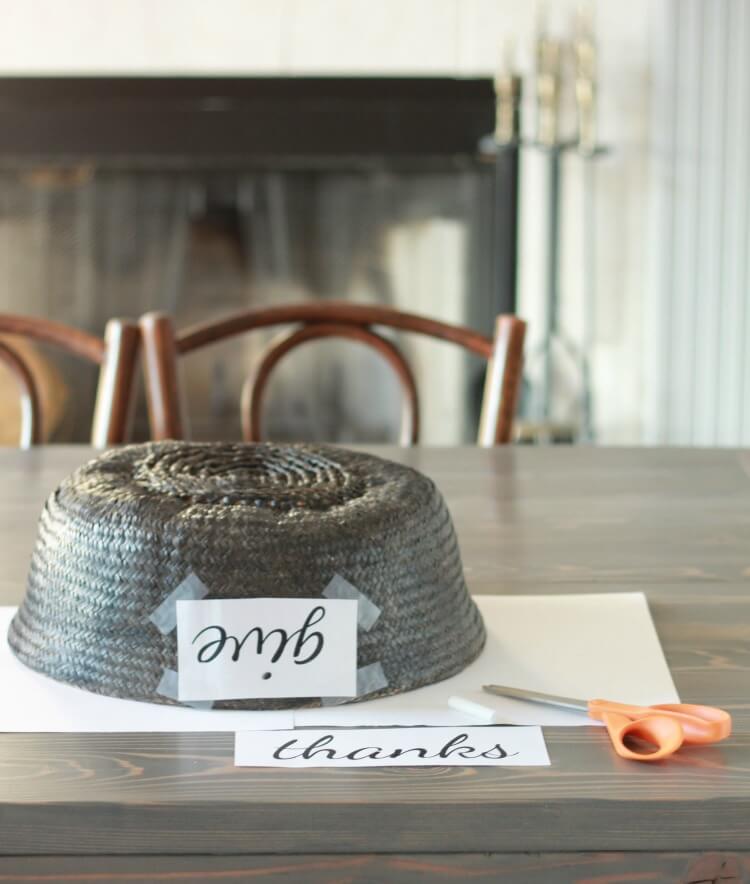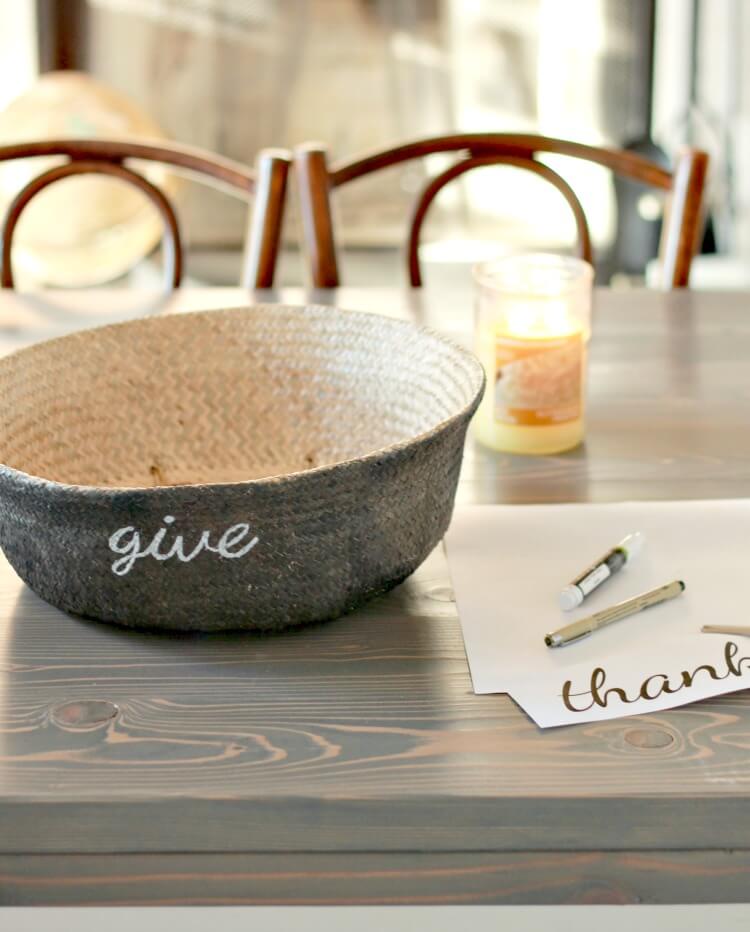 There are few different ways to get your saying onto your basket. You could use a CriCut or Silhouette to cut out a stencil or use the chalk method to trace it onto your basket and then fill it in with a paint pen. I used the chalk method so I just printed out my saying, rubbed a piece of chalk on the back of the paper, then used a pen to trace the saying onto my basket. I actually traced it upside down because it seemed like the basket was more sturdy that way, then I filled in the tracing with the paint pen. Easy peasy! If you're brave, you can just freehand it. Any imperfections just add character :)
And then you're done! You could also do a fun pattern instead of the saying or just simply paint the bottom half. I love all the options you have and the fact that it's not a project that takes an entire day. Definitely doable before your big holiday events! Turn on some Christmas music and light an American Home™ by Yankee Candle® brand candle for a little festive crafting time!