It's finally Thursday and the weekend is in sight! Today I'm going to leave you to read some great advice from Lisa from Home Interior Tips Blog who will be taking over the blog for the day!
……….
Hello Everyone! This is Lisa Jolan and I am glad to be here at My Breezy Room. Thanks Kala for giving me an opportunity to do a guest post here. Today I am going to share some hints and tips for bedding decoration. You can find me on Google +.
Decorating a bedroom is one of the most satisfying of all the interior design tasks, especially if the bedroom is for you! It is your chance to indulge in your most treasured flights of hedonistic fancy, from the softest mattress and cushions to the luxuriant floor length sweep of the curtains. Some people may feel that you cannot really DO very much with a bedroom, as the furniture and fittings for most bedrooms will be standard: bed, chest of drawers, and wardrobe – job done! For some furniture ideas, check out shop 4 furniture as they have a fabulous range of bedroom furniture. But these folks are denying their creativity and imagination and losing out on their chance to make their bedroom something really special.
I see a pattern forming here…
Cheerful and colourful patterns may be eschewed in other parts of the house, but they can look fantastic in the bedroom. Choose a wallpaper pattern that is not too busy, unless you are planning to calm it down with plain uncluttered bedding. Having too many patterns going on all over the room can create a chaotic, busy room that will not be conducive to a good night's rest so aim for the happy medium where you have enough patterning to excite interest and admiration but not so much that the viewer does not know where to look.
Pastels to soothe you to sleep
Pastels are always popular in bedrooms. The soft gentle colours are very easy on the eye and restful, helping to create the appearance of a relaxing haven. You are not tied down to soft rose pink and baby blue – almost every shade of colour can be softened and made into a pastel, simply by adding white to the paint to tone it down. Play with unusual shades like a tender warm orange or olive green for something different.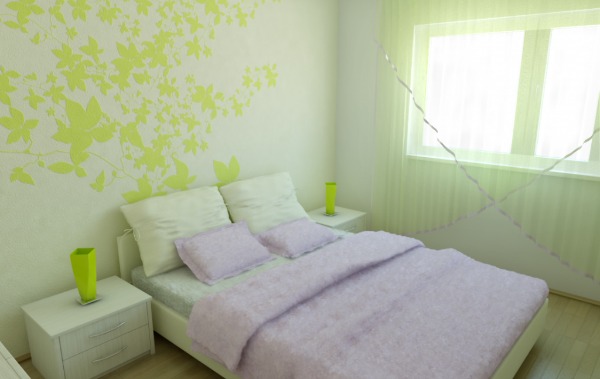 Source:
Less is less!
There is a lot in favour of minimalist décor, not least of which is the ease of maintaining such a look. It can appear quite cold and clinical – rather like a hospital operating room – so it is important to include some unnecessary details, such as pictures or photos on the wall, an attractive vignette atop the chest of drawers. Minimalism relies on creating open spaces and a clutter-free aura so bedding must be plain, cool colours and furniture as spare and plain as possible.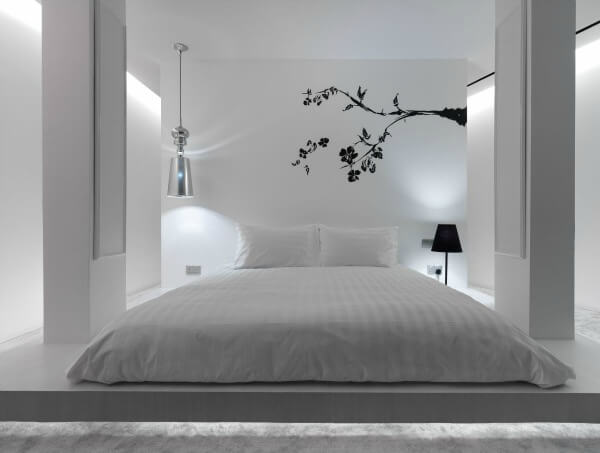 Source:
A little bit of everything
If the thought of a minimalist bedroom leaves you cold, you may prefer a room that is more detailed. Fine, printed fabrics and ornate, highly decorated furniture can fill the eye and give the impression of cozy comfort, especially when the bed is piled high with soft, attractive pillows and cushions.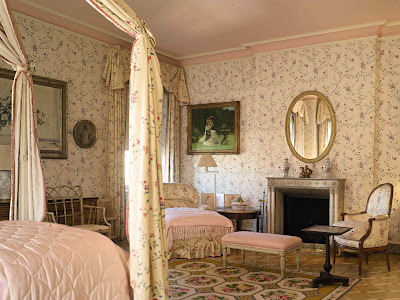 Source:
Escape from grown-up drudgery!
Cute and childlike bedrooms can offer a safe haven away from the turmoil and stress of regular life. Choose patchwork bedding, attractive and youthful furniture and make sure that you have a couple of your favourite soft-bodied dolls to cuddle up with. You can find a large collection of dolls here.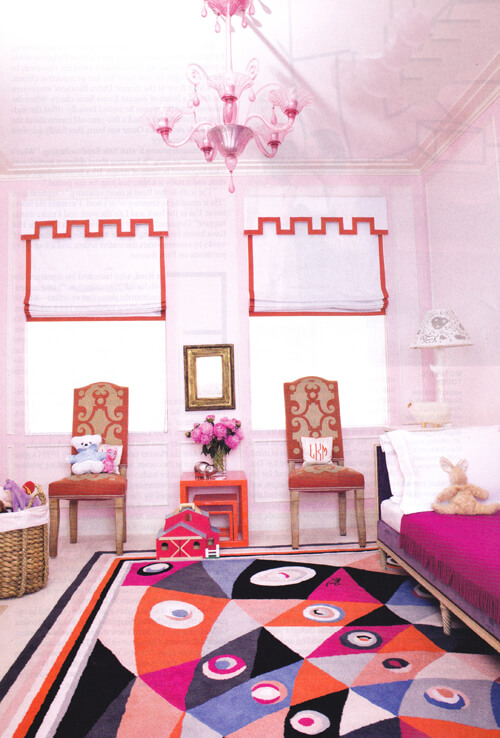 Source:
For the proper grown-up
A sexy boudoir can give you a real feminine boost of confidence. Team red, shocking pink and black with satiny, silky fabrics. Choose luxurious and sensual wallpaper that will make any callers feel as though they are wrapped in silk and velvet. This type of room will be very tactile so make sure that everything feels wonderful against the skin.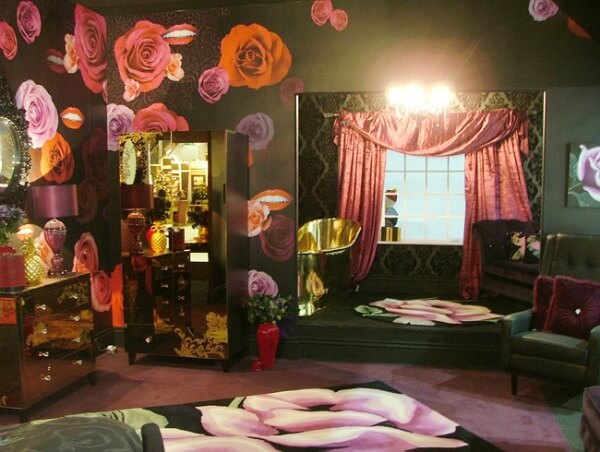 Source:
You can see how these different motifs can entirely transform the look and feel of a bedroom. Before rushing to re-do your bedroom, spend some time, mapping out how you want your perfect bedroom to look after the decorating is done – once you have a good idea of what you are looking for, you can begin to make the purchases!
……….
A huge thank you to Lisa for taking over today and sharing some great tips. I can't wait to use some of this advice for my own bedroom!
Comments
comments