This post brought to you by VinoVinti. All opinions are 100% mine.
I kind of used to be a party girl in college, and I drank mostly beer or mixed drinks. I thought that wine was disgusting and too "fancy" for me. As you can see, I was pretty classy. Since college, now that I'm phasing out of the party scene, I've started drinking wine.
I remember the first glass I had with some friends a couple years ago, and I had my "wine face" ready. You know the one, where your face looks like you just ate something sour, but you're going to try to look normal so everyone doesn't make of you? But then, to my suprise, I didn't even need my "wine face," because I actually liked it. I still think some wine is a little too fancy for me, but the Moscato, now that is a wine that I can really get into. It doesn't hurt that you can find some pretty cheap brands that are still delicious!
Now that I'm a fancy pants wine drinker, I always linger when passing the glasses or wine stoppers in a store. These types of accessories would make great simple, but fun, gift ideas for your wine loving friends this holiday season. Here is my list of the top gift ideas for wine lovers.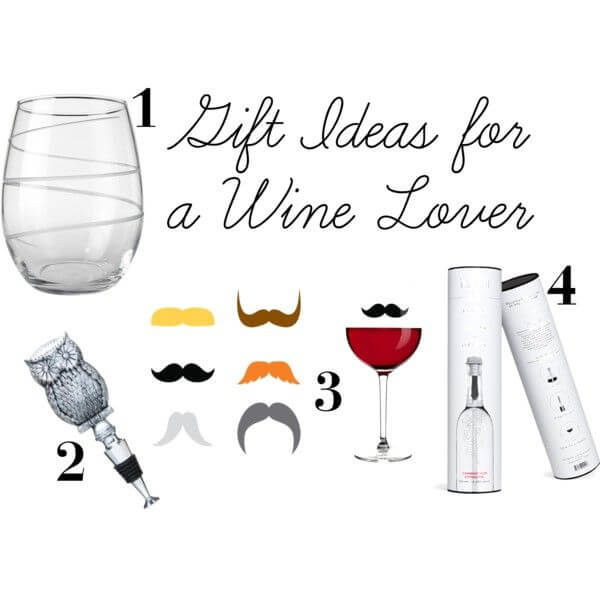 1. Stemless wine glasses
These just look so sophisticated to me and I would love a set of them. Even for the more experienced wine drinker who might already have enough wine glasses….wait, is it possible to have "enough" wine glasses? Na…
2. A Cute Wine Stopper
I took a bottle of wine with me to a family thing a couple months ago. It had already been opened and I just had the cork stuck back in it. As soon as I went around a turn, the bottle tipped over and wine started spilling out. So for the entire hour and a half drive, I drove with the wine bottle on my lap. That would have looked great to an officer had I been pulled over. Wine stoppers are definitely a great idea!
3. Quirky Drink Markers
I love these silly mustache drink markers, but you can definiely find some cute, not-so-quirky drink markers to match your friend's/family's tastes. These are a just a fun way to keep track of your drink and would make a great gift.
4. VinoVinti – for the most sophisticated wine drinker on your list
VinoVinti uses a new, patented technology to create nucleation, a process that allows excess carbon dioxide (CO2) molecules to come together, form a bubble and escape the wine enhancing the flavor, feel and finish of the wine in seconds.
What are the benefits of using VinoVinti?
Faster than decanting and more efficient than aeration devices.
Opens the wine and enriches the flavor.
Reduces harshness and what some people call the "acidic bite."
Improves the mouthfeel and finish.
Simple and easy to use.
Designed to give a lifetime of wine enjoyment.
This product would make a great gift this holiday season for any wine drinker, to enhance their wine drinking experience. You can buy one now at http://www.vinovinti.com/store.html.
To learn more about the VinoVinti, check out VinoVinti on Facebook and watch the following video to see how it works:
**Please drink responsibly, and as always, only drink if you are at least 21 years old or older**
Comments
comments